Onslaught on journalists unrelenting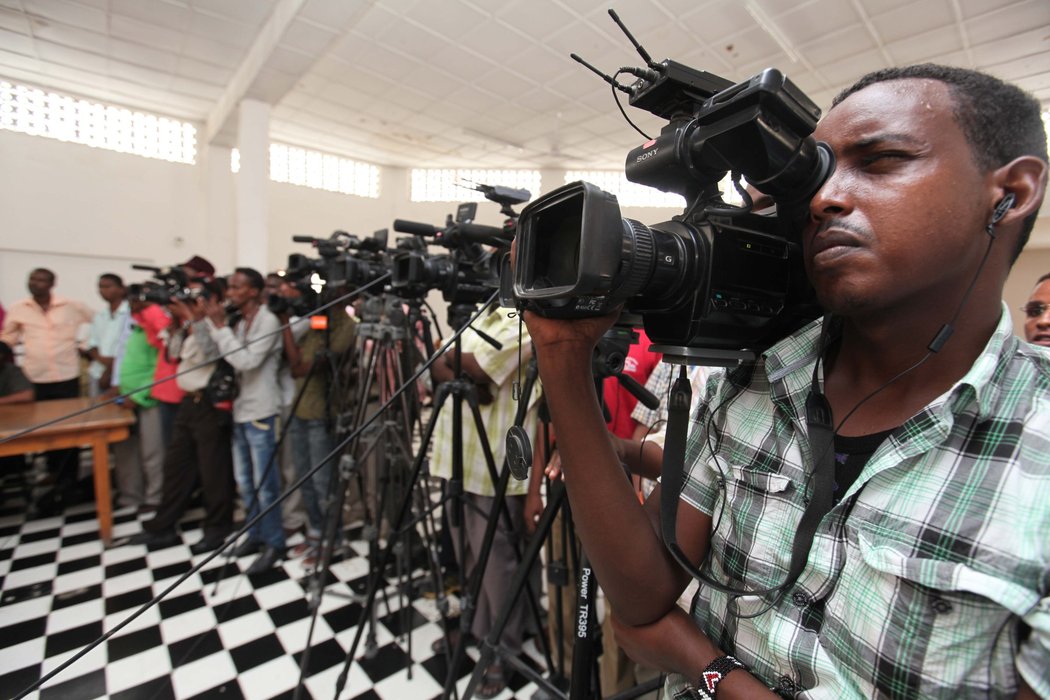 General situation
After months of political uncertainty, Somalia postponed the elections that were set to begin on 25th July 2021. The election was delayed because Federal regions were unable to submit candidates' lists on time and form local committees to cast the ballots. The parliamentary elections were rescheduled to take place between 1st October and 25th November 2021.
The clash between President Mohamed Abdullahi Mohamed, popularly known as Farmajo, and Prime Minister Mohamed Hussein Roble escalated following the murder investigation of National Intelligence and Security Agency (NISA) agent, Ikran Tahlil Farah. NISA reported that the Al-Shabaab terrorist group was responsible for the death; but Al-Shabaab denied the allegations. Prime Minister Roble fired the agency's director Fahad Yasin, a close friend of President Farmajo claiming that the report was "not convincing and lacks sufficient evidence". Farmajo released a statement dismissing the move as illegal and unconstitutional and promoted Yasin to the position of personal security adviser. Roble accused Farmajo of "obstructing effective investigation", and as a result Farmajo suspended the executive powers of the Prime Minister on 18th September 2021. The UN expressed concern and urged all stakeholders to exercise restraint, and underlined the importance of maintaining peace, security and stability in Somalia.
Association
On 26th June 2021, Somaliland authorities arbitrarily detained 42 people for wearing or displaying the Somali flag on Somaliland's independence day. 35 women who were detained from Borama are being held in Gabiley Prison and seven people are being held in Borama Prison without charge. 
#BREAKING: #Somalia's security forces break up protest over alleged killing of Ikran Tahlil Farah by Somali spy agency in Mogadishu; several people including organizers and journalists arrested - witnesses. pic.twitter.com/aDrvVyM66T

— Somali Guardian (@SomaliGuardian) September 5, 2021
Peaceful Assembly
On 5th September 2021, protests broke out in KM4 junction in Mogadishu demanding justice for Ikraan Tahliil, a female NISA official who was abducted on 26th June 2021 and later announced dead by NISA officials. Police officers arrested demonstrators including youth activist Mohamed Royal, fired live bullets and attacked journalists. Tahlil, who worked at NISA's cybersecurity department, was abducted near her home. NISA accused the Al-Shabaab terrorist group of killing Tahlil, but the group denied the allegations. Information from separate sources indicated that Tahlil may have been targeted because she was in possession of sensitive information form the agency (NISA), including knowledge about a programme that secretly sent Somali recruits to train in Eritrea and fight in the ongoing Tigray conflict. 
On Friday 11 June, #NISA officers accompanied by police entered Star FM radio studio in Guriel town, #Galmudug and detained its journalist, Ubeyd Hassan Mohamud, following his report on the unsuccessful efforts to end inter-clan conflict in the region. pic.twitter.com/8wsmo75stv

— Somali Journalists Syndicate - SJS (@sjs_Somalia) June 14, 2021
Expression
Media outlets raided by police
On 11th June 2021, NISA officials raided Star FM radio in Guriel town and detained a journalist, Ubeyd Hassan Mohamud. His detention is related to his report covering the unsuccessful efforts to end the inter-clan conflict in Galmudug State. Mohamud claims he was held at a house owned by the commander of NISA in Guriel for four days and could not eat because of his pre-existing health conditions. He was released on 14th June 2021 without charge.
In another incident, on 1st July 2021, police officers stormed Bandhiga Radio and arrested three journalists and two interns. The officers held the three journalists: Ibrahim Abshir Hassan, Ilyas Daud, and Ibrahim Sheikh Hussein at the Hamar Jajab police station until later that evening without laying charges but released the interns immediately. The police officers allegedly stormed the radio station in search of the radio management following a complaint made by the landlord about a dispute connected to the lease agreement.
Journalist attacked and threatened
On 23rd June 2021, four unidentified assailants attacked Hanad Ali Guled, an editor for Goobjoog Media Group, on his way home. Guled claims the men confronted him and threatened to kill him before they attacked him. Two of the assailants stabbed him in his left arm and the back of his neck before fleeing. Guled was rushed to Kalkal Hospital and reported the incident to the police.
Arbitrary arrests and detention of journalists unrelenting
Several cases of police officers arbitrarily arresting and detaining journalists because of their work were reported during the period, illustrating a steady and state-backed trend to intimidate and harass journalists in Somalia:
On 3rd July 2021, NISA officers arrested Mohamud Mohamed Sheikh, a Star Media Network journalist, in Beledhawo, Gedo region. According to his family members, Mohamud was arrested on the orders of Beledhawo District Commissioner Abdifatah Arog and NISA Commander in Gedo, Bakal Koke, for criticising the Somali Federal government's administration in Gedo. Mohamud was transferred to a prison in Dolow district on 4th July 2021. While in custody, police officers confiscated his phone but he posted on Facebook on 6th July 2021, that he had been on a hunger strike.
On 4th July 2021, police officers detained Hussein Abdi Jimale, RTN television reporter, for four hours following an interview with local youth members who opposed the leadership of the State of Hirshabelle. Jimale claims that he continues to face threats and intimidation after his release.
On 5th July 2021, freelance journalist Barkhad Mohamed Bashe was arrested while covering a protest. A local women's group protested the arrest of their sons in Las'Anod. The sons were arrested for wearing the Somali flag outfit while celebrating Somaliland's Independence day. Somaliland police officers released him without charge the following day on condition that he doesn't report news critical of Somaliland.
On 22nd August 2021, police arrested Salad Mohamed Kheyre and Abdifatah Mohamed Roble, journalists working for SOMNEWS TV, and Samiir Abdirisak Omar of Hanti-TV. The three journalists were arrested while covering a demonstration against the African Union Mission of Somalia (AMISOM) for killing civilians in Lower Shabelle region. The police officers confiscated the journalists' equipment and threatened to "arrest them for good if they are caught in a similar act again". The three journalists were released without charge on the same day.
@NUSOJofficial solidarity to Somali Journalist who was today subjected to police brutality while covering a protest over alleged killing of a female intelligence officer, Ikran Tahlil who is missing since June this year. #JournalismIsNotACrime #Somalia https://t.co/JjpGfNRdyo

— Mowliid Haji Abdi (@MowliidHaji) September 5, 2021
On 5th September 2021, police officers assaulted 12 journalists while covering the protest demanding justice for missing NISA employee Ikraan Tahlil Farah (see above in peaceful assembly section). Police officers beat up cameramen and journalists and confiscated their equipment.Goobjoog Media producer, Bashir Mohamud, was dragged, beaten up and detained while he live-streamed the protest. He sustained injuries and was released without charge later that day.
On 28th September 2021, Dhusamareb police officers arrested freelance journalist Mohamed Abdiweli Tohow. The arrest is related to his recent coverage of attacks by Ahlu Sunna Waljama'a, an armed group that opposes the authorities in Galmudug. According to the National Union of Somali Journalists (NUSOJ), Police Commander Mohamed Sanjeh ordered his arrest. The police took Tohow, who was not represented by a lawyer, to court on 30th September 2021, but there was no judge in the court as Friday is not a working day. He was released on 3rd October 2021 without charge on the condition that he would return to the police station once he was summoned. The journalist claimed he was beaten repeatedly while in detention and his head was forcefully shaved.
In yet another incident, police officers detained freelance journalist Mohamed Abduqadir Said on 3rd October 2021. The arrest is linked to his story covering a group of Sufi followers who announced their support for a resurgence of the Ahlusuna militia group in Galmudug. Said was released later that day without charges and cautioned not to report issues regarding Ahlusuna militia in the region. Similarly, Radio Adado and Five TV freelance journalist Hashim Omar Hassan was detained on 4th October 2021 following his coverage of a meeting by members of the Sufi followers who supported the renewed resurgence of the Ahlusuna militia in Galmudug. Hassan was freed later that day without charge after his director agreed to bring him back once the police summons him.
SOMALILAND
Political opposition facing arrests
Concerns have been rising over the arbitrary arrests of political opposition in Somaliland. On 28th August 2021, authorities arrested Saleeban Awale Good, the UCID Deputy Secretary of Information in Awdal region for criticising the performance of the Governor of Awdal region. Saleeban is being held in Borama Central prison without charge. Similarly, on 16th September 2021, Wali Abdi Jama, the Deputy Governor of Maroodijex was arrested after criticising President Muse Bixi Abdi in a media conference.
Journalists also facing arrests in Somaliland
On 19th August 2021, Somaliland police officers arrested journalist and activist Abdimalik Sheikh Coldon while he was in his office in Burao. The reason for his arrest is unknown. However, it is allegedly related to his statement claiming that the Hargeisa Cultural Center and the Abaarso school is spreading anti-Islamic and anti-Somali Ideology. President Bihi said that he visited and checked the school and the allegations were untrue.
In separate developments, on 13th September, police officers in Gabiley region arrested Mohammed Abdi Omar, a journalist working for SBCTV. Omar was arrested after broadcasting a story about the Kalabaydh Hospital in Wajale operating without electricity for 20 days, which resulted in a torch being lit for a woman in labour. Separately, on 2nd October 2021, Somaliland police arrested Mawlid Ismail, a journalist working for Halbeeg Media while taking still and video footage of the mass arrests and detentions of Somalis from Southern Somalia. The police confiscated his equipment and deleted the footage. Somaliland security forces had on the previous night raided homes in Lasanod and arrested families from South Somalia, where several people were rounded up in a stadium and deported to Somalia on 3rd October 2021. According to the government, the deportation was due to security concerns.
Condemning the journalist's arrest, the National Union of Somali Journalists' (NUSOJ) Secretary General Omar Faruk Osman said.
"Mowlid Ismail Diged has not committed any offence apart from being a journalistic witness to the unprecedented, indiscriminate and illegal actions of the Somaliland administration. No amount of media harassment is going to hide the dastardly act of the disenfranchisement and displacement of hundreds of people from their rightful occupations and property… We demand for the immediate release of Mowlid and the return of his equipment without any preconditions".