Ongoing threats and attacks against civil society, media in Afghanistan while protests restricted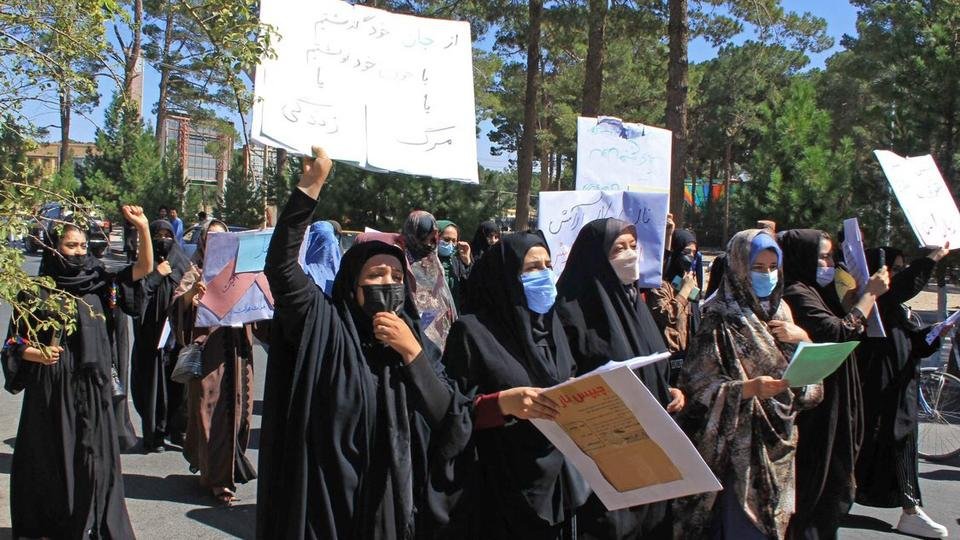 On 15th August 2021, the Taliban seized power in Afghanistan after the government collapsed and US troops withdrew from the country. While some activists, journalists and others who were at risk of reprisals from the Taliban because of their work, were able to leave the country, others have gone into hiding. Since then, there have been reports of activists facing systematic intimidation, a crackdown on protests and attacks on journalists with impunity. On 23rd September, Afghanistan was added to the CIVICUS Monitor Watch List.
On 9th October 2021, the UN Human Rights Council approved a resolution to appoint, for one year, a Special Rapporteur to monitor the status of human rights in Afghanistan as it evolves. The Council adopted the resolution introduced by the European Union with 28 votes in favour, 14 abstentions and five votes against, including China, Pakistan and Russia.
The resolution says that the rapporteur will report on the status of human rights and provide recommendations for improvement. Further, the rapporteur shall seek, receive, examine and act on information from all stakeholders pertinent to the human rights situation.
The rapporteur will also assist Afghanistan in meeting its human rights obligations under international treaties that it has ratified, as well as provide support and guidance to civil society. In addition, the resolution directs the rapporteur to incorporate "a gender perspective and a survivor-centred approach" throughout the mandate's work.
While civil society welcomed the resolution, it fell short of calls for an independent, international investigative mechanism with powers to document and gather evidence for future prosecutions.
The Taliban have dissolved the official Afghanistan Independent Human Rights Commission (AIHRC) and seized their offices, saying an investigation has also been launched into allegations of corruption against members of the commission. The move came a day after the AIHRC urged the Taliban in a statement to respect human rights and the independence of the official watchdog, as well as its staff.
Over the last month, human rights defenders and NGOs have faced death threats, attacks and killings. The Taliban has imposed media restrictions while journalists have faced intimidation and attacks. Despite restrictions imposed by the Taliban, protests by women's groups on their denial of access to work and education have persisted.
Association
Threats and attacks on human rights defenders
🔴 NEW #Afghanistan: trampled women rights, targeted civilian killings, blockaded humanitarian supplies. Over the past 5 weeks, the Taliban have been dismantling the human rights gains of 20 years.
Read our new briefing with @amnesty and @fidh_en ⤵️https://t.co/GtcV9ACFkv pic.twitter.com/BDTL7EVEL7

— OMCT (@omctorg) September 21, 2021
Systematic death threats, attacks, and killings of human rights defenders have been rampant across Afghanistan even prior to the withdrawal of US troops, as previously documented. According to a report published on 21st September 2021 by Amnesty International, International Federation for Human Rights (FIDH) and the World Organisation against Torture (OMCT), since the capture of Kabul by the Taliban, the lives of thousands of women and men who had risked their safety to promote and defend human rights, gender equality, the rule of law and democratic freedoms in their country are now at further risk.
Attacks on human rights defenders have reportedly been on the rise without any sign of abating. Since 15th August 2021, the Taliban and armed groups have engaged in large-scale door-to-door searches, forcing human rights defenders into hiding and moving clandestinely from one place to another. Escalating violence in the provinces has forced a large number of defenders to leave their homes and internally relocate to Kabul. Human rights defenders were also beaten up by the Taliban.
On 7th September 2021, a staff member of a Kabul-based NGO was arrested by the Taliban, whipped and severely beaten. On 11th September, the Taliban forces allegedly broke into the house of Fahima Rahmati, a local female activist in Kandahar Province, dragged her family members out, beat them, and took them to an unknown location.
Between August and October 2021, the Safety and Risk Mitigation Organisation (SRMO) documented over 20 cases of attacks, threats and targeted killings of the family members of civil society activists, including human rights defenders.
Activist Noor Agha Ibrahimi was arrested by the Taliban on 25th September 2021 in Kabul and accused of organising demonstrations against the Taliban in support of the National Resistance Front. He was released by the Taliban after 18 days of detention in Kabul. 
#AFG_target_killing
Gunmen shot dead Abdul Rahman Mawen a social activist in Jalalabad city this morning. pic.twitter.com/0FgJxtiCq4

— Noorullah Shirzada (@Noorullah700) October 12, 2021
On 10th October 2021, a civil society activist named Abdul Rahman Mawen was shot dead in Jalalabad city of Nangarhar province by unidentified gunmen. No group has claimed responsibility for the attack.
Heelamand Zhowand, a poet, writer, and civil society activist, was shot and killed by unidentified gunmen in eastern Khost province on 19th October. No group has claimed responsibility for the attack
According to the report by Amnesty International and other groups, NGO offices have been raided and searched by the Taliban and their accounts frozen, pending "future assessment" by the Taliban. NGOs have also stopped their women's rights programmes, with most of the offices remaining closed due to fear of reprisals. On 25th August, a number of national NGO premises were searched by the Taliban in Kabul city. The Taliban asked questions regarding the vehicles, assets and names of Directors and senior staff members of the NGOs.
On 12th September 2021, about 30 Taliban members came to an NGO office asking about the organisation, its director and its activities, and wrongly accusing it of organising the recent demonstrations on women's rights and running a women's shelter.
LGBTIQ community at risk
Among the minority groups at risk under the Taliban is the LGBTIQ community, including activists. Living in a predominantly homophobic, biphobic and transphobic environment, the risks faced by the community under the occupation of the Taliban include extra-judicial executions and the death penalty under the strict interpretation of Sharia law. More than 700 LGBTIQ persons in Afghanistan are trying to evacuate.
ILGA Asia, a regional group focusing on the promotion and protection of the rights of the LGBTIQ community, have called on governments and humanitarian agencies through an open letter to direct more efforts to ensure in-country protection, humanitarian assistances and safe passage for resettlement of the community.
Expression
Restrictions on the media
Taliban authorities in Afghanistan have imposed wide-ranging restrictions on media and free speech that are already stifling criticism and dissent.
According to Human Rights Watch, during a late September meeting with journalists in Kabul, the Taliban Ministry of Information and Culture distributed media regulations whose provisions are so broad and vague as to prohibit virtually any critical reporting about the Taliban.
A copy of the regulations, which has 11 directives, states that media are prohibited from printing or broadcasting reports that "are contrary to Islam," "insult national figures," or "distort news content." Journalists are required to "ensure that their reporting is balanced" and not report on "matters that have not been confirmed by officials" or issues that "could have a negative impact on the public's attitude." Media outlets are required to "prepare detailed reports" with the new governmental regulatory body - the Government Media and Information Center (GMIC) - before publication.
Several media reports and interviews by Amnesty International confirm that the Taliban are conducting house-to-house searches for journalists, particularly those working for western media outlets.
More than 150 media outlets have already closed due to fear of increased intimidation from the Taliban and a lack of funding since international governments cut off assistance to Afghanistan in the wake of the fall of Kabul.
Attacks, intimidation and arrest of journalists
Mohammad Ali Ahmadi, Radio Salam Watandar reporter, was shot & wounded by unknown gunmen while he was on his way to home, sources say, adding that "first he was taken out of the car and once he was identified as a journalist, the gunmen fired on his leg." #Paykmedia #Afghanistan pic.twitter.com/oVtBVCEYR1

— Payk Media - Revealing the Truth (@PaykMedia) September 21, 2021
According to the Committee to Protect Journalists (CPJ), on 18th September, an unidentified man shot Mohammad Ali Ahmadi, a reporter and editor with the privately owned national radio broadcaster Salam Watandar, in Kabul, the capital. Ahmadi was traveling in a taxi van when a man sitting next to him asked where he worked; when he said he worked for Salam Watandar, the man said that outlet was an "American radio station," pulled out a gun and fired several shots at Ahmadi, two of which struck him in the leg, according to those sources. The gunman then fled the scene. Ahmadi was hospitalised after the attack.
On 26th September 2021, CPJ reported that two armed men forcibly entered the privately owned radio broadcaster Salam Watandar's office in Kabul. One of the men introduced himself as Abdul Malik Safi and said he was a "member of the Islamic Emirate," meaning the Taliban; the other man was his guard, according to those sources, which said that Safi identified himself as an intelligence officer with the Taliban-controlled Interior Ministry. Safi met with the chief executive of Salam Watandar, Nasser Omar, and other employees for about five hours and demanded information concerning the broadcaster's employee contracts, finances, management systems and other administrative affairs.
#Afghanistan🇦🇫: Prominent Afghan journalist and author Sayed Maroof Sadat, a former government spokesperson and an affiliate of radio 'Sub Bakhair and Sham Bakhai', was gunned down on October 2. @IFJGlobal https://t.co/Vynz3GljBB

— IFJ Asia-Pacific (@ifjasiapacific) October 5, 2021
Prominent Afghan journalist and author Sayed Maroof Sadat, a former government spokesperson and an affiliate of radio 'Sub Bakhair and Sham Bakhai', was gunned down on 2nd October 2021. According to the International Federation of Journalists (IFJ), Sadat was one of four people who were killed in a drive-by shooting in Jalalabad city, the capital of Nangarhar Province in eastern Afghanistan. Sadat's son was also critically injured during the attack. The perpetrators are currently unknown; however, Islamic State (ISIS) militants are thought to be behind the incident.
On 2nd October 2021, freelance photographer Morteza Samadi was released. He had been detained for three weeks by the Taliban after he covered a protest in the western city of Herat. On 7th September, Taliban fighters detained Samadi and accused him of leading the protests against the Taliban in Herat and chanting against the Taliban. Samadi previously worked as a reporter with Chekad TV and Radio Television Afghanistan, outlets operated by the former Afghan government.
Taliban security forces have also arbitrarily detained journalists and beaten several of them. The head of a journalists' advocacy group told Human Rights Watch that as of 1st October, the Taliban had taken at least 32 journalists into custody since they took power in Kabul. Most were released after warnings about their reporting, but some were beaten.
Peaceful Assembly
Women hold protests against restrictions on work and education
As previously documented, on 10th September 2021, the Taliban announced a ban on all protests in Kabul and other provinces in Afghanistan which have not obtained prior permission. The group released a statement saying no one is allowed to go on to the street to demonstrate without authorisation from the justice and interior ministry. 
Women stage 'silent protest' in support of girls' education in Afghanistan https://t.co/YsmmEBWEkN pic.twitter.com/CO5p09pM50

— ANADOLU AGENCY (@anadoluagency) September 19, 2021
Despite this, a small group of women gathered in Kabul on 19th September 2021 for a "silent protest" against the interim Taliban administration's decision and to demand the right to work and study under the new Taliban-run government. The protest was in response to a statement from the Taliban's interim Kabul Mayor Hamdullah Namony that female employees have been ordered to stay at home pending a further decision. Namony said exceptions were made for women who could not be replaced by men. The women protested outside the premises of what used to be the Afghan Women's Affairs Ministry — until the Taliban turned it into the 'Ministry for Promotion of Virtue and Prevention of Vice'. Organisers said that some women had sought to acquire authorisation for the protest march, but they failed to get it.
In Herat, a small group of Afghan high school students held a protest on 20th September to denounce Taliban moves preventing girls from attending school. Thirteen schoolgirls, 15 to 18 years of age, gathered in a residential area on Herat's outskirts — a neighbourhood where the Taliban have no presence — so as not to draw their attention. A few local journalists invited by the girls covered the rally. The protesters held banners demanding to be able to return to school, saying that barring girls from education would leave an entire future nation uneducated.
Women in Afghanistan's Kabul have once again staged a protest, calling on the Taliban to recognize women's rights for education. The #Taliban instead used gunfire to disperse the demonstrators. #afghanistanwomen pic.twitter.com/RnPyCS8WhM

— Aati (@AatiSheerazi) September 30, 2021
On 30th September 2021, the Taliban violently cracked down on a small women's rights demonstration, firing shots into the air and pushing back protesters. A group of six women gathered outside a high school in eastern Kabul demanding the right for girls to return to secondary school after the hardline Islamist group excluded them from classes earlier this month. The women unfurled a banner that read "Don't break our pens, don't burn our books, don't close our schools", before Taliban guards snatched it from them.
They pushed back the women protesters as they tried to continue with the demonstration, while a foreign journalist was hit with a rifle and blocked from filming. A Taliban fighter also released a short burst of gunfire into the air with his automatic weapon. The demonstrators -- from a group called the "Spontaneous Movement of Afghan Women Activists" -- took refuge inside the school.
Another protest was held by a group of women in Kabul on 1st October 2021 over the Taliban-led government's decision to bar women from educational institutions. The women protestors were quoted by TOLO news as saying that the closing of schools and colleges for women's education is a violation of their fundamental rights. Despite security forces stopping the protestors, they continued their demonstration, staying firm to their demands.