One year after the coup, civic space violations continue unabated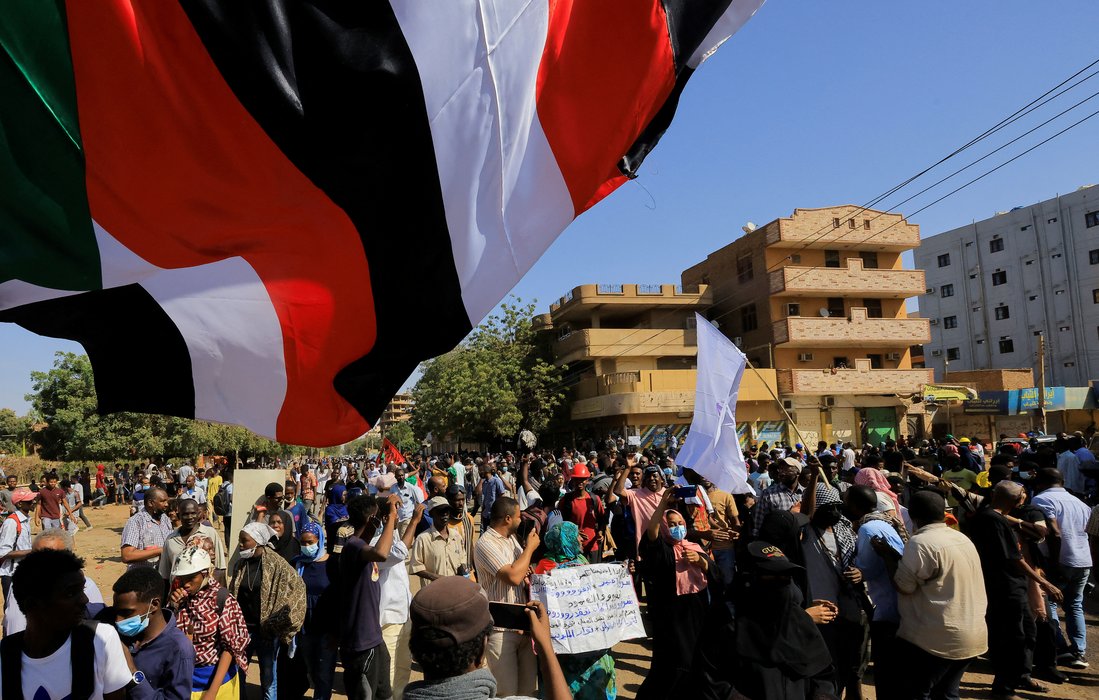 Introduction
Ongoing tensions between military and civilian factions in the government resulted in the 25th October 2021 coup d'etat by the military leadership which sparked mass protests.
Security forces arrested 63 government officials, which included Prime Minister Abdalla Hamdok, six ministers and several members of the country's civilian leadership, such as members of the Transitional Government and Transitional Sove­reign Council (SC), who were placed under house arrest or taken to unknown loca­tions.A state of emergency was declared by General Abdel Fattah al-Burhan, with the dissolution of the SC and the civilian-led Transitional Government.
The United Nations High Commissioner for Human Rights, Michelle Bachelet, condemned the coup and called on military authorities to "abide by the constitutional order and international law, withdraw from the streets, and resolve any differences with civilian leaders serving on the Transitional Council through dialogue and negotiation."
After a turbulent month, a political agreement was signed on 21st November 2021, with Abdalla Hamdok reinstated as prime minister and the transition to civilian rule restored, including the release of political prisoners. On 24th December 2021, Gen. Abdel Fattah al-Burhan issued a decree giving further power to the military by authorising General Intelligence Service (GIS) agents to carry out home searches, surveillance, arrests and detentions and granted immunity from prosecution to GIS agents. The decree has been used to carry out arbitrary detentions and arrests of protesters, civilian political leaders, journalists and human rights defenders. Although the state of emergency was lifted on 29th May 2022, violations have continued. On 2nd January 2022 Hamdok announced his resignation as Prime Minister due to political deadlock between the civilian and military factions, which sparked further political uncertainty.
Protests have continued throughout 2022.
Association 
Targeting of WHRDs
On 20th January 2022, Ameira Osman, the head of the No to Women Oppression Initiative, a women's rights organisation,was arrested at her house in Khartoum and taken to an unknown location by armed security officers dressed in plain clothes. About 30 officers, who had no arrest warrant, raided the WHRDs home and detained her in front of her family, including her children. Her family expressed concerns over her health as Osman is partially paralysed and needs a walking aid and medication. On 6th February 2022 Osman was released on bail.
On 7th August 2022, Sulima Ishaq, the head of the Violence against Women Unit in the Ministry of Social Affairs, was summoned by the prosecutor under article 47 of the Sudanese criminal law of 1991 (procedures of juveniles). Ishaq was interrogated in relation to a statement made by the head of UNITAMS in front of the UN Security Council in March 2022, which detailed sexual violence perpetrated against women protesters. The case is an attempt to intimidate Ishaq and other women's rights groups and defenders who are documenting gender-based violence by the military and other armed forces and militias.
Separately, on 23rd October 2022, the office of the Sudanese Consumers Protection Society (SCPS) received a delegation of seven employees from the Humanitarian Aid Commission (HAC) delivering a letter of cancellation of its registration and the seizure of all its assets. The group confiscated property such as seals, headed paper and other documents. The organisation has played an important role in protecting consumer rights. For example, on 17th May 2022, SCPS submitted a complaint to the office of the prosecutor in Khartoum against the minister of energy because of tempered and poor-quality oil at fuel/gas stations upon receiving several complaints from consumers.
Peaceful Assembly
On 21st October 2022 prior to the anniversary of the 25th October 2021 coup, OHCHR issued a statement calling on the Sudanese authorities to ensure that people can exercise their rights to peaceful assembly, freedom of opinion and expression, and to ensure that security forces refrain from the use of force, which has marred previous protests. It added that people's expression of longstanding grievances must be facilitated rather than suppressed.
"We once again remind the Sudanese authorities that the right to peaceful assembly is protected under international human rights law, including under the International Covenant on Civil and Political Rights, to which Sudan is a State Party."
In 2022, during mass protests, several violations were documented including:
On 17th January 2022, the Central Committee of Sudan's Doctors reported that seven protesters had been killed by live ammunition, with at least 163 injured. An investigation by Human Rights Watch revealed that the lethal response to protests came from the anti-riot police and Central Reserve Police (CRP), a militarised police unit. Protesters told HRW that anti-riot police fired tear gas at protesters who were peacefully chanting, while ordinary police physically attacked protesters.

During protests which took place in May 2022, a protester was killed after being driven over by a police vehicle. An investigation has been opened into the "reckless" conduct of the police patrol driver. In the same month, Emergency Lawyers organised several sit-ins outside Khartoum-area prisons in response to torture and ill-treatment against protesters and activists, during which several people were detained under Article 57 of the Criminal Code ("entering and photographing military areas and works").

On 30th June 2022, nine people were killed during protests, with another internet disruption reported for 20 hours. As of September 2022, at least 117 protesters had been killed during pro-democracy protests.

In December 2022, protests staged to mark the four-year anniversary of the revolution (since the toppling of dictator President Omar Al- Bashir) were met with tear gas.
During several protests, the authorities continued to cut off internet services for mobile phones throughout Sudan, for example during protests called by the resistance committees to mark the first anniversary of the 25th October coup. In addition, since the coup, hundreds of protesters have been arbitrarily detained and faced ill-treatment in detention, with some forcibly disappeared.
Separately, medical staff who have been assisting injured protesters have also faced intimidation and detentions. For example, on 24th January 2022, nine Médecins Sans Frontières (MSF) staff members were detained in Khartoum by Sudanese authorities. They were detained overnight and questioned about the organisation's activities and released the next day.
Targeting women protesters
Women protesters have been targeted by violence, including sexual violence, during protests. A statement by United Nations High Commissioner for Human Rights (UNHCHR), Michelle Bachelet highlighted that there have been 25 allegations of rape, gang rape and other forms of sexual violence against women, girls and men since 25th October 2021. Some cases include:
The Sudanese Woman's Monitor has documented serious injuries to women protesters. On 21st March 2022, 19-year-old student Najat Babikir was shot in the eye during protests in Bahry, resulting in her immediately losing her sight in that eye. The Central Reserve Forces were carrying shotguns and fired directly at protesters. Several other women protesters sustained the same injury.

In one example, on 18th March 2022, an 18-year-old woman protester was gang raped by three members of the Central Reserve Forces, who threatened to kill her if she moved or screamed. The girl was found by residents and taken to hospital for medical attention.

A month later in April 2022, two women leaving a protest in Port Sudan were forced out of a car by members of the joint forces and beaten. While they attempted to sexually assault the women, the driver fought back and was hospitalised after being beaten.

On 16th June 2022, at least two young women protesters were arrested and sexually assaulted by police officers, with lawyers reporting that one woman was brought to the police station with "shredded clothing and several injuries".
Expression
Violations against the press have continued throughout 2022. According to the Committee to Protect Journalists (CPJ), since 12th January 2022 at least six journalists were arrested and later released while covering protests.
Separately, in January 2022 authorities revoked the licence of Al Jazeera Mubasher and also revoked accreditation to two of its journalists on the basis of "unprofessional coverage of the Sudanese affairs" and the reporting of "incorrect information that damages the country's interest and social fabric". On 15th January 2022 Sudanese newspaper El Hadatha announced that it would cease operations due to increasing pressure. In a statement, the management said "The coup put an end to the press and media freedoms brought about by the glorious December Revolution."
Ahead of the 25th October 2022 anniversary, the Sudanese Journalists' Syndicate (SJS) issued a statement. The SJS said that the press and media in Sudan have been facing "a terrible regression in terms of press freedom". For example, two of their journalists were reported injured covering demonstrations.
Anti-Cybercrime Draft bill
Separately, on 3rd November 2022 the joint meeting of the ministerial sectors chaired by the Acting Minister of Cabinet Affairs, Osman Hussein Osman, approved the Anti-Cybercrime Draft bill (Amended) 2022 presented by the Acting Minister of Justice, Mohamed Saeed Al-Hilu. The amendment of the law is aimed at "Information crimes and the concealment of their perpetrators through the use of modern applications, as well as some shortcomings in the courts being satisfied with applying the penalty of a fine that did not achieve complete deterrence". The amendment also stipulates that it is not permissible to waive if the victim is any of the state agencies or public figures who occupy positions in it. The opposition believes that the amendments are aimed at protecting corruption and stated that the bill did not pass through the various legislative stages.
Civic Space Developments
Tags
journalist detained,
HRD detained,
women,
refusal of registration,
excessive force,
attack on journalist,
enforced disappearance,
killing of protestors,
protest,
torture/ill-treatment,
office raid,
intimidation,
protestor(s) detained,
harassment,
restrictive law,
bureaucratic restriction,
internet restriction,
Back to civic space developments