New Zealand: Climate activists and protesters facing arrest and prosecution for their activism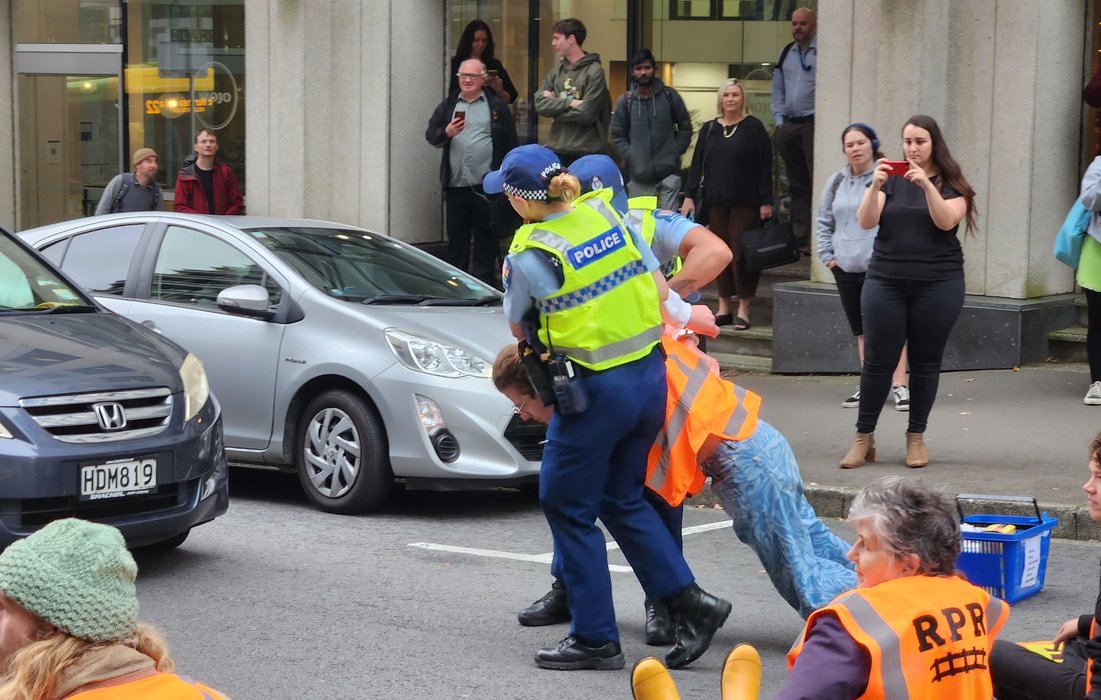 The state of civic space in New Zealand is rated as 'open' by the CIVICUS Monitor. Civil society groups are able to form and operate without restrictions, freedom of expression is respected and protected and there are rarely restrictions on protests. At the same time, there have been some incidents of arrest and prosecution of protesters.
In recent months, a climate activist was convicted for a satirical email letter to oil executives, while Restore Passenger Rail protesters have been arrested. Dozens have also been convicted for the 2022 violent anti-mandate parliament protests.
Expression
Climate activist faces jail for satirical letter to oil executives
After a 2 day jury trial, my dear friend Rosemary @weldangel2 faces a potential 10 year jail sentence for her climate action. Her crime? Forgery. She wrote a prank email to the speakers of the 2019 PEPANZ @energyresnz oil conference. 🧵https://t.co/Df2c58jKX9

— Niamh O'Flynn (@Niamh_OFlynn) June 15, 2023
A climate activist was convicted in June 2023 after sending a satirical email letter saying a fossil fuel conference had been cancelled. She faces up to ten years' imprisonment.
In 2019, Rosemary Penwarden posed as the organiser of the 2019 Petroleum Exploration and Production Association of New Zealand (PEPANZ) annual conference. Penwarden penned an email to oil executives notifying them of the event's cancellation. The 64-year-old activist's letter used a PEPANZ letterhead and official association and member logos at the base. The environmental activist stated that the stunt was a satirical protest.
When organisers at the PEPANZ offices became aware of the email, they quickly informed delegates that the conference had not been called off and the event went ahead as planned.
Seven months later, in June 2020, police seized Penwarden's laptop and phone and laid charges against her.
Despite her lawyer arguing that the letter was never intended to seem legitimate, she was charged with making a forged document and using a forged document. On 20th June 2023, a jury at the Dunedin district court found her guilty on both charges.
Penwarden was granted bail and sentencing is set for September 2023. The charges carry a maximum penalty of 10 years in jail.
Penwarden says she is disappointed but undeterred from her climate activism. She claims that the charges were orchestrated by the oil industry in what she labelled a cynical legal strategy designed to suppress climate activism.
Greenpeace programme director Niamh O'Flynn was at court for the hearing and said it was a relief to see Rosemary go free but also questioned whether Penwarden should have been put through this ordeal at all.
"Protest is a core part of a healthy democracy, and it should be protected from the predatory strategies employed by big polluters. We need climate action now more than ever. We need more people like Rosemary prepared to take a stand", O'Flynn said.
She added: "Aside from the injustice of that, the whole thing was a huge waste of resources, and it's hard to escape the obvious conclusion that it is an oil industry strategy to crack down on peaceful protest to take the heat off their dying industry."
Peaceful Assembly
Restore Passenger Rail protesters arrested
Protesters from the Restore Passenger Rail movement have been arrested for their activism calling on the government to restore passenger rail services around the country and make public transport free.
On 20th April 2023, five protesters were arrested after glueing themselves to a busy Wellington road during rush hour traffic. Police used acetone to unglue the protesters and had to carry each person to a waiting paddy wagon when the protesters refused to walk. The protesters were charged with endangering transport and breaching court bail conditions.
Restore Passenger Rail protesters who were trying to block roads in Johnsonville on 26th April were stopped by the police. One person was subsequently put in custody for a breach of bail.
Following this, on 1st May, another five people were arrested after a protest that blocked traffic on The Terrace in central Wellington. The group Restore Passenger Rail earlier signalled its intention to take protest action in Wellington.
🚨🚨🚨 BREAKING. We blocked traffic near Parliament this morning. We disrupt to put awareness on the #climatecrisis and to demand better PT including trains and free urban buses. If you know about us, it's working. Use your voice to demand climate action. #A22Network #nzpol pic.twitter.com/bd4jRIXsOL

— Restore Passenger Rail (@restorerailnz) April 30, 2023
On 3rd May 2023, four Restore Passenger Rail protesters were taken into police custody after they blocked rush-hour traffic in Karori. The group sat across a pedestrian crossing on Glenmore St, causing traffic to back up along the road. Buses were blocked in both directions.
Restore Passenger Rail protesters delay Wellington traffic again https://t.co/loUJ0CEXRS

— Newshub (@NewshubNZ) May 4, 2023
Two people were arrested and taken into custody on 5th May following another rail protest in Wellington. A 48-year-old woman who scaled the gantry above the motorway was arrested, while a 45-year-old man who did not scale the gantry was also arrested. The pair were charged with endangering transport.
On 13th May, a protester who was charged with repeatedly blocking Wellington roads was granted electronically monitored (EM) bail. John Wilson Tovey, aged 74, was arrested and charged with interfering with a transport facility on 14th October 2022. Five days later, on 19th October 2022, Tovey allegedly blocked Transmission Gully. He was again charged with interfering with a transport facility and granted bail once more. On 20th April 2023, Tovey allegedly blocked Adelaide Road in central Wellington. He was again arrested and charged with interfering with a transport facility. He is a member of the Restore Passenger Rail protest group.
Dozens convicted for 2022 parliament protests
In April 2023, it was reported that 31 people connected to the 2022 violent anti-mandate Parliament protests had been convicted in the courts. At least 300 were charged in the aftermath of the three-week occupation, with around 50 others still working their way through the judicial system. More than 170 others have had their charges withdrawn.
As previously documented, in February 2022, anti-vaccine protesters occupied parliament grounds in the capital, Wellington. At the occupation's peak, there were approximately 3,000 protesters. Among the protesters' grievances was the requirement in New Zealand that certain workers be vaccinated against COVID-19, including teachers, doctors, nurses, police and military personnel. Many protesters also opposed mask mandates.
The protests continued for the next three weeks until police moved in to end the protests. They dismantled an encampment outside parliament, towed away vehicles and arrested dozens. Retreating protesters set fire to tents, mattresses and chairs as dozens of protesters remained in nearby streets, some hurling objects at police. Police used sponge bullets to drive off the remaining protesters. They also used pepper spray on some of them before gaining control of the grounds and the streets around parliament, bringing the protest to an end.