New tax rules impact civil society in Mexico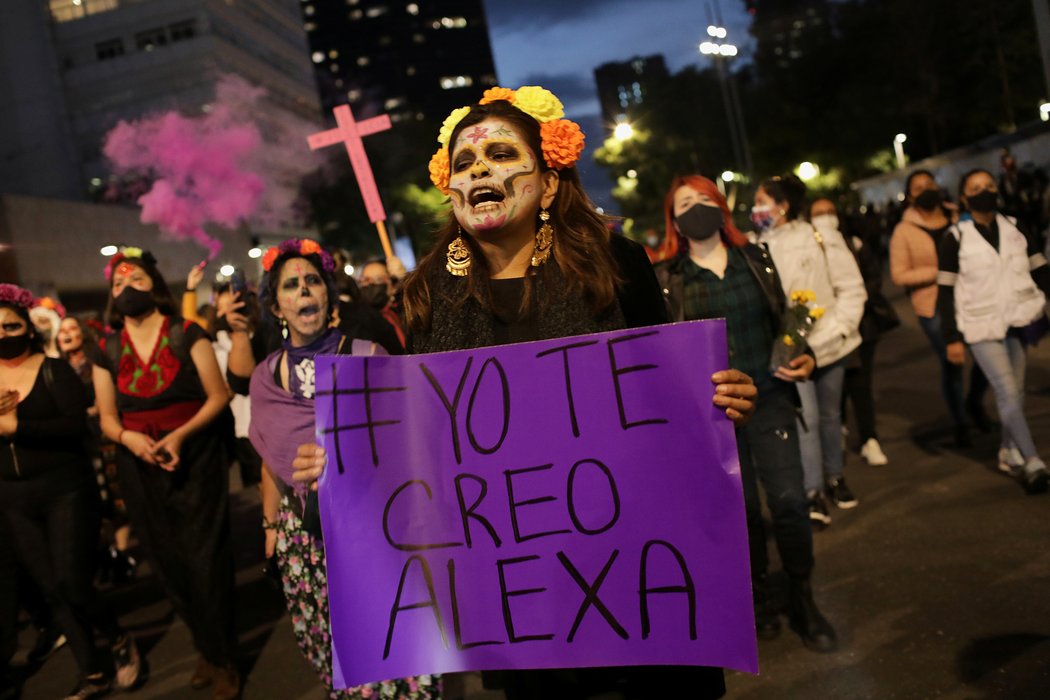 Association
Mixtecan activist Irma Galindo Barrios has been missing for over a week, she's been a vocal defender of the forest in Atatlahuca, Oaxaca and has faced threats in the past for her activism #Mexico https://t.co/kbJhxMVoyk

— Human Rights Oaxaca Mexico (@OaxacanewsENG) November 11, 2021
On 27th October 2021, Indigenous forest defender Irma Galindo Barrios went missing, reportedly after attending a protest in Mexico City. According to IM-Defensoras, she was meant to attend a conference of the Mechanism to Protect Human Rights Defenders and Journalists in the capital, but never arrived. Galindo Barrios, a Mixteca defender of the Ñuù Savi people, has denounced deforestation in Tlaxiaco, Oaxaca, and violence against Indigenous defenders and populations. Because of this work, she has faced harassment and threats since 2018. According to news outlets, her disappearance took place barely week after a savage attack on Indigenous villagers displaced from the lands she was defending against illegal logging.
On 5th November 2021, IFJ reported that almost a hundred press workers were dismissed without severance pay after news outlet Novedades Acapulco decided to suspend its print edition in early November 2021. The dismissals affected journalists, editors, photojournalists and administrative staff. The company, owned by a reportedly powerful family, claimed that there is a "crisis in the media" and used this argument to justify the lack of compensation payments to the almost one hundred workers who lost their jobs. Press union SNRP said the company had violated Mexico's labour laws, and demanded action from labour and state authorities. Some of those affected protested in front of the outlet's offices after being informed that they had been fired.
Tax reform affects civil society funding
📢 Los cambios a la Ley de #ISR podrían implicar que el porcentaje deducible en donativos individuales a #DonatariasAutorizadas, que hasta ahora es del 7%, se integre al límite fiscal del 15% total de deducciones para personas físicas#ElSieteImporta
📌 https://t.co/t7iqLOZl0T pic.twitter.com/OxIWLsGcWb

— Alternativas y Capacidades A.C. (@fortalecemos) October 13, 2021
Civil society organisations warned that proposed changes to tax rules would seriously reduce their funding. The proposed reform seeks to collect more tax revenue to increase funding for government social programmes but removes specific quotas for tax-deductible donations. Civil society representatives said the changes would take away the incentive for donations, affecting thousands of organisations who rely on charitable contributions for their operation and programmes.
The cap on deductions, said Isabel Fulda of civil society group GIRE, "is in line with a series of measures that have been taken to increase restrictions on the existence and fundraising of civil society organisations, and those who would be most affected would be small, local or emerging CSOs." The Senate approved the proposal on 27th October 2021.
Peaceful Assembly
Investigadores y estudiantes nos reunimos para hacer #CienciaBajoProtesta somos #CátedrasConacyt pic.twitter.com/VAIwCxkdEE

— DGN (@GmezDul) September 30, 2021
On 30th September 2021, scientists and researchers demonstrated in Mexico City to demand their labour rights. They protested in front of the National Council of Science and Technology's building against the body's refusal to sign a collective bargaining agreement. They also denounced failure by labour authorities to recognise their right to strike. Protests also took place in nine other states, according to news reports. Union Siintracatedras launched an online campaign "#CienciaBajoProtesta" ("#ScienceUnderProtest") to denounce precarious labour conditions for researchers and scientists working in the public sector with the Cátedras Conacyt programme.
On 3rd October 2021, thousands of people marched in Mexico City to protest against abortion and express their opposition to the Supreme Court's ruling which declared abortion criminalisation unconstitutional. The "Supporting Women and Life" march was organised by anti-abortion organisations and Mexican Catholic Church authorities.
On 11th October 2021, some 5,000 workers employed by the construction company ICA Fluor participated in a walkout and other protest activities to demand better pay and working conditions. Workers in at least 5 states joined in the protests after their working hours were extended without additional remuneration. They also claim they have faced threats of dismissal if they don't pay kickbacks to a union leader allegedly installed by ICA. Workers were met by police using tear gas on the second day of protest, and the incident left at least three people injured and three detained. Separately, gas distributors also went on strike in Mexico City, where they blocked roads to protest the federal government's refusal to meet their demand to raise gas prices by 1 peso per kilo.
On the Day of the Dead, 1st November 2021, feminist groups put together an altar in Mexico City with photos of 50 femicide victims and marched in protest in the "March of the Catrinas." On 3rd November 2021, hundreds of people participated in the "Voices of the Absence" march in Mexico City to protest against the country's rising violence against women. Chanting "We are your voice," organisers used megaphones to read out the names of murdered women, while others carried signs with pictures of missing or murdered family members. Mexico's government reported at least 762 femicides between January and September of 2021, a rise in comparison with the same period in 2020.
On 2nd November 2021, trans women and LGBTQIA+ groups held a ceremony in Mexico City to mark the Day of the Dead, in remembrance of trans women killed and those who had passed away. "Today we are placing the community offering with which every year we remember women in the community. It is a way of remembering them with love and affection on this traditional day," said trans rights defender Kenya Cuevas. Mexico has the second highest rate of reported murders of trans people worldwide, after Brazil.
In November 2021, a migrant caravan headed to Mexico City decided to change their course toward the border with United States after facing harassment and persecution from public officials during their march. The group's leader had said that a part of the caravan was going to the Mexican capital to protest the treatment of migrants travelling through the country to seek asylum in the U.S. They intended to demand safe passage guarantees from the country's migration authorities.
On 6th November 2021, amid the UN Climate Change Conference of the Parties (COP26) taking place in the United Kingdom, climate activists in Mexico protested in front of the Ministry of Foreign Affairs to demand recognition of the climate emergency by the government. Their mobilisation was part of a Day of Action which led thousands to the streets in the UK and worldwide. The Mexican activists said an emergency declaration would allow the allocation of more resources to projects aimed at mitigating climate change. On 24th October 2021, Greenpeace Mexico also organised a direct action calling on the country to make serious climate commitments and to reduce greenhouse gas emissions. In front of a structure that burns excess gas from the southwest Gulf of Mexico marine region, members of the organisation sailed and unfurled a 25-metre long banner warning that the climate crisis has arrived in Mexico: "it's already here #CrisisCliMexico."
Expression
Two journalists killed in October
Two more journalists were murdered in #Mexico last week on the eve of International Day to #EndImpunity.

IPI calls for a full investigation into the killings of Fredy López Arévalo and Alfredo Cardoso.https://t.co/X2fSpmU7gP

— IPI-The Global Network for Independent Journalism (@globalfreemedia) November 3, 2021
On 28th October 2021, a veteran journalist was shot and killed outside his home in San Cristobal de las Casas, Chiapas. Fredy López Arévalo had a long career as a reporter and editor in Mexico and Central America, working for several prominent outlets during his three decades of reporting. He frequently covered crime, labour issues and politics. According to civil society organisations Article 19 and the Committee to Protect Journalists (CPJ), people familiar with López Arévalo said they believed the crime was connected to his work as a journalist, particularly covering narco-trafficking links to politics.
On 31st October 2021, Alfredo Cardoso Echeverría, a photojournalist and director of Las Dos Costas, died in hospital just two days after being found severely injured with gunshot wounds in Acapulco, Guerrero. The journalist had been abducted at gunpoint in his home on 28th October 2021 by a group of masked, armed men. The assailants also threatened Cardoso Echeverría's family and shot at his house as they left. Guerrero state governor Evelyn Salgado condemned the killing and said that she had instructed her government to provide protection to the journalist's family and to investigate the killing.
In a related development, on 16th November 2021 the International Federation of Journalists (IFJ) launched a campaign against impunity for violence against journalists. Mexico is one of the campaign's focus countries, the organisation said in a letter. According to IFJ's data, 106 journalists were killed in Mexico in the past decade, including nine who were killed in 2021. 95% of these cases remain unsolved. The organisation said that these numbers show that crimes against journalists are widespread in the country, increasing despite the mechanisms created by the government to address the issue. In that regard, IFJ and their Mexican member, press union Sindicato Nacional de Redactores de la Prensa (SNRP), called for mechanisms to protect communicators to be strengthened and for efforts to ensure justice for these crimes.
Attacks on journalists
⚠️ Policía de Mazatlán detiene arbitrariamente y golpea a periodistas.

📢 Por ello, exigimos a la @FiscaliaSinaloa dé celeridad a la investigación sobre estas agresiones, a fin de garantizar el acceso a la justicia de los periodistas.

🔍Más detalles:https://t.co/GE9ossyBTO pic.twitter.com/Ci9qD63zdF

— ARTICLE 19 MX-CA (@article19mex) October 15, 2021
On 13th October 2021, two photojournalists with Sinaloa en Línea were detained and assaulted by police officers in Mazatlán while attempting to report on an incident on a local beach. Erik Daniel Toxtle Nolasco and Brian Omar Toledo Chavarin said they were covering a police incident involving a group of surfers when officers approached them and told them to stop recording at the scene. Despite identifying themselves as press, both men were handcuffed and taken to the police department where they said they were assaulted. The journalists were later released without charge.
On 28th October 2021, the director of La Prensa de Tlaxcala said he was arrested and assaulted while attempting to cover a police incident in Apizaco. After arriving on the scene, Alberto Amaro Jordan said he identified himself as press but police officers still arrested him for allegedly "disturbing public order." The reporter said that officers hit him multiple times while he was handcuffed, causing injuries to his hands, wrists and back. He was released several hours later.
On 10th November 2021, journalist Beatriz Flores' house and car were attacked in Tepeji del Río, Hidalgo. Flores told CPJ that she had received a threatening phone call the day before, during which a woman criticised an article Flores had written about the arrest of a man who allegedly transported stolen horses in La Colmena. The caller mentioned a local gang and said that "there would be consequences" if the piece was not deleted. Hours later, unknown attackers shot several rounds into Flores' car and house. The journalist told CPJ that she was assigned police protection for at least two months by Hidalgo state authorities.
Other developments
Mexico makes first arrest linked to Pegasus spyware. @ARTICLE19mex welcomes the news & warns that further surveillance operations carried out by both businesses & govts could be uncovered as investigations continue. #privacy #FreeSpeech#EyesOnExpressionhttps://t.co/MMuVWw2FT9 pic.twitter.com/5XBpOLWBKC

— ARTICLE 19 (@article19org) November 11, 2021
On 8th November 2021, the General Prosecutor's Office (FGR) announced the detention of the first accused in the investigation that is trying to prove the illegal use of spy software Pegasus by the government. As revealed by the Pegasus Project investigation, the spyware was employed for surveillance of investigative journalists, political figures and human rights defenders in Mexico.
Juan Carlos García is accused of illegally monitoring the private communications of at least one journalist, CNN correspondent Carmen Aristegui, with the purpose of "affecting, limiting and undermining her freedom of speech." A spokesperson for Article 19 commented on this development, saying García is a technical employee of a private company acting as intermediary for the Israeli NSO Group, who developed the software, but that his arrest "does not represent the end of those responsible."
Civic Space Developments
Tags
funding restriction,
protestor(s) detained,
environmental rights,
harassment,
protest disruption,
killing of journalist,
private sector,
non state actors,
LGBTI,
women,
indigenous groups,
refugees and migrants,
religious groups,
positive CS development,
attack on journalist,
labour rights,
protest,
restrictive law,
journalist detained,
Back to civic space developments