New PNG pandemic law puts rights at risk while groups protest against mine and domestic violence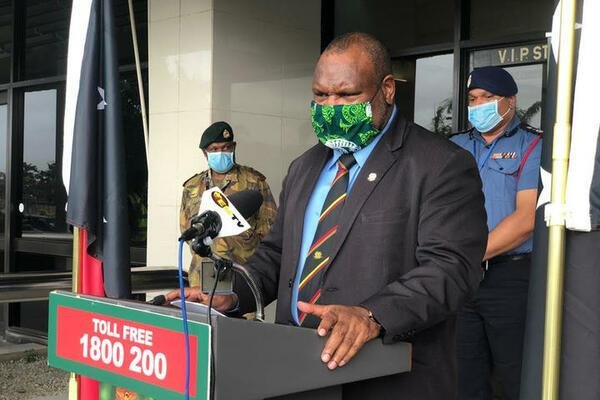 Serious concerns have been raised by civil society and the opposition around a new law to handle health emergencies that could restrict human rights and lacks adequate oversight provisions. There are ongoing protests against a massive mine along Papua New Guinea's remote Sepik river, that could destroy the ecosystem and livelihoods of thousands. Groups organised a protest against domestic violence after two high profile cases in recent months.
Association
New public health emergency law puts rights at risk
There has been massive opposition by civil society and other groups against the public health emergency law, known as the National Pandemic Act which was passed in June 2020. The law, which was rushed through parliament without adequate consultation with the opposition or civil society, contains various provisions that could restrict human rights without adequate oversight.
According to reports, the bill contains provisions: "to regulate or restrict certain rights and freedoms including the liberty of persons; freedom of arbitrary search and entry; the freedom of expression; the freedom of assembly and association; the right to privacy and the right to freedom of information and movement.
The PNG Trade Union Congress has raised concerns on this "unprecedented move", saying it would adversely infringe on the rights of freedom of citizens, businesses and all other entities. PNGTUC general secretary Clemence Kanau said that "such laws that threatened the fibre of PNG's young and vibrant democracy should bear wider consultation from the public and throughout the length and breadth of PNG".
Peter Aitsi, Chairman of Transparency International PNG (TIPNG) highlighted in a statement that the "Constitution has strict measures on the use of Emergency Powers, for instance limiting any declared emergency to a maximum of two months, and only with the express authorisation of our elected representatives in Parliament. Both of these measures are lacking in the new legislation".
TIPNG also stated that the new law further weakens accountability and also lacks the critical safeguards against corruption that are provided in the Constitution such as a Parliamentary Committee to provide oversight on behalf of citizens. It called for amendments or a repeal of the law.
Opposition leader Belden Namah wants the legislation struck down because it is considered unconstitutional. Among other reasons proffered by Namah was that the Act impaired the oversight of parliament on government's executive, particularly over the use of public funds. He has lodged a Supreme Court challenge to the law.
Analysts fear that the law securitises a public health emergency and risks diverting resources from basic public health infrastructure to largely about controlling the population, regulation, and law enforcement potentially led by security officers with enhanced powers. The Act was invoked in early August 2020 as authorities took the capital into lockdown amid PNG's biggest surge of COVID-19 cases to date.
Activists and community leaders continue opposition to Australian-Chinese mine
Thousands of people along the Sepik River have voiced their opposition to the Frieda River mine. Communities were already concerned about increased sedimentation in the river, riverbank, degradation, flooding, fish stocks and their ability to cultivate food and sago. #SaveSepik pic.twitter.com/Qjkv6xqtez

— Save The Sepik (@SaveTheSepik) August 18, 2020
Environmental and community activists are continuing their campaign against a massive mine along Papua New Guinea's remote Sepik river, which they argue will destroy the ecosystem and the culture of the 400,000 people who live along its banks.
PanAust, an Australian-registered miner ultimately owned by the Chinese state-owned Guangdong Rising Assets Management, has proposed building a gold, silver and copper mine on the Frieda river, a tributary of the Sepik. The mine would be the largest in PNG's history, and one of the largest in the world, covering 16,000 hectares, and is forecast to yield gold, silver and copper worth an estimated USD 1.5bn a year for more than 30 years.
Activists Emmanuelle 'Manu' Peni, who founded a grassroots environmental organisation called Project Sepik to stop the project said that PanAust had not been "honest or transparent" in its consultations with those who live in the Sepik river valley. He said people whose lives and livelihoods depended on the river feared their villages could be permanently damaged or destroyed by the mine.
In June 2020, the Guardian reported that 28 'Haus tambarans', a local coalition of traditional leaders, had issued a collective Supreme Sukundimi Declaration calling for "a total ban on the Frieda river mine". It said:
"The river is the life of the Sepik and therefore it must be protected at all cost. It is our innate role to guard the river from exploitation and destruction by outsiders. Our future is in peril from this proposed mine and, therefore, we have gathered together as guardians of the river to stand firm as one."
Previously, in March 2020, campaign group Project Sepik and the Centre for Environmental Law and Community Rights (CELCOR) submitted several expert reports to the PNG government's Conservation and Environment Protection Authority (CEPA), arguing the mine's environmental impact statement was deficient because it lacked critical information about a tailings dam, analysis on the probability and consequence of a dam break, and settlement plans for displaced villages.
Protest to end to domestic violence after death of 19-year-old mother 
Port Moresby residents march from Parliament to Sir John Guise stadium calling for Justice for Jenelyn and every citizen in #PNG #DomesticViolence pic.twitter.com/5tawXNJztS

— MARTYN AWAYANG NAMORONG (@MartynNamorong) July 2, 2020
On 4th July 2020, hundreds of people dressed in mourning marched through the streets of the capital, Port Moresby. Photos of Jenelyn Kennedy were scattered among signs calling for an end to domestic violence. Kennedy was just 19 and a mother of two children before she was brutally murdered, allegedly by her partner. Police believe she endured days of torture before she was delivered to the emergency ward in the middle of the night. Her partner has been arrested and charged with her murder.
Kennedy's brutal death came just weeks after Debbie Kaore, an international rugby player, boxer and Pacific Games gold medallist was viciously beaten with a hot iron by her partner. On the evening of 4th June 2020, Kaore was brutally beaten in an attack filmed by a friend on a mobile phone. The video, later posted by Kaore on Facebook, shows her being headbutted twice before being struck with a hot clothes iron. The alleged perpetrator of Kaore's abuse was a PNG Army Lieutenant, Murray Oa, who has been charged over the attack and released on court bail.
She is the latest victim in a plague of family violence in Papua New Guinea. According to human rights groups, gender-based violence including gang rape and other forms of sexual and intimate partner violence continued to be highly prevalent. Although violence against women is prohibited by law, few perpetrators are brought to justice. Instead, perpetrators often paid compensation to victims instead of facing trial.