Myanmar activists protesting internet ban criminalised while attacks against Rohingya continue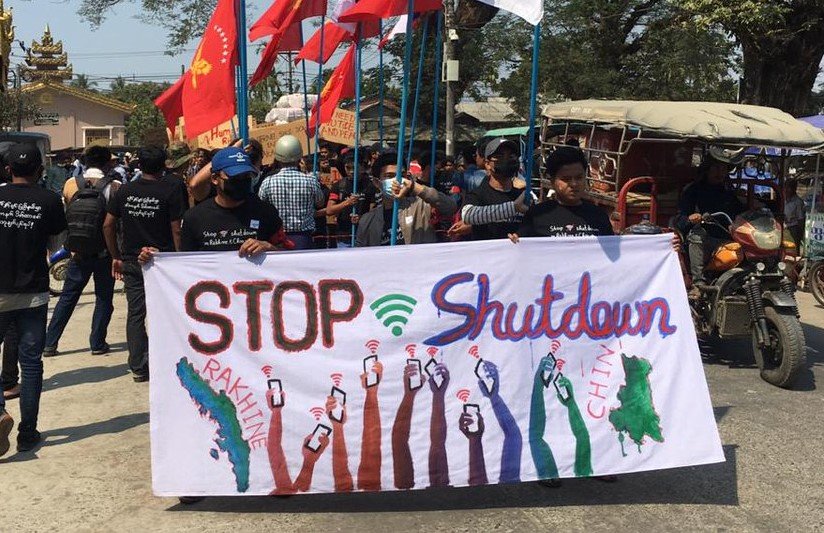 In recent months, activists and students have been charged or convicted for protesting against the year-long internet ban in the Rakhine and Chin states. A news editor has been jailed for two years for an error in reporting on the coronavirus (COVID-19). The pandemic is also being used as a pretext to harass Rohingyas as attacks against them persist.
On 29th May 2020, Asia NGO Network on National Human Rights Institutes (ANNI) and 21 Myanmar-based human rights organisations said the Myanmar National Human Rights Commission (MNHCR) is failing to protect human rights and has been silent about abuses in conflict areas during COVID-19.
The UN Human Rights Council adopted a resolution on Myanmar on 22nd June 2020,. Among the issues raised in the resolution were calls to amend restrictive laws and to end restrictions on exercising the rights to the freedoms of expression, association and peaceful assembly, which are essential to ensure a safe and enabling environment for all, notably civil society, human rights defenders, journalists, media workers, lawyers, environmental and land rights activists. Thirty seven voted in favour, two against and there were eight abstentions.
On 15th July 2020, the new UN Special Rapporteur on the situation of human rights in Myanmar addressed the Human Rights Council and questioned whether the elections scheduled for November 2020 would be free and fair.
Peaceful Assembly
Activists and students prosecuted for protests against internet ban
#Burma: Drop Criminal Complaint Against Human Rights Defender Maung Saungkha https://t.co/0T8QCUbA8N

— ♠️Tribal Action Group (@KawKndo) July 16, 2020
Maung Saungkha, poet and co-founder of the human rights group Athan, is being prosecuted for organising a protest and displaying a banner on 21st June 2020, urging the government to lift internet restrictions in Rakhine and Chin states. He has been charged under Section 19 of the Peaceful Assembly and Peaceful Procession Law (PAPPL) and the trial is ongoing with a verdict due in September 2020. The charge carries a sentence of up to three months' imprisonment and/or 30,000 Myanmar Kyat (USD 20) in fines. 
Two other activists have also been charged under the same law. According to Fortify Rights, on 21st June 2020, in Kyaukphyu Township, Rakhine State, a police officer brought criminal complaints against Min Za Aung and Nay Soe Khaing, ethnic Rakhine human rights defenders involved in the Arakan National Party's Youth Affairs Committee and the Coral Child New Generation Youth Group, for posting photos of themselves on social media wearing T-shirts that read "End Internet Oppression." Hearings in this case began in July 2020 at the Kyaukphyu Township Court and are expected to continue through the end of September 2020.
Also in June 2020, Ramree Township police officer Major Zaw Win filed a case against Myo Min Tun, a youth leader with the Ramree Township Youth Network, for allegedly holding a protest without informing the authorities beforehand, in which he called on the government to lift the internet shutdown. Police officers apprehended Myo Min Tun at his home and brought him to the police station. On the same day, the Ramree Township Court charged him with violating Section 19 of PAPPL. On 25th June, the Court sentenced him to 15 days' imprisonment and/or a fine of Myanmar Kyat 20,000 (about USD 14). Myo Min Tun chose to pay the fine.
#Myanmar #Burma: Release Imprisoned Rakhine/Arakanese Student Leaders https://t.co/CoNCE93BCg

— ♠️Tribal Action Group (@KawKndo) July 31, 2020
On 23rd July 2020, the authorities sentenced two student leaders - Myat Hein Tun and Kyaw Lin - of the Rakhine Students' Union for protesting internet restrictions in Rakhine and Chin states. The Kamayut Township Court sentenced the pair to one month in prison for failing to inform the authorities in advance of the protest.
In February 2020, members of Yangon University's Rakhine Students' Union, the All Burma Federation of Student Unions (ABFSU), and Yangon University of Economics Students' Union held a protest at the Hledan Junction in Yangon. Kamayut Township chief police officer Thein Han filed complaints against nine student protesters, including two women, who were sentenced in March 2020 to one month's imprisonment with hard labour.
The 2011 Peaceful Assembly and Peaceful Procession Law which governs protests, continues to fall short of international law and standards. The law imposes criminal sanctions for failure to give notice or failure to comply with what can be said and done at an assembly. The law also does not allow for spontaneous assemblies. This law has been systematically used to criminalise peaceful protesters.
Thousands protest against army after woman's killing
Karen Protestors Say Myanmar Military Must Leave After Killing Local Womanhttps://t.co/WBM2a5pZaM

— The Irrawaddy (Eng) (@IrrawaddyNews) July 23, 2020
On 29th July 2020, over 5,000 locals from Papun District in Karen State staged a protest outside Myanmar military posts in their area, calling for an end to the military's presence in the region after the recent killing of a woman by two soldiers.
Local residents of 35 villages in Dweh Lo Township held placards with slogans and pictures of Naw Mu Naw, the woman shot and killed by the soldiers, as they marched to four military outposts. They demanded justice for her case and other locals killed and injured by the military. Residents said the incident in which two soldiers shot Naw Mu Naw on 16th July 2020 and took her gold jewellery was the latest in a string of brutal cases facing their communities.
In a statement, the military said the that the two soldiers were currently detained at Biin military post in Mon State and will face harsh punishment. Human Rights Watch deputy Asia director Phil Robertson called for the two soldiers to be handed over to a civilian court, condemning the lack of transparency in military trials.
Since 2018, the Myanmar military's reconstruction of a road in Papun has sparked tensions between the military and the Karen National Union (KNU), an ethnic armed group. The KNU signed the Nationwide Ceasefire Agreement in 2015 but the military and KNU troops still come into conflict over territorial disputes.
Expression
Internet restrictions in Rakhine and Chin states put rights at risk
Myanmar: One year on, Internet shutdown imperils human rights in Myanmar https://t.co/aGaP7xvq1X

— Stand with Rohingya (@Rohingya111gma1) June 19, 2020
20th June 2020 marked a year since the internet shutdown in Rakhine and Chin States. As previously documented, The Ministry of Transport and Communications issued an order to all mobile network providers under the Telecommunications Law 2013 to temporarily stop mobile internet services in nine townships in Rakhine and Chin states. The Ministry cited disturbances to the peace and internet services being used to coordinate illegal activities for the shutdown.
Human rights organisations have raised concerns about the detrimental human rights impact of the shutdown, which has hampered the delivery of humanitarian aid, disrupted livelihoods and stymied efforts to document human rights abuses. The Human Rights Council has repeatedly condemned measures that deliberately disrupt access to or dissemination of information online and called on States to refrain from such practices. The Special Rapporteur on the situation of human rights in Myanmar has called on the government of Myanmar to 'reverse its decision to impose the mobile internet ban,' citing humanitarian concerns.
Matthew Bugher, ARTICLE 19's Head of Asia Programme said:
"It is disgraceful that the government would continue to deny internet access to vulnerable populations during a global pandemic and with elections just around the corner. The shutdown should never have been imposed in the first place and must be lifted immediately."
According to ARTICLE 19, in September 2019, the Ministry of Transport and Communications lifted the shutdown in five townships. However, in February 2020, it was re-imposed in those townships. In May 2020, the government lifted the shutdown in Rakhine State's Maungdaw Township. It remains in place in eight other townships.
On 23rd June 2020 the military said there was no plan to lift the ban, despite an earlier Communications Ministry announcement that the internet restrictions were provisionally extended only through 1st August 2020. In early August 2020, the restriction was further extended to 31st October 2020. In eight townships, 2G access is now available but most still find it difficult to access the internet.
Myanmar editor jailed for two years for error in COVID-19 reporting
A Myanmar news editor was sentenced to two years' imprisonment after his agency reported a coronavirus death that turned out to be false. Chief editor Zaw Ye Htet was arrested on 13th May 2020, the same day his online news agency Dae Pyaw published an erroneous article alleging there had been a death due to COVID-19 in the eastern Karen state.
On 20th May 2020, just one week later, he faced trial under section 505(b) for speech that "is likely to cause fear or alarm in the public," and was sentenced to two years in jail by the court in Karen state.
Shawn Crispin, the Committee to Protect Journalists' senior Southeast Asia representative said:
"Journalists should never be jailed for their news reporting, particularly during a global health emergency. Zaw Ye Htet should be freed immediately, and authorities should stop using legal threats to stifle news reporting."
Section 505(b) of the Penal Code is a vaguely worded provision that is often used to stifle journalists, activists and peaceful protesters and more generally the right to freedom of expression.
New report by human rights group highlights ongoing civic space restrictions
A Chance to Fix in Time: Analysis of #FreedomOfEpression situation in #Myanmar under the NLD government within the past 4 years of its term. https://t.co/r6Yj3Iqz4p pic.twitter.com/ZuwK5ZdwMD

— ATHAN (@athan_info) July 22, 2020
On 16th July 2020, human rights group Athan released a new report entitled 'A Chance to Fix in Time: Analysis of Freedom of Expression in Four Years'. The report highlighted that there has been lack of reforms related to freedom of expression, media freedom and freedom of peaceful assembly. Restrictive laws continued to be used to criminalise critics and student protesters.
In terms of media freedom, Athan reported here have been ongoing prosecutions against journalists under the Unlawful Associations Act and several different laws. People's right to seek and access information were also being violated due to the internet shutdown in Rakhine and Chin states as well as the blocking of websites.
Association
Pandemic used as pretext to harass Rohingyas as attacks against them persist
Pandemic Adds New Threat for #Rohingyas in Myanmar https://t.co/FxXafHiPMC

— Protect The Rohingya (@ProtectRohingya) June 3, 2020
In May 2020, Human Rights Watch reported that authorities are using COVID-19 response measures as a pretext to harass and extort ethnic Rohingyas.Rohingyas in the camps told Human Rights Watch that military and police forces regularly subject them to harassing physical punishment at checkpoints. One Rohingya woman said the police made her do sit-ups for 30 minutes for not wearing a mask through a checkpoint, after which she was too exhausted to move. Another man witnessed people being forced to perform squats at a checkpoint with their hands on their ears.
At least 130,000 internally displaced Rohingyas are trapped in detention camps in central Rakhine state in Myanmar with little access to land or livelihoods. They depend on foreign aid supplies and die of treatable diseases because of limited access to healthcare. Shelters, built in 2012 to last two years, have deteriorated. Most children can only attend basic classes at temporary learning spaces.
A Rohingya woman told HRW that Rohingyas are not allowed to cross Sittwe checkpoints without a mask and are fined or receive ad hoc punishments if they aren't wearing one. Yet the authorities have not provided enough face masks to Rohingyas in the camps. Several camp residents told HRW that an entire family must share a mask because they could not afford to buy one for each family member. Even with a mask, they may still undergo harassment, fines and physical punishment at multiple checkpoints, only to find that the main clinic in the camps – the only place they can get medical assistance – cannot test them or provide adequate care.
Myanmar: Imagery Shows 200 Buildings Burned https://t.co/dmthhNe0N3

— Human Rights Watch (@hrw) May 28, 2020
On 16th May 2020, satellite imagery showed that about 200 homes and other buildings were destroyed by fire in Rakhine State. HRW said the burnings had all the hallmarks of Myanmar military arson on Rohingya villages in recent years.
On 24th May 2020, Myanmar submitted its first report to the International Court of Justice (ICJ), detailing what it has done to prevent genocide of the Rohingya. In January 2020, the ICJ had ordered Myanmar to take emergency measures to do so after Gambia's application to the court alleging that abuses by Myanmar's military in Rakhine State against the Rohingya violate the Convention on the Prevention and Punishment of the Crime of Genocide. Despite this, human rights groups reported that nothing had changed for the estimated 600,000 Rohingya who live in Rakhine State in dire conditions.
At the end of June 2020, Reuters reported that thousands of villagers have fled their homes in Rakhine state after a local administrator warned dozens of village leaders that the army planned "clearance operations" against insurgents.
On 11th August 2020, Nicholas Koumjian, head of the Independent Investigative Mechanism on Myanmar (IIMM) said Facebook has not released evidence of "serious international crimes", despite promising to work with investigators looking into abuses in the country, including against the Rohingya.
Rohingya candidate barred from standing for elections
On 13th August 2020, it was reported that a Rohingya Muslim has been barred from standing in Myanmar's upcoming elections scheduled for November 2020. Abdul Rasheed, 58, a member of the Democracy and Human Rights Party, told AFP that his candidacy was rejected by the district election commission in Rakhine state capital Sittwe.
The commission said this was because his parents were not Myanmar citizens when he was born, Rasheed said -- even though he had proof his parents and grandparents were granted citizenship in 1957, four years before his birth.
Abdul Rasheed is the first Rohingya candidate denied the right to run for office in Myanmar's forthcoming national elections. More than a dozen other Rohingya candidates have submitted registration documents to the Election Commission.