Muffled protests and persecution of opposition movements, NGOs and trade unions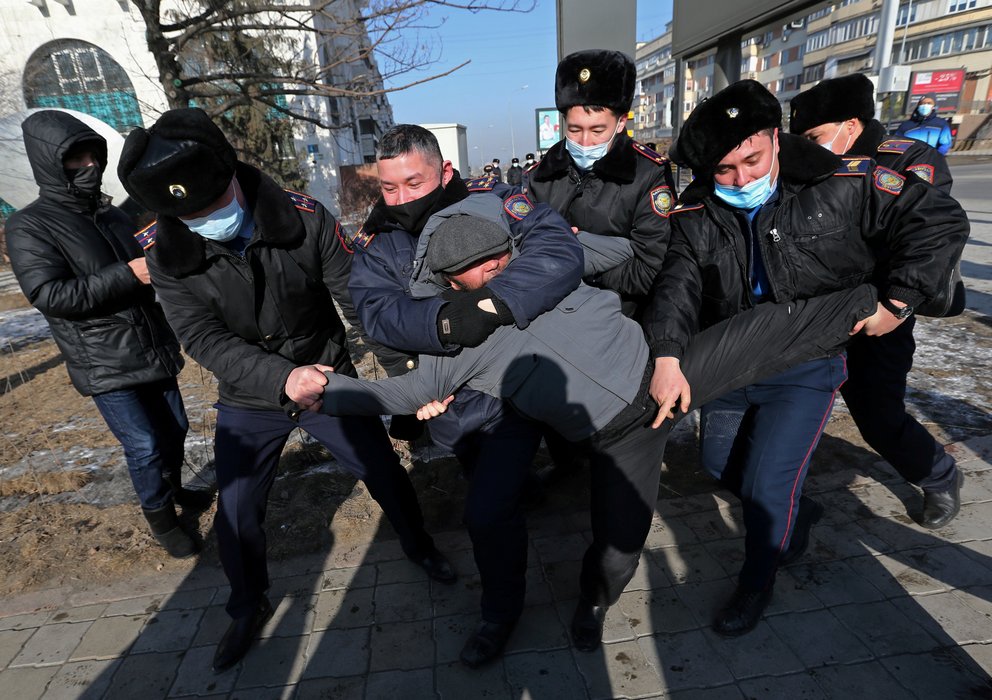 Introduction
This report covers developments on the freedoms of expression, association and peaceful assembly in Kazakhstan during February and March 2021 and was prepared for the CIVICUS Monitor by International Partnership for Human Rights (IPHR) and Kazakhstan International Bureau of Human Rights and Rule of Law (KIBHR) based on KIBHR's monitoring of the situation in the country.
As described in detail below, the reporting period was characterised by the ongoing crackdown on opposition movements and civil society organisations and serious violations of the right to peaceful assembly.
General developments
On 9th February 2021, the European Parliament adopted a new resolution on the human rights situation in Kazakhstan, in which it expressed concerns about the restrictions on fundamental rights marked during the January 2021 parliamentary elections, including growing pressure on civil society organisations. The Parliament called on the Kazakhstani authorities to cease exerting pressure on civil society and to respect human rights and fundamental freedoms. In response, the Kazakhstani Ministry of Foreign Affairs stated: "We are convinced that the text of the resolution distorts the real state of affairs in our country and was initiated by unfriendly politicians, fuelled by falsified information from destructive circles. Kazakhstan is purposefully and progressively realising its obligations in the field of human rights." The Ministry further declared that the resolution "caused complete bewilderment and incomprehension with respect to the reliability of the information used." 
Association
The reporting period saw several cases of pressure and obstruction of the work of trade unions and NGOs and continued persecution of activists from the Democratic Choice of Kazakhstan (DVK) and the Street Party, opposition movements which have been banned as "extremist'' by court decisions in Kazakhstan, although they do not advocate or endorse violence.
For example:
Other significant cases concerning citizens' right to freedom of association:
During the reporting period, according to KIBHR's monitoring, more than 120 people were charged with participating in "a banned organisation" because of their alleged involvement in the DVK and/or the Street Party. The activists who were convicted on such charges were typically given sentences involving restriction of freedom (a non-custodial sentence entailing court-imposed restrictions on the freedom of movement of those affected), as well as bans on civic engagement. Below are some of the cases documented by KIBHR:
Several activists, prosecuted for exercising their right to freedom of association, were included in a revised list of political prisoners in Kazakhstan:
Peaceful Assembly
Despite the fact that Kazakhstan has officially had a notification system for holding peaceful assemblies since May 2020, in practice it is implemented as a system of permission, and individual citizens and initiative groups are often denied official approval for peaceful assemblies, and even single pickets, under various pretexts. Although in a positive development, the number of sanctioned demonstrations has increased, it is undermined by the significant tendency on the part of the authorities to use preventive detention (detaining people who the authorities believe might take part in a demonstration) to undermine people's right to peaceful assembly. Calls for peaceful assemblies and expressing the intention to take part are often equated to committing an administrative offence. The authorities also continue to arrest and prosecute citizens for administrative offences months after an unsanctioned demonstration has taken place. Furthermore, the authorities have begun to systematically switch off internet connectivity in parts of Almaty during demonstrations. In addition to interfering with the communications among protest participants and observers, these actions paralyse the work of shop keepers, as most payment terminals stop working, and is of great annoyance to the general public.
As mentioned in the previous update, the police have begun to actively use the tactic of "kettling" against protesters in Kazakhstan. (Kettling is a police tactic used to control large crowds and involves cordons of police officers who contain protesters in a small area). During the reporting period, there were cases when the police used kettling against protesters for over ten hours at a time. When confined, demonstrators are not allowed to leave, get food or go to the toilet, and they can also be subject to attacks from provocateurs. Only if a person loses consciousness or experiences serious health problems are they allowed to leave -- in an ambulance.
On 28th February 2021, supporters of the unregistered Democratic Party and the banned opposition movement Democratic Choice of Kazakhstan (DVK) held demonstrations in Almaty. Activists from the Democratic Party intended to hold a demonstration on Republic Square to call for political reform, for Kazakhstan to comply with the requirements of the recent European Parliament resolution (see above) and cease leasing Kazakh land to foreigners. DVK supporters gathered for a rally near the former Gorky Park demanding the release of political prisoners and compliance with the European Parliament resolution. About 30 activists from the Democratic Party were rounded up by the police at Republic Square and "kettled" for over ten hours before being allowed to go home. The police also used force to detain some 60 potential demonstrators and random passers-by near Gorky Park. Those detained were eventually released without charge and, at the time of writing, no one had been prosecuted in relation to their participation in the demonstrations that day. There were also attempts to hold protest actions in other Kazakhstani cities, and some citizens were detained there. For example, ten civil activists were detained in and around Auezov square in Semey. In the city of Atyrau, Max Bokayev and his supporters were forced to call off their demonstration when the police attempted to kettle them. In Aktobe, some ten demonstrators went to the central stadium, and were promptly detained as they began to voice their demands. 

On 16th February 2021, the Almaty City Prosecutor issued a statement claiming that the kettling of protesters on 10th January was not illegal (see previous update). The statement was made in response to an appeal by the Oyan, Kazakhstan! member Ayzat Abilseit. On 1st March 2021, during an interview with Radio Azattyq, the Kazakh service of Radio Free Europe/Radio Liberty (RFE/RL), the Commissioner for Human Rights in Kazakhstan - the Ombudsman - Elvira Azimova called the kettling of demonstrators "a security measure"."There are OSCE recommendations on this matter. This is a pure security measure. The application of this measure should be approved as a standard based on open dialogue with public activists." 
For over two months there have been daily demonstrations staged by around 12 people at the Chinese Consulate in Almaty. The demonstrators are people whose relatives are either known to be in the Chinese Xinjiang internment camps or who have disappeared. Police occasionally arrest the demonstrators and have also prevented journalists from reporting on the protests.
On 1st February 2021, Almaty Administrative Court issued a warning to Baybolat Kunbolatuly, who was detained near the Chinese Consulate. He had demonstrated outside the Consulate for the release of his younger brother, who is a Chinese citizen, and is held in the Xinjiang internment camps. On 8th and 9th February 2021, a group of people demonstrated outside the consulate, stating that their relatives in Xinjiang had been convicted on groundless charges, or were unable to leave for Kazakhstan because the Chinese authorities had confiscated their passports. On 9th February 2021, Kunbolatuly was sentenced to ten days of administrative detention. On 26th February, the Specialised Interdistrict Administrative Court in Almaty sentenced Marat Kurbanov, who had also participated in a demonstration outside the Consulate on 23rd February 2021, to 12 days of administrative detention. 

On a positive note, after almost five years behind bars,political prisoner Max Bokayev was released from prison after completing his sentence in Atyrau on 4th February 2021. However, on 18th February 2021, the Second City Court of Atyrau ruled that Max Bokayev should be kept under "administrative supervision" for a period of up to three years, at the request of the city police department. Bokayev is now prohibited from leaving Atyrau for three years without written police permission; prohibited from leaving his home on weekdays from 22:00 to 06:00, as well as on holidays and weekends, except for business purposes. He is also prohibited from discussing socially important issues and expressing opinions in public places and outside. During the period of administrative supervision, the activist is obliged to report to the police in Atyrau regularly. Before Bokayev's release, the Atyrau court sentenced him to three years of administrative supervision at the request of the regional Department of the Committee of the Penitentiary (prison) System. On 19th February 2021, Max Bokayev received a warning from the Department of the Penitentiary System of the Atyrau Oblast region for giving an interview after his release. On 16th March 2021, the Atyrau Oblast Appeals Court rejected Max Bokayev's complaint about the restrictions. Max Bokayev was arrested in 2016, at the height of the nationwide land reform protests. In November 2016, the Second Atyray City Court found Max Bokayev andactivist Talgat Ayan guilty of incitement to social discord and disseminating knowingly false information, through social media, as well as of violating the procedure for holding assemblies (Criminal Code Articles 174, 274 and 400). Both of them were sentenced to five years in prison, banned from engaging in public activities for three years upon release, and fined 530,250 KZT (about 1,500 Euros at the time). The two activists were convicted following a politically motivated and unfair trial.
Other general cases violatingcitizens' right to peacefully assemble were also documented:
Expression
During the reporting period, the authorities used libel charges in retaliation against outspoken activists. The editor-in-chief of the independent media Uralsk week, Lukpan Akhmedyarov, was also subjected to criminal prosecution because of his journalistic work.
On 1st February 2021, a criminal case on Article 423 of the Criminal Code, for disclosing information from pre-trial proceedings or closed court proceedings, was initiated against Lukpan Akhmedyarov, the editor-in-chief of Uralsk Week. On 3rd February 2021, Akhmedyarov attempted to leave for Atyrau to meet the recently released political prisoner Max Bokayev. He was detained by police and taken to the local police station for questioning in relation to the criminal charges against him. At the police station, Akmedyarov spent over three hours waiting in the investigator's office before being asked to sign an investigation protocol stating that he refused to testify since he did not have a lawyer, and that he refused to have a state-appointed lawyer. Akhmedyarov refused to sign the false statement, was subsequently issued with a summons to appear for interrogation the next day and asked to leave the office. Akhmedyarov is facing charges in relation to an article published on 27th November 2020 about the mother of a prosecutor, and alleged land scams in the West Kazakhstan Oblast. 
Three people were convicted of libel (Article 73 of the Administrative Code) in February 2021, in relation to a Facebook post. On 11th February 2021, the Zhanaozen Specialised Administrative Court sentenced local activist Sholpan Utekeeva to 20 days' administrative detention for sharing a photo and name of a district police chief, with the word "shameful" on Facebook. It is worth noting that although Utekeeva had only shared this post, the court nevertheless found her guilty of spreading false information, discrediting the honour and dignity of the police chief and undermining his reputation. Utekeeva's trial took place without a lawyer being present. In a related case, blogger Aigul Akberdy from Aktau was put on trial on 17th February 2021 for libel after reposting the same photo as Utekeeva and was fined 525,060 KZT (1,000 EUR or 1,200 USD). In a third case, on 27th February 2021, Munaylinskiy District Court in Mangystau Oblast found civic activist Uybolsyn Turdieva guilty of libel for reposting the same photo. She was sentenced to 20 days' administrative detention.