More than a thousand killed in Myanmar as repression of activists continues unabated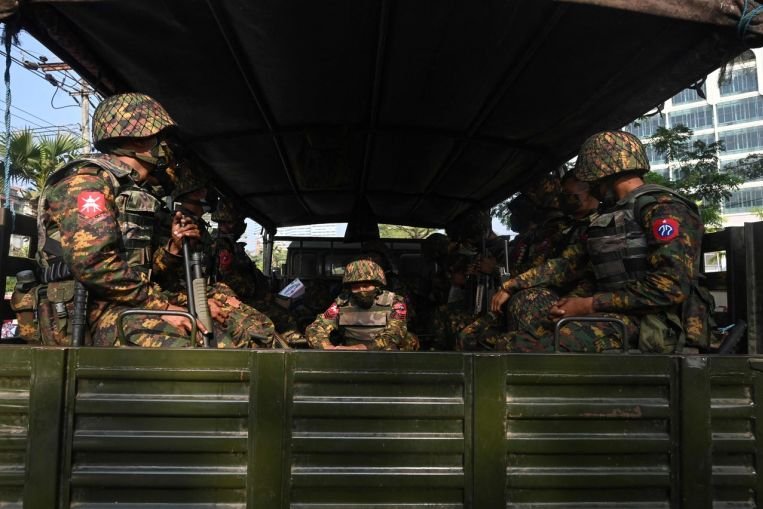 Nearly seven months on following the coup, Myanmar remains on the CIVICUS Monitor Watchlist due to the ongoing repression of civic freedoms on the country by the military junta.
On 27th July 2021, the military junta revoked the results of the 2020 general election, in which the National League for Democracy (NLD) won a landslide victory, claiming the poll was "not free and fair" and "not in compliance with" the constitution and the law. On 1st August, junta leader General Min Aung Hlaing named himself prime minister and said emergency rule may now extend to August 2023. He also pledged to hold a "free and fair multi-party election" but also described the ousted NLD as "terrorists".
On 4th August 2021, ASEAN finally appointed Erywan Yusof, the second foreign minister of Brunei Darussalam as its special envoy to Myanmar more than 100 days after the Southeast Asian bloc's members agreed to send an emissary to help resolve the post-coup crisis there. Observers have greeted the appointment with scepticism. Myanmar civil society groups rejected the appointment and expressed "deep disappointment with ASEAN and their lack of inclusive decision-making process", said a statement from 413 groups.
More than a thousand civilians have been killed in Myanmar since the 1st February coup, according to the Assistance Association for Political Prisoners (AAPP), a human rights group that records killings by the junta. As of 18th August 2021, the NGO said 1,006 people had been killed since the junta seized power, triggering nationwide protests and a mass civil disobedience movement. Among those killed are more than 100 teenagers. Some were killed while troops suppressed protests, but others fell in random and unprovoked shootings. As of 23rd August, at least 5,821 political prisoners remain in detention according to the AAPP.
On 31st July 2021, Human Rights Watch reported that Myanmar's military junta had committed numerous abuses against the population that amount to crimes against humanity in the six months since the coup. Apparent crimes against humanity include murder, enforced disappearance, torture, rape and other sexual violence, severe deprivation of liberty, and other inhumane acts.
Activists have mobilised ahead of the United Nations General Assembly in September 2021 when UN member states will select the country's ambassador. The General Strike Coordination Body (GSCB) launched the "Accept NUG, Reject Military" campaign in August 2021, which called on social media users to support the National Unity Government (NUG) and its UN Ambassador Kyaw Moe Tun.
The United Nations Secretary-General's special envoy for Myanmar, Christine Schraner Burgener, said the junta had not responded to her request for talks as it tries to consolidate its rule.
Over the last month, concerns have been raised by the UN around the situation of human rights defenders as arrests and attacks on activists continue. A new report shows the systematic targeting of healthcare workers. The crackdown on the media has continued with arrests and sentencing of journalists. Civil society groups criticise the exit of Norwegian telco, Telenor. Protests continued across the country, including in prisons by political prisoners. There were reports of attacks on protests by the junta.
Association
Terror campaign against human rights defenders
On 19th July 2021, UN human rights experts expressed their concern for the situation of human rights defenders in Myanmar and called for a stronger international response to the military coup, including coordinated sanctions and an arms embargo against the junta by an "emergency coalition of nations".
The experts highlighted credible information they had received concerning human rights defenders being forced into hiding after having arrest warrants issued against them under section 505(a) of the Penal Code. Their homes were raided, their possessions seized, and family members threatened and harassed. Many others, unable to flee, have been arbitrarily arrested, including labour rights defenders and student activists. Lawyers representing people detained following the coup have themselves been detained, as have journalists covering the protests.
Women have played a leading role in the protest and civil disobedience movement that has emerged in the country in response to the military's seizure of the State apparatus in February, and the experts expressed particular concern for the situation of women human rights defenders in the country.
"The brute force terror campaign we are witnessing in Myanmar continues to be directed towards human rights defenders," said Mary Lawlor, the Special Rapporteur on the situation of human rights defenders, and Tom Andrews, the Special Rapporteur on the situation of human rights in Myanmar.
"For years, human rights defenders have been doing essential work promoting human rights in the country," Lawlor said. "Since the coup, and despite enforced internet blackouts along with difficulties accessing basic resources, especially for defenders forced into hiding or living in rural areas, they have been documenting the mass violations being perpetrated by the military. As a result, they have been targeted," the expert said.
Two activists die, three injured while fleeing the junta
Myanmar: The woman who jumped to her death while fleeing police https://t.co/D4zZ80QKx8

— BBC Asia (@BBCNewsAsia) August 14, 2021
Two pro-democracy activists died and three others were seriously injured when they jumped from a building in Yangon to avoid capture by the junta. Ye Min Oo and a woman, Wai Wai Myint, also called Pan Thee, lost their lives when they and three friends jumped from the roof of a building as junta forces stormed their apartment in Botahtaung township in Myanmar's largest city.
The three who survived the jump - Wai Phyo Aung, Thiha Kaung Set and Poe Kyaw Kyaw - were arrested by police and taken with the bodies of those killed to a military hospital in Mingaladon township in northern Yangon.
Tin Zaw, the father of Ye Min Oo, said he was told by witnesses that his son was still alive after the fall but was beaten to death. A witness, who spoke on condition of anonymity for safety reasons, told RFA the fleeing activists apparently got trapped on the rooftops of the old buildings.
A police report circulating on social media says the raid on the activists' apartment was carried out by a team led by Tactical Commander Col. Soe Tun of the ruling junta.
Junta arrests leader of Mandalay protest alliance
Military arrests leader of Mandalay protest alliance - Myanmar NOW #WhatsHappeninglnMyanmar https://t.co/Dc0JOn5en6 via @AddThis

— Aung Khaing Soe (@aung_khaing_soe) August 17, 2021
A youth leader from the Mandalay Protest Alliance Force was arrested by the military junta while driving near Mandalay University on 17th August. Plainclothes soldiers stopped a motorbike driven by activist Kyaw Thiha, beat him, and took him with them at gunpoint, according to an eyewitness.
Thura Aung, a friend who had been staying with him and another leader of the alliance, said that over 20 troops later inspected Kyaw Thiha's former home in Patheingyi Township that night.
The Mandalay Protest Alliance Force has been a frequent target of the brutal crackdowns by the military on anti-coup resistance.
The Mandalay Protest Alliance Force was formed when multiple Mandalay protest columns joined forces to revolt against the dictatorship. They include Daung Sit Thi (Peacock Warriors); All Burma Federation of Student Unions (ABFSU); Academics; Labourers; Farmers; Mandalay University Students; BEHS (7) Students; and Sein Pan.
Threats and attacks on healthcare workers
A new report by Insecurity Insight, Physicians for Human Rights (PHR) and Johns Hopkins University Center for Public Health and Human Rights (CPHHR) in August 2021 found that there were at least 252 attacks and threats against health workers, facilities and transport that have been perpetrated in Myanmar from 1st February to 31st July 2021
The country's armed forces and police reportedly committed the vast majority of attacks. Health workers have been targeted for providing medical care to injured civilians and for their participation in the Civil Disobedience Movement (CDM), which is protesting the military takeover.
190 health workers were arrested, 37 health workers were injured and 25 health workers killed. Hospitals were raided at least 86 times and occupied at least 55 times.
The report also highlights that staff from the World Health Organisation (WHO), non-governmental organisations (NGOs) and international NGOs have been threatened and forced to return to work by the military council. There are reports that the junta is trying to replace NGO workers believed to be close to the CDM with government appointees.
Expression
Crackdown on journalists continues
Myanmar Junta Continues to Detain Journalists https://t.co/9uOA1sQzsz#WhatsHappeningInMyanmar
--------------------
Help The Irrawaddy Report the Truth from Myanmarhttps://t.co/PaJUd0gH3P

— The Irrawaddy (Eng) (@IrrawaddyNews) August 19, 2021
The military junta has continued to arrest and prosecute journalists.Two journalists were arrested on 15th August 2021 at an apartment where they had been hiding in Yangon's Bahan Township.
Sithu Aung Myint, a Frontier Myanmar columnist and contributor to Voice of America, now faces a charge of sedition under section 124a of the Penal Code on top of an outstanding incitement charge. Sithu Aung Myint has been evading arrest since 24th April 2021, when the junta opened a case against him under section 505a for incitement. Htet Htet Khine, a freelance producer for BBC Media Action, has been charged under section 17(1) of the Unlawful Association Act for associating with the NUG, which the junta labels a terrorist group.
According to Human Rights Watch on 27th July 2021, since the coup the junta has arrested 98 journalists, 46 of whom are currently in detention, according to the Assistance Association for Political Prisoners (AAPP).
Six journalists have been convicted, including five for violating section 505(a) of the penal code, a new provision that makes it a crime to publish or circulate comments that "cause fear" or spread "false news."
Those sentenced under section 505(a) are: Kaung Myat Hlaing, from Democratic Voice of Burma (DVB), who was arrested at his home in Myeik, Tanintharyi Region, and sentenced to two years in prison; Min Nyo, from DVB, who was arrested while reporting on a protest in Pyay Region, and sentenced to three years;Thet Naing Win, from DVB, who was arrested in Bago Region and sentenced to three years; Zaw Zaw, a freelance reporter who was arrested while covering demonstrations in Myeik, Tanintharyi Region and sentenced to two years; and Htoo San, a freelance photographer in Myeik, Tanintharyi Region, who was sentenced to three years.
On 28th July 2021, the Committee to Protect Journalists published a report, "Bitter reversal: Myanmar military coup wipes out press freedom gains," which found the country has become one of the world's worst jailers of journalists.
The broadened language of penal code 505(a) has effectively made independent journalism a crime. The threat of arrest has driven many news organisations to close their offices and forced journalists underground or into exile. Further complicating access to information and the ability to report, authorities have banned satellite media and imposed rolling restrictions on the internet.
Journalists who spoke with CPJ said their colleagues behind bars have been subjected to abuse and torture; at least three have reported health problems. International reporting from Myanmar is also restricted. Few foreign journalists have been allowed access.
Civil society groups criticise exit of Norwegian telco
In a letter to Gunn Waersted, the chair of Telenor Group's board, a group of 45 global and Myanmar human rights, media and other organisations called on Norway's Telenor Group to halt the controversial sale of its Myanmar operation to the M1 Group, a Lebanese company with ties to Myanmar's junta. The group included ALTSEAN-Burma, Free Expression Myanmar, Global Witness, PEN America, Justice for Myanmar and dozens of other international and Myanmar organisations.
Saying they were "surprised and dismayed" by Telenor's deal with M1, the organisations said Telenor had acted "without seeking the views of the civil society stakeholders with whom it previously significantly engaged on responsible business, including some of our undersigned organisations. Furthermore, there was no evidence that Telenor had undertaken the "credible assessment of potential adverse human rights impacts of disengagement" from Myanmar required under the UN Principles on Business and Human Rights.
Telenor announced on 8th July 2021 that it had agreed to sell its Myanmar operations to M1, which was added to the Burma Campaign UK's Dirty List in 2019 for doing business with the Myanmar military. Telenor confirmed that as part of the deal it would transfer the call records of its more than 18 million subscribers to the Lebanese company. Rights activists say allowing the junta to access such information would be dangerous, pointing out that phone subscribers in Myanmar must supply ID cards and addresses when registering SIM cards.
Peaceful Assembly
Attacks on protesters by junta
Again in Mandalay, four protest columns - the Maha Aung Myay Township group, students, inter-industry and inter-religious - joined forces and marched together against Myanmar's military dictatorship today (Aug 25). #WhatsHappeningInMyanmar pic.twitter.com/Jntk2VNRfi

— Myanmar Now (@Myanmar_Now_Eng) August 25, 2021
Protests continued across the country in Yangon, Mandalay and other townships including by youth, workers and LGBTQI+ activists. On 28th July 2021, the junta shot three people, killing at least one, during a crackdown on an anti-coup demonstration in Mandalay. Around 20 people were taking part in a flash mob protest near the east gate of Mandalay's famous Mahamuni pagoda when they suddenly came under attack. On 2nd August 2021 it was reported that a 22-year-old anti-coup protester in Mandalay, who was shot and injured before being detained during a raid, had died in military custody.
Political prisoners protest military with chants, songs
#CRPH urges ICRC to help political #prisoners in wake of #Insein Prison inmates' #protest | Mizzima #Myanmar News and Insight https://t.co/aAaIMuNWzd pic.twitter.com/yoVyO3y0id

— Mizzima News (@MizzimaNews) July 24, 2021
Political prisoners inside Myanmar's most notorious jail held a protest on 23rd July 2021, singing popular songs opposing the military government and chanting political slogans, according to nearby residents and video uploaded to social media.
One video showed a street close to Insein Prison in Yangon with clear audio of voices shouting support for ousted leader Aung San Suu Kyi and ousted President Win Myint. According to a lawyer representing some of those detained, the prisoners were demanding the release of all those held on political charges, an easing of prison regulations and medical treatment for those who have fallen sick amid spiralling cases of the coronavirus.
A representative of the Assistance Association for Political Prisoners (AAPP) said: "We are concerned about torture and potential additional charges being filed against the political prisoners as a consequence if the protest is dubbed a prison riot. Such incidents happened under the previous military dictatorships"
Following the incident at Insein Prison, prisoners at Shwe Bo Prison in Sagaing Region and Obo Prison in Mandalay Region also protested, according to the AAPP.
Anti-coup protesters mark 1988 uprising anniversary
Myanmar: Protests mark anniversary of 1988 uprising https://t.co/sw3PphgBPj

— PHYO (@DRWPHYO) August 8, 2021
On 8th August 2021, protesters came out in cities across Myanmar to protest against the military junta and to mark the 33rd anniversary of an uprising against military rule that was violently put down.
Protests took place across Myanmar, including the main cities of Yangon, Mandalay, Sagaing, Mongwa and Myitkyina, according to local news reports. Protesters remembered the thousands of people, many of whom were students, who rose up against military rule in 1988. That uprising was crushed in a bloody crackdown.
They also organised online campaigns, bringing people out dressed in red to show the eight-finger salute, which has become one of the symbols of the protest movement, and to hold banners saying: "Let's return the old blood debt of 1988 in 2021."