More than 200 days without funding for Slovenian Press Agency; attempts to block funds for NGOs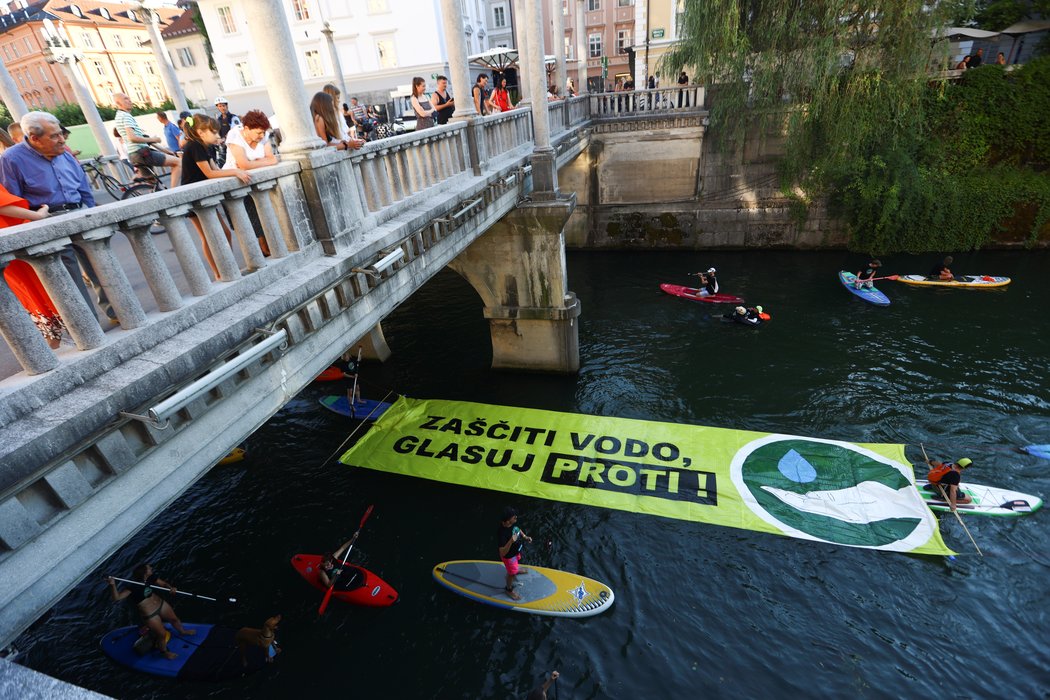 Introduction
Slovenia took over the EU Council rotating presidency on 1st July 2021. The start of the Presidency also coincided with Slovenia being placed on the CIVICUS Monitor Watchlist, marking a rapid decline in civic space. The latest concerns include attempts to curtail access to funding for NGOs and the ongoing blockageof funds to Slovenia's public press agency, STA, threatening its survival.
Association
Discriminating criteria impede NGOs' access to Norway and European Economic Area Grants
At the beginning of July 2021, the Minister responsible for cohesion, Zvone Černač, introduced discriminatory criteria to exclude the participation of NGOs in the calls for Norway and European Economic Area (EEA) grants. The criteria were discriminatory as no additional criteria were included for other entities applying for the grants. This is just the latest in a series of moves to curtail access to funding for NGOs. Significantly, it risks blocking access to 34 million Euros in grants.
Minister Černač has a history of publicly targeting and insulting NGOs. Just last year, he retweeted a supporter of the SDS ruling party, who in a tweet said "NGOs, move out on your own and start earning money yourself. From membership fees and donors. Can you do it? No? Well, then you are not worthy of existing!" Similarly, Prime Minister Janša has a history of blaming, insulting and targeting NGOs: in February 2021 he blamed NGOs for the high number of excess deaths in the second wave of the pandemic, and his government has also attempted to evict dozens of NGOs from premises they had been legally using since the 1990s.
The Centre for Information Service, Co-operation and Development of NGOs (CNVOS) condemned the discriminatory criteria in a statement, labelling this as an attempt to seek "revenge" against NGOs and silence critical voices. CNVOS said that
"the conditions [for accessing the grants] are such to enable every undertaking and virtually no nongovernmental organisation to participate. The bar has been set so high that nobody can reach it."
CNVOS also reports that the criteria were kept secret from donor countries, having been inserted into the contract after a double contract coordination and confirmation procedure with them. In relation to the new criteria, Trine Skymoen, Norwegian Ambassador to Hungary and Slovenia, said
"We were informed about a very worrying development, additional criteria for NGOs. Let me state this very clear, any discriminatory eligibility criteria for NGOs are deemed unacceptable".
However, the Minister responsible for cohesion later announced that the additional criteria had been removed.
The attempt to block access to funds for NGOs is a major encroachment on access to funding and an enabling environment for civil society. This also comes at a time when just over the border in Hungary, EEA and Norway grants have been pulled for the current funding period, as donor countries and Hungary have failed to reach an agreement on how funding for civil society was to be administered. 
Environmental NGOs fight against government plans to build hydropower plants
Lutra, the Institute for Conservation of Natural Heritage, is one of the leading environmental NGOs fighting against Environment Minister Vizjak's attempts to build the Mokrice hydropower plant on Slovenia's biggest river. The NGO warns that the project could have a serious impact on the natural habitats and ecosystems surrounding the river and therefore has taken the case to court. On several occasions, the court has upheld their arguments, in recognition of the irreparable damage that the construction of the Mokrice hydropower plant could cause to protected nature and animal species in special protection areas.
Despite these legal successes, the ongoing debate with the environment minister has impacted Lutra's ability to carry out other projects. For example, in 2020, Lutra signed a contract for the LIFE+ European funding, for which they are obliged to seek partner funding and approval from the Ministry of Environment. CNVOS reports that despite Lutra's application to the ministry's call for partner funding, Minister Vizjak continues to stall completion of his obligation to sign the partnership contract. This is yet another obstruction to an enabling environment and freedom of association in Slovenia. It is also not the first instance of environmental NGOs being targeted under Janša's government.
Grassroots NGOs win referendum against threatening Water Act
In March 2021, environmental NGOs raised the alarm when the Slovene government passed amendments to the Water Act without, critics say, sufficient public consultation and in an unconstitutional manner. The Act proposed to introduce controversial changes that would allow construction on waterland and coastal areas, threatening public access to water and increasing water pollution. In response, environmental and feminist civil society groups formed a coalition called the Movement for Drinkable Water, mobilising across the country to collect thousands of signatures demanding a referendum on the reforms to the Water Act. Nika Kovač, from feminist organisation Institut 8th of March, one of the leading coordinators of the campaign, said:
"We are convinced that the feminist struggle is also an environmental one. We must work to build solidarity between environmental and other social issues and groups. This referendum is our joint fight."
"What we have been witnessing in Slovenia in the past year is almost a textbook example of taking an extraordinary crisis such as a global pandemic and in its guise dismantling environmental protections. The idea of "economic development" that we are being sold does not take into account the long-term environmental harm," said Sara Kosirnik, Greenpeace Slovenia.
Following the successful collection of over 56,000 signatures, the Movement for Drinkable Water successfully triggered a nationwide referendum. The referendum took place on 11th July 2021, and 86 percent of people voted against the amendments to the Water Act. Following this, the environment minister said that the referendum was "stolen" and "misused to achieve other goals". 
We did it! Landslide victory on "water #referendum".
💧💦
Yesterday Slovenians went to the polls and brought about the biggest environmental win in our history. 677,119 people voted against the act, which represented 86% of all who voted!!!

Big #peoplepower win! pic.twitter.com/p3jKnH7cig

— Greenpeace Slovenija (@greenpeacesi) July 12, 2021
Despite this civic space breakthrough, major challenges for environmental and civil society groups remain, as Jansa's government continues to target NGOs, and civic space continues to erode.
Peaceful Assembly
Protest ban declared unconstitutional
The past few months have borne witness to crackdowns on protests, including heavy fines for protesters and, in some cases, violent police practices. The crackdown on protests has in part been due to COVID-19 legislation, which prohibited rallies or limited them up to 10 participants. However, in July 2021 the Constitutional Court ruled that this legislation was unconstitutional, declaring that a "complete ban on rallies meant an extremely serious encroachment on the right to peaceful and public assembly" as defined in the Constitution. Moreover, the restriction of the number of participants in rallies also severely encroached on the right to peaceful assembly and public gatherings. 
Expression
STA goes over 200 days without funding
For over 200 days, the Slovene public press agency, STA, has been without funding as authorities continue to block it. The agency has been surviving on public crowdfunding to keep afloat. On 15th July 2021, STA issued an appeal for immediate resolution of the situation and resumption of financing. STA has also taken their case to court on the grounds that it is unlawful. Whilst the court is yet to reach a decision on this case, it has recognised the irreparable damage caused by lack of funding for such an extended period of time. The court has also accepted STA's argument that the Government Office for Communication (UKOM) is trying to force the agency into signing an agreement based on the regulation it is challenging, with the threat of continued non-financing. With income from commercial revenue alone, it is impossible for the agency to even cover its own labour costs, besides other expenses, threatening insolvency and ultimately bankruptcy.
According to STA, Director of UKOM Uroš Urbanija "does not appear to be in a rush to fulfil the legal duty of the agency's founder to finance the public service. Instead, he is making funding conditional upon him in effect becoming editor, director and supervisor all in one". This would mean that the UKOM Director would assess news items to determine their worth for public service payment which would be a serious encroachment on STA's autonomy as a public media outlet. Of the two million Euros owed to STA, UKOM is only promising 845,000 Euros, and the government is continuously coming up with new conditions to defer the payment for services already provided.
Špela Stare, Secretary General of the Slovenian Journalists' Association, reported that the government is proposing to pay just two Euros per news piece, if approved by UKOM, hence the significant discrepancy in the proposed funds. With just 50 per cent of revenue received via members and other means, STA depends on the government for the remaining 50 per cent. The fate of the agency, its staff and their families hinges on the government.
Brussels urges Slovenia to ensure stable financing of STA https://t.co/mn1bMlpYVu #zaobSTAnek @EANANews @ECPMF @globalfreemedia @EFJEUROPE @MediaFreedomEU @RSF_en @aej_int @Europarl_EN @EUCouncil @CoEMediaFreedom @VeraJourova @vonderleyen @YlvaJohansson @novinarSI

— STA (@STA_agencija) July 20, 2021
The deterioration of media freedom in the country and increased targeting and harassment of journalists has not gone unnoticed in the latest EU Commission Rule of Law report, which highlighted the funding block to STA as "politically motivated".
Following the publication of the report, EC Vice President Vera Jourova and Justice Commissioner Didier Reynders called on the Slovenian authorities to ensure a stable financing of the agency.
National Council blocks proposed changes to Audio-visual Media Services Act
On 9th July 2021, the National Assembly passed changes to the Audio-visual Media Services Act, under which content providers are obliged to earmark six per cent of their gross annual revenue for a special fund to finance European audio-visual production. The intention behind the change is to reduce the imbalance between domestic service providers and global services such as Netflix and HBO. However, the charge is significantly higher than most other European countries, which generally charge around two per cent. As a result, this proposed legislation was met with much criticism. The Association of Slovenian Journalists reported that the levy was "too high", pointing out the lack of oversight of revenue funds and clarity on how these funds would be used which, according to changes, will be overseen by the Ministry of Culture. However, Culture Ministry State Secretary Ignacija Fridl Jarc has rejected the criticism, explaining that the legislation would promote media literacy and improve transparency. CSOs have, however, reacted differently, claiming that this legislation aims to damage the survival of commercial television. Despite the National Assembly passing the law, Slovenia's National Council has since rejected the proposed legislation, which is welcome news for audio-visual service providers. 
Report - A grim picture for press freedom
On 30th June 2021, the International Press Institute (IPI) and Media Freedom Rapid Response (MFRR), in conjunction with other press freedom organisations, published a report on press freedom in Slovenia after conducting an online mission to the country. The report notes that Slovenia has a growing problem with media freedom.
"Over the last 14 months, independent journalism has come under sustained pressure on multiple fronts from the coalition government led by the Slovenian Democratic Party (SDS). While the country still displays a high level of media pluralism and freedom of expression overall, it is no longer a relative safe haven for free media."