Militarised police continue to use excessive force against protesters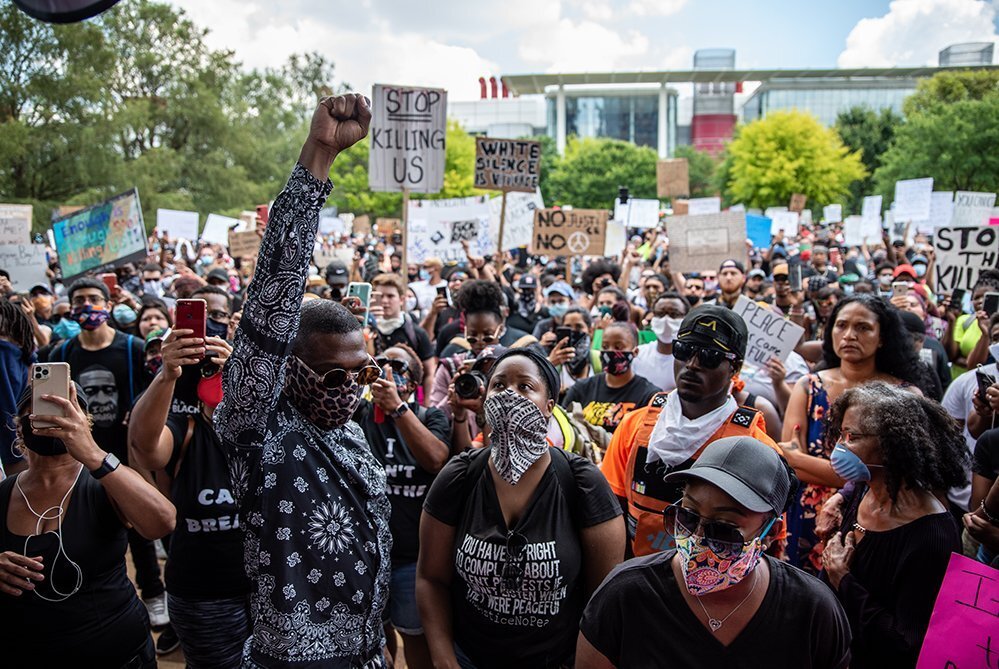 All across the country, police officers are committing acts of violence against peaceful protesters, violating human rights on a mass scale. Read our research and take action today: https://t.co/JkFetcWyyH pic.twitter.com/CZu13IwuLr

— Amnesty International USA (@amnestyusa) July 4, 2020
Peaceful Assembly
Massive protests to condemn police brutality, overwhelmingly peaceful, have continued across the U.S. Enduring pressure from demonstrations has brought important results, including charges brought against officers involved in George Floyd's killing and commitment to reforming police practices from some authorities. Yet demonstrators have often been met with militarised police using excessive force, including cases of protesters and journalists beaten, indiscriminate use of tear gas and pepper spray, and the firing of less-lethal projectiles such as sponge rounds and rubber bullets. These abuses were committed by a range of law enforcement departments, from state and local police, federal agencies and the National Guard.
Footage of my friend getting tackled + arrested. You can hear him clearly yelling "I'm a medic" several times. He was on his knees giving first aid to someone when charged.
Police chief brutalizing him said he'd been waiting to catch him and medics all night.#GeorgeFloydProtests pic.twitter.com/4Z4RDi4a9e

— Sarah A | ساره (@sa0un) May 31, 2020
From Minnesota to New York, Texas, California, Washington DC and in many smaller towns, protesters reported that law enforcement continued to confront demonstrators after they had followed instructions and that escalation of violence came without warning, resulting in injuries and the arrest of protesters. A student at Indiana Tech lost an eye after being hit with a tear gas canister shot by a police officer. Videos posted on social media show police officers forcefully arresting identified medical professionals, destroying medical stations and throwing out supplies related to the protests, including drinking water. "It's very clear we are treating patients here, and a couple of protesters tried to make a wall to keep protesters from running into us. And the police basically shot a tear gas canister right at us," a community medic said in an interview.
Amnesty International released a report documenting 125 separate incidents of police violence against protesters in 40 states and the District of Columbia between 26th May and 5th June 2020. Police across the country have resorted to "kettling", a tactic consisting of encircling protesters so that they have no way to exit from a park, city block or other public space. This allows officers to charge in and make arrests or slowly release demonstrators, but often results in elevating tensions and escalating violence. In Philadelphia, for instance, police cornered peaceful protesters on the side of a highway and tear gassed them without providing a safe way to escape.
There have also been about 50 reported vehicle-ramming incidents since protests against police violence and racism started in late May 2020. In Denver, a driver deliberately turned a car to run over a protester. In Virginia, a man who drove his vehicle into a crowd of peaceful protesters, injuring at least one person, is being investigated for possible hate crimes and faces several charges. A man faces assault charges after driving his car into a crowded street protest in Seattle and shooting a gun at a protester. In Detroit, a video shows a police officer's vehicle drive through a crowd of people.
In Atlanta, the killing of another unarmed Black man, Rayshard Brooks, on 12th June 2020 while he was in police custody prompted new citywide protests. A protester was arrested and charged with arson after the restaurant where Brooks was killed was set on fire during a demonstration on 13th June 2020. The police officer who shot Brooks was fired and charged with felony murder and another officer involved was charged with aggravated assault.
Most of you have seen the shooting but here is my view from when it occurred. Gives you a sense of how close it was to the larger crowd and what has happening when that fight moved to the street. pic.twitter.com/p7YVLAW2H3

— Shaun Griswold (@shaun505) June 16, 2020
In Albuquerque, an armed counter-protester was arrested and charged with battery with a deadly weapon after shooting an unarmed person following an altercation at a protest on 15th June 2020. He and other alleged members of an armed civilian militia were trying to prevent protesters from removing the statue of a colonial governor. On a related note, 400 National Guard troops were activated in Washington D.C. to guard monuments and infrastructure. President Trump signed an executive order calling for 10-year sentences for anyone found damaging statues and monuments.
In Louisville, a protester was killed after gunfire erupted during a demonstration in Jefferson Square Park on 27th June 2020. A video appears to show a man opening fire into a crowd of people who had been protesting, which resulted in the killing of photographer Tyler Gerth. At least one more person was reported injured in the demonstration and a suspect was arrested and charged with murder and wanton endangerment. Authorities said the shooter had been repeatedly asked by other protesters to leave because of violent behaviour.
In Richmond, the American Civil Liberties Union (ACLU) filed a lawsuit against the city, the Richmond Police and Virginia State Police on behalf of the Virginia Student Power Network. The legal case claims First Amendment rights to free speech and assembly were violated after police declared a 22nd June 2020 event near City Hall an unlawful assembly and attacked peaceful protesters. The organisations argue police had no reason to use tear gas, pepper spray, flash grenades and rubber bullets to disperse the crowd. 12 people were arrested at the event.
In St. Louis, a man and woman stood outside their house and pointed an assault rifle and a handgun at unarmed protesters as they marched near the mayor's house on 28th June 2020. Video of the incident shows the couple pointing the guns repeatedly at protesters calling for the mayor's removal.
We have ONE WEEK left before the NYC budget passes. ONE WEEK left for @NYCMayor @NYCSpeakerCoJo & @NYCCouncil to #DefundNYPD by at least $1 billion.

Join NYers to protest & occupy at City Hall. Demand #NYCBudgetJustice like our lives depend on it, because they do. pic.twitter.com/BWdqUYMZ6L

— VOCAL-NY (@VOCALNewYork) June 23, 2020
The U.S. Press Freedom Tracker has documented several hundred incidents involving the press during the weeks of intense protests. At the end of June 2020, the organisation had registered 470 aggressions, which include 126 journalists assaulted, 49 arrested and 36 who had their equipment damaged while covering Black Lives Matter protests across the country.
35 federal lawmakers wrote a public letter to FBI Director Christopher Wray asking him to "cease any and all surveilling of Americans engaged in peaceful protests" after several press reports indicated that the Trump administration improperly used drone, spy planes and covert techniques to surveil demonstrations. On 4th June 2020, Attorney General Barr said at a news conference that US prosecutors were collecting intelligence from "the FBI and multiple different sources" on alleged agitator groups inciting violence in protests. Days before, the Attorney General had published a statement announcing that anti-terrorism powers would be used to investigate civil unrest.
As protests began in late May — spurred by the death of George Floyd — reports of aggressions against journalists began to pour into the Tracker.

Read about what we're doing and what we've documented so far: https://t.co/sKq6dMOL8B

— U.S. Press Freedom Tracker (@uspresstracker) July 3, 2020
Multiple journalists covering Black Lives Matter protests reported being attacked, arrested and harassed by police. In Delaware, a USA Today photographer who witnessed and filmed peaceful protesters being arrested by police was detained for several hours. In a video, Andre Lamar can be heard saying he was a member of the press before and during his arrest. A Denver Post reporter was hit by a pepper ball while covering protests in Denver on 31st May 2020, the same day police officers pepper-sprayed and detained a Des Moines Register reporter while she was covering protests in Iowa.
Despite wearing his NYPD-issued press credentials, a freelance journalist was reportedly pushed to the ground by New York City police officers while covering protests in New York on 4th June 2020. Nick Pinto said that he and other journalists were following a few hundred people as they marched in Brooklyn when police officers informed the protesters that they were violating the city's curfew. The journalist told the U.S. Press Freedom Tracker that officers then "made a move to clear the intersection. It was sudden and forceful, a lot of laying on batons, a lot of people knocked to the ground". Another reporter, Armin Rosen, was allegedly beaten by police and had his bicycle confiscated while he was covering protests in New York on 3rd June 2020.
In anticipation of New York City council budget meetings for the next fiscal year, about a 100 people camped outside City Hall for a week at the end of June 2020. The demonstrators demanded the reduction of the police department's budget by $1bn, following weeks of debate on police divestment. Messages like "we keep us safe" were spray-painted on the sidewalk outside City Hall. As the day of the vote approached, hundreds of other people joined the protest and on 30th June 2020 were met with violence by police officers trying to clear the area. On 14th June 2020, thousands joined a rally in Brooklyn calling for justice for two Black trans women killed in June 2020.
In Portland, the mayor announced he had instructed the police department to stop using a LRAD (Long Range Acoustic Device) to disperse crowds, allowing it only to share information. LRADs, also referred to as "sound cannons", emit high frequency noises that can damage the ears. On 6th June 2020, the mayor also said he directed the police to stop using tear gas unless in life-threatening situations. However, police officers used tear gas on protesters on 30th June 2020 after declaring a demonstration to be a riot.
Graham, a North Carolina town, passed an ordinance limiting protests following anti-racism protests near a confederate statue. On 26th June 2020, Alamance County Sheriff's Office said on social media that permits to protest in the city would not be granted, adding that anyone who attempted to protest without a permit would be arrested. Following the announcement, about 200 people dressed in black walked in downtown Graham on the evening of 26th June 2020 without signs or chanting. At least one person was arrested for "resisting, delaying or obstructing" an officer and "failure to disperse." On 6th July 2020, a federal judge temporarily blocked the ordinance.
After reports that, over the course of a week in early June 2020, police arrested nearly 3,000 people participating in anti-racism protests in Los Angeles, city officials announced they would not prosecute those arrested for curfew violations and failure to disperse. "I am alarmed by the growing number of disturbing accounts and images of peaceful protesters being assaulted with plastic bullets, tasers, batons, physical force, and of reports that protesters were detained unnecessarily by law enforcement," LA Councilman Mike Bonin wrote to LAPD Chief Michel Moore.
Nearly 1,300 former United States Department of Justice (DOJ) officials published an open letter to the department's inspector general demanding an internal investigation of Attorney General William Barr's actions in response to street protests, including his alleged 1st June 2020 order to use tear gas on peaceful protesters near the White House so that the president could have his photo taken near a church. "If the Attorney General or any other DOJ employee has directly participated in actions that have deprived Americans of their constitutional rights or that physically injured Americans lawfully exercising their rights, that would be misconduct of the utmost seriousness, the details of which must be shared with the American people," the letter says.
Expression
The following is the full, uncut, 2:19 video of USA TODAY Network journalist Andre Lamar, who filmed his own arrest on Facebook Live while he was covering a protest in Delaware Tuesday. pic.twitter.com/538xxebtsl

— USA TODAY (@USATODAY) June 10, 2020