Mexico: two environmental defenders disappeared in Guerrero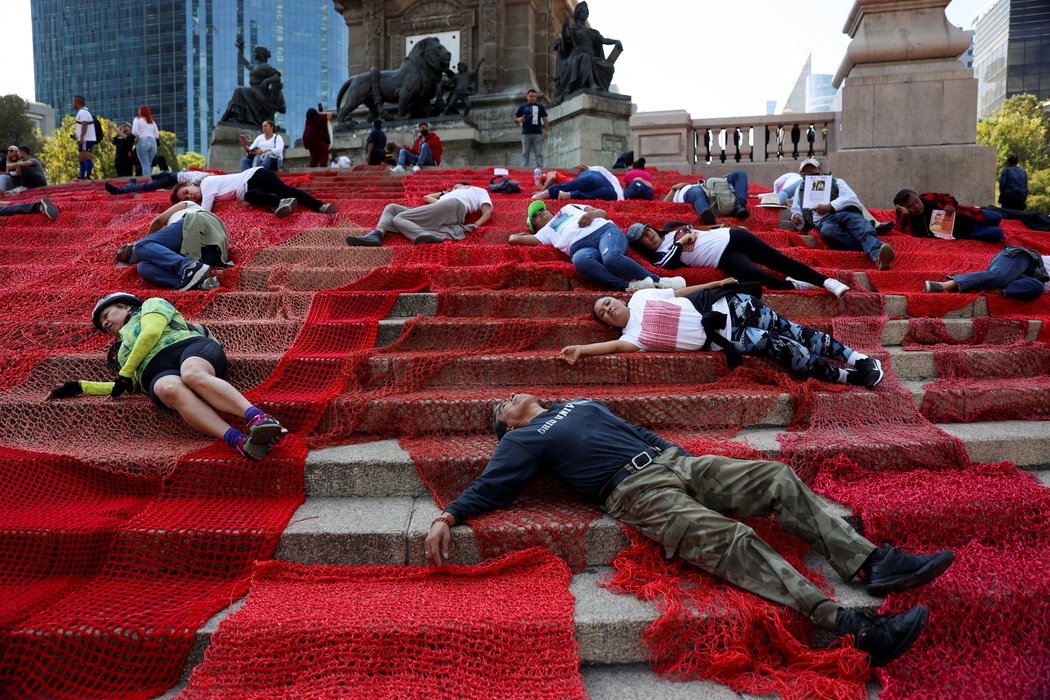 Association
🟠#MEXICO 🇲🇽 | El 15 de enero el abogado defensor de #DerechosHumanos, Ricardo Arturo Lagunes Gasca y el profesor Antonio Díaz Valencia, líder de comunidad indígena de Aquila, Michoacán fueron víctimas de secuestro y desaparición forzada. #HastaEncontrarles #TodosXRicadoYAntonio. pic.twitter.com/qZNVJ0YHy8

— CEJIL (@cejil) January 29, 2023
On 15th January 2023, human rights defenders Antonio Díaz Valencia and Ricardo Arturo Lagunes Gasca disappeared in Cerro de Ortega, Tecomán municipality, Colima. On the day they disappeared, the two defenders were travelling to Tecomán in a white Honda pick-up truck which was later found abandoned with bullet holes in the trunk.
According to Frontline Defenders, the two defenders had attended an assembly in the Aquila community auditorium, where issues related to the operation of the Las Encinas iron mine were discussed. Antonio Díaz Valencia is a leader and member of the Indigenous community of San Miguel de Aquila. Ricardo Arturo Lagunes Gasca is a lawyer and human rights defender who played a fundamental role in legally representing the community of Aquila in negotiations over local mining operations. Their disappearances occurred against a backdrop of tension around the upcoming local elections, and in the context of negotiations between members of the Aquila community and a mining company.
In late January 2023, news outlets reported that the defenders' families had publicly accused transnational mining company Ternium of involvement in the abductions. Witnesses reportedly said the two activists were threatened and followed by several men in cars and motorbikes after they left the meeting in Aquila. Community members said local leaders had previously been threatened. On 23rd January 2023, relatives, friends and supporters of the two defenders organised a protest in Mexico City demanding action from authorities to locate them.
Attacks on environmental defender's family
On 2nd February 2023, armed individuals forced their way into the house of human rights defender Cristóbal González Estrada, a member of an environmental group contesting the construction of the Chemours Laguna plant in Durango. Estrada is part of the Frente Unido de Pueblos de la Laguna en Defensa de la Vida, el Territorio y el Agua (United Front of Laguna Peoples in Defence of Life, Territory and Water). The armed individuals raided his home and physically assaulted his 14- and 12-year-old children. Frontline Defenders expressed concern about the harassment and repeated attacks on environmental defenders in the area.
Peaceful Assembly
Miles de migrantes exigen asilo en la Comar de Tapachula – Prensa Comunitaria https://t.co/bG0JjwKKZw

— CiiDH (@ciidh) January 5, 2023
In early January 2023, nearly 5,000 people in Tapachulu, located on the country's southern border with Guatemala, protested against long bureaucratic delays and overcrowded living conditions while they wait for their asylum requests to be processed. The migrants, mostly Haitians, Venezuelans, Cubans and Peruvians, gathered near the offices of Mexico's Commission for Refugee Assistance to demand action from the government to address their needs. "We want papers to remain in Mexico legally and continue the journey to the northern border with the United States," said one migrant.
On 2nd January 2023, Indigenous Mayans in Yucatán protested discrimination in the management of the Chichén Itzá archeological site. The protesters, many of whom work as artisans, tour guides and sellers, blocked roads leading to the heritage site and called for the dismissal of its director. They said the authorities "prohibit vendors, artisans and tourist guides from speaking Mayan, because they don't understand the mother tongue" and that they disrespect the local culture. Chichén Itzá is a United Nations World Heritage site that receives approximately 2.5 million annual visitors.
On 19th January 2023, members of student organisation Rethink Democracy protested at a central metro station in Mexico City to demand the withdrawal of 6,000 National Guard officers who have been performing security tasks at the city's metro stations. The increased security in metro stations was announced by President Andrés Manuel López Obrador after an accident in which an 18-year-old woman died and more than 100 people were injured. Protesters called for the dismissal of metro director Guillermo Calderón and called for maintenance work in the transportation network. They shouted slogans like, "We're not criminals, we're citizens," and "No soldiers, safe metro."
On 26th January 2023, relatives of the 43 students who disappeared in Ayotzinapa, and their supporters, protested in a number of cities to demand authorities act faster to investigate new information related to the case. The date marked 100 months since the students' disappearances.
Expression
Journalists abducted in Guerrero
Mexican authorities must conduct a swift and thorough investigation into the abduction of two journalists and a media worker in the southern state of Guerrero, and account for the whereabouts of missing journalist Alan García Aguilar.https://t.co/OanTjuTgm2

— Committee to Protect Journalists (@pressfreedom) February 7, 2023
On 27th December 2022, three journalists were abducted in Arcelia, Guerrero. According to local sources, the suspected perpetrators were members of criminal group Familia Michoacana. In a video published in early January 2023, the founder and editor of Escenario Calentano, Alan García Aguilar, and Fernando Moreno Villegas were seen in chains. In the video, Moreno said that they were "facing the consequences for what we said about these people from the Tierra Caliente region," where Escenario Calentano is based.
On 11th January 2023, Moreno and journalist Jesús Pintor Alegre were released. They were found in Estado de Guerrero, reportedly after pressure from authorities. However, Alan García Aguilar's whereabouts were still unknown by 6th February 2023, as reported by the Committee to Protect Journalists. According to Reporters Without Borders, Pintor said he was subjected to electric shocks and psychological torture while held. He said the presumed motive for their abduction was a "misunderstanding" about posts on Escenario Calentano.
Attacks on journalists
Compartimos nuestro posicionamiento ante lo ocurrido ayer en Sinaloa y las agresiones a @marcosvizcarra, integrante de este equipo. pic.twitter.com/S0CDLfEhXe

— adondevanlosdesaparecidos.org (@DesaparecerEnMx) January 6, 2023
On 5th January 2023, several journalists in Sinaloa reported being threatened, having their cars and work equipment stolen or damaged, and being forced to flee during a violent series of attacks in the region. While their names have not been made public, Article 19 reported there were at least "4 thefts of press cars, one of which is confirmed to have been burned, five thefts of work equipment, including two computers, two mobile phones and headphones; in addition to several threats with firearms. Some journalists had to take refuge in hotels and other places due to the lack of security." The violence may have been retaliation for a police operation to arrest an alleged leader of the Sinaloa cartel.
On 9th January 2023, the director of news outlet Emsa Valles received a package with a threat outside of his home in Ciudad Valles, San Luis Potosí. Journalist Samuel Roa Botello said he went to the police after finding a cooler containing two pig heads and a sugar cane stick outside his house. The journalist had recently published a series of reports about how local criminal groups are exploiting and threatening local sugar cane farmers. Botello, who is enrolled in the federal protection programme, has received threats related to his work before.
On 11th January 2023, Mexico City Mayor Claudia Sheinbaum announced that eleven people had been arrested in connection with the armed attack on news anchor Ciro Gómez Leyva, which took place in December 2022. Authorities said those arrested belonged to an organised crime cell, and that they could face charges for attempted murder.
Positive but insufficient changes to communication legislation
On 28th December 2022, amendments to the General Law of Social Communication entered into force. Under the new law, public servants will be able to talk about governmental actions during an election period without fear of being prosecuted for violating election laws that restrict certain activities during electoral periods. The reforms to the legislation, also called "Chayote Law", were ordered by the Supreme Court.
However, critics said the reforms were insufficient and that aspects of the legislation still threaten freedom of expression. While expression advocates supported some of the changes, they also said the new definitions set by legislators are not as clear as the Court had ordered. Malpractices in the allocation and contracting of official advertising persist, and may give rise to subtle forms of censorship.
Spyware case continues
On 25th January 2023, the National Institute for Transparency, Access to Information and Protection of Personal Data ordered the Secretary of National Defence (SEDENA) to provide all documents related to contracts purchasing spyware used to monitor journalists and human rights defenders. In 2019, SEDENA reportedly bought Pegasus, software created by Israel-based cybersecurity company NSO Group, from provider Comercializadora Antsua as a "remote information monitoring service."
For several months, the defence agency has failed to provide all the information ordered by transparency authorities. As previously reported on the CIVICUS Monitor, press and civil society investigations have shown widespread use of Pegasus in Mexico for surveillance of journalists, political figures and activists, among others.