Mexico: several demonstrations took people to the streets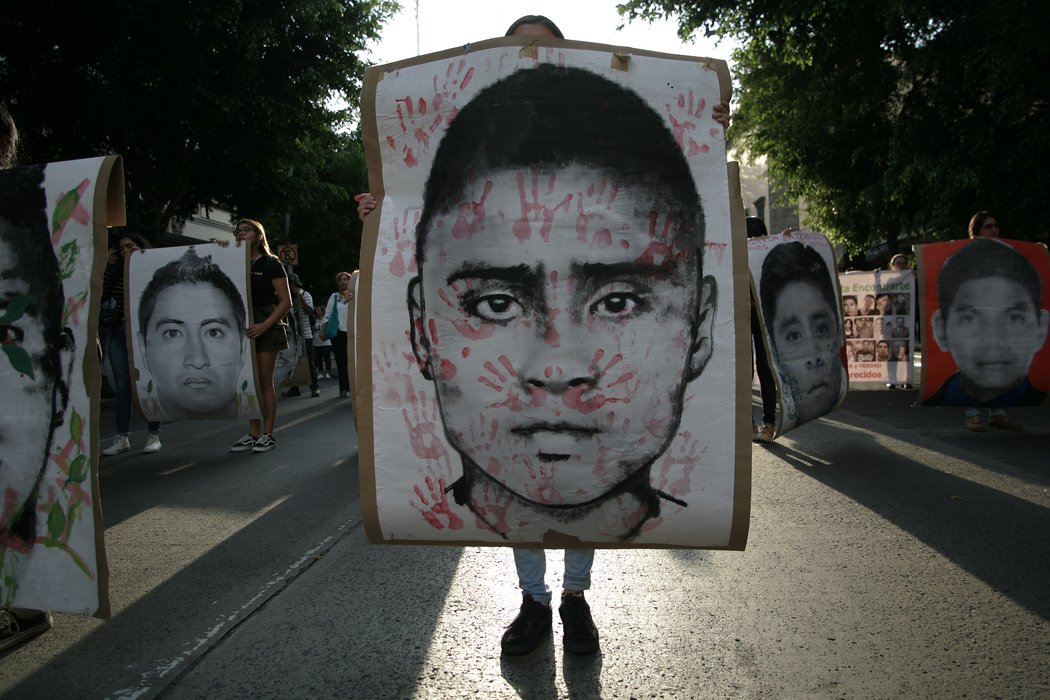 Peaceful Assembly
Development on ongoing investigations into killings of protesters
On 18 September 2019 authorities announced that they would open a new investigation into the disappearance and death of 43 students in Iguala, who went missing after police stopped their bus while they were travelling to a protest in 2014. After the incident, prosecutors claimed the students were killed by a drug cartel and their bodies incinerated, but there is little evidence to support these reports. "Unfortunately, it has been five years of feeding lies, we practically prefer to start from scratch because at first everything was done badly," said Felipe de la Cruz, the father of one of the missing students. On 26 September 2019 there were reports of vandalism and looting during a large protest in Mexico City demanding justice for the missing students.
On 22 August 2019, six police officers were arrested for their role in the killing of 8 protesters in Michoacán in 2015. According to the Associated Press, "The federal Human Rights Commission has said at least six of the demonstrators were victims of excessive force or execution and another may have been run over by a police vehicle." The officers had claimed that the protesters were armed and had possibly been "hit by friendly fire", but there was no evidence to support those claims. Demonstrators claimed that the police altered the scene to plant firearms near the victims' bodies.
Demonstrations across Mexico
Agentes de la policía militar se enfrentan con inmigrantes de África, Haití y otros países durante una protesta frente a un centro de inmigración en Tapachula, México, que exigen el tránsito libre a través del país para llegar a EE.UU., el martes 27 de agosto. (AFP) pic.twitter.com/QFyE9oJO8W

— Voz de América (@VOANoticias) August 31, 2019
Marcha en demanda por la localización de todas y todos los desaparecidos en México. #EnElCamino hasta encontrarles con las mamás y papas de desaparecidos. pic.twitter.com/BYu1qXSDex

— movNDmx (@movNDmx) August 30, 2019
On 20 August 2019, hundreds of migrants from Africa and Haiti protested outside an immigration centre in Chiapas to demand that the Mexican government grant them transit visas to travel to the U.S. or Canada. According to media sources, many migrants are eligible to receive a 20-day transit visa but the government's refusal to distribute them is leaving migrants in legal limbo. The demonstrators also denounced corruption in the visa processing and ill-treatment by authorities toward migrants. Protests continued over several days, with reports of National Guard officers attempting to disrupt the demonstrations. Four migrants were arrested for engaging in confrontations with officers. Demonstrators accused security forces of acting to repress the protests.
On 30 August 2019, hundreds of people marched in Mexico City to mark the International Day of the Victims of Enforced Disappearances and draw attention to the fact that more than 40,000 people have been reported missing in Mexico since 2006. "We want them alive," protesters chanted.
On 1 September 2019, about 3,000 people marched in the streets of Mexico City to denounce the president's national security policies and his reforms on education and employment. Demonstrators called for President Andrés Manuel López Obrador to step down. A spokesperson for one of the organisers, Chalecos México, said that a dozen different groups mobilised to protest, with civil society movements and members of opposition parties present at the demonstration.
To mark International Safe Abortion Day, on 28 September 2019 hundreds of people marched in the streets of Mexico City and other large cities to demand access to legal and safe medical services, including abortions. According to the media, many people wore green shirts and waved green banners, a colour used by abortion-rights activists in many countries. Similar protests took place in Jalisco, Oaxaca and Veracruz. The protests took place a day after the state of Oaxaca approved a bill to legalise abortion, which remains a criminal offence in all states except Oaxaca and the capital.
On 20 September 2019, hundreds of people took to the streets of Mexico City to demand government action in fighting the climate crisis. They joined millions of demonstrators around the world as part of the climate protest movement "Fridays for Future". According to media reports, students from several schools and universities marched in the streets, holding signs with messages like, "There is no Planet B" and chanting "Se ve, se siente, la Tierra está caliente!" ("You can see it, you can feel it, the Earth is warm!"). Similar events were held in Monterrey, Guadalajara, Mérida and other cities around the country.
On 2 September 2019, unidentified men entered the home of journalist Ricardo Martínez Pérez, sexually assaulting and threatening his sister at gunpoint. Martínez Pérez, who was not at home at the time of the attack, says that he and his sister have been attacked and threatened before because of his work covering local news and corruption cases in Parras de la Fuente, Coahuila state. This incident occurred only days after the journalist published a story on the dismissal of a local authority. According to the reporter, the story exposed internal conflicts in the municipality's administration and bothered the Mayor of Parra. After this attack, Martínez Pérez said he would stop reporting on local crime stories because he fears for his family's safety.
On 8 September 2019, a reporter with Centro Noticias Tamaulipas was struck and threatened by Julian Hernandez, the press secretary for Partido Acción Nacional (National Action Party - PAN). According to CSO Article 19, Enrique Jonguitud Blanco was conducting an interview outside a university building during PAN's State Assembly, having been denied entry to the Assembly despite wearing press credentials. Blanco was interviewing a local deputy when Hernandez allegedly hit him in the back and threatened to retaliate if he went public with the attack. According to local news outlet El Mercurio, the press secretary said he was irked by Blanco's attempts to get access to the event. Blanco sought clarity on the attack, speaking to PAN's manager over the phone, but was told that this was a "confrontation between two people" for which the political party had no responsibility.
On 4 September 2019, the website and social media account of online news outlet e-consulta were reportedly hacked. E-consulta, a news organisation based in Puebla, says that information and a video involving Governor Miguel Barbosa were removed from its website. According to Article 19, the governor had made disparaging comments about the news website during a press briefing in August and had in May criticised one of the group's reporters for asking questions about a recent election. The media's director, Rodolfo Ruíz Rodríguez, stated that in the past there have been several comments made by government employees and local authorities to delegitimate his own work and E-consulta.
Expression
⚠️#ALERTA
El pasado 2 de septiembre, sujetos desconocidos allanaron el domicilio del periodista Ricardo Martínez Pérez, reportero del medio 24H Parras, lo amenazaron y agredieron sexualmente a su hermana en el municipio de Parras de la Fuente, Coah.

👉 https://t.co/BU4kwxqqAC pic.twitter.com/ajL6kpfgW1

— ARTICLE 19 MX-CA (@article19mex) September 5, 2019