Mexico: Frustration with government takes people to the streets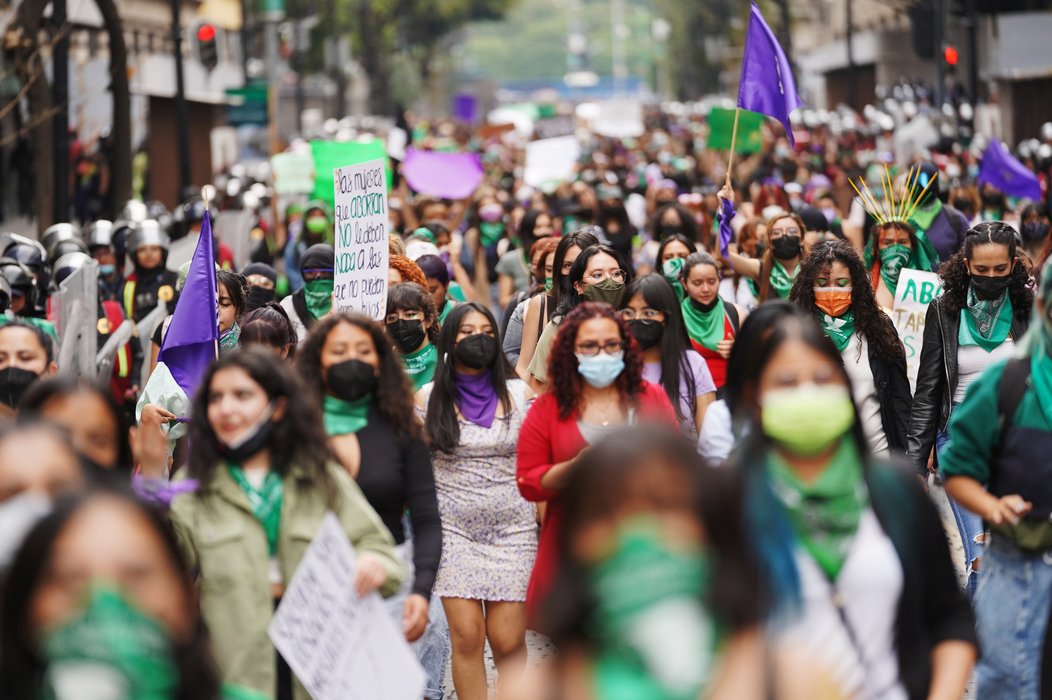 Peaceful Assembly
CNTE protesta por segundo día en evento de AMLO en Chiapas; ahora sí lo dejan pasarhttps://t.co/SImoPolnbR pic.twitter.com/HnJohZhsav

— SinEmbargo (@SinEmbargoMX) August 28, 2021
On 27th August 2021 in Chiapas, members of a teachers' union blocked President López Obrador's vehicle on his way to deliver his daily televised news conference. Members of the Coordinadora Nacional de Trabajadores de la Educación (National Coordinator of Education Workers - CNTE) wanted to speak directly to the president about employment issues including remuneration, working conditions and recruitment. However, the president refused to engage and delivered his remarks for the news conference from his car in a video call. The protesters reportedly held the vehicle back for about two hours. Union members continued to protest on the following day.
In separate protests on 29th August 2021, about 50 people protested in Querétaro city against coronavirus restrictions, rules requiring the use of face masks, and the COVID-19 vaccine. "We want to breathe" and "We want freedom" were among the slogans chanted by people who participated in a march around the city. In August, more than half a million new infections were reported across the country.
#FotoDelDía ✊🏿En el Día Internacional de las Víctimas de Desapariciones Forzadas, los colectivos y organizaciones del Movimiento por Nuestros Desaparecidos en México formaron la frase "¿Dónde Están?" frente a Palacio Nacional. Usaron la ropa de sus seres queridos desaparecidos. pic.twitter.com/779cytTbA5

— Periodic (@periodicmx) August 31, 2021
On 30th August 2021, relatives of people who have been disappeared led a protest outside the presidential palace in Mexico City, marking the International Day of the Victims of Enforced Disappearances. Accusing the Mexican government of failing to act to find their loved ones, families brought clothes belonging to their relatives and held signs with their pictures. In a related note, the Movimiento por Nuestros Desaparecidos en México (Movement for Our Disappeared in Mexico - MNDM) published the report "The Forensic Crisis in Mexico", saying tens of thousands of bodies remain unidentified in the country. "We have 52,000 unidentified bodies across the country, but we don't know if there are more," said Cruz Bernal, leader of Sabuesos Guerreras, a Sinaloa group that is one of 74 members of the MNDM.
On 5th September 2021, residents of the Tierra Caliente region of Michoacán protested to demand military action against violence caused by local cartels and other criminal organisations. "Hugs, not bullets doesn't work in Tepalcatepec, Aguililla and Coalcomán. The federal government is abandoning its people, massacred by the CJNG [Jalisco New Generation Cartel]" read one banner held up by protesters outside a military base in Apatzingán. Several local organisations also delivered a letter to the state and federal authorities in September, asking them for a coordinated and immediate intervention to stop the wave of violence facing the region.
Los habitantes de Xaltianguis, Acapulco, tomaron una carretera federal y exigieron ayuda para reconstruir las casas afectadas por el sismo en Guerrero.https://t.co/4IyyqibCuS

— Debate (@ELDEBATE) September 12, 2021
On 11th September 2021, residents of Xaltianguis, a town 40 kilometres inland from Acapulco, blocked the Chilpancingo-Acapulco highway for more than three hours to protest the lack of government assistance after their homes were damaged in a massive earthquake. The residents only agreed to lift their blockade after the state's governor travelled to the region and pledged to send assistance and personnel to inspect the 450 severely damaged homes, among which were 150 that had collapsed. In some places, residents have been forced to sleep outside for fear that their homes could collapse in another quake or aftershock.
On 14th September 2021, hundreds of migrants in the southern state of Chiapas protested against the country's immigration policies that have prevented them from reaching the United States to claim asylum. Many of the migrants have been stuck for months in Tapachula near the border with Guatemala. "We are not criminals, we are international workers," the protesters shouted. The U.S. has pressured Mexico to stop the migration and the Mexican government has often deployed security forces to physically prevent migrants from heading north. There are reports of abuse by National Guard troops and, earlier in 2021, 12 police officers were arrested in Tamaulipas for the massacre of 19 migrants from Central America in January 2021.
Mobilisations on reproductive rights
¡Hoy es un día histórico!✅
El fallo de la @SCJN contra la criminalización del aborto en #Coahuila establece un gran precedente para la lucha por el #AbortoLegalYSeguro a nivel nacional. 💚#AbortoLegalMexico #QueSubaLaMarea🔥💚 pic.twitter.com/93ATDpNxpc

— Inst Simone Beauvoir (@ISBeauvoir) September 7, 2021
On 7th September 2021, Mexico's Supreme Court unanimously ruled that criminalising abortion is unconstitutional, setting a precedent that could lead to legalisation of pregnancy termination procedures in the country. In the ruling, ministers of the Court invalidated legislation of the state of Coahuila that imposed from one to three years in prison on women who voluntarily performed abortions. Feminist groups, reproductive and sexual rights activists, human rights organisations and supporters celebrated the decision on social networks.
Conservative groups also mobilised to show their opposition to the ruling. On 12th September 2021, a group demonstrated outside the Mexican Supreme Court in Mexico City holding up banners, blue pro-life flags and religious images.
On 28th September 2021, thousands of demonstrators marched in Mexico as part of a Global Day of Action for Safe and Legal Abortion. They showed their support for the ruling and for Mexican states that have decriminalised abortion, calling on other states to do same. Many of the protesters held green scarves and shouted slogans such as: "Abortion yes, abortion no, that is for me to decide!" Clashes were reported between protesters and police officers in front of the National Palace, with police using tear gas and pepper spray against a group attempting to break through the security barrier.
Expression
Two journalists killed
"Mexico's ongoing wave of brutal slayings of journalists has claimed another victim in Jacinto Romero Flores," said CPJ's Jan-Albert Hootsen. Unless authorities commit to ending impunity and protecting reporters, such media killings are bound to continue.https://t.co/T4G3mAJvlg

— Committee to Protect Journalists (@pressfreedom) August 24, 2021
On 19th August 2021, radio journalist Jacinto Romero Flores was shot and killed in Veracruz by unknown assailants. Romero Flores, reporter for radio broadcaster Ori Stereo FM, was gunned down while driving in Ixtaczoquitlan. The journalist anchored "Dígalo Sin Miedo" ("Say It Without Fear"), a radio show in which people called in to discuss crime, corruption and alleged abuses and negligence by local authorities. As reported by Article 19, he had been threatened before and requested federal protection. According to news reports, the threats against him are suspected to have been sent by members of the municipal police. The State Prosecutor's Office opened an investigation to determine if Romero's murder was connected to his journalism.
On 28th September 2021, journalist Manuel González Reyes was shot and killed in Cuernavaca, capital of Morelos state. According to news reports, two men drove up to González on a motorcycle after he had eaten at a food stand and shot him multiple times with pistols. The journalist was the founder and editor of the Facebook-based news outlet Portal Morelos Noticias, which covers a wide range of topics including political news, cultural events, the COVID-19 pandemic, traffic accidents and other local news stories.
Threats and attacks on journalists
En el video se amenaza a la periodista Azucena Uresti directamente; dice ser Rubén Oseguera Cervantes, #ElMencho, líder del Cártel Jalisco Nueva Generación #CJNG
https://t.co/fuFOjl54xv

— El Universal (@El_Universal_Mx) August 9, 2021
On 10th August 2021, journalist Azucena Uresti received a death threat from an unidentified man claiming to speak for the leader of one of Mexico's most powerful drug trafficking cartels. In a video shared on social media, the man claimed to deliver a message for the leader of the Jalisco Nueva Generación Cartel, threatening to kill the journalist over her reporting on ongoing violence involving the cartel in the Tierra Caliente region of Michoacán. Uresti is one of Mexico's best known news anchors who hosts programmes on television broadcaster Milenio Televisión and radio broadcaster Radio Fórmula. She had recently interviewed a member of an alleged "self-defence group" which has clashed with the cartel.
On 13th August 2021, independent journalist Tere Montaño was kidnapped, assaulted and robbed in Toluca by three unknown assailants. The reporter said she was abducted while boarding a public bus. The attackers held Montaño at gunpoint, blindfolded her and took her to several ATMs where they forced her to withdraw money. Afterwards they took her to where her car was parked, drove to her residence and stole her phone, laptop, voice recorder, tablet, and a box carrying personal documents and notebooks she used for her work. They then threatened to kill her if she reported the crime.
On 18th September 2021, two journalists were allegedly assaulted and harassed by police while covering a protest outside the Coahuila State Attorney General's office. Gloria Ruiz, a reporter with CuatroP Noticias, told Article 19 she was documenting the violent arrest of a protester when she was grabbed by officers. Her bodyguards were able to intervene and prevent any further contact. Angel Maldonado, an independent journalist, said he was clearly marked as a member of the media but was still pushed by officers. His work equipment, including his work phone, was damaged by police. Both journalists are enrolled in the federal programme but no one responded when Maldonado requested assistance.
Government used spyware on journalists and human rights defenders
#Pegasus #spyware scandal: years of questions, no answers for #Mexico victims. https://t.co/wPjHZ3ZGAq

— David Kaye (@davidakaye) August 9, 2021
On 18th July 2021, the civil society group Forbidden Stories published their investigation "Pegasus Project" into Israeli surveillance company NSO Group's hacking spyware. The investigation revealed that use of the spyware was widespread in Mexico, employed for surveillance of investigative journalists, political figures and activists, among others. The journalistic investigation showed that more than 15,000 individuals in the country were selected as possible targets for surveillance between 2016 and 2017. As reported by news outlets, Mexico spent more than US$160 million on Pegasus over a decade.
The software was acquired by several government departments in Mexico, including the Ministry of Defence, the Attorney General's Office and the National Security Intelligence Service (Cisen). Current president López Obrador, former president Felipe Calderón and Mexico City mayor Claudia Sheinbaum were among those potentially targeted. According to the Committee to Protect Journalists, the telephone number of freelance journalist Cecilio Pineda Birto, who was killed in 2017 in retaliation for his reporting, had been among those selected for surveillance only a month before his assassination. There are also over 100 rights defenders who may have been potentially targeted, including attorney and member of the Steering Group of Oaxaca Consortium, Yésica Sánchez Maya, and families of students disappeared in Ayotzinapa as well as their advocates.
Association
In August 2021, workers at a General Motors plant in Mexico voted to end a collective bargaining contract negotiated by a union accused of intimidation tactics. In May 2021, the U.S. government had filed a labour complaint under the U.S.-Mexico-Canada trade agreement (USMCA) after union members were caught allegedly destroying ballots in an earlier vote on whether to keep or scrap their collective union contract. This previous poll was suspended after Mexico's Labour Ministry found irregularities in the process. Following the new process, on 22nd September 2021 the complaint filed by the U.S. government was concluded, lifting the threat of tariffs on the factory's production. The vote, with safeguards agreed upon by Mexico and the United States to ensure a fair vote, was the first test of labour rules under the USMCA.