Massive restrictions on expression during COVID-19; sudden banning of peaceful opposition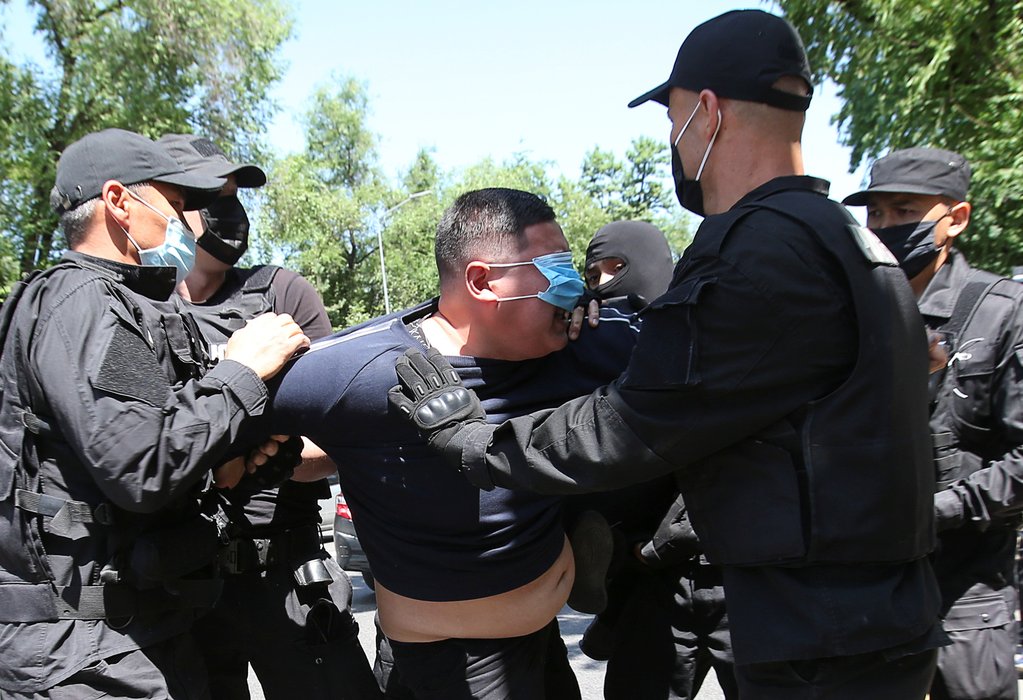 Introduction
This report covers developments on the freedoms of expression, association and peaceful assembly in Kazakhstan from April to June 2020, and was prepared for the CIVICUS Monitor by International Partnership for Human Rights (IPHR) and Kazakhstan International Bureau of Human Rights and Rule of Law (KIBHR) based on KIBHR's monitoring of the situation in the country.
The reporting period was characterised by mass restrictions on freedom of expression and freedom of association, specifically in relation to the banning of the popular unregistered "Street Party" movement by a court decision in May 2020 after it was labelled as extremist. The reporting period also saw important legislative developments, including changing slander from a criminal to an administrative offence and the corresponding reduction of penalties from prison sentences to fines. However, insult and insulting a government representative remain criminal offences.
Association
During the quarantine, the Prosecutor General announced in a press release that on 19th May 2020 the Esil District Court in Nur-Sultan had decided to ban the Street Party as an extremist organisation. Ten activists filed appeals against the decision in Nur-Sultan City Court. In an online press conference the activists stated that they saw the decision as politically motivated and illegal, noting that the hearing was held without the presence of the defendants (representatives from the party) , and that they had learned of the ban only from the press. Lawyer Galym Nurpeisov representing the party further noted that there was no evidence presented to the public as to why the party was deemed "extremist". On 20th May 2020, a new press release was issued from the Prosecutor's office stating that the Street Party was seen as the successor to the banned DVK and thus considered to be extremist. 
Several incidents occurred during the reporting period related to people showing their support for the Street Party and the DVK.
 Before the party was banned, on 3rd April 2020, the Administrative Court in Talgar in the Almaty region fined two residents 138,500 KZT (280 EUR or 329 USD) for violating the law on public associations. Asylbek Karaev and Erkyn Sabanshiev had recorded video messages calling for citizens to join the Street Party.
On 6th May 2020 civic activist Marat Duisenbiev was sentenced to two days' administrative detention for insulting a doctor. The incident occurred on 29th April 2020 as he was taken to hospital by ambulance staff and security services officials on suspicion of COVID-19 infection, despite having no symptoms. The pressure on Duisenbiev is believed to be related to his activities with the Street Party – he was the administrator of the Telegram chat group.

On 15th May 2020 in Oskemen, Ruslan Nurkanov was summoned for interrogation at the Ulanov District Police Station as a suspect in a criminal case under Article 405 of the Criminal Code (participation in a banned extremist organisation), in connection with his alleged links to the Street Party.

On 15th May 2020 the Petropavlovsk City Court sentenced blogger Azamat Beikenov to a year's suspended sentence for participating in a banned extremist organisation, after he "liked" several posts on social media related to DVK. 

On 22nd May 2020, 13 Street Party activists were detained outside the Esil District Court, when they demanded to see the official court decision banning the movement. The absence of the documents from the official court decision made it difficult for the lawyers to act in the case. The group was arrested by officers from the Special Forces and kept at the police station for eight hours. At the same time, even before the court decision had come into effect, numerous Street Party activists were summoned for interrogation under Article 405 of the Criminal Code (participation in a banned extremist organisation). On 25th and 26th May 2020, 20 such cases were registered, according to the human rights initiative Qaharman. There were also cases of citizens being held responsible for participating and messaging in online chats related to the Street Party.

On 25th May 2020, civic activist Sergey Shutov from Atyrau was summoned to the police station. Shutov reported that the police were attempting to take statements to understand who was responsible for adding people to the Telegram chat of the banned Street Party, and who was present in the group. Shutov refused to confirm any such information to the police, as he viewed his summons and the conversation with the police asillegal. 

On 25th May 2020, Roman Reikhert, (see previous monitor update) was found guilty of participating in a banned extremist organisation by the Martuk District Court in Aktobe. He received a one year suspended sentence. Reikhert had previously posted on social media in support of DVK and about the Street Party. 

On 29th May 2020 activist Zhazira Demeuova was summoned to the police station in Almaty. Demeuova was asked whether she was aware of the banning of the Street Party and was warned that participation in the party could be criminally prosecuted.

On 27th May 2020, the civil activist Bagdat Baktybaev was summoned to the police station in Shu in relation to his alleged links with the Street Party. 

On 28th May 2020 activist Nurbol Talgarbekov was approached by the regional prosecutor in Talgar and given a document stating that the Street Party had been banned. 

On 3rd June 2020 in Shymkent, regional director of KIBHRs Shymkent branch, Adil Seitkaziev, was summoned to the district police department. The police had earlier informed Seitkaziev that he had been identified in the Street Party's group chat on Telegram. At the police station, a representative of the prosecutor's office informed Seitkaziev and several other persons in a similar situation to him that the Street Party and DVK were banned extremist organisations.
Peaceful Assembly
A new draft law on holding peaceful assemblies which was rushed through during the lockdown and quarantine caused widespread concern amongst civil society actors and the international community, despite public assurances from the authorities, including President Tokayev, that the law would improve the regulation of peaceful assemblies. However, KIBHR's analysis of the draft law shows that some of the new provisions will result in more serious restrictions on the freedom of assembly. Dauren Abayev, Minister of Information and Social Development, presented the draft law to the public on 12th March 2020. At the end of March 2020 the lower house and upper houses of parliament approved the draft law. KIBHR Director Yevgeniy Zhovtis left the draft law Working Group on 1st April 2020. In an interview with the Kazakh bureau of RFE/RL, Radio Azattyq, he stated that his decision to leave the working group was because he "did not see any point in participating" further due to fundamental disagreements with the most important provisions of the draft law. President Tokayev signed the newly revised law into effect on 25th May 2020. Kazakhstani civil society, IPHR and other international NGOs had called on the President not to adopt the law. The law has been criticised for the following reasons:
It introduces unjustified restrictions on the timing and place of assemblies;

It retains the requirement for people to obtain government approval prior to conducting peaceful marches and demonstrations;

It sets out extensive requirements for submitting notification and permit applications;

It allows for assemblies (except single pickets) to be held only in certain locations designated by the local authorities;

It stipulates that only Kazakhstani citizens will be permitted to organise and participate in assemblies;

It sets out an extensive list of grounds upon which the local authorities can reject applications to hold public assemblies;

It increases liability for organisers and participants in public assemblies;

and prohibits spontaneous assemblies.

It forbids foreign citizens, people with mental disorders, or citizens recognised to be legally incompetent by a court from participating in rallies.
In a separate development, on 1st April 2020, a small group of people went to the regional akimat (municipality) to complain about the sudden inflation of the Kazakh tenge and their financial difficulties due to the pandemic. The guards at the akimat building prevented the group from approaching politicians in the building, citing quarantine regulations. The group was later able to meet with the officials. The next day, a participant in the protest, Murat Baimaganbetov, who is disabled, was sentenced in an online court hearing to five days of administrative detention for disobeying police orders. On 13th May 2020, four activists held a small rally on the city square in Shymkent, demanding an end to the quarantine. On 3rd June, the Shymkent Specialised Administrative City Court sentenced the four activists to between five and six days of administrative detention for holding an illegal rally. The demonstration was recognised as illegal as the activists had not received prior permission for the meeting.
On 18th April 2020 in Aktobe, disabled civic activist Garifulla Embergenov was given an administrative fine of 13,850 KZT (28 EUR or 33 USD) through an online trial for allegedly violating Article 434 of the Administrative Code – petty hooliganism, when he held a single person picket. At the time of writing, Embergenov had refused to pay the fine.
On 3rd June 2020 in Karaganda, Gennady Nadyrbekov attempted to set fire to himself outside the regional court building. Nadyrbekov had been trying to get an official explanation for the change in his sentence for his fraud conviction in 2019 from a fine to a prison term. Nadyrbekov doused himself with petrol, but bystanders managed to knock the lighter out of his hands. He was taken to the police station and sentenced to 10 days' administrative detention for violation of Article 434 of the Administrative Code – petty hooliganism. 
On 3rd June 2020 Shymkent Specialised Administrative Court sentenced six activists to various periods of administrative detention and fines for holding an unsanctioned demonstration. Nurzhan Mukhamedov was sentenced to six days' detention; Daniyar Baitleu, Marat Kudaidergenov and Marat Kasymbekov were each sentenced to five days. Two other activists were fined: Abdrakhman Kasymbekov 135,000 KZT (272 EUR or 320 USD) and Zhambyl Zhunisbekov 54,000 KZT (109 EUR or 128 USD). On 13th May 2020 the activists had held a rally in Ordabasy City square demanding that the quarantine be lifted. 
On 6th June 2020 the unregistered Democratic Party, the movement "Oyan, Kazakhstan", as well as DVK and the Street Party called for nationwide rallies, following which:
In Almaty, the police cordoned off the city centre and carried out mass arrests of activists present. About a hundred supporters of the Democratic Party attempted to demonstrate in the city centre whilst disinfection personnel in white protective suits sprayed the area and protesters with a disinfectant solution.

In Nur-Sultan, Kazakh Eli Square was cordoned off by police "for disinfection" and a group of ten people was detained.

In Uralsk, according to KIBHR monitoring, people attempting to gather in the city centre were prevented from doing so by police, who acted in a rough-handed manner.

In Kyzylorda, disabled activist Murat Baimagambetov was beaten and sustained a leg injury as he was detained together with other activists.

In Semey, police detained around 20 people at the site of a planned demonstration.

In Shymkent, dozens of people were arrested as they headed to Ordabasy Square.
Preventive arrests were also carried out throughout the country. According to several human rights organisations, 239 cases of persecution of citizens who were trying to exercise their right to peaceful assembly were made in the days around 6th June 2020. According to the authorities, on 6th June 2020, a total of 53 people outside the two largest cities were detained and taken to police stations. Seven of these received administrative fines, one received an official warning and the rest were released after a "talk" with law enforcement officials. Criminal investigations were launched against two people on charges of insult and violence against an official. Police reports stated that, in Almaty alone, 107 people were detained on 6th June 2020, 15 people were sentenced to 15 days' administrative detention and dozens received administrative fines. In Nur-Sultan, 20 people were detained, two were sentenced to ten and 15 days' respectively and two criminal cases were initiated. 
On 10th June 2020 near the Uralsk Prosecutor's Office, civil activist Daniyar Inzhegaliyev attempted to set himself on fire in protest at law enforcement's inaction on a family matter and alleged pressure from the police in relation to a criminal case against him. Law enforcement provided no explanation for the charges and attempted to recruit Inzhegaliev as an informer. After the attempted self-immolation, Inzhegaliev was taken to hospital for treatment of his burns. Inzhegaliev had also tried to set himself on fire on 28th February 2020 in front of the municipal office, where a person managed to knock the bottle of petrol out of his hands. According to media, Inzhegaliev's brother was hit by a car, but the police refused to accept a statement about the incident. After this, Inzhegaliev had attempted to hold a single picket outside the police headquarters in the city, as mentioned in the previous Monitor update.
In Nur-Sultan, a group of mothers with many children had been protesting outside the Ministry of Labour and Social Protection for two days in relation to housing issues they were facing. On 10th June 2020 they were detained by people wearing protective suits and loaded into buses. The women were then taken to the former Ramada Plaza Hotel building, where quarantined COVID-19 patients are being placed. 
In a separate incident on 10th June 2020 in Nur-Sultan, around ten citizens went to the EU Delegation in protest at human rights violations in Kazakhstan. The protesters were dispersed by police and taken to the police station. 
On 12th June 2020, 12 people protested outside the US Embassy in Nur-Sultan, calling for the release of three activists who had been detained in relation to opposition rallies on 6th June 2020. The protesters were detained and taken to the Esil District Police Department. One protester – Anna Shukeeva – was fined 138,900 KZT (280 EUR or 330 USD) on the same day during an online trial for calling for an unsanctioned demonstration. 
On 13th June 2020, around a hundred people gathered on the Panfilov pedestrian street in Almaty to hold a procession. The activists walked through the street for three hours, and some danced and played musical instruments. The participants also chanted "Activists are not extremists" and "Forward, Kazakhstan!" Over the next week, six people were sentenced to 15 days of arrest and three people had to pay a fine for violating the law on peaceful assemblies. A criminal case was initiated against pensioner Sakhtb Zhanabaeva for participating in a banned organisation. While the detained activists were serving their sentences, the Interdistrict Administrative Court in Almaty extended the sentences of four people with new administrative detention sentences of 15 days each for participating in the 6th June 2020 demonstrations. 
On 25th June 2020 in Nur-Sultan, five residents of Zhanaozen were detained near the presidential administration as they carried posters demanding to be given work. They were detained and in an online trial held on the same day they were given an official warning for violating the law on peaceful assemblies. 
Expression
During the COVID-19 pandemic amendments were introduced to laws on freedom of information and digital privacy. On 25th June 2020, President Tokayev signed into law changes to legislation concerning digital security. These were adopted without any discussion with civil society. The opposition site Rukh 2019 expressed concerns about the formulation of the law on the grounds that the provisions are overly broad and could therefore be used to violate human rights and freedoms. Rukh 2019 also raised concerns about the use and protection of personal data, including sensitive biometric information, and the degree of independence of the body responsible for oversight, as well as the lack of any independent oversight for the national video monitoring system, with fears that it could be used to track people's movements.
Slander removed from Criminal Code, but insult remains a crime
On 27th June 2020, the President signed amendments to the Criminal and Administrative codes into law. Slander (Article 130) was removed from the Criminal Code and transferred to the Administrative Code, under Article 73-3. Individuals found guilty of disseminating information discrediting the honour and dignity of a person or his/her reputation will be punishable by a fine of 444,500 KZT (930 EUR or 1076 USD) or administrative detention for 15 days; publishing such information online or in telecommunication networks will be punishable by a fine of 500,000 KZT (1045 EUR or 1210 USD) or administrative detention for 20 days; and 555,600 KZT (1162 EUR or 1344 USD) or administrative detention for 25 days if the crime is combined with a corruption allegation. Officials committing the same offence will face higher penalties.
This development is a significant improvement from the former provisions which provided for criminal punishment (Article 130 of the Criminal Code) for slander, with a fine of between 2,778,000 KZT (5800 EUR or 6700 USD) and 8,334,000 KZT (14,400 EUR or 20,100 USD), or imprisonment for up to three years. However, insult (Article 131) remains a criminal offence, as does "Insulting a government representative" (Article 378).
Arrest of Asya Tulesova
On 6th June 2020, environmental and civic rights defender Asya Tulesova was detained in relation to an incident at a protest in Almaty but was released later that day. On 8th June 2020, she was detained again – this time as a suspect in a criminal case opened against her for knocking the hat off a police officer during the 6th June 2020 protests as police officers detained protestors, including elderly persons, in a rather brutal manner. The incident was captured on video. Tulesova was charged with "non-dangerous infliction of harm to a representative of the authorities" (Article 380 of the Criminal Code) – an offence punishable by a fine of up to 8,334,000 KZT (16,800 EUR or 19,800 USD) or up to three years' imprisonment. On 9th June 2020, 169 Kazakhstani human rights defenders and organisations published an open letter to President Tokayev in support of Tulesova, calling for an end to police impunity for using excessive force and violence against peaceful protesters, and to cease detentions of citizens exercising their right to freely and peacefully assemble. Tulesova has been targeted by police in the past when protesting peacefully. On 21st April 2019 she was detained together with several other activists as they held and filmed a peaceful protest at the start of the Almaty Marathon, holding up a banner saying: "You cannot run away from the truth", with the hashtags #ForFairElections and #IHaveAChoice. This was a play on words designed to attract attention to the then upcoming presidential elections a few weeks later. Asya was sentenced to 15 days in administrative detention for the protest.
On 11th June 2020 IPHR and KIBHR published a letter calling for Tulesova's release. Ahead of 18th July 2020, Nelson Mandela Day, CIVICUS launched the #StandAsMyWitness campaign calling for the release of human rights defenders who are imprisoned, persecuted or harassed. The campaign called for the release of Tulesova.
Kazakh activist Asya Tulesova is due in court after knocking off a police officer's hat at a rally in Almaty in June. She faces up to 3 years in prison if convicted. Stand with her and call for her freedom #StandAsMyWitness pic.twitter.com/Prt4Fxl7jj

— CIVICUS (@CIVICUSalliance) August 6, 2020
On 12th August 2020, Medeysky District Court No.2 in Almaty found Asya guilty of using violence and insult towards a state representative and sentenced her to a 1,5 year probational sentence of restriction of liberty and a fine of 55,560 Tenge (110 EUR). She was released from the courthouse.
We're relieved that Asya Tulesova was freed in #Kazakhstan today after two months behind bars, but regret that she was still unfairly given a criminal conviction for standing up against police brutality against peaceful protestors https://t.co/MFRAlcBBHD
#StandAsMyWitness

— IPHR (@IPHR) August 12, 2020
Other cases of concern in the light of freedom of expression
On 26th March 2020 bloggers and civil activists Gennady Krestyanskiy and Yuri Malenkikh visited a checkpoint at the entrance to Almaty to shoot a video about how the checkpoint worked. The video was later uploaded to Krestyanskiy's Facebook page. Three days later, Malenkikh was charged with an administrative offence for disobeying police orders and held for two days in administrative detention. Three weeks later, similar administrative charges were brought against Krestyanskiy. However, Krestyanskiy received a more severe sentence - ten days of administrative detention. After his conviction, Krestyanskiy went on a hunger strike for five days in protest. Krestyanskiy was reportedly held in poor conditions during his detention. He wrote to the prosecutor's office,
"[My] detention takes place in an extremely unsanitary environment. Most of the sanitary-epidemiological standards are not met. On several occasions I pointed out these gross violations to the prison staff and medical assistant. Because of this, the staff started to treat me unkindly..."
On 24th April 2020, Krestyanskiy's blood pressure increased and the prison staff called an ambulance. After the medics had stabilised his blood pressure, he was called to the deputy head of the detention centre's office. Krestyanskiy reports that he fainted outside the office, but refused to be taken to hospital, as he had an online appeal hearing scheduled later that day. Krestyanskiy was then taken to a different cell, where he was insulted and provoked by other inmates, who threatened to knock his teeth out. When he tried to leave the cell, prison staff reportedly twice pushed him back into the cell. Krestyanskiy loudly threatened to commit suicide, after which he was seen by prison administration staff and then taken by ambulance to hospital where he was diagnosed with a "mini-stroke" and underwent surgery. The appeals hearing took place online in his absence and his sentence was reduced by three days. Krestyanskiy believed that his cellmates had been paid to mistreat him.
On 1st April 2020 a small group of people went to see the regional akimat (municipality) in Kyzylorda to complain about the sudden inflation of the Kazakh tenge and their financial difficulties during the pandemic. The guards at the akimat building prevented the group from approaching politicians in the building, citing quarantine regulations. Eventually a group of women were allowed to meet with them, and civil activist Akzhan Nogayeva read poems critical of former president Nursultan Nazarbayev outside the building. Nogayeva was detained by police for allegedly violating quarantine requirements. One participant in the meeting, Murat Baimaganbetov, who is disabled, was sentenced the next day in an online court hearing to five days' administrative detention for disobeying police orders (Article 667 of the Administrative Code). Baimaganbetov had criticised the state's policy concerning the distribution of 42,500 KZT in emergency support at the meeting. 
On 4th April 2020, Almaty-based activist Danaya Kalieva raised sensitive questions regarding the costs of building hospitals for COVID-19-infected patients on a telegram channel. The questions outraged the business mogul Aydin Rakhimbayev of the BI-Group Construction Holding, one of the richest men in Kazakhstan. On 4th May 2020, Kalieva was taken for questioning as a witness with the right to a defence lawyer. The BI Group and Rakhimbayev reportedly intended to hold Kalieva accountable for dissemination of false information (Article 274 of the Criminal Code), but with increased penalties for the distribution of false information during a state of emergency (Article 274 part 4.2 - which can be punished with three to seven years of restriction of freedom or imprisonment). According to KIBHR monitoring, BI-Group has been involved in several construction projects which have been subject to legal issues. The BI group eventually decided to drop the charges.
On 5th April 2020, Nazym Serikpekova from Nur-Sultan was informed that a criminal case had been initiated against her under Article 378 part 2 (insult of a government official in public or on media or telecommunication networks) after she had streamed a video on social networks from the police department, which allegedly insulted Daulet Kurmanov, an employee of the police counterterrorism division. Serikpekova accused the police of putting politically motivated pressure on activists. In early March 2020 Serikpekova was sentenced to 10 days' administrative detention for disobeying police orders during a February 2020 protest related to the death of activist Dulat Agadil in police detention. 
On 7th April 2020 civil activist Bagdat Baktybayev from Shu in Zhambyl Region was sentenced to ten days' administrative detention after he posted a message on his Facebook page about the long waiting lists for the 42,500 KZT (89 EUR or 103 USD) state support available for vulnerable people during quarantine. He was found guilty under Article 478 of the Administrative Code – actions violating law and order during a state of emergency. According to the claims presented in court, Baktybayev had been part of a large crowd applying for social assistance, where people had been expressing dissatisfaction with the work of state bodies. Baktybayev denied the charges.
On 7th April 2020, civic activist Aslan Sagutdinov was arrested by police in Uralsk and was sentenced the next day through an online trial to three days' administrative detention for petty hooliganism. Sagutdinov was arrested in relation to a complaint lodged by pro-government journalist Dana Duisekenova relating to an alleged insult during a rally in February 2020. (Duisekenova works for the pro-government media outlet City Pulse and has previously instigated several lawsuits against independent blogger Aibolat Bukenov). On 22nd April 2020 Sagutdinov was told that two criminal cases had been initiated against him – one for allegedly insulting and disobeying police orders (Article 378), and the second for public insult (Article 131) of Dana Duisekenova. Sagutdinov was charged with allegedly insulting police officers on 7th April 2020 during his arrest. The trial began on 18th June 2020.
On 8th April 2020, human rights activist Aigul Shakibaeva witnessed police officers beating an unarmed driver of a car as she drove past. Shakibaeva was at a red traffic light when she saw police run over to the car, which had been travelling at normal speed, and begin to strike the driver through the open window, although he showed no signs of resistance. The incident took place during the state of emergency, when very few cars had permission to be out on the streets. A few hours after the incident, Shakibaeva wrote a post about the incident on Facebook, asking the press service of Almaty's Traffic Police to comment. After 30 minutes, she received a phone call from Saltanat Azirbek, the head of the Traffic Police Press Office who claimed that the man had been an armed criminal who had refused to stop at a previous check point. Azirbek requested that Shakibaeva remove the post, warning her about criminal liability of knowingly disseminating false information, and that committing an offence under the state of emergency could result in a harsher punishment. However, Shakibaeva wrote a new Facebook post about the phone call. On 13th April 2020, a police investigator asked her to give a statement at the police station. She refused, saying that she did not have permission to drive and could not leave her child alone at home. Instead, the investigator came to her house and took a statement. She reports that she could see that he had a document initiating a pre-trial investigation, along with screen shots of her social media posts.
Dianara Mukatova, a volunteer at KIBHR's Atyrau office is at risk of imprisonment after violating the terms of a previous sentence, as mentioned previously on the Monitor. She had posted twice about the death of activist Dulat Agadil although she had been banned from using social networks. The prosecution demanded that her sentence be changed to imprisonment – but instead on 10th April 2020 the judge issued her with a warning.
In a case covered in the previous Monitor update, on 10th April 2020 civil activists Altynai Tuksikova, Kazagoz Baishigulova and Aktamak Koptleuova were fined by the Aktobe Interdistrict Administrative Court in relation to a Facebook post from March 2020 concerning a hunger strike in a detention facility in Aktobe. The Aktobe Interdistrict Administrative Court found them guilty of actions provoking a violation of law and order during an emergency situation (Article 478 of the Administrative Code) and fined them 110,800 KZT (230 EUR or 268 USD). On 25th April 2020 Dana Zhanay, from the human rights organisation Qaharman, was also fined 138,900 KZT (289 EUR or 335 USD) after being found guilty of violating regulations of the state of emergency (Articles 476 and 478 of the Administrative Code) for posting on Facebook about the hunger strike which took place in March 2020 in Aktobe.
On 11th April 2020, police in Atyrau Region detained KTK journalists and a TV crew and sent them into quarantine as they attempted to film inside a hospital. The journalists were invited into the hospital by doctors, who were challenging an official order to send 400 doctors into quarantine after a medical worker was infected with COVID-19. They had previously been given permission by police to enter the hospital. They were detained after they started filming.
Shymkent-based blogger Beybars Raimbekov (alias Ruslan Zhanpeisov) was stopped by the police on 12th April 2020 at a checkpoint and charged with violating the rules of the state of emergency (Articles 476 part 6 and Article 478 of the Administrative Code) after he filmed the police stopping him at the checkpoint. He was sentenced to 35 days' administrative detention. 
On 13th April 2020, taxi driver Arman Khasenov was arrested in Karaganda in relation to a video message posted on YouTube the day before, which criticised former president Nursultan Nazarbayev and his family. Khasenov was held in pre-trial detention for a month and a half while a criminal case was opened against him for publicly insulting the honour and dignity of the First President of Kazakhstan (Article 373 of the Criminal Code). On 30th April 2020, Khasenov pleaded guilty and Karaganda City Court sentenced him to three-years of restriction of freedom and community service. It is believed to be the first time that Article 373 has been used. 
On 14th April 2020, law enforcement officials detained civil activist Ruslan Nurkanov and searched his home in Oskemen. A criminal case was initiated against the activist under article 405 of the Criminal Code (participating in a banned organisation). Nurkanov was sentenced to 10 days' administrative detention for "obstructing a search" and then placed in a tuberculosis dispensary for no apparent reason. He was held there for two weeks, despite not testing positive for COVID-19. The online trial against Nurkanov began on 1st July 2020. 
In Aktobe, on 16th April 2020, disabled civil activist Asanali Suyubayev was placed in a psychiatric hospital, reportedly for no legitimate reason. According to local police, Suyubayev had violated public law and order and expressed his disagreement with current "moral and political values". Suyubayev posted on Facebook demanding the release of civic activist Alimzhan Izbasarov, who was incarcerated in another psychiatric institution. Suyubayev spent 20 days in the clinic, after which he filed a complaint with the court for unjustified psychiatric treatment. By law, forced psychiatric treatment is only allowed after a court order, but there had been no court decision in Suyubayev's case. However, on 22nd June 2020 the Third District Court in Aktobe denied his complaint.
On 17th April 2020, civil activist Alnur Ilyashev was arrested on charges of spreading false information (Article 274 of the Criminal Code) during the state of emergency, thus receiving an increased penalty. Ilyashev had posted a critical comment about the ruling Nur Otan Party on social media. The state investigator claimed that Ilyashev sought to influence public opinion regarding allegations of incompetence in Nur Otan's response to the COVID-19 pandemic, referring to his publications between February and March 2020 as evidence. Law enforcement officials reportedly seriously violated procedural norms during the pre-trial investigation: neither Ilyashev nor his lawyer were allowed access to his case files, the investigation material or the expert evaluations of social media posts. Ilyashev's family was reportedly subjected to pressure and law enforcement officials allegedly used physical force when searching their property. Civil society and international observers believe that Ilyashev has not committed any crime, but only exercised his right to freedom of expression. On 22nd June 2020 Ilyashev was sentenced by the Second Medeu District Court in Almaty to three years of restriction of freedom and banned from civic activism for five years. 
Arman Shuraev, a well-known public figure, was detained on 18th April 2020 in Karaganda and charged with disseminating false information during a state of emergency (Article 274 of the Criminal Code) after he gave an interview to the website Exclusive.kz where he made comments about the Nazarbayev family. Shuraev was taken to a pre-trial detention facility in Almaty. He admitted his "mistake" and on 25th April 2020 his lawyer stated that the charges had been dropped due to lack of evidence.
On 23rd April 2020 journalist Zaure Mirzakhodzhaeva from Ratel.kz was summoned to Abay Police Department in Shymkent and informed that a criminal case had been initiated against her for knowingly disseminating false information during a state of emergency. Mirzakhodzhaeva was not given any further details. 
On 25th April 2020 the Specialised Administrative Court in Petropavlovsk sentenced blogger Yevgeniy Lozovoy to 15 days' administrative detention for violation of the state of emergency (Article 476 part 6 of the Administrative Code) for posting a video which documented developments in the city during quarantine. 
On 27th April 2020 in Aktobe, police officials arrested civil activist Berik Nogayev for allegedly violating the state of emergency (Article 478 of the Administrative Code) in relation to a post which was critical of former president Nazarbayev published on his Facebook page three days earlier. He was sentenced to 15 days' administrative detention.
On 29th April 2020, Medet Arystanov from the human rights initiative "405" who was serving a 15-day administrative sentence for petty hooliganism during a protest in February 2020 had his sentence prolonged by two months. The decision was taken pending an investigation against him in relation to charges of disseminating false information leading to a risk to public order (Article 274 of the Criminal Code). In February 2020 Arystanov had published a video on social networks showing the body of activist Dulat Agadil which allegedly bore signs of torture.
On 29th April 2020 civic activist Kasym Kozhantayev from Atyrau was summoned to the police station and informed that an administrative case was under way against him for violation of the law on holding peaceful assemblies (Article 488). The case was related to Kozhantayev's comment under the Facebook post of a public figure, about the adoption of a law on the sale of land to private ownership. 
In an online court hearing on 2nd May 2020 Danaya Kalieva was handed a fine of about 55,500 KZT (116 EUR or 134 USD) for allegedly insulting police officials during a protest on 22nd February 2020. During the protest she had filmed and live streamed a video of her friend Sharbat Karzhaubayeva being detained while her three-year-old daughter, who was sitting on Karzhaubayeva's lap, fell to the ground. Kalieva intended to appeal the decision. (Kalieva has previously been charged with disseminating false information for another video on social media. 
On 11th May 2020 in Taraz, police officers detained around 10 people, including Aisulu Berik, correspondent with Azattyq (Kazakh service of Radio Free Europe/Radio Liberty) who was present at the Zhambyl Regional Court to cover the appeal of activist Abai Zhundibayev against a conviction for defamation and insult (see previous monitor update). According to the police, Berik failed to present her press card. She was swiftly released.
On 11th May 2020, Serik Idryshev, (see previous monitor update for more details) who in December 2019 was given a conditional sentence of restriction of freedom for participating in the banned organisation DVK, had his sentence changed to a prison term for alleged violation of the restrictions on social media which had been imposed on him. 
On the morning of 14th May 2020, police officials detained civil activist Fariza Kemeshova for questioning in relation to a message posted in a group chat on the messaging app Telegram, which the police considered to be a call for an unsanctioned rally. An online trial was held, and Kemeshova received an official warning. 
On 14th May 2020 in Kyzylorda Region, the Shieliy District Court ordered Gulzinat Sagyndykova to pay a fine of 13,000 KZT (26 EUR or 31 USD) for petty hooliganism (Article 434 of the Administrative Code) in relation to a video she recorded on 30th April 2020 of clothing sellers near a municipal building. According to Sagyndykova, a local authority official attempted to stop her from filming and wanted her to erase the footage. The employee claimed in court that Sagyndykova had insulted her.
Human rights website Kuresker.org has been blocked in Kazakhstan since 16th May 2020. The website has published several articles about the persecution of civil society activists in Kazakhstan. 
On 19th May 2020, the trial of Dos Ilyashev (brother of Alnur Ilyashev, mentioned above) began. Dos Ilyashev was accused of posting a video online which stated that government agencies often indicate the brand "Samal" when purchasing water through tenders. Dos Ilyashev posted a video online stating that Vyacheslav Banshchikov, member of the presidential Nur Otan party, and deputy of Almaty Maslikhat Municipal Council, owns the water company "Samal" (Keremet Su SKE LLP). Banshchikov demanded that Dos Ilyashev withdraw the claims.
On 22nd May 2020 the Kostanay City Court ruled in favour of the administration of UK-161/2 prison in a case involving allegations of torture made by human rights defender Elena Semenova. In 2019 Semenova published a testimonial on her Facebook page from an inmate in the prison about torture in the prison. The court ordered Semenova to issue an apology to the prison administration and retract the information. On 10th June 2020, another case against Semenova was initiated in the Pavlodar City Court on behalf of Gulzimre Myrzaly, a medical employee from the UK-161/2 prison, who wants to have the testimonial removed from social media networks and an official apology and retraction from Semenova. On 11th June 2020, a third case began in the Pavlodar City Court, based on a complaint from the administration of ES 164/4 prison in Almaty Region. On 14th April 2020, Semenova had posted a message on social media concerning a prisoner who stated he had been tortured. The judge found Semenova guilty and disregarded the testimonial from the torture victim.
In April 2020 Temirtau resident Viktor Mekoyanov applied for state support of 42,500 KZT available during quarantine, but his application was denied. He posted about this on social media and sent a video appeal to the exiled and convicted opposition oligarch Mukhtar Ablyazov from DVK, who re-posted the video. An hour and a half after Mekoyanov posted the original message, law enforcement officials visited his house, confiscated his phone and asked him to sign a document agreeing to cooperate with the security services before his phone was returned to him. On 5th June 2020 he was taken to the prosecutor's office where he was asked to refute the "DVK and Street Party ideology" on camera. 
On 10th June 2020, officers from Almaty City Police summoned civic activist Diana Mukhametova for questioning in relation to an investigation concerning the alleged insult of a government official (Article 378 of the Criminal Code). Mukhametova was arrested on 6th June 2020 after she participated in an unsanctioned rally, after which she made statements about President Tokayev and Minister of Internal Affairs Yerlan Turgumbayev. Videos with Mukhametova's statements had been circulated online on her Facebook page.