Mass protests over Istanbul convention as women refuse to give up, LGBTI rights targeted again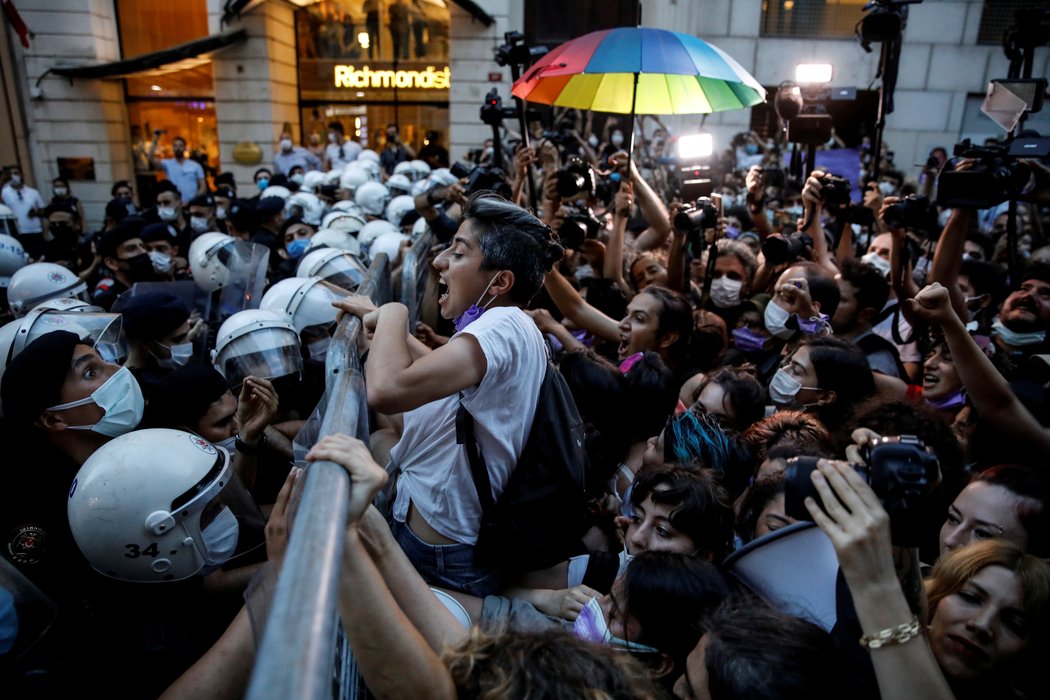 Association
In a new report launched in May 2021, civil society actors and independent voices in Turkey, the Observatory for the Protection of Human Rights Defenders and the Human Rights Association (IHD) have condemned repressive measures that inhibit freedom of association and create an increasingly narrow space for civil society in the country.
"In spite of the resilience and courage shown by civil society actors and HRDs in Turkey, the enormous challenges described in this report are extremely burdensome and, in some cases, threaten the very existence of human rights groups and others. In this worrying context, international support and solidarity remain crucial to enable them to survive and thrive."- Reyhan Yalçındağ, FIDH vice president and IHD representative.
On 21st May 2021, police detained 84 members of the Gülen movement in operations across 14 provinces for allegedly spreading the coronavirus, providing financial support to the families of people who are behind bars for alleged Gülen links, and suspicious communication with each other on the Internet and through online games. Turkish authorities ordered the detention of 176 people including teachers, doctors, academics, lawyers, active and dismissed military officers, and civilians due to alleged links to the Gülen movement during the last week of June 2021. Turkish President Recep Tayyip Erdoğan has targeting followers of the Gülen movement, inspired by US-based Turkish Muslim cleric Fethullah Gülen, since the corruption investigations in December 2013 implicated then-Prime Minister Erdoğan, his family members and his inner circle.
The UN Special Rapporteur on the situation of Human Right Defenders urged Turkey to release imprisoned human rights defenders and to stop using vague terrorism charges to turn people who stand up for human rights into criminals. UN SR Mary Lawlor pointed out how Article 314 of the Turkish Penal Code and Article 7 of the Anti-Terror Law are being used to convict human rights defenders and impose on them lengthy prison sentences. Lawlor said:
"In Turkey, human rights lawyers are particularly targeted for their work representing human rights defenders, victims of human rights violations, victims of police violence and torture, and many people who simply express dissenting opinions."
"Turkey is violating some of the pillars of international human rights law – freedom of expression, freedom of association and the right to lawfully practice one's own profession – by repeatedly depriving human rights defenders and lawyers of their freedom."
In a separate development, Ahead of the Financial Action Task Force (FATF) annual review meeting (21-25 June 2021), Amnesty International published a brief on how measures to prevent terrorism financing (through a new law adopted in December 2020) abusively target civil society and set a dangerous international precedent.
"This outlandish law bulldozed through at breakneck speed on the pretext of combating terrorism is a thinly disguised attempt to ratchet up the pressure on a sector already reeling from more than five years of a relentless crackdown." - Amnesty International's Europe Director, Nils Muižnieks.
According to the ITUC Global Rights Index, Turkey is among the ten worst countries for working people in 2021, noting that under the excuse of COVID-19 there is "brutal repression of strikes" and "union-busting" in Turkey. The report notes that "abuses of the right to strike, the right to establish and join a trade union, the right to trade union activities and civil liberties and the right to free speech and assembly are at an eight-year high".
Concerns raised at EU level
The 2019-2020 Turkey Report of the European Parliament was adopted by the votes of 480 members against 64 at a plenary session on 19th May 2021. However, the report has called on the Commission, the High Representative of the Union for Foreign Affairs and Security Policy, the Council and all Member States "to suspend accession negotiations with Turkey and all financial agreements between the European Union (EU) and Turkey, in particular by freezing pre-accession assistance to Turkey, until the EU is convinced that Turkey is fulfilling its contractual obligations to properly manage the funds and is fully complying with EU and international law."The Ministry of Foreign Affairs of Turkey has condemned the report, criticising it for a lack of objectivity.
Peaceful Assembly
Reports raise concerns of violations during protests
The Human Rights Foundation of Turkey (TİHV) published a report which found that there has been 4,441 rights violations that occurred during demonstrations and peaceful protests in Turkey within a five year-period. The report notes that 141 people died in bomb attacks during protests and demonstrations and reports 19 people killed as a result of excessive force.
A report from Turkish organisation, the Association for Monitoring Equal Rights, has revealed that between January 2021 and May 2021, the police have intervened in 320 peaceful demonstrations across the country and detained at least 2,123 people, violating protesters' right to peaceful assembly. In addition, the capital city İstanbul is ranked first in the list of cities in the country where police intervened in 123 peaceful demonstrations, followed by Ankara with 56, İzmir with 20 and 18 in Diyarbakır.
LGBTI rights under the spotlight
In a letter addressed to the Minister of Interior and the Minister of Justice of Turkey, the Council of Europe (COE) Commissioner for Human Rights stressed concerns that the LGBTI communities have been prevented from exercising their right to peaceful assembly due to sweeping restrictions on LGBTI events, including Pride marches, that the authorities have enforced at different levels over the years.
"I call on the Turkish authorities to uphold the right of LGBTI people to peaceful assembly by lifting the bans on LGBTI events and take all necessary measures to ensure the safety of participants during such events, including Pride marches", stressed the Commissioner Dunja Mijatović.
Despite Pride parades being banned for three years in a row, several civil society groups opposed the bans and gathered in Istanbul on 26th June 2021, under the motto "the streets are ours". They have initiated legal proceedings against the ban and intend to continue planning their events for next year. However, authorities blocked streets, fired tear gas and arrested 25 people at the Pride march in Istanbul. Images posted on social media showed prominent AFP photojournalist Bülent Kılıç pressed to the ground with police holding him down with their knees, before being arrested. Reporters Without Borders in Turkey tweeted in support of Kilic, demanding his immediate release. AFP reported Kilic was released later in the evening after his initial statement was taken at the police station.
RSF temsilcisi @ErolOnderoglu: İstanbul Taksim'deki #onurhaftasi yürüyüşünü izleyen @AFP muhabiri #BülentKılıç'ın (@Kilicbil ) boğazına basılıp nefessiz bırakılarak gözaltına alınmasını kınıyoruz. Kılıç'ın derhâl serbest bırakılmasını ve sorumlulara işlem yapılmasını istiyoruz! pic.twitter.com/fZlYTQu9yQ

— RSF Türkçe (@RSF_tr) June 26, 2021
Ankara Kuğulu Park'ta Onur yürüyüşü için buluşuldu. Polisin saldırısına rağmen sokaklar gökkuşağına boyandı. Alkışlar ve sloganlarla sokakta yürüyüş yapıldı.

Dönmeyiz, Dönmeyiz Biz Bu Yoldan Dönmeyiz!#Pride2021 pic.twitter.com/6BSF9nSW1j

— Kadın Savunması (@kadinsavunmasi) June 29, 2021
Following the multiple incidents, detentions and human right violations that occurred during the Istanbul Pride March, The United States expressed concern about Turkey's prevention of the Pride march in Istanbul and called on the country to respect freedom for all, including LGBTI persons. On 24th June 2021, the Council of Europe also reacted and sent a letter to two ministers, calling on Turkey to stop the stigmatisation of LGBTI people and uphold their freedoms of peaceful assembly, association and expression.
Mass protests erupt over Istanbul Convention
On 19th June 2021, protesters gathered on the streets of Istanbul to voice their anger at the government's decision to withdraw from the COE Convention on preventing and combating violence against women and domestic violence, known as the Istanbul Convention. In 2011 Turkey was the first country to ratify the Istanbul Convention, however, Islamist and conservative critics claim that it undermines traditional family values. Ironically, Turkey has become the first country to withdraw from the international treaty, after President Recep Tayyip Erdogan ended the country's participation through a surprise overnight decree in March 2021. 
Haklarımızı elimizden almaya çalışanlara karşı burdayız!

Boşuna demedik: Asla yalnız yürümeyeceksin!#Vazgeçmiyoruz pic.twitter.com/BOyTr8Zip4

— Kadın Cinayetlerini Durduracağız Platformu (@KadinCinayeti) June 19, 2021
At a related peaceful protest on 21st June 2021, six protesters were detained. In the last week of June 2021, an appeal to the Council of State to stop the withdrawal was rejected and Turkey formally departed the Istanbul Convention on 1st July 2021. However, women again took to the streets to protest, stating "We don't give up the İstanbul Convention," "It's not over for us." Police responded by setting up barricades to block protesters and used tear gas and rubber bullets against protesters.
Human rights organisations have condemned the withdrawal. Amnesty Turkey labelled the decision as "shameful".
"At the stroke of midnight today, Turkey turned its back on the gold standard for the safety of women and girls. The withdrawal sends a reckless and dangerous message to perpetrators who abuse, maim and kill: that they can carry on doing so with impunity. Turkey has set the clock back ten years on women's rights and set a terrifying precedent. This deplorable decision has already become a rallying point for women's rights activists all over the world, and we must come together to resist further assaults on our rights,"- Amnesty International's Secretary General, Agnès Callamard.
During the reporting period, several other protests took place:
For several weeks, a group of villagers protested against the opening of a stone quarry in the İkizdere district of northern Rize, stating that this would affect the community's means of earning a living and natural resources in the area. However, the Governor's Office imposed a 15-day ban on demonstrations in one of its districts amid ongoing protests against the quarrying activities of the pro-government company. On 27th May 2021, Turkish gendarmes and village guards fired shots as villagers protested the opening of a marble quarry in the Gürpınar district of eastern Van province;

A group of former Turkish diplomats gathered in front of the Council of Europe building on 29th May 2021 to mark the second anniversary of torture used against their colleagues at the Ankara Police Department and to condemn human rights violations committed by the Turkish government.
Expression
Violations against journalists
A confidential Turkish government document obtained by the Nordic Monitor has revealed that Turkey privately acknowledged that it had jailed dozens of journalists even though it has maintained the official line which denies the imprisoning of any journalist. The document, dated 2nd July 2020, signed by Justice Ministry official Hacı Ali Açıkgül, head of the human rights department, lists 68 journalists imprisoned in Istanbul alone.
The International Press Institute (IPI) and the Committee to Protect Journalists (CPJ) condemned the brutal detention of award-winning photojournalist Bülent Kılıç (see above) while covering the İstanbul Pride March. The AFP photographer, who was taken into custody and released three hours later, said police tried to kill him after pushing him to the ground.
"Police violence against citizens, protestors and journalists covering public demonstrations has been intensified in recent years in Turkey, and has been given further cover by a police directive in April 2021 granting the power to stop anyone reporting on protests. Bülent Kılıç's brutal detention while covering the Pride March was merely the clearest example of disproportionate use of force by the police,"said Renan Akyavaş, IPI Turkey Programme Coordinator.
Canıma kast edilmeye çalışıldı, nefesim kesilmek istendi, bana bunu yapandan, Anayasa Mahkemesi, Avrupa İnsan Hakları, her ne ise, bu Dünya'da hangi mahkemeyse hesap soracağım, yaşadığım sürece bunun mahkemede hesabı verilecek. Ulu Divan'a kalmayacak.#NefesAlamıyorum #Pride2021

— Bulent KILIC (@Kilicbil) June 26, 2021
According to the Coalition for Women in Journalism (CFWIJ), at least five women journalists were physically attacked or prevented from reporting by police during the Pride march. Sendika.Org reporter Derya Saadett was filming the detention of a protester when she was pushed by the police and a table was thrown on her. The journalist also reported that she was exposed to tear gas and rubber bullets on four occasions.
Another in a series of incidents of police violence today @sendika journalist @derya_saadet was assaulted - and dragged on the ground #İstanbul's #pride demos. #CFWIJ learns from the ground that many #journalists documenting police violence are being cornered and targeted. pic.twitter.com/vjiaGhgkNx

— #WomenInJournalism (@CFWIJ) June 26, 2021
"It is clear where the police order came from. There is no other explanation for attacking us. What they are doing is illegal. Journalists cannot be prevented from doing their job."
Ayşen Şahin, a columnist for Evrensel Newspaper, was prevented from doing her job, despite identifying herself as a member of the press. Others also reported experiencing similar obstructions. Reporter Elif Ünal, who was covering the events for the Yeşil Gazete, also took to her social media account to state that the police tried to detain her three times.
On 29th June 2021, 14 press organisations gathered in the capital city of Ankara to condemn the increasing police violence against journalists in Turkey, a country that already suffers from a poor record of freedom of the press.
Threats to the safety of journalists and pressure on them was yet again of concern in this reporting period. The Committee to Protect Journalists stated that attacks against journalists need to be taken more seriously by the authorities. In another attack documented by CPJ, journalist Mustafa Uslu, a reporter for the pro-government İhlas News Agency (İHA), was beaten byfour people in the northwestern province of Kocaeli.
In addition, on 29th June 2021, the 12th Diyarbakır Court of First Instance, in the south-eastern city of Diyarbakır, convicted journalist Hakkı Boltan of insulting President Recep Tayyip Erdoğan and former Prime Minister Ahmet Davutoğlu, and sentenced him to two years and 17 days in prison. The verdict is being appealed.
Reporters Without Borders (RSF) condemned Turkey's Presidential Directorate for Communications (CİB) for using press accreditation to increase pressure on the media. While pro-government media have not had challenges in obtaining their CIB press cards, critical journalists have faced challenges with their renewal requests or had their cards withdrawn. As a result, journalists without press cards may be prevented from reporting on events, including protests.
"As it seems too much to expect a presidential office to manage press card allocation impartially, we ask the government to reinstate an autonomous journalistic entity in order to put an end to biased practices that penalise critical journalists," - Erol Önderoglu, RSF's representative in Turkey.
To add to this, on 27th April 2021 a directive was issued by the national police banning journalists from filming or recording police interventions during demonstrations. However, the Journalists' Union of Turkey (TGS) has appealed to the Council of State and requested a stay of execution and the annulment of the circular issued by the Directorate General of Security.
"The circular is against the law as it has the characteristics of censorship in a manner that is against freedom of expression as a public good in terms of both authority and form and as to the merits."
Court blocks controversial posts of organised criminal
A court has ordered an access ban on Sedat Peker, the leader of an organised crime group and a well-known figure in Turkey's underworld since the 1990s. Peker, who was given protection by the Ministry of Interior, threatened Peace Academics with "bathing in their blood" and organised rallies for President Erdoğan during the referendum which changed the political regime, has now withdrawn his support for the government. In May 2021, he began posting various serious allegations directed towards former and current government officials, which include international drug smuggling, political assassinations, corruption, sexual assault and murder. The court decided to block Peker's YouTube and Twitter accounts; however, although they have opened a representative office in Turkey, the relevant service providers have not yet implemented the decision.
Positive rulings
In this reporting period, another court ruling was given by the European Court of Human Rights (ECtHR) in favour of Turkish journalists' right to freedom of expression. The ECtHR has ruled that Turkey violated the rights of two journalists who were jailed for reporting on the leaked emails of former minister Berat Albayrak, who is also the son-in-law of President Recep Tayyip Erdoğan. The court ruled that Turkey violated the journalists' right to liberty and security and freedom of expression and ordered the government to pay 38,250 Euros in pecuniary and non-pecuniary damages to Birgün daily journalist Mahir Kanaat and then-editor of the Diken news website Tunca Öğreten.
In addition, the ECtHR also ruled that the freedom of expression and assembly was violated by a Turkish executive who removed the parliamentary immunity of Filiz Kerestecioğlu, a pro-Kurdish People's Democratic Party (HDP) legislator due to her political opinions, thus subsequently opening her up to prosecution. The court ordered Turkey to pay 5,000 Euros in non-pecuniary damages and 4,000 Euros for litigation costs.