Mass protests held in solidarity with Ukraine, journalists attacked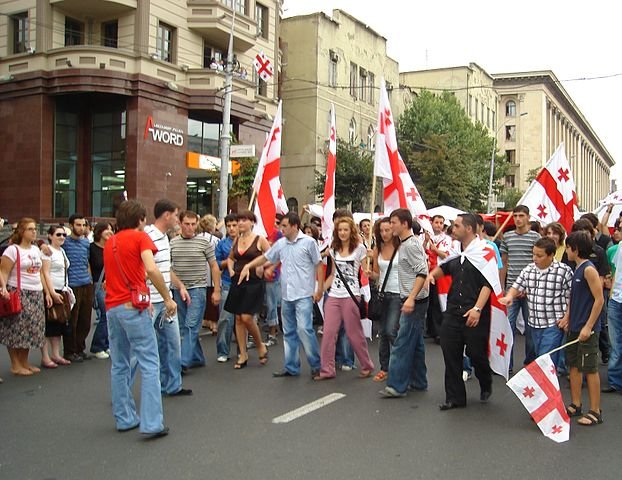 Peaceful Assembly
Strikes by social service employees yield concessions from authorities
Employees of the Social Service Agency managed to obtain significant concessions from the authorities after long periods of protests and strikes in January 2022. Dissatisfaction among the employees had escalated after Health and Social Affairs Minister Zurab Azarashvili made a statement that social agents' salaries were 'adequate' to their workload on 17th January 2022, sparking the strikes which paralysed traffic for several hours. The strikes eventually led to promises that they would receive 30% to 60% increases, four months of paid maternity leave and compensation for transportation expenses incurred on the job.
The social workers tabled their demands several years ago, and regularly protested against inaction by the central authorities, even during the pandemic. 
There's also a huge anti-war protest in Tbilisi, Georgia, now outside their Parliament.

I guess this is now turning into an anti-war protest thread. Just so it's clear I'm against all war but the class war.pic.twitter.com/IbwUjMOIwf

— Read Becoming Abolitionists by Derecka Purnell (@JoshuaPotash) February 25, 2022
Mass protests erupt against the war in Ukraine
On 20th February 2022, following Russia's military buildup at Ukraine's border, several activists staged a solidarity rally with Ukraine in front of government buildings where they also protested against Russia's actions against the country. Earlier, on 1st February 2022, the Georgian Parliament also adopted a resolution condemning Moscow's actions against Kyiv. Just days later, on 24th February 2022, Russia invaded Ukraine and attacked several cities, launching the so-called "special operation of demilitarisation and denazification" of the neighbouring country.
A day after Russia's invasion, on 25th February 2022, people in Georgia took to the streets in droves to show solidarity with Ukraine. In a twist of events, these protests later turned into protests against government authorities as thousands took to the streets of Tbilisi to denounce the Georgian government's failure to take a stronger position against the war in Ukraine. Georgia's Prime Minister Irakli Garibashvili said Georgia would not join Western sanctions against the Russian Federation, sparking more anger by Georgian citizens, who took to the streets for several more days demanding that authorities condemn Russia's aggression and take coherent measures to support Ukraine's efforts to defend itself. Protesters also demanded the prime minister's resignation and called on the government to take steps to garner support to enable Georgia's integration into the European Union.
According to the Caucasian Knot, in some places the protests escalated into violence and several people were detained for vandalising public institutions. At least one person was detained in Kutaisi, while four others were detained in Batumi after clashes broke out between protesters and the police.
Expression
Chechen human rights defender forced to leave Georgia
In early February 2022, it was reported that Abubakar Yangulbaev, a former lawyer for the Committee against Torture (CaT) in the Russian Federation, who was temporarily in Georgia, said he had left the country to take refuge in Europe after several people of North Caucasian descent (Chechnya) arrived in Georgia to look for him. A few weeks earlier, in January 2022, Zarema Musaeva, Abubakar's mother, and wife of retired federal judge Saidi Yangulbaev, was abducted and taken to Chechnya by supporters of Ramzan Kadyrov, the Chechen leader, where she was charged with several crimes. The Chechen leader accused the entire Yangulbaev family of terrorist acts and promised to take steps to punish all its members. In early February 2022, another Chechen politician, Adam Delimkhanov, representative of Chechen people in the Russian State Duma, also made similar threats, saying that this family must be exterminated.
Abubakar Yangulbaev and his brother, blogger Ibragim Yangulbaev, have harshly criticised Kadyrov's regime for violating human rights. The International Commission of Jurists called on Russian authorities to investigate and sanction the Chechen authorities for these threats.
Journalists attacked while filming
On 17th March 2022, the Caucasian Knot reported that the film team of the "Formula" TV Channel was attacked by one of the guests while filming an interview in a Tbilisi neighbourhood café. The Formula TV correspondent stated that a local customer struck them, causing injuries to reporters. One person was detained in relation to the attack.