Mass protests in Colombia demand response to persistent violence against social leaders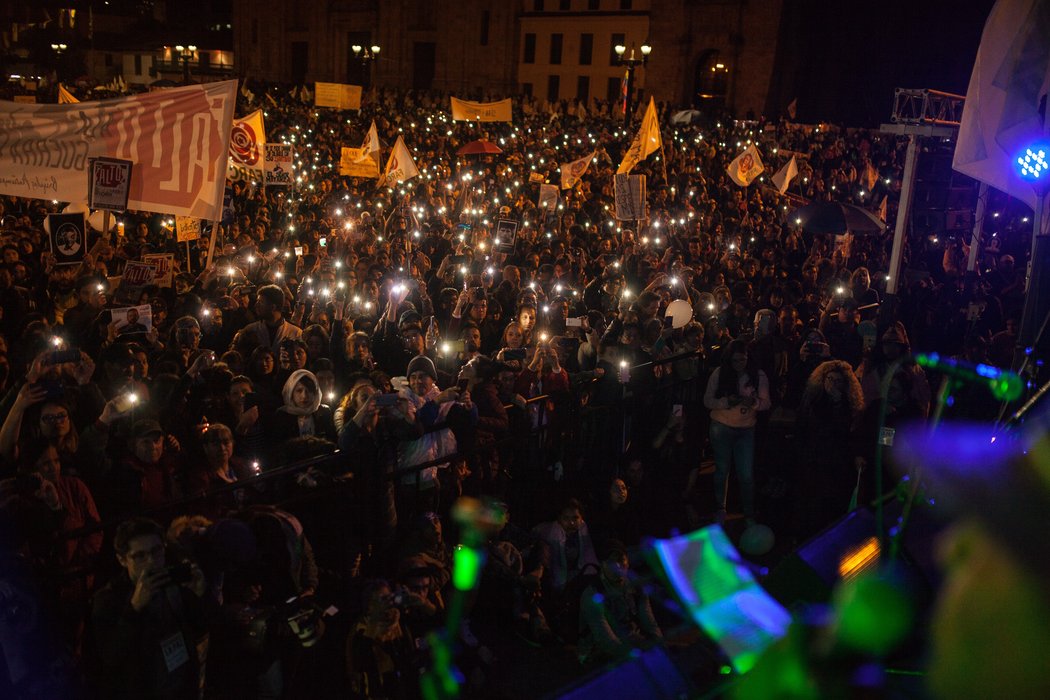 Association
As reported previously on the Monitor, the environment for human rights defenders and social leaders in Colombia remains hostile. During the first weeks of 2019, at least eighteen leaders were killed and our latest monitoring indicates that the spiral of violence has continued. In June 2019, human rights organisation Washington Office on Latin America (WOLA) stated that it had received 70 reports of murdered social leaders or members of vulnerable ethnic communities in 2019. At the end of June, WOLA declined to publish the number of cases recorded due to the huge variation in the figures published by different organisations. According to WOLA's release:
"The reality is that areas of historically high conflict are backsliding into violence while the social leaders mending war-torn communities and implementing the peace accords are bearing the brunt of it."
The following is a summary of the cases reported from 21st June 2019, after WOLA's count of at least 70 social leaders killed in Colombia this year, to the end of July 2019:
On 21st June 2019,Afro-Colombian social leader María del Pilar Hurtado was murdered in front of her nine-year-old son in the municipality of Tierralta, Córdoba, in the Cauca region. Reports mention that the paramilitary group Autodefensas Gaitanistas (Gaitanistas Self-Defense Forces - AGC) had distributed pamphlets threatening María del Pilar and other women activists from the community. María was displaced three years ago for denouncing paramilitary "chop houses" in Puerto Tejada. María's nine year-old son witnessed the murder and broke down over his mother's body in a heart-wrenching video. The video went viral on Colombian social networks, triggering national outrage and widespread protests.
On 23rd June 2019, indigenous leader Carlos Biscué was killed in the Huellas Indigenous Reservation, Cauca. Several armed men arrived at a party organised in honour of Biscué in El Pilamo de López Adentro village, and opened fire. According to initial information from HRD Memorial, it is presumed that a paramilitary group is responsible for the act.
On 3rd July 2019, social leader Tatiana Paola Posso Espitia was murdered by unidentified armed men when leaving her home to go to work in El Copey, Cesar. The social leader was an aspiring member of the Community Council and dedicated her life to the defence of human rights in her neighbourhood.
On 20th July 2019, land rights lawyer and human rights defender Yamile Guerra was ambushed and killed in the department of Santander. According to WOLA, she served as Secretary-General of the Bogota Ombudsman and was engaged in legal efforts to recover land violently taken from her father in Zapamanga. Her activism in land disputes is suspected to be the motive for her assassination.
On 26th June 2019, José Arled Muñoz was shot and killed by an unidentified man in broad daylight in Tuluá, Valle del Cauca. Muñoz was a member of the Mesa Municipal de Víctimas (Victims' Board) of Valle del Cauca, an entity devoted to defending victims of violence in Colombia. He was also an active member of the organisation Afro Unidos del Pacífico, which defends Afro-descendants' rights. According to local coalition Red por la vida y los derechos humanos del Cauca, in the department of Cauca 24 leaders were killed between the beginning of the year and 14th August 2019.
Ethnic groups particularly at risk in Colombia
Ethnic groups in Colombia also continue to be targeted with constant threats, subjected to restrictions of movement and displacement by illegal armed groups. As an example, in April 2019, the Organización Nacional Indígena de Colombia (National Indigenous Organization of Colombia – ONIC) denounced that the Eyásake, Pichindé and Dos Bocas communities were unable to access food due to movement restrictions placed upon them by the illegal groups. As a result, children in these communities were beginning to die of malnutrition. Also in April 2019, ONIC stated that the indigenous community of Cedral, Chocó, was caught in the crossfire between two groups disputing territory for drug trafficking routes. According to the organisation, civilians were used as human shields against the National Liberation Army (ELN) by members of the Autodefensas Gaitanistas de Colombia (AGC).
On 13th July 2019, members of the Afro-Colombian communal council Consejo Comunitario de las Comunidades Negras in La Toma, Cauca department, were told to leave their territory within 72 hours because of their "disobedience" and their "opposition to development". The ultimatum was sent via text message by the clandestine group Aguilas Negras (Black Eagles). It is the latest in a series of incidents of persecution and harassment against Afro-Colombian leaders who have been labelled "military targets" by attackers. In May 2019, Afro-Colombian human rights defenders, including the "Environmental Nobel" (Goldman Prize) honoree Francia Márquez, were attacked by armed men in the northern region of Cauca.
En una sola voz, cientos de personas unidas por la vida de lideresas y líderes sociales #26JMiGritoEs pic.twitter.com/1bm3ZSGOe0

— Programa Somos Defensores (@SomosDef) July 26, 2019
Peaceful Assembly
On 26th July 2019, thousands of demonstrators gathered across Colombia to protest the alarming violence against social leaders in the country, and to demand government action in protecting community leaders, human rights and environmental defenders. Marches took place in over 50 Colombian cities, with protesters carrying signs with messages such as "Without leaders, there can be no peace" and "No more bloodshed". As previously reported in the 'Association' section of this update, mobilisation for the protests began after activist María del Pilar Hurtado was shot dead in front of her son in the Cauca region. A video capturing her son's distraught reaction was widely shared, and many demonstrators carried Hurtado's photograph.
Colombian President Ivan Duque attended a march in Cartagena. While his government claims that the murder rate of social leaders has decreased by 32 percent in the past year, CSO Human Rights Watch stated that the government has been downplaying the crisis as many killings are still being verified. The exact number of leaders killed since the Colombian peace accord was signed in 2016 is highly disputed. Peace and development think tank INDEPAZ (Instituto de Estudios Para El Desarrollo y La Paz) estimates that 627 social leaders and HRDs have been killed, while the Colombian attorney general recognises 292 assassinations. Many of the murdered activists defended environmental and land rights, confronting interests of organised crime, including drug trafficking and illegal mining.
#26JMiGritoEs por la vida de los líderes y las lideresas pic.twitter.com/BSxo229kQQ

— DefendamosLaPazColombia (@DefendamosPaz) July 27, 2019
Expression
Journalist and human rights defender killed in Samaniego, Nariño
On 11th June 2019, two hitmen on a motorcycle killed journalist José Libardo Montenegro in the town of Samaniego, Nariño department. Montenegro was a radio broadcaster with Samaniego Estéreo, a community station that is part of peace iniative Radios Para La Paz (Radios for peace). The journalist hosted several programmes covering local news and cultural affairs.
The Colombian Foundation for Press Freedom (FLIP) reported that on the day he was killed, Montenegro interviewed a local journalist about an event in Samaniego to promote peace and human rights amid a rise in violence in the region. Montenegro's colleagues and local authorities told FLIP they were not aware of him receiving any threats. However, local human rights activists, journalists and others who were close to Montenegro believe his killing may be linked to recent coverage and radio commentary about drug-fuelled violence in Samaniego. According to FLIP, local police officers have disputed that Montenegro was really a journalist – a posture that the CSO has condemned, stating that there is no reason for his work to be questioned.
While the motive for the killing remains unknown, local journalists have told the Committee to Protect Journalists (CPJ) they fear that they too could become targets. In early July 2019, CPJ joined a delegation that included FLIP and two U.N. human rights officials for a two-day trip to Samaniego to learn more about the case and any possible links between his work and his killing. However, efforts by the delegation to speak with the case's public prosecutor's office were unsuccessful.
Harassment and threats to journalists
Este es el "periodista" Nicholas Casey, que en 2016 estuvo de gira con las farc en la selva.
¿Cuánto le habrán pagado por este reportaje? ¿Y por el de ahora, contra el ejército de Colombia? #CaseyEsFakeNews pic.twitter.com/EQdhqM2i1c

— María Fernanda Cabal (@MariaFdaCabal) May 18, 2019
In May 2019, freelance photojournalist, Federico Ríos, and New York Times Andes bureau chief, Nicholas Casey, left Colombia following online harassment encouraged by three lawmakers. Casey faced a backlash over an article published in the New York Times on 18th May 2019 alleging that the head of Colombia's army ordered troops to double the number of criminals and militants they kill. On the same day, Federico Ríos' photograph was shared on Twitter by Senator María Fernanda Cabal, from the Democratic Center party, wrongly identified as Casey. Cabal accused the journalist of touring with the Revolutionary Armed Forces of Colombia (FARC) paramilitary guerrilla group and implied that he was paid to write against the Colombian army. The social media post was retweeted over 3,200 times and was followed by messages from other politicians and Twitter users.
It was confirmed that the person pictured on the back of a motorcycle driven by a FARC rebel was Ríos and not Casey. The Committee to Protect Journalists (CPJ) reported that Ríos told them that the picture circulated on Twitter was taken during a reporting assignment to a FARC encampment. On 19th May 2019, both journalists decided to leave the country. Speaking to news outlet El Tiempo, Casey said, "this kind of accusation is false and serious, given the lack of security which Cabal knows we face as journalists in this country".
CPJ's Programme Director Carlos Martínez de la Serna commented on the case: "The irresponsible conduct by several Colombian lawmakers, who made false and incendiary accusations, has real effects on the day-to-day lives of journalists, especially local ones such as Federico Ríos".
In a separate incident, on 1st and 4th August 2019, five journalists received death threats on their mobile phones. The messages were signed by Comando Conjunto Occidental Sexto Frente FARC EP (Western Sixth Front Joint Command of the FARC-EP). Miguel Ángel Palta, reporter for TV news programme 90 Minutos; Fransua Martínez, from Blu Radio; Eduardo Manzano, from Noticias Caracol; and cameramen from the same programme Arlex Piedrahita y Alexander Cárdenas were all targeted. The messages declared the reporters to be "military targets". All five had recently covered the local governments' initiatives to curb illicit crop growth, according to a note issued by Reporters Without Borders, Fundación para la Libertad de Prensa (Foundation for Freedom of Press) and Federación Colombiana de Periodistas (Colombian Journalists' Federation). On 7th August 2019, the local police published a message condemning the threats and stating that an investigation was ongoing and protection measures were adopted.
Journalist's case goes to Inter-American Commission on Human Rights
La Comisión Interamericana de Derechos Humanos acusó a Colombia ante la Corte-IDH por el secuestro y la violación de la periodista Jineth Bedoya Lima (@jbedoyalima) ► https://t.co/JBoOWW6VWa pic.twitter.com/hGniJHiMpw

— EL TIEMPO (@ELTIEMPO) July 17, 2019
In a positive development, on 16th July 2019, the Inter-American Commission on Human Rights (IACHR) decided to present the case of journalist and human rights defender Jineth Bedoya Lima against the Colombian state to the Inter-American Court of Human Rights. As previously reported by the Monitor, the case has been in litigation for twenty years. In 2000, Bedoya was kidnapped, tortured and raped by a paramilitary group while investigating the deaths of 26 prisoners in a Bogotá jail.
This year the Colombian government jailed three paramilitary members involved, but the IACHR has considered that there is more to be accomplished to end the impunity in this case. In a press statement, the Commission said it had "concluded that the journalist faced a real and imminent risk of suffering an attack or aggression, considering she was the victim of constant threats and attacks against her life and personal integrity, which were reported to State authorities on several occasions. Although the State was aware of this risk, it did not adopt the measures that could reasonably have been adopted to prevent violations of her right to life, integrity and personal liberty, as well as her right to freedom of expression."
Several organisations have told press freedom network IFEX that this could be a landmark case in setting standards for the duty of states to guarantee rights, provide protection and end impunity for such crimes. In a press conference held after the IACHR announcement, Bedoya stated:
"For 19 years, I have dedicated myself to trying to move forward with my life, carrying out my profession as a journalist under conditions that violate all standards of freedom of expression, travelling with guards and in an armoured car. I have been surrounded by the most flagrant impunity and subjected to re-victimisation by the Colombian State, and I have been exposed to constant threats as a result of the activist role I took on in defence of female victims of gender violence."