Mass protests against increasing insecurity; authorities shut down mobile internet
Peaceful Assembly
Protest against "government's incapacity" to counter increasing terrorist attacks
On 27th November 2021, anti-riot police attempted to disperse, including through the use of tear gas, a protest in Burkina Faso's capital Ouagadougou against increasing insecurity caused by terrorist attacks, and the "incapacity " of the administration of president Roch Marc Christian Kaboré to deal with the deadly violence. Police were massively deployed in the capital to prevent the protesters from gathering at the Place de la Nation. Following the police action, protesters erected barricades and burned tyres in several neighbourhoods of the city, leading to confrontations with security forces. Some protesters vandalised buildings and attempted to set fire to the city hall. The Mayor of Ouagadougou had banned the protest. At least 20 people were injured, according to a source contacted by Le Monde. This includes two journalists of radio station Omega and online media outlet Filinfos, both reportedly affected by tear gas. Protests also took place in Bobo Dioulasso, Kaya and Dori.
Coalition of 27th November, consisting of three movements (Burkinabé Patriotic Movement, the G33 Movement and Popular Movement Sauvons le Burkina Faso), had called for a peaceful mobilisation on 27th November 2021 to protest against the increasing number of deadly terrorist attacks and to demand the departure of president Kaboré. The protests follow weeks of terrorist violence, including the attack in Inata, in the north of the country, which killed 57 people, 53 of whom were gendarmes. 
Passage of French military convoy in Burkina Faso: several injured in protests
A French military convoy on their way from Côte d'Ivoire to Niger, was stopped in several localities by protesters: in Bobo Dioulasso, Ouagadougou and Kaya. In Kaya, on 20th November 2021, four protesters were injured, reportedly by bullets, when they attempted to approach the vacant lot where the French military was staying. According to news reports, although the exact circumstances of the incident and the origin of the bullets that injured the protesters are still unclear, sources indicated that the Burkinabé military used tear gas, while the French military fired warning shots to disperse the protesters. In Bobo Dioulasso and Ouagadougou, where protests took place days before the incident in Kaya, security forces reportedly used tear gas to disperse the protesters.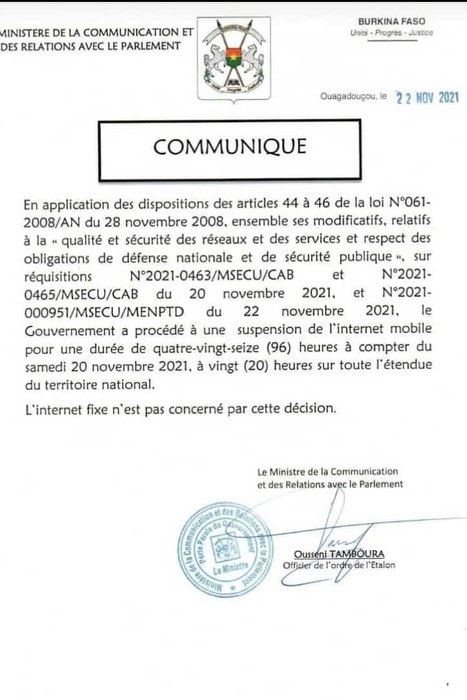 Authorities shut down mobile internet for over a week
Mobile internet connectivity was severely disrupted in Burkina Faso from 20th November 2021, affecting cellular services and causing widespread outrage as most of the population relies on the 3G mobile network. Fixed internet lines and WIFI were not affected. Only on 22nd November 2021, the government issued a statement saying mobile internet would be suspended for a period of 96 hours, starting on 20th November 2021, for national security and defence reasons. On 20th November, protesters in Kaya blocked the transit of a French military convoy that was heading to Niger, injuring at least four people, reportedly by live ammunition (see under Peaceful Assembly). The government extended the suspension by a further 96 hours on 24th November 2021, and mobile internet connectivity was only restored on 28th November 2021, a day after anti-government protests against increasing insecurity and terrorist attacks (see under Peaceful Assembly). 
Civil society groups have heavily criticised the mobile internet suspension. Social movement Balai Citoyen called the government "a predator of individual and collective freedoms", while Bassolma Baziè, spokesperson of the Collective of Trade Unions of Burkina Faso said that "this restriction of individual and collective freedoms has reached a climax in recent days". The National Commission of Human Rights (CNDH) denounced the mobile internet suspension saying that it constitutes a violation of the freedoms of expression and information, essential in any democratic society, and calling on the government to take all necessary measures to restore the internet.