March for war victims faces limitations; online hate speech during & after Pride march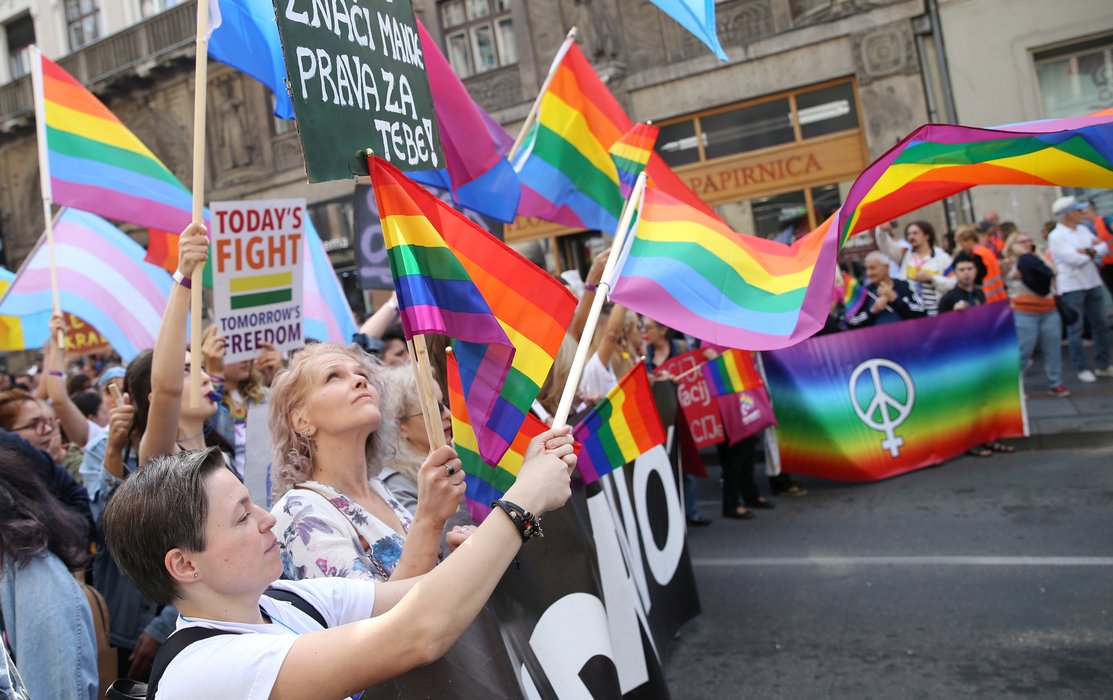 Association
According to an analysis by Balkan Insight published on 13th April 2022, US right-wing extremist Robert Rundo has managed to forge ties with individuals and organisations located in Bosnia and Herzegovina.
According to the Pink Annual Report on the State of Human Rights of LGBTI Persons in Bosnia and Herzegovina, published by the civil society organisation Sarajevo Open Centre (SOC) on 23rd May 2022, 2021 was marked by restrictions in the area of freedom of peaceful assembly due to the COVID-19 restrictions. In addition to that, it is reported that a common legal framework is still missing and that in many cases CSOs were not involved in the political processes aiming at regulating this area.
On 25th May 2022, the Basic Court in Brcko converted to a fine the six month sentence of Srdjan Letic, leader of the pro-Russian Sveti Georgije Loncari organisation, who has been convicted multiple times and caused severe bodily injuries to Cvijetin Sofrenovic.
Peaceful Assembly
On 31st May 2022, the local police administration of the Republika Srpska entity decided to impose limitations to the annual march marking White Ribbon Day for war victims in Prijedor in order to allegedly "reduce the danger to the safety of people and property and the danger of disturbing public order and peace". War victims' associations, rights activists and diplomats in Bosnia and Herzegovina have criticised this decision. The local police administration decided to limit the event to a gathering in a city square within a limited time period. Later, an investigation published by Balkan Insight on 4th July 2022 reported that a right-wing nationalist group from Prijedor called Self-Respect (Samopostovanje) and the youth organisation called Principle (Princip) exerted pressure which is believed to have caused the authorities in the city of Prijedor to ban the march.

On 16th June 2022, local anti-fascists in Mostar, as well as others who came from Croatia, participated in a peaceful protest at the Partisan Memorial Cemetery after it had been destroyed by unknown vandals a few days earlier.

On 20th June 2022, families of 46 people from the Hadzici municipality who went missing in June 1992 and whose bodies have yet to be found held a rally outside the state prosecutor's office in Sarajevo, calling for the perpetrators to be brought to justice.

On 22nd June 2022, the appeals chamber of the Bosnian state court sentenced Dusan Sladojevic, Slavko Aleksic and Risto Lecic to five months in prison each for inciting ethnic, racial and religious hatred, discord and intolerance in the Visegrad area during a rally in March 2019. The three members of the Serb nationalist Ravna Gora Movement – widely known as the Chetniks – rallied wearing black uniforms and singing ethnically provocative songs.

On 7th July 2022, protests were held in several cities of Bosnia and Herzegovina due to the worrying level in the rising prices of food, fuel and other energy sources in the country.
Protesti građana zbog visokih cijena : " Lopovi , lopovi , hoćemo pravdu" @N1infoSA pic.twitter.com/XDoImJGxAd

— Rasim Pavica (@RPavica) July 6, 2022
Expression
According to the report "Indicators of the level of media freedoms and safety of journalists in BiH 2021", published by safejournalists.net on 16th June 2022, 26 cases of attacks, threats and pressures on journalists and media outlets in BiH were registered in the previous year, often coming from representatives of institutions from different levels of government and often targeting women. Two cases of Strategic Lawsuits against Public Participation (SLAPPs) have also been registered. According to the Coalition For Women In Journalism (CFWIJ) 2021 Annual Press Freedom Report published in June 2022, the year 2021 saw a global increase in major violations against women journalists by 16 per cent as compared to the previous year. In Bosnia and Herzegovina, two cases of threats and attacks against female journalists were reported throughout the year.
On 15th June 2022, the car of Republic of Srpska Radio Television's (RTRS) journalist Nataša Miljanović-Zubac was set on fire while parked at her home in the town of Trebinje. The journalist recently received online insults and threats from commenters which included local politicians and had been targeted by politicians in the past. Miljanović-Zubac believes that the attack may be retaliation for her frequent coverage of corruption, organised crime, smuggling and drug trafficking in the region.
On 28th June 2022, BIRN Bosnian journalist Nermina Kuloglija, together with her Turkish colleague Hamdi Fırat Büyük, received a series of intimidating messages and calls, including death threats, coming from both Bosnia and Herzegovina and Turkey. These acts of intimidation are linked with their recent investigation of Bosnia and Herzegovina's branches of the Grey Wolves organisation, which is affiliated with the far-right Nationalist Movement Party, MHP, an ally of Turkish President Recep Tayyip Erdoğan's ruling party.
On 25th July 2022, the third BiH Pride March was held without any incidents reported. However, as noted by an analysis by the Media.ba journalist Marija Arnautović, hate speech, insults and vilification in the online space were strongly present during and after the March. These digital rights violations were confirmed by another analysis published on Balkan Insight, which also added that these attacks have come from high-level politicians.