Maldives elected to UN Human Rights Council despite press freedom concerns, restrictions on protests and impunity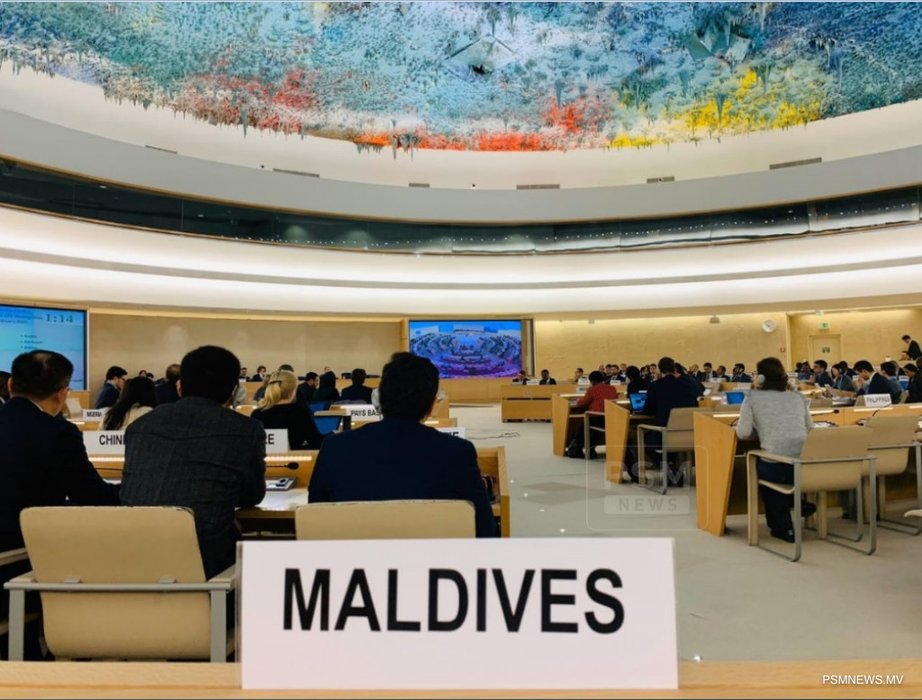 In October 2022, the Maldives was elected to the United Nations Human Rights Council, after elections held at the United Nations General Assembly in New York. The Maldives won with 154 votes, out of a total of 189 votes cast.
This occurred despite ongoing concerns about human rights violations in the country. They include reports of harassment and threats to journalists, the arbitrary arrest and excessive force against protesters and restrictions on protest, threats against human rights defenders, both offline and online, including women activists. The government was also involved in the de-registration and dissolution of human rights group the Maldivian Democracy Network (MDN) in 2019 which violated due process and it has also failed to deal effectively with past crimes.
Prior to this in September 2022, the UN Working Group on discrimination against women and girls said they were 'deeply concerned about the shrinking civic space and organised efforts to undermine women's participation in democracy as illustrated by many instances of hostility towards a range of women who publicly challenge stereotypical gender norms, including women human rights defenders and journalists'.
In recent months, there continues to be concern about restrictions to press freedom following the passage of the Evidence Act and ongoing restrictions on protests and arrests of protesters by the authorities. There is still a lack of accountability for the disappearance of journalist Ahmed Rilwan Abdullah.
Expression
Continued press freedom concerns around Evidence Act despite amendments
Despite protests from civil society and media organisations, the Maldives parliament passed the Evidence Act on 30th June 2022 allowing courts to demand journalists reveal their sources. The Act empowers the courts to imprison journalists who refuse to disclose their sources for up to three months or impose a fine. President Ibrahim Mohamed Solih ratified the Evidence Act on 18th July 2022.
Ten human rights organisations, including CIVICUS, published a statement calling on the authorities to repeal or amend the Act in line with international human rights standards and through a consultative process. Article 136 of the new law uses vague and overbroad terms such as "acts of terrorism" and "national security related crimes" when identifying instances where journalists can be compelled to disclose their sources. These overly broad categories, which are not defined, are deeply concerning due to the Maldives' long history of stifling peaceful dissent and muzzling press freedom.
Separately, organisations such as the Maldives Journalists Association (MJA), Committee to Protect Journalists and Human Rights Watch have also condemned the government for blatantly undermining free press and expression. Pertinently, MJA had previously submitted a petition signed by 158 journalists, along with 12 recommendations, asking the President not to ratify the controversial bill.
In a statement on 25th September, the office of the Maldivian Attorney General said it would propose an amendment to the Evidence Act, in response to concerns raised by media rights organisations regarding provisions within Article 136 of the bill that require journalists to reveal their sources to the court. The new amendment proposal clarifies the circumstances under which journalists are required to reveal their sources and further defines the terrorism and national security aspects of the bill.
While the MJA welcomed these changes, they still have serious concerns and urged the government to "remove references to national security from the bill as there is a possibility of misusing the term in the absence of a law defining national security offences in the Maldives."
The amendments were sent to the President's Office in October 2022 and to the Judiciary Committee in parliament on 7th November 2022.
Freedom of expression and press in the Maldives continue to face substantial threats. In the Reporters Without Borders press freedom index, Maldives dropped 15 positions from 72 in 2021 to 87 in 2022, out of 180 countries. 
Journalists summoned for questioning
@amnestysasia has expressed concern about police intimidation and the case filed against Dhiyares's journalist Ahmed Azaan Marzooq. pic.twitter.com/Uqtf3U9Ag9

— އަލްހާރިޔަ | Al-Huriya | الحرية (@alhuriya_mv) July 24, 2022
Journalist Ahmed Azaan Marzooq, a reporter for online news outlet Dhiyares, was summoned by the police for questioning in July 2022 around a report about a bug in a State-owned hospital database, which allowed people to access patient records. He was accused of illegally accessing the patient database of the national hospital and leaking health records of senior government officials, which he has denied.
This incident took place 24 hours after the Evidence Act was passed. Azaan is a vocal critic of the Maldivian government and this is the second time he had been summoned. Earlier in December 2019, he was summoned over a tweet, but the case was later dropped due to public pressure.
Amnesty International expressed concern about police intimidation and the case filed against Azaan. The group stated that the authorities must protect the right to freedom of expression and the safety of journalists.
Peaceful Assembly
Protests against arrival of former Sri Lankan leader Rajapaksa dispersed
From today's Protests against Gotabaya Rajapaksa in the Maldives
🇲🇻♥️🇱🇰#SriLankaCrisis #GoHomeGota pic.twitter.com/ekJ5repanh

— 🇵🇸مريم 🇲🇻 (@Nannaxeev) July 13, 2022
On 13th July 2022, former Sri Lankan President Gotabaya Rajapaksa fled to the Maldives before he resigned over Sri Lanka's worst economic crisis in decades and was received by Maldivian government representatives at the Velana airport.His arrival was met with protests with dozens urging the authorities not to provide him safe haven. The protests took place across the Maldives, including in front of President Solih's house, and were joined by Sri Lanka nationals in the country.
In response to the protests at an artificial beach area in Male, Special Operations police confiscated placards and dispersed the demonstrators. One Sri Lankan man was taken into custody.
Protesters pepper-sprayed by police
Maldives Police Service pepper sprayed peaceful protestors calling for the release of former MP Mohamed Ismail @pagossman @amnestysasia pic.twitter.com/4pbqaldrlf

— Progressive Party of Maldives (@ProgressPartyMV) July 28, 2022
On 28th July 2022, the Maldives Police Service pepper-sprayed peaceful protestors who called for the release of former MP Mohammad Ismail. He was arrested in June and July 2022 over the disruption by 'India Out' protesters of aYoga day event jointly organised by India and the Maldives in the capital Male.
As previously documented, President Solih issued a decree in April 2022 banning the 'India out' campaign and declared it to be a "threat to national security."Protests linked to the 'India Out' campaign have persisted in the Maldives, alleging India's military presence and political influence in the Maldives. Led by an opposition coalition comprising the Progressive Party of Maldives (PPM) and the People's National Congress (PNC), the protests have been met with restrictions and arrests.
Police arrest ten around opposition protest linked to plight of fisherfolk
In October 2022, ten people were arrested in an opposition protest under the name 'Ley Naaru' to draw attention to the concerns of local fisherfolk. The protest began in front of the fish market in Male City, led by leaders from the Progressive Party of Maldives (PPM) and the People's National Congress (PNC). Fisherfolk from the area also participated in the protest.
Participants of the protest were stopped by the police with barricades as they headed towards Republic Square through Boduthakurufaanu Magu. When police requested the participants to move back, some of them refused – which led officers to use pepper spray. All ten were released subsequently.
Association
Religious freedom activist released after more than six months in pretrial detention
Atheist Alliance International calls on the Maldivian authorities to Drop all charges against Mohamed Rusthum Mujuthaba immediately and ensure his safety. https://t.co/8YoIwjANhZ @ibusolih @mdpshippe @MohamedNasheed @M_hameedh @MoFAmvc @Abdulla_shahid pic.twitter.com/Dv0YA99ES9

— Atheist Alliance International (@atheistalliance) June 22, 2022
Amnesty International reported that Maldivian activist Mohamed Rusthum Mujuthaba was relieved from further imprisonment in August 2022 on charges of blasphemy and possession of "obscene material". The criminal court of Maldives observed that the activist spent six months in pretrial detention, in excess of the sentence stipulated under domestic laws.
Maldivian religious freedom and human rights activist Mohamed Rusthum Mujuthaba was arrested on 21st November 2021 and charged with criticising Islam and possession of obscene material under sections 617 and 622 of the Penal Code. He appeared in court on 11th May 2022, where he stated that he had been detained for six months, in excess of the sentence stipulated if convicted. However, the state prosecutor argued that he had been detained for 29 days.
On 10th August 2022, when the state prosecutor argued at the Maldivian criminal court that Mohamed Rusthum Mujuthaba had been detained for only 29 days, the judge checked the information with the Maldives Correctional Services and found it not to be true.
On 14th August, Rusthum was convicted and sentenced to four months in prison, however, owing to the time he had spent in detention, he was released.
Still no justice for family of murdered journalist eight years on
August 2022 marked eight years since journalist, human rights defender and blogger Ahmed Rilwan Abdullah was forcibly disappeared.
As previously documented, Rilwan, a reporter with the Maldives Independent newspaper, went missing in August 2014. He was an outspoken journalist who uncovered political corruption and its links to Islamist extremism. In August 2018, the criminal court acquitted the two suspects on trial for abducting him. The weak police investigation into Rilwan's case and concerns about the credibility of the trial raised serious questions about the willingness of the state to bring the perpetrators to justice.
Despite a change in government commitment in November 2018 to resolving Rilwan's forced disappearance and the establishment of the Deaths and Disappearances Commission (DDCom), there remains a lack of accountability. According to the Maldivian Democracy Network (MDN), the prosecution has yet to appeal the 2018 acquittals of the two people implicated in his abduction.
MDN also noted that the progress DDCom made in June 2022 by arresting three suspects involved in Rilwan's disappearance .However, the group raised concerns that well-connected perpetrators have been able to manipulate evidence and intimidate witnesses to evade police investigation for eight years. Furthermore, there has been a lack of investigation into those who planned and funded the forced disappearance. MDN called on the Maldivian government to "appeal the case in an open, thorough, and impartial trial that meets international fair trial standards".
Three years since leading human rights group was dissolved
As previously documented in September 2019, MDN and its staff became the target of a social media campaign because of a 2015 report the organisation had published on the rise in violent extremism in Maldives, which their opponents claimed included language insulting Islam. In October 2019, MDN publicly acknowledged that some of the language in the report could be misunderstood and said it would incorporate revisions.
However, this did not quell the campaign and in November 2019 the government yielded to pressure from religious leaders and political opposition figures and ordered the dissolution of MDN. The MDN leadership was forced into exile because of violent threats from extremist groups. The police failed to investigate and prosecute those responsible for the threats.
A lawsuit filed by MDN contesting the organisation's de-registration as arbitrary continues to be stalled by the Civil Court for two years now. The case remains shrouded in ambiguity and opacity.