Maduro government continues to strangle opposition with repression and intimidation
Association
On 8th May 2019, Edgar Zambrano - vice-president of Venezuela's opposition controlled National Assembly - was arrested by agents of the Bolivarian Intelligence Service (SEBIN). In the first week of May, this opposition leader had already been stripped of parliamentary immunity by the National Constituent Assembly for supporting Juan Guaidó's uprising and for helping to free opposition leader Leopoldo López. Zambrano was inside his vehicle when SEBIN agents approached him. According to reports, the police towed his vehicle when he refused to get out of his car, taking him to El Helicoide prison where the Bolivarian intelligence service is headquartered. On 10th May, the Supreme Court of Justice clarified that Zambrano has been charged with crimes of "treason, conspiracy, civil rebellion, usurpation of functions, public incitement to the disobedience of laws and hatred".
In a separate incident, it has been reported that human rights defender Alexis Bustamante, from FundaREDES, has been missing since 17th May. Bustamante had traveled to Venezuela's border with Colombia, planning to go to the Colombian town of Cucuta to buy food and medicine for his family. FundaREDES, along with a coalition of human rights organisations, denounced the disappearance in the Inter-American Commission on Human Rights. At the time of writing this update, there has been no news of his whereabouts.
Desaparecido Alexis Bustamante, activista de @FundaREDES_ estaba en Táchira en su casa materna, el día viernes bajó a la frontera con plan de ir a Cúcuta a comprar alimentos, su familia desconoce su paradero desde ese día, ni en Táchira su mamá y hermanos,o en el Zulia su esposa pic.twitter.com/ajA2uQ8CRu

— Javier Tarazona (@javiertarazona) May 20, 2019
Peaceful Assembly
The Observatorio Venezolano de Conflictividad Social (Venezuelan Social Conflict Observatory - OVCS) has registered 1.963 protests in April 2019 and 1.541 protests in May 2019. Following Juan Guaidó's calls for mobilisation on the 30th April, to the end of the first week of May, 7 protesters were killed and at least 346 demonstrators were injured by bullets, pellets and tear gas. In addition, during the protests in May, 6 protesters were killed. This brings up to 60 the number of demonstrators killed in the first 5 months of 2019, as documented by OVCS. These reports show that the government's repression system persists with the implementation of a policy of control and intimidation against demonstrators.
In addition, according to the organisation PROVEA, 8 people from indigenous communities have been killed during protests by the police and the military from 2017-2019.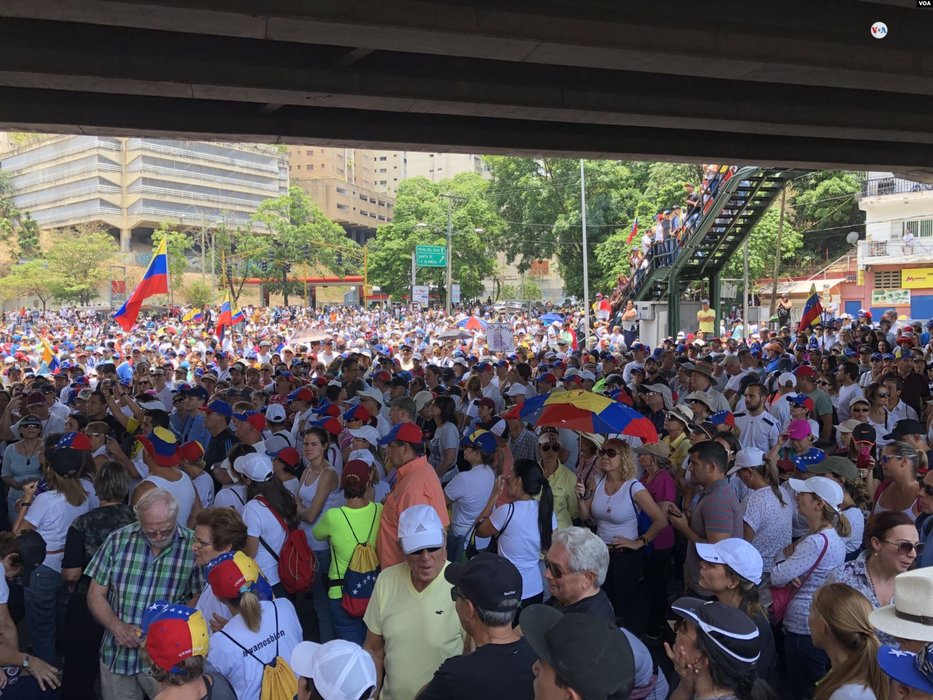 Expression
The UN High Commissioner for Human Rights received information of at least  10 journalists injured while covering the above mentioned demonstrations between 30th April and May 1st. 5 of these journalists were injured by pellets.
#8May Con la detención de periodista español Joan Guirado, ya son 12 los corresponsales extranjeros deportados en el 2019 por el régimen venezolano. pic.twitter.com/SxjrlnaUdA

— CNP Caracas (@CNPCaracas) May 8, 2019
Since then, Maduro's crackdown on journalism has continued with tactics such as intimidation, arbitrary detention and disruption of internet services. On the 8th May, Spanish journalist Joan Guirado was detained and held for hours by the Intelligence Service (SEBIN). He was in Venezuela covering the developments from the 30th April protests for OK Diario, a digital news outlet. Guirado reported the arrest on his own social media and left the country a few days later. The Maduro government has denied having deported Guirado. However, as seen in the tweet above, Venezuela's National College of Journalists counts this as the 12th case of foreign correspondents deported from the country in 2019.
#AlertaSNTP | Detenidos por el Sebin, en los alrededores de la residencia de Iván Simonovis, los reporteros de @TVVnoticias y @CaracolTV #16May

— SNTP (@sntpvenezuela) May 16, 2019
The Sindicato Nacional de Trabajadores de la Prensa (National Union of Press Workers - SNTP) reported another incident on 16th May: 5 journalists and members of their support crew were detained while waiting outside the home of political prisoner Ivan Simanovis, who had allegedly escaped his house arrest. The journalists were working for different outlets, Venevisión News, Caracoltv, VIVOPlay and TV Venezuela, and had been waiting to receive information about the case. According to the SNTP, the Intelligence Service held them incommunicado for 3 hours, and also took away their identity documents.
In a new development of an ongoing case, the Committee for the Protection of Journalists (CPJ) released a statement together with Human Rights Watch calling for the release of the photojournalist Jesús Medina, who has been detained since 28th August. His detention has been prolonged by "absurd charges" and "pretexts", said CPJ's Coordinator for Central and South America, Natalie Southwick. She also added that the criminalisation of journalism will not solve nor hide the crisis in Venezuela from the world. Human Rights Watch's Americas Director José Miguel Vivanco also spoke about this case. He called on other country's leaders to support Medina's immediate released and commented:
"Jesús Medina's detention is consistent with a pattern of arbitrary arrests and harassment of opponents, critics, and those who dare expose the truth about what is happening in Venezuela."
Finally, as highlighted in the last CIVICUS Monitor update, reports of strategic disruption of internet services in Venezuela continue to multiply. NetBlocks, monitoring these disruptions, assesses that internet censorship has become increasingly pronounced following the 30th April. In NetBlock's analysis, "new disruptions show the continuation of ephemeral, or intermittent internet censorship imposed by the state appearing to target critical speech". One example was a break in service for three hours following the arrest of Edgar Zambrano, reported above in the Association section.
In the fallout of opposition leader Juan Guaidó's address calling the population to take to the streets, there have been several reports of protesters injured and killed in Venezuela, as well as a crackdown on freedom of expression throughout the month of May 2019 - in particular through the strategic disruption of internet services. Opposition politician Edgar Zambrano was arrested for supporting Guaidó's uprising and one Human Rights Defender, Alexis Bustamante, has been reported missing.