Local government in Bosnia looks to criminalise "fake news" with high fines for media and CSOs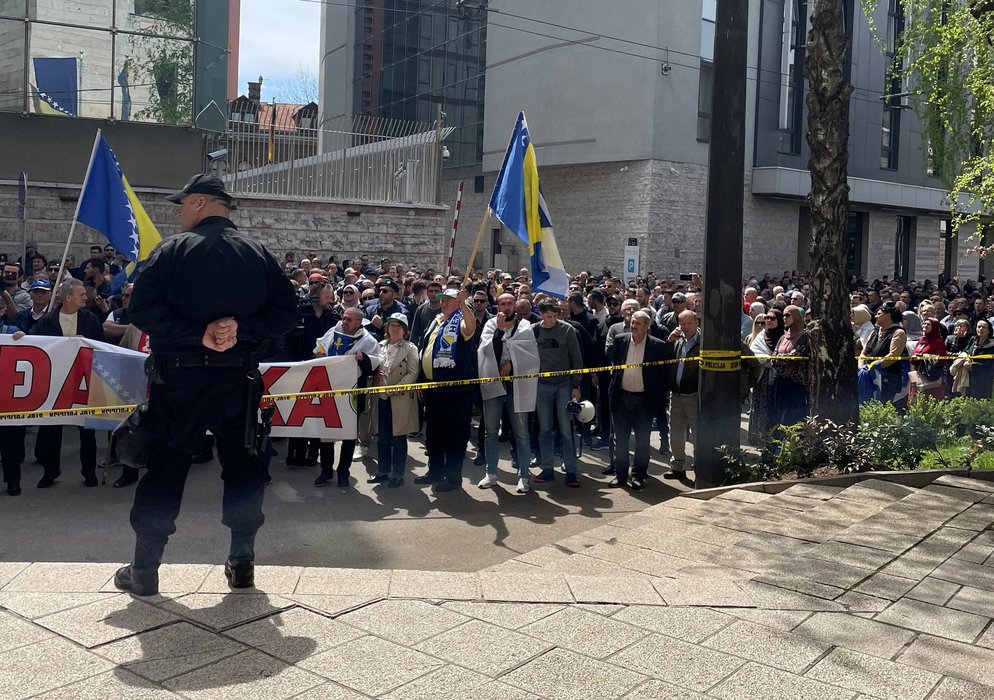 INTRODUCTION
In April 2023, the Initiative for Monitoring the European Integration of Bosnia and Herzegovina published the 2022 Alternative Report on the country's progress toward EU membership. The report raises concerns about Bosnia and Herzegovina's reform processes and whether the country meets the political criteria for EU membership. It was prepared by an informal coalition of civil society organisations and evaluates democratic institutions, public administration reform, the rule of law, fundamental rights, and specific chapters related to the EU accession process. The report suggests that despite the EU institutions' focus on Bosnia and Herzegovina, there has been a decline in rhetoric, threats of secession, and political obstacles, leading to legal uncertainty and stalled reforms.
A recent report by the Centre for Cybersecurity Excellence and the Balkan Investigative Research Network (BIRN) showed that Bosnia and Herzegovina faces millions of cyber attacks every month, but lacks the necessary policies, legislation, and capabilities to defend against them. The most common were distributed denial-of-service (DDoS) attacks, which are used to disable IT systems. The lack of computer emergency response teams and a legal framework were highlighted as major problems.
FREEDOM OF PEACEFUL ASSEMBLY
Bosnians protest High Representative's constitutional amendments
On 28th April 2023, hundreds gathered in the Bosnian capital to protest against changes to the constitution of the Federation of Bosnia and Herzegovina imposed by the country's peace envoy, Christian Schmidt, claiming discrimination against the main ethnic group. Under the 1995 Dayton Peace Accord, which ended the Bosnian war, Schmidt's status as the international community's High Representative gives him broad powers, including to introduce and amend legislation through binding decrees. Schmidt's changes allow the approval of a prime minister nominee despite objections from one of the Bosniak-Croat entity's vice presidents and introduce the possibility of a snap election in case of prolonged political deadlock. Protesters believe Schmidt is subverting Bosniak votes and ignoring the historical suffering of the Bosniak ethnic group during the war, including the Srebrenica genocide. The protests were held in front of the parliament building in Sarajevo with a significant police presence.
Thousands gather to protest the "catastrophic" situation of people with disabilities
On 9th May, protests organised by the Union of Persons and Organisations of Persons with Disabilities in the Federation of Bosnia and Herzegovina took place in Sarajevo. The aim of the demonstrations was to draw attention to the catastrophic situation of people with disabilities and to advocate for better legal frameworks and solutions to ensure a dignified life. Thousands of participants, including people with disabilities, their families and supporters from across the Federation of Bosnia and Herzegovina, came together to demand change. The Federal Ministry of Finance responded by increasing civil disability benefits.
Pro-Russian messages sent from Victory Day march in Banja Luka
During the "Immortal Regiment" march in Banja Luka on Victory Day, which falls on 9th May, messages expressing support for Russia were displayed. This march serves as a tribute to the descendants of WWII anti-fascist fighters. Notable participants included the Night Wolves biker group, known for their strong connections with Russian President Vladimir Putin, and members of the Serbian nationalist movement "Choice is Ours", which backs Russia's war on Ukraine. The march was attended by the Russian ambassador to Bosnia and Herzegovina Igor Kalabukhov, as well as the embassy's military attaché, Sergey Ilnitskiy. Marchers carried banners with the Russian and Serbian flags intertwined, and messages likening Russia's aggression in Ukraine to Soviet efforts in WWII.
No 'Immortal Regiment' parades for WWII Victory Day in Russia today, but the Bosnian Serbs held one in Banja Luka with the Russian ambassador and pro-Putin Night Wolves bikers. Story from @BalkanInsight https://t.co/SpLffqFFAM

— Matthew Collin (@Matthew__Collin) May 9, 2023
Secondary school students taken on anti-abortion march
On 11th May 2023, high school students in Mostar, Bosnia, and Herzegovina, participated in a Catholic religious procession called the "Walk of Love for the Unborn." This event, organised by a teacher from Sestre Milosrdnice Secondary Medical School, was held to commemorate both Mother's Day and the school's anniversary. The march concluded with a prayer at a hospital chapel. It is unclear whether the students or their parents gave consent for their participation in this event. Similar public religious events have also taken place in neighbouring Croatia, prompting counter-protests from human rights and women's groups.
Hundreds in Tuzla commemorate massacre anniversary
Hundreds of people gathered in Tuzla, Bosnia and Herzegovina, to mark the anniversary of the Kapija massacre. On 25th May 1995, a shell fired by the Bosnian Serb army killed 71 people and injured over 150 others celebrating Youth Day. Parents of the victims expressed their growing conviction that no one will be held accountable for the crime.
FREEDOM OF EXPRESSION
According to the Reporters Without Borders (RSF) 2023 World Press Freedom Index, the countries of Southeastern and Central Europe, including Bosnia and Herzegovina, have improved in the global ranking. Bosnia rose from 67th to 64th place in 2022, indicating progress in press freedom. However, challenges remain, including restrictions on journalistic reporting and the threat of organised crime. RSF noted increasing aggression from authorities and hostility toward journalists on social media and in the real world.
On 3rd May, World Press Freedom Day, media organizations in the Balkans and Central Europe called on authorities to crack down on threats against journalists, prioritise such cases in court, and create a safer environment for media work. A survey presented by the BH Journalists' Association highlighted poor levels of journalistic safety in Bosnia and Herzegovina, with around 26% of respondents approving of attacks on journalists. The Association emphasised the need for a safe environment for media and the protection of press freedom. While press freedom improved in some countries, challenges such as violence, intimidation, and political pressures remain prevalent in the region.
Sarajevo government plans to criminalise fake news with steep fines for media
The government of the Sarajevo Canton, located in Bosnia's Federation entity, has proposed a new law that would impose fines of up to approximately EUR 1,000 for spreading fake news. In addition to individuals, the draft law foresees even higher fines (up to EUR 7,500) for legal entities, including civil society organisations and media outlets, found to be disseminating "false news or claims". The government states that this law aims to protect citizens, but critics argue that it could infringe upon civil liberties. Critics have expressed concerns that the law grants excessive power to the police and could potentially restrict freedom of speech. This development follows Republika Srpska, the other entity in Bosnia, recently adopting draft amendments that criminalise defamation (see previous CIVICUS Monitor update), in a move that has attracted criticism from both local and international human rights groups.