Lebanon: Unprecedented use of violence in anti-government protests
This update covers developments on freedoms of expression and peaceful assembly in Lebanon from November 2019 to January 2020. It was prepared for the CIVICUS Monitor by the Arab NGO Network for Development (ANND).
Assembly
As previously covered by CIVICUS Monitor, since the 17th October 2019 anti-government protests, which called out corruption and social injustices, have continued in Lebanon unabated. The protests were triggered by a government announcement on proposed tax reforms on WhatsApp and other messaging services, accompanied by a looming currency crisis and a shortage in gas and fuel supplies. Although the tax reform was scrapped, demonstrations continued as protesters raised further concerns about corruption, poor public services and a lack of trust in the ruling class. This led to the resignation of Prime Minister Hariri on the 29th October 2019, leaving the country without an effective government. Since the PM's resignation there have been no concrete steps taken to meet the demands of the protestors. Last month, Hassan Diab, a 60-year-old professor at the American University of Beirut, was appointed as the country's new Prime Minister. The long-awaited government was finally formed on 22nd January 2020, almost a month after the Prime Minister was named. But it has failed to conform to the key demands of the revolution, which has led to it being rejected by protestors.
Women led protest movement
Women have been at the forefront of the protests. On 3rd November 2019, a feminist march was organised.
Arab NGO Network for Development interviewed the Co-founder and Co-Director of Fe-Male, Hayat Mirshad, about the role of women in the protests and their demands. Fe-Male is a young feminist collective that works to support the feminist movement and women's rights in Lebanon.
"Finally, we are witnessing a real revolution in Lebanon for socio- economic issues and for rights issues. This is the first time in the history of Lebanon that the Lebanese stand united against this corrupt, patriarchal and sectarian system....Women's rights and feminist organisations are playing a big part in this revolution through organising and mobilising people....The feminist march that took place on Sunday stressed that this revolution is a women's issue. Women have a big role to play in this revolution and...women's causes should be included in the call of this revolution. It is a priority to ensure that women's rights are respected in the future, because there is no future or liberation without equality...." - Hayat Mirshad, Co-founder and Co-Director of Fe-Male.

Peaceful protests turn violent
It's been more than 100 days into the Lebanese revolution, which has mostly been characterised as peaceful. However, excessive use of force was also documented on many occasions during the period covered in this report. Recent statistics in ANND's bulletin, released by the Lawyers Committee, who defended demonstrators in Lebanon, show that between 17th October 2019 and 31st January 2020 around 906 protestors were arrested and detained, including 49 minors and 17 women. And roughly 546 protestors were subjected to violence during the demonstrations or while in detention facilities.
The excessive use of force led to United Nations experts issuing a warning on 26th November 2019:
"The State is responsible under international law to protect peaceful protesters and ensure a safe and enabling environment for people to exercise their freedom of expression and peaceful assembly...Even where roadblocks are used as a means of protest, which may in rare cases warrant dispersal of protesters, only the minimum use of force necessary should be used and only if less intrusive and discriminatory means of managing the situation have failed."
The above statement was released following the death of Alaa Abou Fakher, a peaceful protester who was killed on 12th November 2019 when the army opened fire to disperse protesters who were blocking roads in Khaldeh, south of Beirut. While the Lebanese Armed Forces Command announced that the military prosecutor had ordered an investigation into the case, Amnesty International called for an investigation by the civilian justice system. Later that month, a warrant of arrest was issued by the Military Tribunal in connection with the death of Fakher.
In another case, on 23rd November 2019, five youth, including two minors, were arrested and detained by security forces for taking down a banner belonging to a political party. On the same day, supporters of the Hezbollah and Amal movement violently clashed with peaceful protesters in Beirut and other regions to denounce the closure of roads. These updates have worryingly added to the increased violence since the eruption of the protests in October.
In addition to the use of force by security forces, protesters were attacked by anti-protest groups, where their tents were burned and vandalised. They were also attacked with rocks and metal rods in downtown Beirut.
Increasing violence by security forces
By mid-December the restrictions imposed on protesters were exacerbated. The ANND bulletin documented the following violent clashes between the 10th and 16th December 2019:
On 10th December 2019,protesters travelled by car to the houses of the previous Ministers of Public Works and Transport, denouncing the poor infrastructure that led to rain flooding the main roads and highways, which resulted in people being locked in their vehicles for hours. Protesters were attacked ferociously by men dressed in what appeared to be Internal Security Forces uniforms who are affiliated with some political parties. Their cars were vandalised and protesters, including journalists, were dragged out and beaten unsystematically.
On the nights of 14th and 15th December 2019, the security forces clashed with the supporters of political parties who provoked and attacked them in various ways. On both nights, security forces arbitrarily attacked protesters gathered in Beirut and fired tear gas and rubber bullets at them, in retaliation to the actions of some. Amnesty International reported that there was an excessive amount of tear gas used to disperse the protesters and called for an independent investigation into the use of excessive force. Ten people were reportedly taken to the hospital and 33 were treated on the groundfor breathing difficulties, fainting and injuries. The two days of violence concluded with the arrest of 23 people, some of whom showed signs of torture after their release. More than 76 protesters reported some form of attack, either by security officials or as a result of the rubber bullets fired at them. In more severe cases, some protestors reported being dragged inside the parliament area and being beaten by the security forces. Few protestors reported the theft of money, legal documentation or cell phones.
Violence continued until the night of 16th December 2019, with supporters of political parties attacking the protest squares in Beirut and the South, burning down tents and cars. These acts were in response to a video, most likely intentionally spread on social media, of a young man from Tripoli cursing the Shia faith.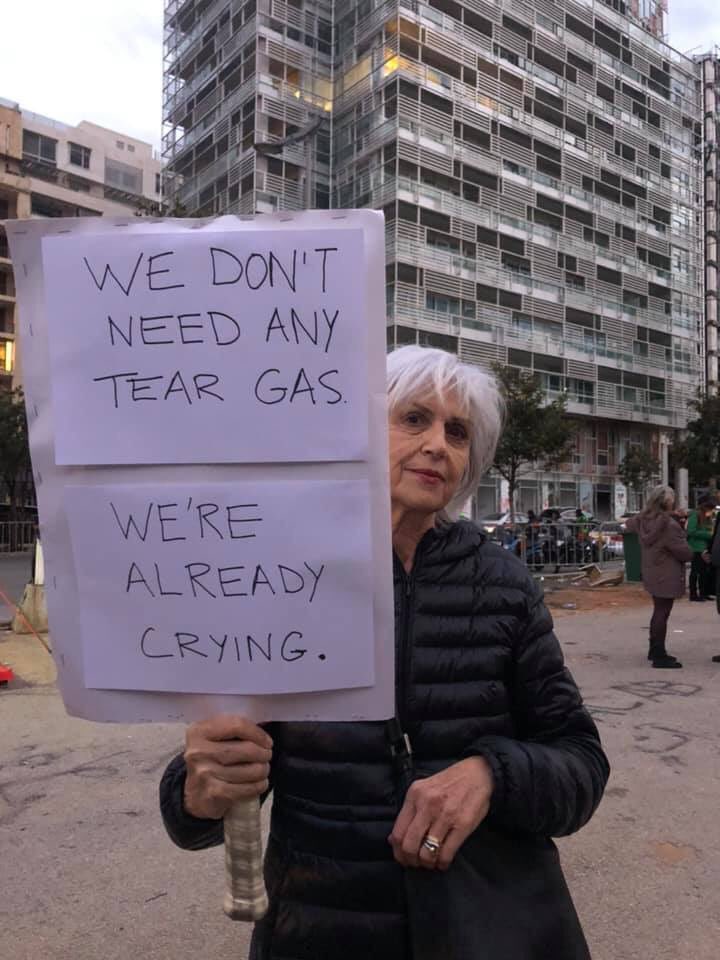 Additional measures by the Lebanese Army followed the weekend protests, including the placement of building blocks in the streets leading up to the parliamentary buildings in central Beirut. This sparked a strong response from the UN and Amnesty International.
"It is essential that any investigation into this incident, and any other incident that pertains to human rights violations committed by any of the security forces, is conducted in an independent manner and leads to accountability. Peaceful protesters have a right to seek justice and redress for what they suffered through this weekend, and the only way they would be able to do so is before an independent court."- Lynn Maalouf, Amnesty International's Middle East Director of Research.

"Highly disturbed by last night's attacks and violence of loyalists of diverse political forces and ensuing use of force. Politicians, move urgently towards the designation of a PM that can get support of the people and form a credible and competent, inclusive government."- Jan Kubis, UN Special Coordinator for Lebanon.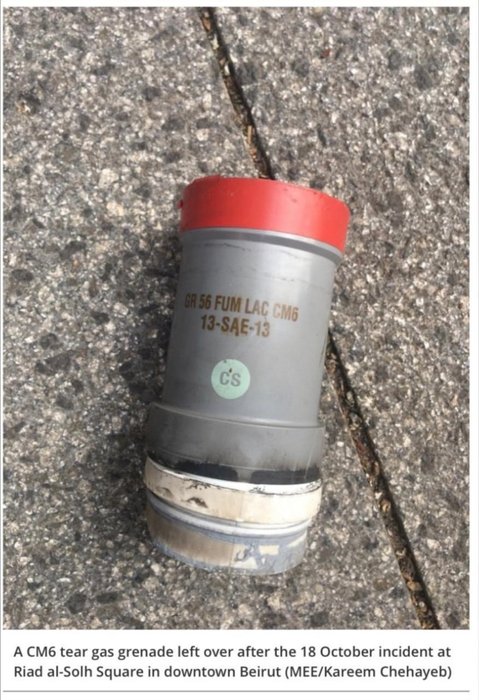 1/2 Highly disturbed by last night's attacks and violence of loyalists of diverse political forces and ensuing use of force. Politicians, move urgently towards designation of a PM that can get support of the people and form a credible and competent, inclusive government ....

— Jan Kubis (@UNJanKubis) December 15, 2019
Protests continue in 2020 with 'unprecedented' levels of violence
By January 2020, protests continued all across Lebanon and the use of force against protesters increased. Demonstrations held in front of banks, Electricité du Liban (Electricity of Lebanon, EDL) branches and power plants across the country, shed light on people's frustration towards the violation of economic and social rights. These violations take place within a corrupt political and economic model, which has increased social injustices, poverty and inequality across the country. Nevertheless, there has been no change in the decision to further restrict weekly withdrawals of cash to 200 dollars (183 Euros) and increase power cuts. A number of cases of excessive force and detention of protestors have been documented in the new year:
By 14th January 2020, a "week of rage" was initiated, with roadblocks all around Lebanon. Use of excessive and unlawful force against protesters and arbitrary arrests were intense on the nights of 14th and 15th January 2020. The Lawyers' Committee for the Defense of Protesters reported the arrest of 65 protesters during the Central Bank protests in Hamra on 14th January 2020, with three of them being released hours later, and the rest remaining detained in various police stations. The number of arrests increased to over 100 over the next few days.

On 16th January 2020, demonstrations were held outside the Ministry of Interior against the use of force by security forces. Journalists, who joined the protests to highlight the systematic use of force against the media, called for accountability. A key concern for them was the detention of photographers who documented violence used by security forces. Similarly, demonstrations calling for an independent government and an immediate stop to the use of excessive force by security forces took place over the next few days. The National Human Rights Commission of Lebanon called for an investigation into the excessive use of force and attacks against the media by security forces from the evening of 15th January to 16th January 2020. On the same day more than 100 detainees were released.
On 18th January 2020 at least 377 people were wounded- both protesters and members of the security forces – as reported by the Lebanese Red Cross.
FINAL UPDATE: 18 ambulances, 80 EMTs and 6 dispatchers from the LRC responded to the protests in downtown Beirut. Over 80 victims have been transported to nearby hospitals and over 140 injured were treated at the scene. LRC teams are still on standby and ready to respond. pic.twitter.com/p1OG7WFqwl

— Lebanese Red Cross (@RedCrossLebanon) January 18, 2020
In its dedicated blog on the Lebanese Revolution, Human Rights Watch documented several violations, highlighting the brutality of security forces, who used water cannon and launched huge quantities of teargas to disperse protesters.
My Footage of policemen directly firing tear gas at protesters. #لبنان__ينتفض pic.twitter.com/tmg5D0oerS

— Hassan Chamoun (@HassanChamoun) January 18, 2020
Riot police have declared war on us in downtown Beirut. The most aggressive use of tear gas I've witnessed. There is a clear political decision to end the uprising. They will fail to stop us. #Lebanon #لبنان__ينتفض#لبنان_يثور pic.twitter.com/hV6Go19IGF

— Nizar Hassan || نزار حسن (@Nizhsn) January 18, 2020
Violations against protestors continued during 19th January 2020 demonstrations. Two protestors each lost an eye after being hit by rubber bullets fired by riot police. The following day, Lebanese activists launched a social media campaign to express outrage towards the use of excessive force and to show solidarity with the two injured anti-government protesters. The activists posted pictures of themselves covering one eye under the Arabic hashtag "Our Revolution Is Your Eyes."
I've seen three pictures purporting to show protesters shot in the head by rubber bullets tonight. Thankfully none of them hit in the eyes, which would almost certainly have led to blindness. But this is extremely troubling.#LebanonProtests #لبنان_ينتفض https://t.co/wNhXilhuCC

— Timour Azhari (@timourazhari) January 18, 2020
تضامناً مع كل جرحى اعتداءات قوى الأمن وقمعها للمتظاهرين في لبنان.
In solidarity with protestor who were hit in their eyes by the security forces in Lebanon. #ثورتنا_عيونكم#لبنان_ينتفض#ثورة_١٧_تشرين pic.twitter.com/x5ZK6Ey8lN

— Wadih AL-ASMAR (@walasmar) January 20, 2020
A crackdown on online free speech
A 2018 report titled: "Analyzing Freedom of Expression Online in Lebanon in 2018" by Social Media Exchange (SMEX), a registered Lebanese NGO, noted that:
"Lebanon has witnessed a crackdown against freedom of expression online. The state has penalised citizens, journalists and civil society representatives who criticise government officials or mock religious figures, worsening the overall environment for free speech online."
It also noted that the General Prosecutor had filed the most complaints about online speech on Facebook, news sites, Twitter and WhatsApp.
To keep track of the crackdown on free speech, the Muhal initiative was launched as an 'observatory for freedom of expression online'. Accordingly, 2019 has seen a further deterioration of online free speech, with 56 documented cases, an increase from the 37 cases in 2018.
On 13th November 2019, activist Khaldoun Jaber was arbitrarily arrested by security forces during a peaceful protest in front of the presidential palace in Baabda, Lebanon, on charges related to freedom of expression. Khaldoun was released the following day but showed signs of severe beating on his back. He said he was held in solitary confinement with no access to his lawyer. The National Human Rights Commission Lebanon, including the committee for the prevention of torture, issued a statement calling upon the Lebanese authorities to conduct an immediate investigation into the acts of torture.
Revolutionary Art
While there is a crackdown on online free speech, artists began using their medium as a form of political expression or "Art of Thawra" (Art of the Revolution) as protests gained momentum.
Hundreds of photos, paintings and graffiti were created on the walls around the main protest hubs of Martyrs' Square and Riad Al Solh Square in Beirut. Artists hope that their works will preserve the history of their revolution.