Lawyers representing death row prisoners, activists and journalists face harassment in Singapore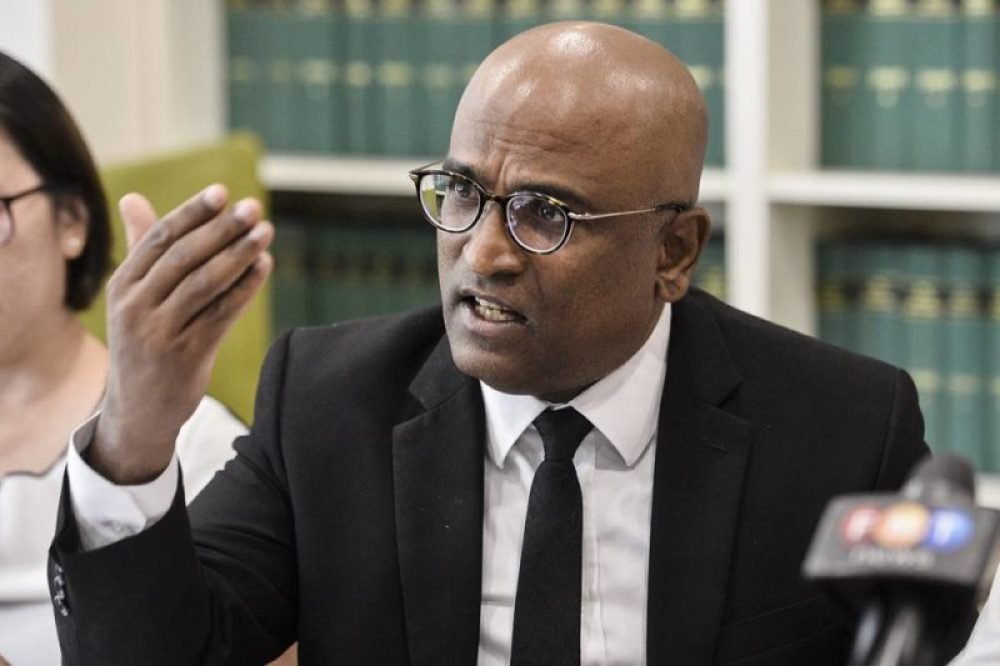 Singapore's civic space rating is currently 'repressed' as a result of restrictions and regulations intended to stifle activism and muzzle freedom of expression.
Over the last few months, lawyers have faced harassment and punitive cost orders for their work defending individuals on death row. The authorities have questioned activists for their activism against the death penalty and an individual was convicted for a solo protest. The authorities have also sentenced a journalist and media contributor for defamation; censored a student; and denied a migrant worker a work permit because of his activism. The authorities also issued a correction direction against a news website.
Association
Lawyers handling death row cases face harassment and punitive cost orders
Lawyers continue to face intimidation and harassment for their work defending individuals on death row in Singapore
In May 2022, Lawyers for Liberty (LFL) chief coordinator Zaid Malek reported that human rights lawyer M Ravi's defence of the rights of individuals on death row has led to disciplinary proceedings against him. He is also facing contempt of court proceedings.
Malek added that for decades Ravi had provided pro bono service to countless persons and spoken out on human rights in Singapore as well as on behalf of Malaysians deprived of their right to a fair trial in Singapore and that the government had a duty to ensure that lawyers were able to perform their professional responsibilities without intimidation, harassment or interference, which is in accordance with the UN Basic Principles of the Role of Lawyers.
Zaid Malek, a Malaysian lawyer reported that he himself was detained and interrogated by Singapore police over two days from 4th July 2022, when he travelled to Singapore to provide legal advice to the family of Kalwant Singh who was facing imminent execution. During the police investigation, he said, he was served with a notice alleging that he had committed contempt of court by issuing a statement in Malaysia concerning the dismissal of lawsuits filed by two convicted individuals on death row. He described his detention and two sessions of police interrogation as "calculated intimidation and harassment" due to his work in representing Malaysian death row prisoners and speaking out against Singapore's death penalty.
On 9th August 2022, the International Commission of Jurists (ICJ) declared that it was deeply concerned about reports of punitive cost orders against lawyers who have represented clients on death row. Singaporean courts have imposed such orders against lawyers of death-row inmates because they had filed late-stage applications to the courts on behalf of their clients, purportedly on the basis that these applications were "frivolous, vexatious or an abuse of process".
For instance, on 23rd June 2022, the High Court ordered two lawyers – M. Ravi, and his supervising solicitor Cheng Kim Kuan - to pay the Attorney-General SGD 20,000 (USD 14,500) in costs for a failed application on behalf of 17 death-row inmates who alleged that, as ethnic minorities, they were more likely to be investigated, prosecuted, and sentenced for drug offences. The High Court ruled that the application lacked basis and was an abuse of process.
ICJ said that "the imposition of punitive cost orders has obstructed death-row inmates' access to justice and effective remedies, their right to legal counsel — with several having had to represent themselves in court — and, in turn, their right to a fair trial and, ultimately, their right to life". The group added that the High Court's holding on cost orders is based on an overly expansive and impermissible interpretation of what constitutes "lack of merit" or "abuse of process".
Assembly
Activists questioned for stance against the death penalty
🇸🇬 ARTICLE 19 & 6 other human rights orgs urgently call on the Singaporean authorities to drop their criminal investigations of HRDs Kirsten Han & Rocky Howe and cease harassing them through legal processes for their work. @kixes @justanotherock#Singaporehttps://t.co/ZKtRHnD3lo

— ARTICLE 19 Asia (@article19asia) June 28, 2022
On 24th June 2022, activists Kirsten Han and Rocky Howe were questioned by police at Bedok Police Division Headquarters for potential violations of the Public Order Act 2009, namely for participating in two public assemblies held without permission in March and April 2022.
The first assembly in which the two activists took part was a four-person peaceful vigil outside Changi Prison the night before 68-year-old Singaporean Abdul Kahar Othman was executed for drug trafficking on 30th March 2022. The second was when the activists had posed for photos outside Changi Prison two nights before the execution of Malaysian Nagaenthran K. Dharmalingam on 27th April 2022. They left immediately after taking the photograph, and the photograph was later posted online
According to Han, as part of the investigation, police demanded that she give them access to her social media accounts and provide the passwords without any reasonable justification. This has raised concerns about her right to privacy.
She refused and was warned that she may face additional charges under section 39(3) of the Criminal Procedure Code (CPC) for interfering with the police's ability to access her computer. Under Section 39 of the CPC, police officers have the power to access, inspect, and check the operation of a "computer" used in connection with an arrestable offence.
On 26th June 2022, the police stated that only the activists' mobile phones were seized for forensic examination as part of the investigation.
Both Han and Howe had worn t-shirts with anti-death penalty slogans to the investigation. Their t-shirts were seized during the investigation, and they were initially informed by the police that they could face an additional offence for an illegal procession in violation of the Public Order Act. However, the police later confirmed that the Attorney-General's Chamber concluded that the activists did not commit any offence by wearing the t-shirts.
On 28th June 2022, CIVICUS, together with six other human rights organisations, urged the Singaporean authorities to drop their investigations of the two activists, as well as to stop targeting and harassing human rights defenders under the Public Order Act and other repressive legislation.
The Public Order Act, which regulates assemblies and gatherings in public places, has been systematically used to restrict peaceful assembly in Singapore. It has been used to harass and investigate activists and critics for expressing their views and organising peaceful gatherings, and even towards those holding a solo protest.
In October 2020, a group of UN Special Rapporteurs expressed serious concerns about the use of the Public Order Act to severely restrict civic space, and to prosecute the legitimate exercise of the rights to freedom of expression, peaceful assembly, and association
Police threaten action on protests against ousted Sri Lankan president
In July 2022, police threatened to take action on any protests against ousted Sri Lankan President Gotabaya Rajapaksa. Gotabaya Rajapaksa landed in Singapore on 14th July 2022, after fleeing to the Maldives from Sri Lanka, during months of mass protests over his mishandling of the economy which resulted in high prices and shortages of essential items such as food and petrol.
Police in Singapore warned would-be protesters of the dangers of breaching the law, stating that: "Police ask that the public, Singaporeans, residents, work pass holders and social visitors alike, abide by our local laws," and "Action will be taken against anyone participating in a public assembly that is illegal".
Despite this, on 16th July 2022, at Speakers' Corner in Hong Lim Park - the only outdoor venue in which an assembly may be held without a police permit - Prabu Ramachandran staged a short protest against Singapore's plan to admit Rajapaksa back into the country. The protest drew a small audience. It was also live-streamed on Facebook and around 20 people tuned in.
Convicted for staging a solo protest
Activist Gilbert Goh on trial for protesting outside ICA without permit https://t.co/VoigQ5hC34 pic.twitter.com/nc1w2i6EIg

— CNA (@ChannelNewsAsia) May 30, 2022
On 26th July, Gilbert Goh was convicted of an offence under the Public Order Act and for refusing to sign a statement which he had given to the police.
As previously documented, Goh was charged in December 2021 for a solo protest on 1st May 2021, during which he hoisted a sign near the Immigration and Checkpoints Authority (ICA) in Kallang Road that stated: '"Please ban all flights from India. We are not racist! Just being cautious". He moved to three different locations around the ICA building and held the placard for up to 29 seconds, according to reports.
Goh protested after Singapore prohibited some Indian visitors from entering the country after India saw a surge in COVID-19 cases. His lawyer Lim Tean argued in May 2022 that his client "was not publicising a cause" and that the charge against him was "vague" and "fundamentally flawed".
The Public Order Act has been systematically used to clampdown even on solo peaceful protests. In May 2018, local artist Seelan Palay was charged for a one-man procession, which featured a political art piece on detention without trial, and then spent two weeks in prison. In November 2019, lone protester Yan Jun was arrested for his action against corruption at Raffles Place.
Expression
Journalist and media contributor sentenced
The Online Citizen's Terry Xu and writer convicted of criminal defamation over article calling Cabinet corrupt https://t.co/OftkyZ3MYX pic.twitter.com/XPPeETMbub

— CNA (@ChannelNewsAsia) November 12, 2021
On 21st April 2022, Terry Xu, the chief editor of the now-defunct website The Online Citizen (TOC), and TOC contributor Daniel De Costa Augustin were sentenced to jail for criminal defamation over an article allegedly calling government ministers corrupt. In November 2021, Xu and De Costa went to trial and were found guilty of criminal defamation, despite contesting their charges.
Xu was sentenced to three weeks in jail for approving the publication of a letter in September 2018 alleging "corruption at the highest echelons", while De Costa, the writer of the letter, was sentenced to three months and three weeks in jail for a similar charge of criminal defamation and a second charge of unauthorised access to an email account not belonging to him, which was used to submit the article.
As previously documented, Xu has been targeted for years by the government over TOC's reporting. The harassment targeting the media outlet and its chief editor ended in the suspension of the TOC's licence by the Infocomm Media Development Authority (IMDA) in September 2021.
The authorities have used criminal defamation provisions under sections 499 to 502 of the Penal Code to prosecute critics. The penalty for criminal defamation is imprisonment for up to two years, a fine, or both.
Correction direction mandated against news website
On 22nd April 2022, The Independent Singapore received a correction direction under the Protection from Online Falsehoods and Manipulation Act (POFMA) for an article on their site, mandating a retraction of the content.
The article entitled "K Shanmugam says he may step down as Singapore's Minister of Law and Home Affairs" was published on The Independent Singapore website on 21st April 2022, as well as on its Facebook and Twitter accounts.
The Ministry of Law stated that the article's headline was "deceptive clickbait" by giving the false impression that the Minister said he may be stepping down from his ministerial position.
The article, written by the chief analyst of Headland Intelligence, a Hong Kong risk consulting business, referred to an earlier interview released by Shanmugam in which the minister "revealed" that he may stand down but did not specify when. However, the Ministry of Law stated that Shanmugam did not mention in the interview that he was considering resigning from his ministerial role.
Both The Independent Singapore and the writer of the article published a correction notice on their respective social media sites.
As previously documented, Singapore has used the POFMA law against opposition groups and critical online media. POFMA is a sweeping piece of legislation which permits a single government minister to declare that information posted online is "false" and to order the content's "correction" or removal if deemed to be in the public interest. Human rights groups have highlighted how the Act contains vague and overbroad provisions; offers unfettered discretion to ministers and government authorities in making decisions; and lacks protection for freedom of expression, opinion, and access to information.
Student's message against death penalty censored by university
Police report made after NUS student held anti-death penalty sign at graduation ceremony https://t.co/vHTen5yP8Q pic.twitter.com/DAWgL0ANUJ

— Mothership.sg (@MothershipSG) July 14, 2022
University authorities censored an anti-death penalty message held by a student in July 2022 during his graduation ceremony at the National University of Singapore (NUS).
On 6th July 2022, a day before a Malaysian and Singaporean national were to be executed for drug trafficking, the student unfolded a sign from his gown pocket reading "Abolish the death penalty. No to state murder. End poverty, not life. Blood on your hands".
NUS attempted to censor him, with the photo studio touching up his official graduation picture showing him holding his protest sign but with the words blurred. The university also initially took down the live recording of the commencement ceremony that contained the student's protest and later re-uploaded an edited version of the event which omitted the part when the student was on stage.
The student described his protest as a gesture he hoped would inspire others, and stated, that in attempting to censor him, NUS was guilty of maintaining power hierarchies.
Such a protest is rare in Singapore, where the regime shows little tolerance for dissident views. The right to the freedom of expression is drastically subverted by a highly restrictive legal and regulatory regime and mechanisms of censorship.
Migrant activist denied work permit because of his activism
MOM says migrant worker Zakir Hossain 'overstayed welcome', cites 'false' public post in decision not to renew work pass https://t.co/zmfV0AJNlY pic.twitter.com/J6vRgtZZTT

— TODAY (@TODAYonline) June 22, 2022
In June 2022, it was reported that the Ministry of Manpower had refused to renew the work permit of a Bangladeshi worker who had been vocal about discriminatory and exploitative treatment of migrant workers in the country.
The Ministry claimed, retrospectively, that a Facebook post the worker had written over half a year ago could have incited other migrant workers to public disorder. It referred to an online post made by the worker in October 2021, where he called migrant workers "work slaves" and alleged that soldiers and armoured vehicles had surrounded a dormitory after a dispute between workers and management over poor quality food and long delays in transporting workers with COVID-19 to recovery and healthcare facilities.
Bangladeshi migrant worker Zakir Hossain, who had been working in Singapore for 19 years, said he had been sent home abruptly after he was unable to renew his work permit. He said that his work permit had been deemed "ineligible" for renewal, with no clear explanation from the authorities. The system stated, 'This worker has an adverse record with a government agency'.
Zakir had grown in prominence for speaking about issues faced by the migrant community here through his poetry and writing. He said: "I spoke up because I believe that conditions for migrant workers can improve in Singapore".
Provisions on hostile campaigns in foreign interference law take effect
On 7th July 2022, the Hostile Information Campaigns (HICs) provisions of the Foreign Interference (Countermeasures) Act (FICA) came into effect.
FICA was enacted by Parliament on 4th October 2021, purportedly to prevent, detect, and disrupt foreign interference in domestic politics. This was despite serious concerns from civil society and other groups that the law could undermine civic freedoms and that FICA's provisions contravene international legal and human rights principles – including the rights to freedom of expression, association, participation in public affairs, and privacy – and will further curtail civic space, both online and offline.
Under the law, the government is given stronger powers to detect and counter hostile information campaigns — coordinated operations by "hostile foreign principals" that interfere in Singapore's politics and incite social tensions. It allows the authorities to issue directives to social media platforms, websites, and other online services to investigate and counter foreign interference.
These powers include blocking websites or social media accounts involved in such hostile campaigns, preventing the distribution of mobile applications in Singapore, and crippling the funding sources of such content.
Although this law supposedly does not apply to Singaporeans expressing their own views and acting on their own accord nor to foreigners reporting or commenting on Singapore politics in an open, transparent, and attributable way, critics argue that this law can be misused to curtail civic space.