Lack of accountability for police violence, attacks on journalists and activists in Indonesia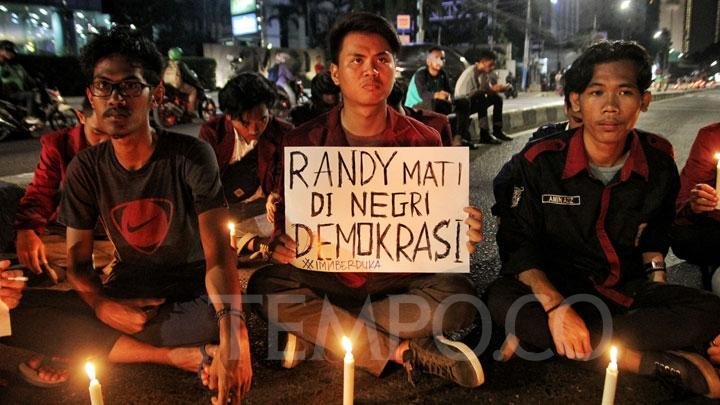 In October 2019, Indonesian president Joko Widodo announced his new cabinet – most notably appointing his rival in both the 2014 and 2019 elections and former military general Prabowo Subianto as Defence Minister. This is despite the fact that Prabowo has been implicated in human rights violations. Many believe this will likely further cement the culture of impunity regarding human rights violations perpetrated by the Indonesian army.
A former son-in-law of the late Indonesian dictator Suharto, Subianto was accused of orchestrating the kidnapping and torture of activists ahead of anti-government demonstrations in 1998 when he was an army commander. He has never been charged in relation to the alleged incidents. Civil society groups condemned the decision calling it a "dark day for human rights in this country." Human rights group, Commission for Missing Persons and Victims of Violence (Kontras) said Subianto joining the Cabinet showed that Widodo "does not understand that human rights and democracy should be considerations in picking ministerial candidates".
In the last few months, mass protests by students were met with excessive use of force and firearms by the police with impunity. Further, activists peacefully protesting on West Papua are facing "rebellion" charges while two journalists and an environmental activist have died. Police have also attacked journalists covering a protest while the authorities continue to pursue a human rights lawyer for her activism on West Papua.
Peaceful Assembly
Excessive force used by police against mass student protests 
Thousands of students in Indonesia are protesting a proposed new criminal code that would criminalize same-sex relations and impose jail penalties for abortions or sex outside marriage.

Police fired tear gas and water cannons at them. pic.twitter.com/VY38BnTOBM

— AJ+ (@ajplus) September 24, 2019
On 23rd September 2019, thousands of student protesters took to the streets for two weeks after Parliament passed an amendment to the law governing the Corruption Eradication Commission, even though it had been strongly criticised for weakening anti-corruption efforts in the country.
Students also protested, among other issues, a controversial draft criminal code that will violate the rights of women, religious minorities and lesbian, gay, bisexual, and transgender (LGBT) people, as well as freedom of speech and association. The problematic provisions include:
Article 421 criminalises "obscene acts" in public, with a penalty of up to six months in prison. This article could be used to target LGBT people.

Articles 304 to 309 expand the current Blasphemy Law and maintain the maximum five-year prison term. They will punish deviations from the central tenets of Indonesia's six officially recognised religions – Islam, Protestantism, Catholicism, Hinduism, Buddhism and Confucianism.

Article 118 imposes a prison sentence of up to four years on anyone who spreads Marxist-Leninist teachings.

Article 119 authorises a 10-year sentence for associating with organisations that follow a Marxist-Leninist ideology "with the intent of changing the policy of the government."

Article 219 criminalises "insults" to the president or vice president.
Other demands include banning military and police personnel from holding civil service roles, ending "militarism" in West Papua and other regions, ending the prosecution of activists, and putting human rights violators on trial "including those at the highest levels of government".
Students gathered outside the parliament building in Jakarta, calling for the government to suspend its plans to ratify the draft code. Police fired teargas and water cannons to disperse the demonstrators and also beat them with clubs. Protests also occurred in other major cities.
At least three protesters died and hundreds were injured. Police also arrested hundreds and harassed medical personnel, activists, students and journalists.

According to Amnesty International in Kendari, Southeast Sulawesi, a student protester, Randy, 21, (photo on left) received a gunshot wound to the chest and died when he arrived at a hospital, while another, Muhammad Yusuf Kardawi, 19, (photo on right) suffered a gunshot wound to his head, dying at another hospital the next day. A pregnant woman was also shot in the right thigh as she was sleeping in her house, around three kilometres from the provincial government building. 
A third student, Akbar Alamsyah, died in Jakarta after being in a coma for two weeks. Police said he fell on his head while trying to scale a fence on 25th September 2019 outside the national parliament building, but other reports suggested his body showed signs of blunt force trauma.
Six Indonesian police officers involved in the deaths of two student protesters in Kendari were given only the mildest of administrative punishments for the killings. In particular, the six officers received written warnings, had their promotions and salary increases suspended for a year, and were given 21 days' detention.
Activists facing trial for 'rebellion'
Indonesia has detained and charged six people with 'rebellion' after they peacefully expressed their support for West Papua's right to self-determination.

Act now and demand their release. https://t.co/nsdp7wWYDc

— Amnesty International Australia 🕯 (@amnestyOz) October 25, 2019
As previously documented, six activists - Dano (Anes) Tabuni, Carles Kosay, Ambrosius Mulait, Isay Wenda, Arina Lokbere and Surya Anta Ginting - were accused of supporting separatism and arrested between 30th and 31st August 2019 by the Jakarta Regional Police Force after organising a peaceful protest on West Papua in front of the Presidential Palace in Jakarta.
They were all subsequently charged with "rebellion" (makar) under Articles 106 and 110 of the Criminal Code and have been detained at the Police Mobile Brigade Headquarters (Mako Brimob) in Depok. Article 106 of the Criminal Code authorises the authorities to sentence a person "to life imprisonment or a maximum of twenty years imprisonment for makar with the intent to bring the territory of the state in whole or in part under foreign domination or to separate part thereof". In addition, Article 110 stipulates that conspiracy to commit rebellion is punishable as a violation of Article 106. The Indonesian authorities have used these criminal code provisions to prosecute dozens of peaceful pro-independence political activists over the last decade.
According to Amnesty International, while their lawyers could meet the activists, they were not allowed to be present in the room during the police interrogation of their clients. In addition to not being able to hear what was being said, the lawyers have complained that the observation window was heavily tinted which obstructed their view of what was happening inside.
Expression
Two journalists stabbed to death 
Journalists, Maraden Sianipar & Martua Siregar, were killed in #sumatra in what is believed to be retaliation for advocacy with locals engaged in land dispute regarding habitat protection. Five people, including the owner of a #palmoil plantation have been charged with the murder pic.twitter.com/4uEYwJKVTi

— ChristopherJGervais (@CJGERVAIS) November 14, 2019
Two Indonesian journalists mediating a land dispute between a palm oil company and residents were found dead with multiple stab wounds near a plantation in Sumatra province. The body of Maraden Sianipar was found in a ditch on 30th October 2019 near a palm plantation in Labuhan Batu. Police found the remains of Maratua Siregar in the same area a day later. Both bodies were covered in stab wounds.
Both journalist worked together for a local news portal before going freelance in 2017 covering land disputes between palm oil companies and residents in Labuhan Batu. Local police chief Budiarto told the media that investigators had found indications that the reporters' deaths were related to their activism. Prior to their deaths, Siregar and Sianipar were working on a campaign to convince the government to allow locals to work on disputed land.
Daniel Bastard, the head of RSF's Asia-Pacific desk said:
"We call on the Indonesian police and prosecutor's office to do everything possible to find the perpetrators and instigators of this double murder and, if necessary, to create a special team of investigators."
According to reports, on 5th November 2019,  police arrested a pair of suspects in connection with the killings. Police are still searching for four more suspects.
Police attack journalists covering protest in South Sulawesi
Police attack Indonesian journalists covering protest in South Sulawesi https://t.co/1r3z7joIk7

— Committee to Protect Journalists (@pressfreedom) September 25, 2019
According to the Committee to Protect Journalists, on 24th September 2019, a riot police officer beat and kicked Muh Darwin Fatir, a reporter at Indonesian national news agency Antara News, who was covering a protest at the parliament building in Makassar, the capital of Indonesia's South Sulawesi province.
Fatir suffered bruises to his head and boot marks were visible on his body where he was kicked in the stomach; he was treated for his injuries at the local Awal Bros Hospital. At least two other journalists, Ishak Pasa'buan, of local outlet Makassar Today, and Muh Saiful Rania, of news website Inikata.com, were also beaten by police.
Antara News Director Akhmad Munir urged the National Police to be serious and transparent in probing the case of violence by policemen against the journalist. CPJ's Senior Southeast Asia Representative, Shawn Crispin said:
"We strongly urge Indonesian authorities to thoroughly and independently investigate the police beatings of journalists in Makassar, and to bring those responsible to justice. Journalists must be free to report on civil unrest without fear of being targeted by authorities."
Environmental lawyer and activist dies after being found injured
Rights groups want an investigation into the death of Golfrid Siregar, an Indonesian lawyer who fought for environmental causes https://t.co/r4IggWbfnw

— The New York Times (@nytimes) October 24, 2019
On 3rd October 2019, lawyer and environmental activist Golfrid Siregar, who worked with the Indonesian Forum for the Environment (WALHI) in North Sumatra was found in an underpass in the city of Medan on the island of Sumatra with a serious head wound. Siregar was taken to hospital by a passing pedicab driver who had found him unconscious. He never regained consciousness and died three days later.
On 11th October, North Sumatra Chief-of-Police, Agus Andriyanto, released a media statement saying that Siregar died in a traffic accident when his motorbike hit a kerb, and that an autopsy found alcohol in his system. But many, including human rights groups WALHI and Amnesty Indonesia, are sceptical, citing multiple inconsistencies in the case.
Andreas Harsono, senior Indonesia researcher said:
"Golfrid Siregar was an environmental lawyer and grassroots activist who had dedicated his life to protecting Sumatra's rainforests and helping villagers protect their land. His death under suspicious circumstances demands a prompt, thorough investigation of all those implicated."
WALHI colleagues said that Siregar had received several threats since they had filed the lawsuit against the Batang Toru hydroelectric dam construction in August 2018. WALHI had argued that the permit issuance process was problematic and was appealing two earlier court verdicts they had lost.
Association
Human rights lawyer facing charges given human rights award
Quite right 'Veronica Koman was awarded Australia's Sir Ronald Wilson Human Rights Award'... Indonesian human rights lawyer wins prize for West Papua work https://t.co/rA1UTb65YT

— Douglas Ewing (@uniave) October 24, 2019
As previously documented in September 2019, police brought charges of "incitement" and racial discrimination against human rights lawyer Veronica Koman for her activism against human rights violations in West Papua. Indonesian police have said they are seeking an Interpol Red Notice for Koman, who fled to Australia, to be extradited back to Indonesia to face trial.
The online abuses against Koman have increased since the charges were brought against her, including death threats, incitement to sexual assault and racist slurs as well as the publication of personal information about her and her family.
In October 2019, she was given a human rights award for shining "a light on violations of the rights" of West Papuans. Koman dedicated her award to the victims of the security crackdown in West Papua.
There were mass protests across West Papua in August 2019 after racist attacks on ethnic Papuan students in Surabaya. The protests turned into pro-independence rallies, some of which became deadly. At least 10 men, including an Indonesian soldier, were killed in August in Deiyai and Jayapura in Papua. According to Human Rights Watch, at least 33 people died in riots in Wamena with no one held to account.