Journalists subjected to threats, intimidation, protesters killed ahead of legislative elections of 31st July 2022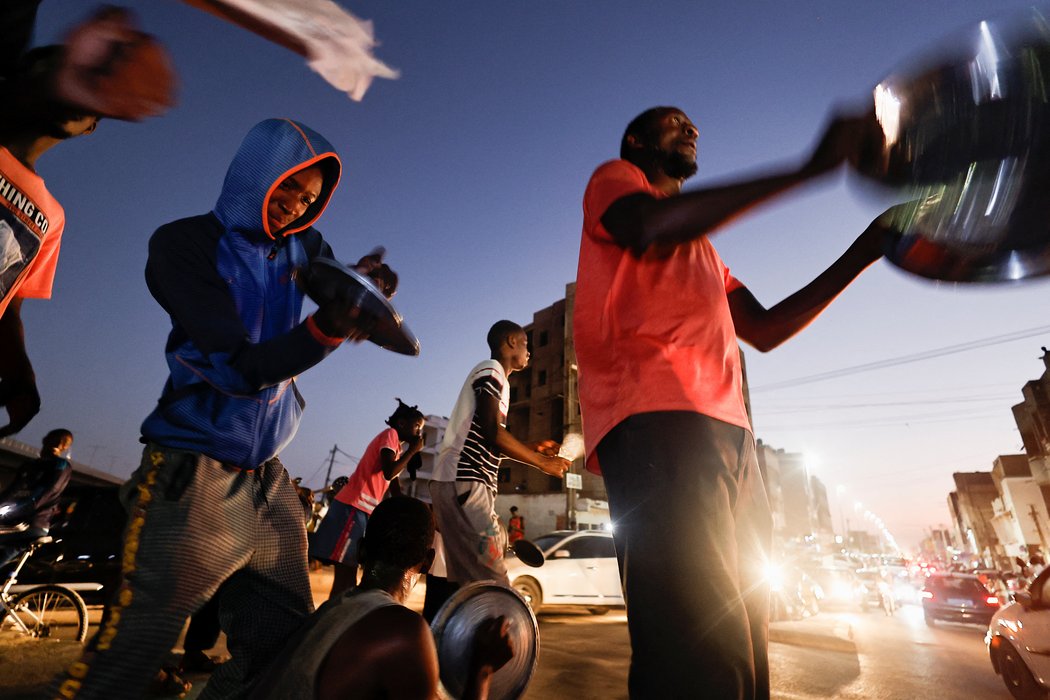 In the run-up to the legislative elections of 31st July 2022, several civic space violations occurred. Journalists were subjected to threats and intimidation, while opposition protests were arbitrarily banned by local authorities. Dozens of protesters were arrested and at least three people killed when opposition protesters defied a ban on 17th June 2022. In a positive development, the ECOWAS Court of Justice ordered the State of Senegal to repeal a 2011 Ministerial Order which prohibits political protests from taking place in the city centre of Dakar.
Senegal: Protect journalist safety during parliamentary election https://t.co/GVFexTabOF [@GlobalFreeMedia]

— Steff Migot (@Penseuse) July 26, 2022
Expression
Threats against, intimidation of journalists ahead of legislative elections
According to Reporters without Borders (RSF), there has been a "disturbing escalation in verbal and physical threats" against journalists since May 2022, in the months leading up to Senegal's legislative elections on 31st July 2022. In a statement, the International Press Institute (IPI) likewise said that attacks on journalists and media, both online and offline, became "glaring" ahead of the parliamentary elections, with political figures, political supporters and security forces as perpetrators of these threats.
For example, on 8th June 2022, a team of journalists working for the media outlet Télévision Futur Média was subjected to insults by people assembled at an opposition gathering in Dakar, thereby preventing the team from reporting on the gathering. On 24th May 2022, journalist Ndeye Ngoné Diop, who reports for DakarBuzz, was physically attacked and verbally abused by supporters of the ruling presidential coalition, Benno Bokk Yakaar (BBY). The journalist was pushed around and verbally abused after she asked a question during a press conference organised by BBY following the decision of the Constitutional Council to allow the opposition political coalition Yewwi Askan Wi to modify their list of candidates for the legislative elections, after it was initially rejected by the national electoral commission. The leader of the BBY coalition, Aminata Touré, apologised the following day after an outcry over the journalist's treatment.
In another incident, reported by the Committee to Protect Journalists (CPJ), member of the political party Convergence des Jeunes Républicaines (COJER), Talla Sylla, called for an arson attack on the media company Walfadjri and for attacks against its journalists during a Facebook live interview for Xibar24 on 21st June 2022. Expressing his displeasure with the critical reporting on President Macky Sall by Walf TV, a subsidiary of Walfadjri, he said:
"In other countries, they would have burned Walfadjri. Walfadjri must be burned. We need an attack on the journalists of Walfadjri to end this television."
In response to these incidents, an alliance of journalists' organisations – the Press Actors Coordination (CAP) – requested a national dialogue in early July 2022.
J'exhorte le journaliste Pape Ndiaye de Walf TV à saisir la justice pour que tous ces énergumènes qui ont proféré des insultes et de graves menaces contre lui, et qui peuvent être facilement identifiés par leur numéro de téléphone, répondent de leurs actes. 1/2 pic.twitter.com/q2iy2aXqGW

— Seydi Gassama (@SeydiGassama) March 5, 2022
Journalist insulted, subjected to death threats
According to the union of media professionals Syndicat des professionnels de l'information et de la communication (SYNPICS), journalist and presenter for Walf TV, Pape Ndiaye received voice messages, phone calls and WhatsApp messages on 5th March 2022, subjecting him to insults and death threats following his comments during a broadcast of the programme PetitDej on Walf TV. The comments were related to the case of alleged sexual assault of a massage therapist by opposition leader Ousmane Sonko of PASTEF (Patriotes du Sénégal pour le travail, l'éthique et la fraternité).
Senegalese gendarme beat journalist Pape Malick Thiam, file charge of contempthttps://t.co/558gdMJXF6

— Committee to Protect Journalists (@pressfreedom) April 19, 2022
Journalist assaulted, arrested
On 14th April 2022, journalist for media outlet 7TV, Pape Malick Thiam, was arrested and beaten by gendarmes at a court in Dakar, where the journalist was to cover a hearing in the Ousmane Sonko alleged rape case (see above). According to the Committee to Protect Journalists (CPJ), who spoke with the executive director of 7TV, Thiam was stopped by a gendarme at the court and accused of filming in a restricted area. When Thiam refused to hand over his phone to the gendarme, he was insulted, beaten and arrested. Thiam was released unconditionally the following day, but appeared before a court on 20th April on charges of 'rebellion' and 'contempt of an agent in the exercise of his duties' which, under Senegal's Penal Code, could have led to three months in prison and a maximum fine of 50,000 CFA francs (80 USD). Local media reported that the journalist was found guilty by the court but his sentence was waived. Sadibou Marong of Reporters without Borders (RSF) commented on the incident:
"No matter how sensitive the Sonko case may be, it cannot keep serving as a pretext for the worst attacks against media and journalists that Senegal has seen in recent years. Dialogue must be prioritised if Senegal wants to continue to enjoy a free and independent press, one with journalists who fear neither for their physical integrity nor for their freedom."
Journalist insulted, beaten by hospital guards
In another incident, Ousmane Kane, a journalist with state radio and television broadcaster RTS, was insulted and physically attacked by guards of the El Hadji Amadou Sakhir Mbaye Hospital on 15th April 2022 in Louga, northwestern Senegal. The journalist was reporting from the hospital's maternity ward, where a woman had recently died due to alleged medical negligence while about to give birth. According to RSF, who spoke to the journalist, Kane was insulted and manhandled while interviewing a birth assistant at the hospital, resulting in his two phones and glasses being broken. His equipment was reportedly also taken by the perpetrators.
Sénégal: la chaîne de télévision Sen TV et la radio Zik FM suspendues pour 72 heures https://t.co/Zh37wuz46d pic.twitter.com/Xi8FO67X6e

— RFI (@RFI) March 31, 2022
Two broadcasters suspended for 72 hours
On 31st March 2022, Senegal's media regulator, the National Council for Audiovisual Regulation (CNRA), ordered a 72-hour suspension of the programmes of two broadcasters, Zik FM and Sen TV. The media regulator said the suspension was due to "repeated breaches of ethics" violating the "principles of objectivity, neutrality, fairness and balance" during on-air segments by Ahmed Aïdara, opposition member for the Yewwi Askan Wi coalition and, since January 2022, mayor of Guédiawaye, in which he provided comments on news stories. The CNRA had previously, on 14th March 2022, issued a notice to D-Média, the group to which both broadcasters belong, warning of the violation of rules by Aïdara, who, according to the media regulator, continued to "promote himself and his political side and to denigrate the opposite side or citizens".
🇸🇳 #Sénégal : 3 morts dans une manifestation en réponse à l'invalidation des listes électorales de l'opposition

💬 «Le régime du tyran Macky Sall est injuste jusqu'à la moelle» https://t.co/7gIWDqb0Gq

— Libération (@libe) June 18, 2022
Peaceful Assembly
Opposition protests: three killed, protest bans, arrest and prosecution of protesters
At least three people were killed during protests organised by the opposition coalition Yewwi Aksan Wi against the invalidation of their electoral list by the Constitutional Council in Dakar, Bignona and Ziguinchor on 17th June 2022. The prefect of Dakar had banned the protest two days earlier, invoking the grounds of threats of disturbance of public order and violations of the Electoral Code, which prohibits any disguised propaganda 30 days before the official start of the electoral campaign. Despite the ban, protesters gathered in Dakar, Bignona and Ziguinchor, and clashes between police officers and protesters were reported in Dakar when protesters attempted to access the Place de la Nation, which was barricaded by security forces. Violence and clashes also took place in Ziguinchor, according to news reports. Police officers reportedly surrounded the residence of opposition leader Ousmane Sonko to prevent him from defying the protest ban.
Dozens of people – over 200 according to the Yewwi Aksan Wi coalition - were arbitrarily arrested, including opposition members of Parliament Mame Diarra Fam, Dethié Fall and Ahmed Aïdara, mayor of Guédiawaye. According to Amnesty International Sénégal, a court handed Aïdara a suspended prison sentence of one month and a fine of 50,000 francs CFA (80 USD) for 'participation in an unarmed gathering' on 27th June 2022. Dethié Fall was found guilty of 'participation in a non-authorised protest' and handed a suspended prison sentence of six months. Mame Diarra Fam and 82 other people in Dakar, who were facing the same charges, were acquitted.
On 18th June 2022, activist Guy Marius Sagna, opposition candidate for the Ziguinchor department, was arbitrarily arrested while visiting 33 protesters who were detained the previous day at the Ziguinchor gendarmerie. On 29th June 2022, Sagna was given a suspended prison sentence of one month and a fine of 80,000 francs CFA (132 USD) for 'participation in a non-authorised protest'.
Other protests by the Yewwi Aksan Wi coalition, originally foreseen for 29th June 2022, were banned by local administrative authorities, prompting the organisers to postpone the protests to a later date. According to RFI, the prefects of several localities invoked grounds of 'threats of public order disturbances', 'risks of infiltration by ill-intentioned individuals' and 'violation of the Electoral Code' to ban the opposition protests.
ECOWAS Court of Justice orders repeal of ban on political protests in city centre of Dakar
On 31st March 2022, the Court of Justice of the Economic Community of West African States (ECOWAS) ruled that a 2011 ban on political protests in the city centre of Dakar violates freedom of expression and peaceful assembly and therefore must be repealed. Ministerial Order 7580, also known as the Ousmane Ngom Order, was enacted on 20th July 2011, and prohibits protests "of a political nature" in downtown Dakar. Authorities invoked national security and protection of private property to justify the Ministerial Order, to which the Court of Justice responded:
"the reference to the threat to national security is not a magic wand to deflect an allegation of violation of a human right without specifying the question of the national security protected or that one seeks to be protected."
The Court further reasoned that the Ministerial Order is "unduly broad and vague" and "has taken on an indefinite character" as grounds for its order to repeal.
The Senegalese section of Amnesty International, together with Ligue Sénégalaise des Droits de l'Homme (Senegalese League of Human Rights - LSDH) had initiated a complaint against the State of Senegal in September 2020.