Journalists, protesters detained and killed; activists censored in Palestinian uprising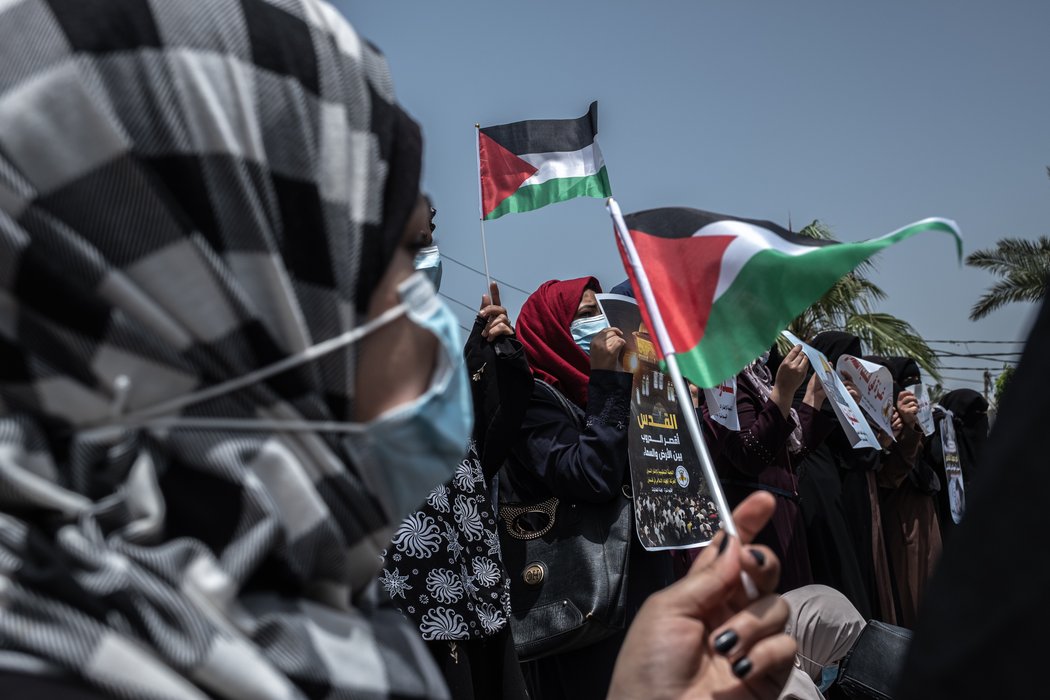 Introduction
The months of April and May 2021 saw the worst Palestinian-Israeli conflict in years. In mid April 2021 six families who have been living in the Sheikh Jarrah neighbourhood in East Jerusalem since the 1950s where threatened with eviction. This sparked protests from residents of Sheikh Jarrah, with many Palestinians joining the protests. Clashes broke out during the protests, with Israeli forces using excessive force against protesters. In response, young Israeli Jews also marched, calling for "death to Arabs". Following this, on 7th May 2021, during Friday prayers at the Al-Aqsa mosque compound in Jerusalem, Israeli police were deployed, resulting in the injury of over 200 Palestinians. Palestinian militant Islamist group Hamas, which has controlled the Gaza Strip since 2007, issued an ultimatum to Israel, threatening to attack if it did not withdraw its armed forces from the mosque compound and Sheikh Jarrah. Failing to adhere to this call, Hamas fired a rocket on 10th May 2021. Israel responds with airstrikes on Gaza, killing two children. The exchange of airstrikes continued, killing at least 248 Palestinians and 66 children. On 20th May 2021, after 11 days of violence, a cease fire is reached.
The settlers are attacking Palestinians, the Israelies are shooting rubber bullets inside the Palestinian homes right now in #SheikhJarrah
LOOK AT THEIR BRUTALITY!!#SAVESHEIKHJARRAH #FreePalestine pic.twitter.com/kPqEVFggSi

— Eman20𓂆🇵🇸 (@Emannajee) June 21, 2021
Following these developments,civil society organisations (CSOs) called on UN member states to vote in favour of the resolution establishing a UN Commission of Inquiry on Israeli violations against the Palestinian people. On 27th May 2021 the Human Rights Council adopted the resolution for the establishment of an international commission of inquiry.
🚨#URGENT: Letters to @UN TODAY from @Palestine_UN in regard to Israel's ongoing violations since the "ceasefire", which has included more terrorizing airstrikes against #Gaza this morning & the provocation of settlers shouting "Death to the Arabs". Read letter below👇# Palestine pic.twitter.com/fovJQmFL64

— State of Palestine (@Palestine_UN) June 16, 2021
Peaceful Assembly
In April 2021 protests erupted due to families from Sheikh Jarrah in occupied East Jerusalem being threatened with eviction. Palestinians protesting in the East Jerusalem area were met with teargas, stun grenades and rubber-coated steel bullets. According to Amnesty International, protesters were arbitrarily arrested, Israeli authorities used excessive force, including the use of sound and stun grenades, and spraying of malodorous (skunk) water cannon at demonstrators and homes in Sheikh Jarrah.
"Amnesty International researchers witnessed deplorable conduct by security forces at Sheikh Jarrah including entirely unprovoked attacks on peaceful protesters standing up for rights and calling for respect of international law. Instead of further violating the rights of Sheikh Jarrah's residents and solidarity activists, Israeli authorities must immediately scrap planned forced evictions," - Saleh Higazi, Deputy Director for the Middle East and North Africa at Amnesty International.
Earlier today the Israeli police tried to disperse the weekly protest in #SheikhJarrah #SaveSheikhJarrah pic.twitter.com/NBrab2Ujru

— Oren Ziv (@OrenZiv1985) May 7, 2021
Protests also broke out in the West Bank and inside Israel. In early May 2021, a group of Israeli settlers set up caravans in Jabal Sabih in the occupied West Bank and with the help of Israeli forces have since prevented any Palestinian access to the area, which is home to vast olive groves belonging to Beita's residents. Since then, residents have protested against the new settler outpost which lies on the southern outskirts of the village and comprises an estimated 30 percent of Beita's entire land area. The area has continued to be a focal point of tensions as Palestinians resist the growing number of settlement projects in the area. Israeli forces launched a violent crackdown on Palestinian protesters in the village of Beita in the occupied West Bank, injuring dozens of people.
Also in May 2021 further protests broke out, leading to violence at East Jerusalem's flashpoint Al-Aqsa Mosque compound and wounding more than 205 people due to days of escalating tensions. Israeli police fired rubber-coated metal bullets and stun grenades towards Palestinians, who were attending Friday prayers on the last day of Ramadan at Al-Aqsa Mosque. Worshippers expressed their support for the eviction of Palestinians from their homes in Sheikh Jarrah, claimed by Jewish settlers in East Jerusalem. A Palestinian journalist recounted to Amnesty International how "Israeli forces went on the rampage firing projectiles and tear gas":
"I've been covering events taking place in Jerusalem for the past 10 years… and I've never been this scared in my life. Everyone was a target. I want to say that the shooting was random, but that would be a lie. They knew exactly who and where they were aiming their bullets and grenades at. Most of the people were targeted in their upper bodies (eyes, face, and chest)."
According to the United Nations Office for the Coordination of Humanitarian Affairs (OCHA), between 7th May and 10th May 2021, 1000 Palestinians were injured, 735 by rubber bullets. In a statement reacting to the developments, Human Rights Watch said:
"These practices stem from a decades-long pattern of Israeli authorities using excessive and vastly disproportionate force to quell protests and disturbances by Palestinians, often resulting in serious injury and loss of life."

The response from Israeli forces to the Palestinian demonstrations has led to many getting injured and some being killed. Palestinian teenager Ahmed Shamsa succumbed to his wounds after he was shot in the head by Israeli forces during protests. Fifteen-year-old Palestinian student Mohammed Hamayel was also shot and killed by Israeli forces in Beita during protests. Hamayel was the fourth Palestinian to be killed by Israeli soldiers during ongoing protests in Beita over the past two months. Hamayel's cousin, 36-year-old Basman Hamayel, highlighted that at least seven other protesters were also shot and wounded with live ammunition at the protests while dozens of others were injured. While the international community considers the settlements unlawful under international law, Israel disputes this.
"When we tried to approach Mohammed to evacuate him after he was shot, the Israeli soldiers started firing live ammunition at anyone who tried to get close to him," recalled Basman Hamayel, Mohammed Hamayel's 36-year-old cousin.

Mourners carry the body of #Palestinian teenager Ahmed Zahi Bani Shamsa, who, according to medics, died of wounds he sustained by #Israeli forces during clashes, in #Beita in the Israeli-occupied West Bank June 17, 2021. REUTERS/Mohamad Torokman #فلسطين pic.twitter.com/6UEYZXOdyv

— mohammed jad salem (@msalem66) June 17, 2021
The funeral of 15 yr old Mohammed Hamayel from occupied West Bank village of Beita.

Mohammed was shot by Israeli forces today in the chest during protest against illegal Jewish settlement on his village's lands.

His grandpa, uncle and aunt were all previously killed by Israel. https://t.co/z6OVCE8oIx

— لينة (@LinahAlsaafin) June 11, 2021
Expression
Administrative detentions of journalists covering Palestine-Israel conflict
The conflict between Israel and Palestinians living in East Jerusalem, Gaza and the West Bank has resulted in human rights violations against journalists. Reporters without Borders notes that a total of 13 Palestinian journalists are now held administratively by Israeli authorities. This comes after the arrest of a number of journalists reporting on the protests in Sheikh Jarrah and covering other clashes between Palestinians and Israeli forces. Amongst these journalists were leading reporter Zeina Halawani and cameraman Wahbe Mikkieh from Alkofiya TV, who were recently arrested for covering the threat of evictions in Sheikh Jarrah, East of Jerusalem. Reporters Without Borders condemned these arrests:
"The repeated recourse to administrative detention exempts the Israeli authorities from having to bring charges and allows them to prolong detention indefinitely, which is unacceptable. Palestinian journalists are just doing their job and should not, under any circumstances, be presumed to be guilty," said Sabrina Bennoui, the head of RSF's Middle East desk.
In late May 2021, both journalists were released to house arrest for a month after being detained and subjected to mistreatment by Israeli security forces in occupied East Jerusalem.
Of these restrictions, Rajai al-Khatib, a Palestinian journalist who works for Jordanian and Italian TV said:
"I've been injured many times in the past, but over the last month during coverage of the pending expulsions of Palestinians from their homes in East Jerusalem, and the invasions of Al-Aqsa Mosque, the behaviour and attitude of the Israeli forces has deteriorated… My leg was broken by a rubber bullet near Jerusalem's Old City several weeks ago and I had to go to hospital… On another occasion, my camera was smashed and I was also beaten from behind by Israeli police while in Sheikh Jarrah… The police are getting personal and their actions seem like retaliation against journalists for the negative media coverage they are receiving internationally".
The Palestinian Centre for Development and Media Freedoms (MADA) reported 408 violations that took place against media in the occupied West Bank – including East Jerusalem – and the Gaza Strip. Amongst these, 215 violations were committed by the Israeli authorities while various Palestinian authorities committed a total of 96 violations in the West Bank and Gaza, all in the year 2020. The numbers are increasing as a result of the tensions in 2021, with 122 violations being documented in May 2021.
Journalist killed in Israeli air raids
In May 2021, the most horrific violations against the media were committed during Israel's recent assault on Gaza after rockets were fired from the coastal territory on Israel, which in turn followed violent events in East Jerusalem. Palestinian journalist Yousef Abu Hussein in Gaza was killed when his home was bombed during an Israeli air raid. On 11th May 2021, Palestinian journalist Reema Saad and her family were killed in their apartment during a bombing after Israeli forces attacked civilian residences in the city of Gaza. On 16th May 2021 journalist Abdul Hamid Kulk was killed after the bombing of his family's home in Gaza. On the attacks against journalists, The Coalition for Women in Journalism (CFWIJ) said:
"The CFWIJ would like to point out that women journalists reporting from the ground are at a high risk. We want to acknowledge that local Palestinian journalists are especially vulnerable, for whom this conflict is bearing real and personal costs…We are appalled as we perpetually come across various cases of assaults and abuse towards Palestinian journalists by the Israeli state. We earlier reported on the violence inflicted upon the women journalists who were covering the events unfolding at the Al-Aqsa mosque at the hands of Israeli forces as well."
This forms part of an escalating series of Israeli attacks against journalists and media freedoms in Palestine, where the occupation army bombed and destroyed the headquarters and offices of about 30 Palestinian, Arab and international media outlets during its continuous aggression on the Gaza Strip. According to the Committee to Protect Journalists (CPJ), more than 18 local and international media outlets in Gaza City, including Al Jazeera and The Associated Press, were bombed during Israeli military attacks.
In addition, according to CPJ, the threats towards journalists have affected the visibility of their work because several websites, viewed by the Palestinian Authorities as opposition media, have been inaccessible since 2017 and more are being shut down. This is due to Palestinian journalists facing an uphill battle when reporting from the Israeli-occupied West Bank.
🇵🇸#فلسطين مقتل #الصحفي #الفلسطيني #يوسف_أبو_حسين جراء استهداف منزله في #حي_الشيخ_رضوان بقطاع #غزة. https://t.co/g96kXB6abl

— الاتحاد الدولي للصحفيين (@IFJ_AR) May 19, 2021
Human rights defenders censored and attacked
Israeli security forces have embarked on a violent campaign in an attempt to silencethose protesting against the threatened eviction of Palestinian families from East Jerusalem. The Israeli police have targeted prominent activists and arrested them in their homes, assaulted marathon runners trying to support the Palestinian families and tear gassed activists who were demonstrating. Activists and twin siblings Muna al-Kurd and Mohammed al-Kurd have been at the forefront of the #SaveSheikhJarrah social media campaign against the expulsions of Palestinians from their homes. The pair were arrested at their home on 6th June 2021 and charged with "committing acts that disturb public security" and "taking part in riots". They were released from custody after several hours of detention. The activists told Al-Jazeera:
"No matter what they do to terrorise and frighten us, no number of arrests will scare us off. We will remain in our homes and we will continue to defend our land that we were born and raised on." - Muna al-Kurd.
"We are not afraid, we are not intimidated, we are going to continue to speak out against all of these injustices, and we're going to continue to protect our homes," - Mohammed al-Kurd.
The beautiful, and brave like no other, twins, Muna & Mohammed al-Kurd, are free from the Israeli detention and are now back to their neighbourhood, Sheikh Jarrah, promising to continue their hard work against the occupation!#SaveSheikhJarrah pic.twitter.com/6eJSMqBJ6j

— Quds News Network (@QudsNen) June 6, 2021
On 4th June 2021, an activist-organised run was staged in solidarity with Palestinian families facing forced expulsion in occupied East Jerusalem. However, 23 runners were injured after Israeli police fired tear gas, stun grenades and used physical violence. One of the activists, Jalal Abu Khater, tweeted: "I was beaten six times, attacked by Israeli forces, for running in my ancestral town & city."
I am a runner.
I run marathons around whole world. Never have I been attacked violently by police forces as I was today, during the Jerusalem run from #SaveSheikhJarrah to #SaveSilwan.
I was beaten six times, attacked by Israeli forces, for running in my ancestral town & city. pic.twitter.com/155qoYuOxW

— Jalal (@JalalAK_jojo) June 4, 2021
Palestine activists have been censored on social media platforms like Facebook, Instagram, Twitter and YouTube. According to The Arab Center for Social Media Advancement, 7amleh, a Palestinian digital rights group, has accused social media giants of "closely cooperating" with the Israeli regime and its many allies to censor Palestinian speech. While these platforms have been effective in helping Palestinians reach a global audience, they have also been used to censor and surveil. 7amleh collected over 200 testimonials from people whose posts about Palestine were deleted. Others received messages that their posts "violated community guidelines". In a joint statement, civil society organisations called for Facebook and Twitter to "immediately stop these takedowns, reinstate affected content and accounts, and provide a clear and public explanation for why the content was removed".
"The platforms' arbitrary and non-transparent decisions constitute a serious violation of Palestinians' fundamental rights, including their right to freedom of expression and their right to freedom of association and assembly online, which both Facebook and Twitter have pledged to honor in accordance with the United Nations Guiding Principles on Business and Human Rights. Though work is being done to escalate these cases with Facebook and Twitter, timing is critical - users from Sheikh Jarrah have made it clear that without the world's attention they would be in even more danger."
Instagram is deleting Palestinian stories on the ethnic cleansing happening in Sheikh Jarrah, as well as stories related to the murders of Indigenous women on Turtle Island.

This is silencing & censorship. These are the violent tactics of digital colonialism. #SaveSheikhJarrah

— sara m. saleh | سارة صالح #SaveSheikhJarrah (@SaraSalehOz) May 7, 2021
Documentation by the Sada Social Center shows that there have been more than 770 digital violations of content created by those associating themselves with the movement against the Palestinian attacks. The high number was a remarkable increase, beginning with the Sheikh Jarrah neighborhood uprising, the events in occupied Jerusalem and the Israeli attack on Gaza. In addition, a report by 7amleh covering the period of 6th to 19th May 2021 shows a dramatic increase in censorship of Palestinian political speech online, coupled with increasing examples of hate speech and incitement against Palestinians including organising of violent Israeli lynch mobs online.
The efforts to censor the Save Sheikh Jarrah campaign and silence those reporting on the injustices have failed to stop the campaign or contain its reach. Activists in Sheikh Jarrah are still mobilising online and on the ground. Not only have they succeeded in uniting Palestinians across colonised Palestine in a shared struggle but have also turned the world's attention to Israeli ethnic cleansing.