Journalists and critics continue to be targeted despite political transition in Pakistan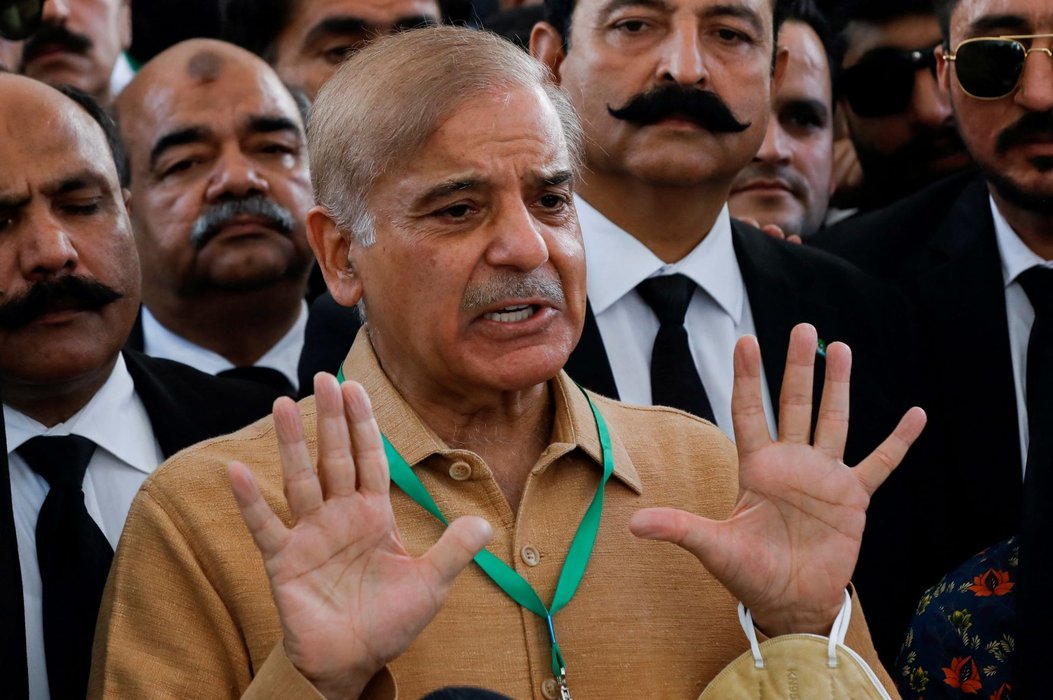 On 11th April 2022, Pakistan's parliament elected Shehbaz Sharif - the president of Pakistan Muslim League-Nawaz (PML-N) - as the country's new prime minister following the removal of Imran Khan in a vote of no confidence. Ahead of the vote, MPs from Khan's Pakistan Tehreek-e-Insaf (PTI) party resigned en masse to boycott the election of Sharif.
His election to the Prime Minister's office marks the return of the wealthy Sharif family, one of the most powerful political dynasties in Pakistan. His brother, Nawaz Sharif, was prime minister three times between 1990 and 2017, during which time Shehbaz served as the chief minister of Punjab, Pakistan's most populous state.
The new government took some positive steps and immediately abandoned plans for the establishment of a Pakistan Media Development Authority (PMDA) to regulate print, broadcast, and digital media in the country. Newly appointed Information Minister Marriyum Aurangzeb said that would restrict "people's constitutional right to freedom of expression". The proposal had been criticised by journalists and activists.
In May 2022, the Prime Minister said the government was "fully committed" to ensuring freedom of press and speech. He also lashed out at the previous PTI government for placing "democracy in [a] bad light".
Despite this, in recent months, individuals have been detained for critical tweets, while journalists have been assaulted, detained, and harassed. Some face multiple charges for criticising state institutions. The Pakistan Electronic Media Regulatory Authority (PEMRA) has issued directives warning the media against criticising state institutions. Protests against disappearances and electricity cuts have been met with arrests or excessive force. In addition, the prosecution of human rights activist Muhamad Ismail has continued, as detailed below
Expression
Eight people arrested over critical tweets
The Federal Investigation Agency (FIA) arrested eight people across Punjab on 13th April 2022. The arrests came after Imran Khan was ousted by a no-confidence motion on 10th April. Tens of thousands of Khan's supporters marched in the streets and also voiced their opinions online.
The FIA launched a crackdown on social media activists, claiming that they were involved in a smear campaign against state institutions, including the army. The eight arrested men were charged under sections of the restrictive Prevention of Electronic Crimes Act, a draconian law that contains vague and overly broad offences to criminalise online defamation. It has been used to target journalists and critics for legitimate forms of expression.
Amnesty International's South Asia Research Director Dinushika Dissanayake said: "The Pakistani authorities must stop using the draconian Pakistan Electronic Crimes Act to punish people who are simply exercising their right to freedom of expression online. For far too long, successive governments have used this law as a tool to crush peaceful dissent and intimidate supporters of political opposition".
Journalists assaulted, detained, and harassed
Since the political transition of April 2022, journalists have faced physical assaults and online and legal harassment.
According to the Committee to Protect Journalists (CPJ), on 21st April 2022, a group of around 20 PTI workers assaulted Khawar Mughal, a reporter for the privately-owned broadcaster 92 News, at a party at the Minar-i-Pakistan monument in Lahore, the capital of the northeast Punjab province. The attackers alleged that the TV channel was airing anti-PTI programmes and they would not allow it to cover their event. When other journalists stepped forward to help Mughal, they were threatened with the same treatment until they backed away. Mughal told CPJ that he sustained minor injuries across his body.
At a PTI party gathering in Lahore on 22nd April, an unidentified person held up a banner with a veiled rape threat against Gharida Farooqi, a host for the talk show G for Gharida on the privately-owned broadcaster News One. Farooqi then filed a complaint with the Federal Investigation Agency, adding that photos of the banner were shared widely across social media.
#Pakistan authorities must conduct a swift and impartial investigation into the police assault of journalist Jahangir Hayat, as well as the detention of Hayat and his family, and hold those responsible to account.https://t.co/TP8weFffSV

— Committee to Protect Journalists (@pressfreedom) May 14, 2022
On 1st May 2022, police officers in the Icchra area of Lahore, the capital of Punjab province, assaulted and detained Jahangir Hayat, a chief reporter for the privately-owned daily newspaper Daily Business. Police also detained Hayat's wife and seven-year-old daughter but released the family after about 45 minutes. Hayat said that he believes the assault and detention were acts of retaliation for his work as a journalist, including his reporting on crime and alleged police malfeasance.
Journalists face multiple charges for criticising state institutions 
Pakistan: Probe Initiated Against Journalist Sami Ibrahim for 'Fake News Over State Institutions'#Pakistan | @manojkumargupta https://t.co/22pnnlH3Jn pic.twitter.com/uC4DvPB8V5

— News18.com (@news18dotcom) May 8, 2022
The Federal Investigation Agency (FIA) initiated a criminal inquiry against journalist Sami Ibrahim on 8th May 2022, for allegedly transmitting "anti-state" videos and statements on various social media platforms. The inquiry was initiated under the controversial Section 20 of the Prevention of Electronic Crimes Act (PECA) 2016, part of which was struck down by the Islamabad High Court (IHC). The FIA, in a press release, accused Ibrahim of being "involved in spreading fake news regarding state institutions".
The office of the director-general of the Ministry of Information and Broadcasting's external publicity wing told CPJ that Abraham appeared to violate Article 19 of the Pakistani constitution which restricts freedom of speech on the basis of the "integrity, security or defence of Pakistan", which relates to a video published on 2nd May. In that video, Abraham discussed an alleged foreign conspiracy to oust former Prime Minister Imran Khan, who was removed from power in a no-confidence vote on 10th April.
Ibrahim is an anchor with the privately-owned broadcaster BOL News and host of a current affairs YouTube channel with about 500,000 subscribers. He has interviewed a number of high-profile figures, including former prime minister Imran Khan.
Other journalists have also been targeted with Ibrahim. They include Arshad Sharif, Sabir Shakir, and Imran Riaz Khan. Sharif and Shakir, are both anchors with the privately-owned broadcaster ARY News, while Khan is an anchor with the privately-owned broadcaster Express News. Since 19th May 2022, police across Pakistan have filed multiple first information reports (FIR) against them for working together to malign state institutions through their journalistic work and commentary and using derogatory language about the army and state institutions and drawing analogies to controversial historical figures. 
Senior journalist Imran Riaz Khan arrested at Islamabad Toll Plaza https://t.co/SoZt7uEyX0 pic.twitter.com/KqlPFLml19

— GNN (@gnnhdofficial) July 5, 2022
On 5th July 2022, police in the outskirts of Islamabad, the capital, arrested Khan in response to a complaint filed to authorities in Attock, northeast Punjab province. He was then released but re-arrested and taken to Lahore. The Lahore High Court eventually granted him bail on 9th July.
Journalists attacked in separate incidents in Lahore
Journalists Ayaz Amir and Ahmer Shaheen both came under attack in the Punjab provincial capital of Lahore, and police have opened investigations into the incidents
According to CPJ, on 30th June 2022, two unknown individuals on a motorbike approached Shaheen's car, and pointed a gun at him. When he stopped, one of the men asked for his phone and laptop. He managed to hide his phone but the other individual smashed his backseat window and grabbed his laptop. One of the men then grabbed Shaheen and repeatedly banged his head against the car window, resulting in heavy bleeding, and fired several gunshots in the journalist's direction, which hit his car.
Two days before the attack, Shaheen accused a high-ranking leader of the country's legislative opposition of corruption in a video for iNEWS. Shaheen has previously commented on political crises in Pakistan.
Amir, a senior analyst with the privately-owned broadcaster Dunya News was assaulted by unidentified individuals on 1st July 2022. The journalist was leaving the Dunya News office when a vehicle intercepted his car and blocked it from moving; a group of men then dragged Amir out of the vehicle, beat him, tore his clothes, and fled with his mobile phone and wallet as bystanders came to the scene. He sustained bruising on his face from the incident.
One day before the attack, Amir delivered a speech at a seminar, which was attended by former Prime Minister Imran Khan, in which the journalist alleged that Khan had "handed over the country to property dealers" and criticised the military's role in the country's political affairs.
PEMRA warns TV channels over airing content against state institutions
PEMRA issues directives for private electronic media to refrain from airing content against state institutions. pic.twitter.com/fXEg2NDRCm

— Report PEMRA (@reportpemra) May 9, 2022
On 9th May 2022, the Pakistan Electronic Media Regulatory Authority (PEMRA) issued directives warning the country's private electronic media outlets to refrain from airing content against state institutions.
It mentioned that airing of such content violates the directives issued by the Authority, provisions of PEMRA Electronic Media (Programmes and Advertisement) Code of Conduct 2015, and the principles laid down by the Superior Courts.
ARY news broadcast suspended, and staff charged for sedition
On 9th August 2022, PEMRA issued instructions to cable providers to suspend the ARY News broadcast. According to the International Federation of Journalists (IFJ), the suspension, which impacted viewers across India and Pakistan, came hours after the media organisation stated that the Pakistan Muslim League-Nawaz (PML-N) had initiated a media campaign to portray the Pakistan Tehreek-E-Insaf (PTI) and its leader, Imran Khan, as 'anti-armed forces'. PEMRA claimed the material aired was "seditious" and represented "a clear and present threat to national security".
IFJ reported that Ammad Yousaf, Senior Executive Vice President of ARY News, was arrested on sedition charges on 10th August. Four other ARY News employees were also booked under sedition charges, including President and CEO Salman Iqbal, and television anchors Arshad Sharif and Khawar Ghuman. Producer Adeel Raja was also named in an FIR registered at Karachi's Memon Goth police station.
The IFJ said: "PEMRA's suspension of ARY News' transmission, the arrest of Ammad Yousaf and the registering of FIRs against several ARY News employees are blatant acts of legal harassment and censorship against Pakistan's media."
Peaceful Assembly
Protesters arrested for sit-in over the disappearance of two students 
#BREAKING Karachi University students Doda Elahi & Ghamshad Baloch who were forcibly disappeared by the Police's Counter-Terrorism Department on June 7, 2022, have been reunited with their families! Protests had broken out in Karachi and Turbat following their abduction. pic.twitter.com/PEaiqKxYit

— Balochistan Affairs (@balochistanaffa) June 14, 2022
On 13th June 2022, the Karachi police arrested 28 protesters, including women, for staging a sit-in in front of the Sindh Provincial Assembly over the disappearance of two students, Doda Elahi Baloch and Ghamshad Baloch, who disappeared on 7th June.
Amnesty International condemned the "use of excessive force" in the arrests. The organisation also stated that "violently cracking down on families demanding answers to the whereabouts of their loved ones only compounds the cruelty of the heinous practice of enforced disappearances".Amnesty called for the "immediate release of Doda Baloch and Ghamshad Baloch and swift accountability for the use of excessive force at the protest".
The two missing Baloch students of Karachi University were returned to their home in Karachi's Gulshan-e-Iqbal area on 14th July. They had been detained by the police's Counter-Terrorism Department.
Police violently disperse protests over power cuts
People in Karachi protested over the lack of water and electricity on 27th June 2022.
Pakistan has been facing an acute power shortage during some of the hottest months. The people residing in Lyari area of Karachi city have reported 14-hour power cuts, with some semi-urban areas such as Jacobabad receiving electricity for only six hours in the day. There has also been a water shortage, demonstrative of the impact of climate change.
According to media reports, the police violently dispersed a protest over the 14-hour long power cuts in Lyari, usingbatons and teargas when the demonstrators refused to unblock an arterial road to the port.
Amnesty International condemned the crackdown. Rimmel Mohydin, Pakistan campaigner for Amnesty, said: "The authorities in Pakistan must not use unnecessary or excessive force to disperse protesters who take to the streets to voice legitimate grievances against the power shortage crisis as they continue to suffer the consequences of climate change. People need to be protected from the searing temperatures, not baton-charged and tear-gassed by the authorities for exercising their right to protest".
Association
Ongoing persecution of activist Muhamad Ismail
The prosecution of human rights activist Prof. Muhamad Ismail has continued with frequent adjournments of his trial in Peshawar in June and July 2022 due to the absence of prosecution lawyers and witnesses. This has caused tremendous hardship for Muhammad Ismail and his wife - who is also facing charges - as the courts are located 120 kilometres from his residence.
Since July 2019, Muhammad Ismail, a prominent member of Pakistani civil society, and his family have faced systematic harassment and intimidation from the security forces. He is facing allegations of cybercrime for speaking out against government institutions. He has also been accused on trumped-up charges related to sedition and conspiracy, as well as under the Anti-Terrorism Act for allegedly financing terrorism, publishing and disseminating anti-State material, and aiding and abetting terrorist offences. The cases brought against Muhammad Ismail and his family appear to be in retaliation for the work of his daughter, award-winning women's rights activist Gulalai Ismail.