Journalist killed covering crime scene and several others threatened in Mexico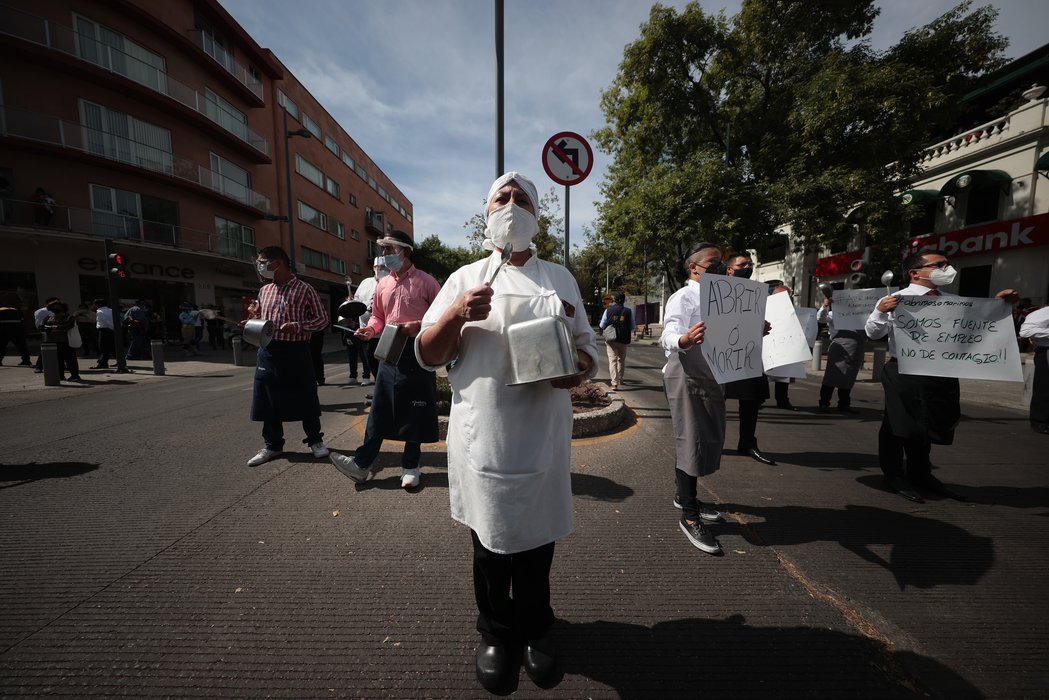 Expression
Photojournalist killed while covering crime scene in Zacatecas
⚠️Ayer, Jaime Castaño Zacarías fue asesinado en Jerez, Zacatecas, cuando sujetos le dispararon después de que cubriera el hallazgo de dos cuerpos.

El periodista era administrador la página https://t.co/z2jlRwk3yD y trabajador de comunicación social del ayuntamiento.

🧵 pic.twitter.com/4VtqLVFIsm

— ARTICLE 19 MX-CA (@article19mex) December 11, 2020
On 9th December 2020, Jaime Daniel Castaño Zacarías, a photojournalist and editor of PrensaLibreMx, was shot and killed by unidentified gunmen after he photographed two dead bodies found on the side of a highway in Jerez, Zacatecas state. Article 19 reported that members of a local cartel saw Castaño Zacarías taking pictures of the bodies and shot him after he refused to surrender his camera. According to the police, the gunmen removed the camera's memory card after the shooting.
Journalists threatened, detained and assaulted

On 6th December 2020, police in Monterrey allegedly detained and assaulted a correspondent for magazine Proceso after he took photographs of officers confronting a teenager selling items on the street. The journalist said he was held for about three hours, during which time officers injured his knee and damaged his computer. Alberto Cedillo also said one of the officers was not wearing a mask, in violation of sanitary protocols, putting him at risk of exposure to COVID-19 while detained.
On 27th December 2020, police in Benito Juárez reportedly detained and assaulted journalist Jorge Ugalde as he attempted to document possible police misconduct. According to news reports, the journalist with Descontento Ciudadano QR began broadcasting live when he saw officers arbitrarily stopping and detaining people on a local road. As reported by Article 19, officers approached the journalist when they saw he was filming, detained him and erased the memory from his camera. At the police station, Ugalde said several officers made threatening comments and viciously beat him. Officers also removed their masks and threatened Ugalde by saying "I hope you die of COVID." Ugalde had been attacked by the same police department in 2019.
In December 2020, the Committee to Protect Journalists (CPJ) warned that local press in Iguala, Guerrero state, has faced systematic threats from criminal gangs. As previously reported on the Monitor, journalist Pablo Morrugares and his police bodyguard were brazenly killed at a restaurant in Iguala in August 2020. According to CPJ, after Morrugares' killing, several local journalists were added to a WhatsApp group and threatened by people they believe to be gang members. Six reporters who cover crime told CPJ that threats have continued, leading the local press to self-censor. At least four reporters have fled the city. "I believe we're in a situation of maximum alarm," one of the journalists told CPJ. "I've never before seen that they attack and harass the media the way they do now."
On 13th January 2021, Raúl Fernández, director of Descontento Ciudadano QR in Benito Juárez, was threatened twice by unidentified people because of his work as a journalist. In a video, Fernández said he was outside the Plaza Vivendi Américas when two armed men approached him and made threatening comments while referencing his work. Later that day, he received an online message that contained a similar threat. Fernández has been enrolled in the federal programme to protect journalists since 2016 and human rights defenders are calling to increase security for him and other journalists in Quintana Roo.
Other developments
In November 2020, journalists in Puebla said they were being excluded from participating in online government press conferences, according to Article 19. As relayed by the organisation, several reporters were intentionally excluded from daily online media events. Government officials also denied some journalists the chance to ask questions. Article 19 also accused officials in Puebla of using lawsuits to silence their critics in the media after three lawsuits and a claim of discrimination were filed against news website e-consulta and its director.
Wondering what we've been up to for the past 10 months?

Time for us to share the #CartelProject, a historic collaboration of 60 journalists to pursue the work of murdered Mexican reporters

⏰ 3 DAYS pic.twitter.com/9gAW3f0tmi

— Forbidden Stories (@FbdnStories) December 3, 2020
In a positive development, the Forbidden Stories network of investigative journalists is producing a five-part series called "The Cartel Project" about the killings of reporters in Mexico. The group's mission is to continue the work of reporters silenced through threats, censorship or killings. In early December 2020, they published the first investigation in the series, looking into the murder of Mexican journalist Regina Martínez in 2012. The series exposes the global networks of Mexican drug cartels and their political connections around the world. According to members of Forbidden Stories, the group means to send a powerful message to enemies of the free press: "Killing the journalist won't kill the story."
In another development, on 17th December 2020 Mexican authorities arrested a second suspect in the 2017 killing of La Jornada reporter Miroslava Breach Velducea. According to CPJ, the suspect is believed to have facilitated the journalist's killing by passing information to Los Salazar, an organised crime group suspected to have orchestrated and executed the attack. The journalist had reported on the gang's alleged attempts to elect its members to public office in Chihuahua.
Peaceful Assembly
Vestidos de blanco y con flores, amigos y vecinos de Polanco marchan en memoria del empresario asesinado Baptiste Jacques Daniel Lormand

👉https://t.co/qza88XOiMB

📹 Alejandro León pic.twitter.com/mjDMs9UfzN

— CIUDAD (@reformaciudad) November 30, 2020
On 30th November 2020, hundreds of people marched in Mexico City to protest the killing of two men who managed a restaurant in the city. Friends and family of the victims demanded justice, with protesters holding signs with messages such as "When there's no justice, the authorities become accomplices." Many participating in the demonstration own or work at local businesses and were shaken by the double murder. They called for measures to improve security in the area.
On 29th December 2020, dozens of Cuban migrants protested on Mexico's border with the United States asking to be allowed to enter the U.S. while waiting for their asylum requests to be processed. They gathered by the Paso del Norte bridge in Ciudad Juarez, but the bridge was closed off by U.S. authorities. Former President Donald Trump's border policy, which forced tens of thousands of migrants to wait in Mexico for their applications to be processed, was halted by the Biden administration in January 2021.
In early January 2021, hundreds of restaurateurs in and around Mexico City joined protests asking to restore in-house dining, saying that their businesses will close if COVID-19 restrictions are not rolled back. Restaurant workers and owners staged citywide cacerolazos, protests banging pots and pans, to raise awareness about the sector's struggling situation. On 7th January 2021, restaurant owners published a letter to political leaders which highlights the risks to the sector, saying that restaurants are an important part of the local economy and thousands of jobs depend on these establishments surviving the economic shutdown. "We ask that the restaurant industry be considered an essential activity and that we be allowed to return to work. If anything is clear, it's that we [either] open or we die." Government authorities reached an agreement with industry representatives to allow restaurants to restart in-person servicing in external spaces and observing social distancing measures from 18th January 2021.
Association

📢🚨⚠️ #WHRDAlert MEXICO / Anti-rights aggressors break car window, paint slogans and throw eggs and fire bomb at the home of Ariadne Song in state of Quintana Roo.
📌 For more information 👉🏾 https://t.co/1rIhoMj9sd pic.twitter.com/A0IQt7FxQv

— IM-Defensoras (@IM_Defensoras) December 15, 2020
In December 2020, assailants attacked and vandalised the home of human rights defender Ariadne Song in the city of Chetumal, Quintana Roo. According a report by IM-Defensoras, the group broke a window on Song's car, painted slogans, threw eggs at her home and a fire bomb (Molotov cocktail) into the adjoining vacant lot. This attack took place in the context of an intense smear campaign instigated by anti-rights groups against feminist movements and women human rights defenders in Quintana Roo.