State briefly suspends PNG journalist after critical reporting at APEC summit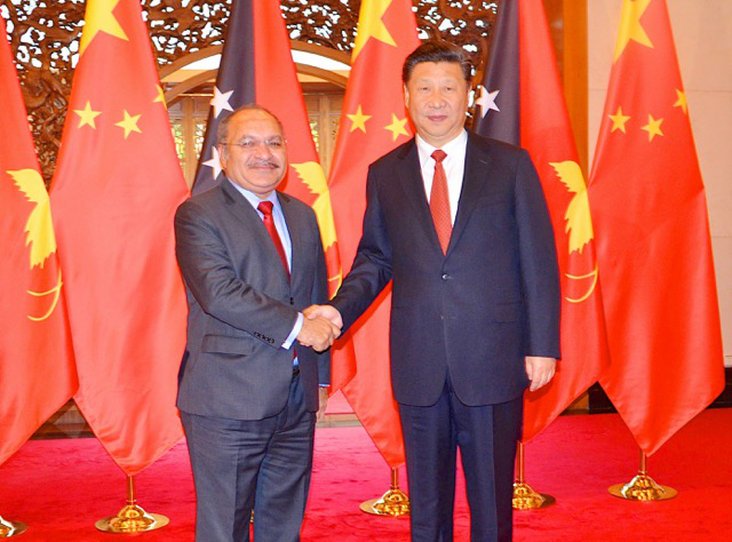 Papua New Guinea (PNG) hosted the Asia-Pacific Economic Cooperation (APEC) leaders' summit in Port Moresby in November 2018. Journalist Scott Waide was suspended briefly from his job at the state broadcaster for his reporting of the conference. Similarly, Chinese authorities blocked local and international media from covering some events around the meeting. In January 2019, soldiers held a protest over unpaid APEC allowances. In February 2019, two refugees on Manus Island received awards.
Expression
Journalist sacked and reinstated
UPDATE: Waide reinstated after public pressure https://t.co/ZVglPNeHxb Lae news bureau chief and senior journalist Scott Waide suspended over critical coverage on APEC hosting of Papua New Guinea. @islandfreedoms @pacmedcentre pic.twitter.com/nnJ1FkNzUG

— IFEX (@IFEX) November 27, 2018
On 25th November 2018, it was reported that senior EMTV journalist Scott Waide had been suspended on 18th November 2018, by the state-owned company board, for 'negative coverage' of the PNG government during the APEC meeting. The board cited Waide's use of a story from a New Zealand news agency, which reported that Prime Minister Jacinda Ardern would not travel in one of the luxury Maserati cars controversially bought by the PNG government for the APEC Leaders' Summit in Port Moresby.
Reaction to the suspension was swift as Papua New Guinea's Media Council and the Pacific Freedom Forum (PFF) described the suspension as a politically motivated  attack on media freedom. PFF Chair, Monica Miller said:
"We are calling on the leadership of the PNG government to immediately drop its suspension of a senior public broadcaster. There is no evidence the journalist was engaged in anything other than legitimate news gathering – journalism is not a crime".
PNG's Media Council released a statement condemning the suspension and the politicians thought to be behind it, stating that the media, "must not bend to the whims of insecure politicians and spineless 'yes-men' who flaunt their authority with impunity". The council added, "The suspension of a senior EMTV journalist demonstrates ignorance by the station's board about the business of reporting news".
Waide is considered an independent and fearless reporter whose work had highlighted the nationwide medication shortage as well as restrictions on the media attending the APEC meeting in November 2018.
Waide was subsequently reinstated on 27th November by broadcaster EMTV following the widespread public backlash over his suspension. Speaking to the ABC's Pacific Beat program after his reinstatement, Waide said management was often told not to run stories, or to "tone down" news. "Increasingly, not just EMTV, but nearly every other media organisation in Papua New Guinea has been interfered with by their boards or with politicians, or various other players in society," he said. Following his reinstatement, Waide said the public pressure showed the value of a free and fair media.
China blocks media from covering events around APEC meeting
China's charm offensive? Papua New Guinea media offended when China bars all reporters except Chinese state media from two events including Xi Jinping. https://t.co/JweSK3ZqC1

— Keith Bradsher (@KeithBradsher) November 17, 2018
On 18th November 2018, it was reported that media invited to cover Chinese President Xi Jinping's dinner meeting with Pacific leaders were denied entry by Chinese officials. The meeting was hosted by Xi as part of his first state visit to Papua New Guinea, with the leaders of eight Pacific Island nations that support the "One China" policy.These include PNG, Cook Islands, Fiji, the Federated States of Micronesia, Niue, Samoa, Tonga and Vanuatu.
While Chinese media were allowed into the meeting, local media as well as regional and international media who had registered through the PNG government to cover the President's visit, were denied entry by Chinese officials. An Australian Broadcasting Corporation (ABC) camera operator who was filming the press being rejected was then threatened by a local security officer.
Helen Tarawa Rei, a senior reporter with PNG's The National newspaper said:
"It's quite disappointing because as Pacific Islanders, for a meeting as big as this, and PNG being the host country, we were all looking forward to covering this. To be told that we're not allowed is undermining our press freedom, we have press freedom in this country."
At a separate ceremony on 16th November 2018, to open a road in Port Moresby attended by Xi, media were told they were not allowed to connect to an audio splitter box to record the speeches, with only China's CCTV network granted access.
UN and US calls for media freedom to be safeguarded
On 7th December 2018, after the week-long suspension of EMTV journalist Scott Waide the United Nations and United States issued a joint statement condemning any effort to curb media freedom in Papua New Guinea
The joint statement called on the government to adopt laws that protect independent journalism and to create an atmosphere for journalists to operate freely without fear and favour. "Freedom of expression is the cornerstone of any democratic society. A free press has the power to transform societies and foster economic growth and build the confidence of investors. We all depend on it," the statement said.
"In Papua New Guinea, journalists have shown their determination and professionalism to play their role in nation building. They have contributed to make democratic institutions stronger and strengthened public engagement. Their critical analysis of politics, the economy, environment, and society bring light to issues affecting all Papua New Guineans. Any loss in media freedom should not be taken lightly, for the rights of journalists and the rights of citizens are inextricably linked. Plurality of media is also crucial to foster diversity of views and counter misinformation."
Peaceful Assembly
Soldiers stage a peaceful protest over unpaid allowances
On 12th February 2019, it was reported that several PNG Defence Force soldiers staged a peaceful protest to demand final payments of their APEC work allowances. On 11th February 2019, about 50 men arrived in two buses at the entrance of the Sir Manasupe Haus at Waigani, closed the gates and halted all traffic using their vehicles and cones.
The peaceful protest came after Police Commissioner Gari Baki, who was the APEC joint security taskforce commander, said that he was not aware of payment of additional K300 (USD 90) allowances for members of forces engaged in the 2018 APEC security operations. Police arrived at the scene and kept watch on the situation. In November 2018, members of the armed forces, police and correctional workers stormed through Parliament over grievances of unpaid APEC work allowance.
Association
Refugees on Manus Island win awards
In February 2019, Abdul Aziz Muhamat, a Sudanese refugee activist who has spent years detained in an Australian run immigration detention centre in Papua New Guinea (PNG), won an international human rights prize for exposing "the very cruel refugee policy" of Australia's government.
The 25-year-old, who has campaigned for refugee rights during his five-year detention, was named the winner of the 2019 Martin Ennals Award. Muhamat, fled the war in Darfur in western Sudan and was sent to Manus Island by authorities after the boat he was travelling on to reach Australian shores was intercepted in 2013 as part of a much-criticised offshore immigration processing policy.
More than five years later, Muhamat is still living on the remote island where he has worked tirelessly to help some 500 other refugees and asylum seekers - from providing counselling and talking to refugees out of self-harm and suicide, to teaching them English and liaising with journalists and lawyers.
Another refugee was honoured with a literary award in the same month. A book by a Kurdish journalist and refugee, Behrouz Boochani entitled "No Friend but the Mountains" won him both the USD 72,000 Victorian prize for literature and the USD 18,000 non-fiction prize at the Victorian premier's literary awards in Australia. Boochani fled Iran to seek refuge in Australia when he was sent to Manus in 2013
Speaking to The Guardian, for which he is a columnist, Boochani described receiving the award from a country that has kept him locked up for six years as "a paradoxical feeling". He said:
"My main aim has always been for the people in Australia and around the world to understand deeply how this system has tortured innocent people on Manus and Nauru in a systematic way for almost six years."