Israeli occupation forces raid, damage and seal offices of several CSOs; Jerusalem born French-Palestinian lawyer exiled to France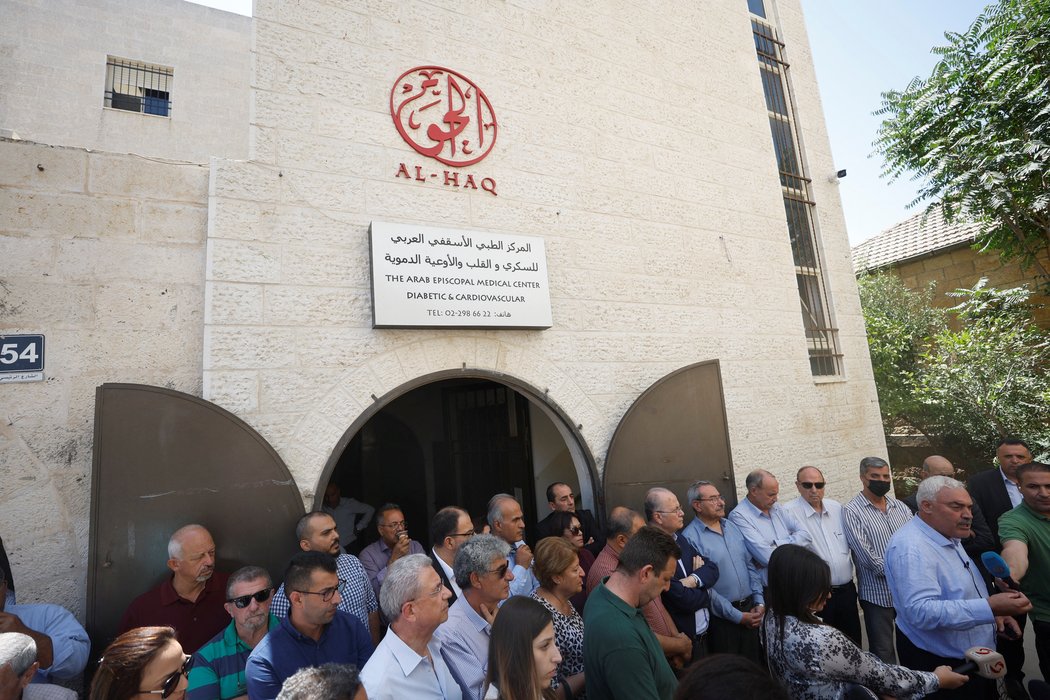 Association
Escalating attacks on civil society
On the morning of 18th August 2022, the Israeli occupying forces (IOF) entered, raided and sealed the entrances to the offices of seven CSOs, damaging and confiscating property while doing so. The seven CSOs were: Addameer Prisoner Support and Human Rights Associaton, Al-Haq, Bisan Center for Research and Development, DCI-P, HWC, UAWC and the Union of Palestinian Women's Committees. Six of the CSOS had been designated as 'terrorist' and unlawful in 2021, while HWC was designated as 'terrorist' in January 2020.
A statement by Al-Haq describes how IOF conducted the raid:
"Armed military forces broke into Al-Haq, systematically raiding each room and blasting the hinges off the locked doors of the finance department, the administrative office, the General Director's office, and the main server room, causing material damage. The military rummaged through files, scattered and displaced accounting folders to the ground, knocked over coffee cups leaving spillages, and trashed offices, and trashed bathrooms."
Following the raid, IOF attached a new door to the organisation's offices and welded it shut to prevent any future access, attaching a military order announcing the association's closure under Article 319 of the Emergency Regulations, of 1945.
BREAKING 🚨 The Israeli occupation forces raided UAWC's office early this morning 18th of August, as well as the offices of the other #6organizations. They destroyed office equipment, confiscated materials and left a closing order behind. pic.twitter.com/hVaHrRIaKS

— Union of Agricultural Work Committees (@UAWC1986) August 18, 2022
In an article published in MadaMasr, Addameer raised the critical role civil society organisations play in Palestine:
"Despite the designations and military orders for our closure, we in Palestinian civil society are doing everything within our means to continue our work, at great personal risk, because we know that our communities need us. Without meaningful international intervention though, Israel will not cease its attack until our organizations and wider Palestinian civil society has been fully defunded and shut down. Who would be hurt most if the Israeli regime is allowed to succeed in this effort?"
The statement issued by PNGO stated:
"Palestinian CSOs continue to face decisive and systematic clampdown, severe restrictions on the freedoms of expression, peaceful assembly and association, all of which contribute to the closing of an already shrinking civic space. Such unlawful acts are being used to silence Palestinian human rights defenders, journalists and civil society representatives."
In addition, hundreds of civil society organisations showed solidarity and called upon the international community to demand that Israel immediately revoke its designations of Palestinian human rights and civil society organisations as "terrorist organisations," reverse the military orders designating the organisations and closing their offices and repeal its Anti-Terrorism Law (2016) as it does not meet basic human rights standards. A specific call has been directed to the European Union as it announced its goal to unconditionally upgrade the Union's economic and political ties with Israel through the establishment of an Association Council. In this regard, Euromed Rights pointed out that the current context for civil society in Palestine is no longer about "shrinking space" anymore, but rather the facts on the ground indicate that there is no space at all.
Concerningly, three days later on 21st August 2022, Shawan Jabarin, Al-Haq's director, received a threatening phone call from IOF summoning him for an interrogation. The person, who identified himself as Captain Fahed of the Israeli Security Service, stated that a 'personal price' would be paid if Al-Haq continued its work. Later that day, Khaled Quzmar, General Director of DCI-P, was summoned for interrogation at the Ofer military base by a Shin Bet agent. Quzmar, who was escorted to the base, was not permitted to have his attorney with him. He was released after spending two hours in custody. Al-Haq sent an urgent appeal to the UN special procedures calling for the international community to take immediate 'targeted and effective action' to protect human rights defenders and CSOs in Palestine who are facing 'existential threats'. On 24th August 2022, UN experts published a statement condemning Israel's 'escalating attacks' on Palestinian civil society.
In a separate case, on 6th August 2022, B'Tselem field researcher Nasser Nawaj'ah was detained by IOF. He was blindfolded and handcuffed, taken from his home in a Palestinian village in the occupied West Bank and held for 12 hours in an undisclosed location where he was questioned about his work.
Peaceful Assembly
Palestinian Authority attempts to shut down event
As reported by Human Rights Watch, on 5th November 2022, Palestinian activists organised a conference via Zoom titled: 14 Million: Palestinian Popular Conference," to discuss democratisation in Palestine. Activists had planned to meet in Ramallah in the West Bank at the offices of Popular Alliance for Change to participate in the meeting. However, the Palestinian Authority (PA) raided Popular Alliance's office, detaining and questioning two activists at a police station for several hours, and confiscated the phone of a third activist, according to the Palestinian rights group Lawyers for Justice. Attacks by the PA against the Popular Alliance continued. On 8th November, security forces shut down a press conference held by the Popular Alliance. Two days later, they blocked activists from entering the offices, stating that they had an order to shut it down.
Expression
During the reporting period covering the last six months, several violations on human rights defenders, journalists and media attacks have been documented by several Palestinian organisations.
Outrage as Salah Hammouri expelled
On 18th December 2022, Israeli occupation authorities unlawfully and forcibly deported Jerusalem born French-Palestinian lawyer Salah Hammouri, exiling him to France. This comes after Israel's Supreme Court rejected Hammouri's appeal against the revocation of his right of residence in Jerusalem on 29th November 2022.
Yesterday, apartheid Israel deported Palestinian lawyer Salah Hammouri from his native Jerusalem to Paris. Salah's deportation is a war crime and evidence of the dangerous escalation of Israel's systematic practices of ethnically cleansing Palestinians from occupied Jerusalem. pic.twitter.com/K3nN3li8Qt

— BDS movement (@BDSmovement) December 19, 2022
Several NGOs, including Human Rights Watch, called on French President Emmanuel Macron to act against the expulsion of Hammouri. Several UN experts noted that the expulsion constitutes a "war crime." The deportation of protected persons from occupied territory is prohibited under Article 49 of the Fourth Geneva Convention, they recalled.
#Israel's decision to deport French-Palestinian human rights defender and lawyer Salah Hammouri to France against his will may constitute a war crime under the Geneva Convention – UN experts: https://t.co/hK39NuxjII pic.twitter.com/3mYxkhujqL

— UN Special Procedures (@UN_SPExperts) December 2, 2022
Other HRDs targeted
On the evening of 28th November 2022, Israeli forces arrested human rights defender Issa Amro after he was summoned for an investigation at the Ja'bara Israeli police station. The arrest of the human rights defender happened days after he documented and published a video of Israeli soldiers violently attacking an Israeli activist during a solidarity visit.
On 18th September 2022, human rights defender Hafez Huraini was detained after being injured as a result of an attack by Israeli Settlers. On 22nd September 2022, he was released from an Israeli prison after spending 10 days in detention pending investigation for alleged attempted murder, harming the security of the area and severe assault.He has been temporarily released on bail, a third-party guarantee, and on condition he stay away from his own land, where he was attacked, and from the nearby settlement outpost, for 30 days.
Incidents against journalists and media freedoms
During July a total of 27 violations of media freedoms were committed in the West Bank, 23 of which were committed by the Israeli Occupation, while four were committed by various Palestinian authorities across the West Bank. These include:
the Palestinian Center for Development and Media Freedoms (MADA)documented a total of 27 violations of media freedoms. Three of the said violations were physical injuries of Palestine TV cameraman Fadi Yaseen who was "suffocated with gas", the freelance journalist Ibrahm Atta who was injured with a rubber bullet in the left leg, and the freelance journalist Abdelmajeed Odwan with a rubber-coated metal bullet in his head causing him minor burns. Furthermore, the occupation forces banned 14 journalists from covering two separate events in Salfit. Additionally they banned seven journalists from covering a peaceful march arranged by the citizens of Harris Village. At the same event, the occupation soldiers targeted a Roya TV reporter with sound bombs to stop his live broadcast on TV. The occupation forces also prevented TRT Arabi TV reporter Majdoleen Hassounah from travelling to her workplace in Turkey, and prevented freelance journalist Mujahed Alsaadi from travelling through Al-Karamah Crossing to Jordan and questioned him on the reason for his travels.
During August, a total 143 violations of media freedoms were documented, 59 by the Israeli occupation, while social networks recorded 77 violations, and the Palestinian attacks amounted to seven violations. These include:
During its aggression on Gaza, the Israeli occupation army destroyed the headquarters and offices of eight media institutions operating in the Strip by targeting the "Palestine Tower" from which it is based. In addition to the destruction of these media headquarters, the Israeli occupation committed nine physical attacks against Palestinian journalists, two of them with rubber-coated metal bullets, and two others with shrapnel from bombs or missiles.

MADA also documented three cases of journalists being arrested in the West Bank, while 16 attacks included confiscating or destroying press equipment, and there were 13 cases of detention, all of which took place in the West Bank. In addition, several cases of attempts to obstruct reporting and the hacking of three media sites were documented.

The most serious Palestinian violations were the arrest and torture of journalist Mujahid Tabanja at the hands of the Palestinian security services, and the arrest of journalist Abdel Hamid Abdel Atti at the Rafah Passage and an attempt to prevent him from entering the Gaza Strip.
During September 2022, 57 violations were documented, with 40 violations committed by the Israeli occupation forces in the West Bank, and 12 violations committed by various Palestinian parties in the West Bank and the Gaza Strip, while the company "META" committed a total of five violations against media freedoms. These include:
All of these attacks were mainly aimed at preventing journalists from covering and reporting events. Eight journalists sustained physical injuries resulting from gas bombs or suffocation from the smell of gas during field coverage. In addition some journalists were subject to physical violence when covering events in the city of Jerusalem. Journalist Lama Ghosheh was released after a 19-day arrest on the condition of house arrest and payment of a financial guarantee of 50 thousand shekels, and prevented from using her phone and social media, and journalist Yassin Abu Laffeh remained detained in Ofer Prison.
Palestinian journalist Lama Ghosheh, who is under house arrest continues to be banned by Israeli occupation from using social media after her hearing at an Israeli court was pushed back. pic.twitter.com/TqzTeBhY2P

— PALESTINE ONLINE 🇵🇸 (@OnlinePalEng) November 22, 2022
The Israeli occupation authorities also renewed the administrative detention of journalist Bushra Al-Taweel for another three months for the third time in a row, and she has been detained since 21st March 2022.

The Palestinian Authorities physically assaulted two journalists and arrested two journalists, one of whom was released the same evening, while the other journalist was detained for 19 days.
During October a total of 81 violations were documented, 66 by the IOF, and five by Palestinian authorities, including:
With regards to violations by the IOF, 16 journalists were physically assaulted, including being injured by rubber bullets or suffocating with gas. There were 30 violations documented that prevented journalists from covering events. The most severe violations were the siege and shooting of four journalists while covering the army's storming of Jenin Camp, which put their lives in real danger.

In addition to the Israeli violations, Facebook closed and restricted nine news pages and pages of Palestinian journalists working as managers on the news pages.
During November 2022 , 21 violations were reported, 12 committed by the IOF, seven committed by various Palestinian authorities in the West Bank and Gaza Strip, and two committed by social media corporates. These include:
The IOF physically assaulted three journalists on duty, namely: journalist Abdullah Bahash, who was beaten for refusing to be blackmailed into pay 50 shekels to enter "Azzun", and journalist Abdel Mohsen Shalaldeh, who was detained by the occupation forces for four hours after being beaten. Journalist Ihab Al-Alami was also wounded by a rubber bullet in his right arm in "Beit Ummar", Hebron, and settlers assaulted "France 24" TV crew during a live broadcast in Jerusalem and destroyed their camera stand.

The occupation forces also arrested the journalist Sabri Jibril after raiding his house and he remained in detention for 12 hours where he was interrogated about his media work. A few days earlier, they prevented him from coverage in the town of "Harmala", threatened him not to continue his media work, and seized his phone after deleting the filmed material therein.

Furthermore, the occupation extended the administrative detention of journalist Amer Abu Arafah for four months days before his release.
During December 2022, 29 violations were documented, 12 of which were committed by the IOF , seven violations committed by Palestinian authorities in the West Bank, and two violations committed by social media networks. These include:
The suffocation of "Palestine TV" crew (reporter Mohammed Al-Khateeb and cameraman Fadi Jayyusi) with tear gas during their coverage of the clashes that took place in "Beit Dajan" to the east of Nablus city was one of the most serious violations. The IOF also targeted no fewer than 10 journalists with stun grenades and teargas to stop them from covering the same clashes.

Moreover, IOF soldiers detained "Al-Quds" Network cameraman Motasem Saqf Al-Heit and the reporter of "Palestine Post" Saja Al-Alami during their coverage of the clashes that took place at the north entrance of Al-Bireh city. They also prevented them from continuing the overage of the clashes and searched their vehicle.

The IOF arrested the anchor of "Al-Aqsa TV" Motasem Samara while he was going through the "Surra" barrier to the west of Nablus city and detained him for 14 days. The Israeli Intelligence Service interrogated Samara multiple times about his participation and coverage of various events. They also arrested the journalist Abdulrahman Hassan from his house in Bethlehem, confiscated his cell phones and interrogated him at "Etzion" Holding Center before releasing him the same day.

Unofficial parties stormed the house of a journalist and threatened him, while the Palestinian security services arrested three journalists, releasing one of them after examining his identity card, while the others were released later.
Facebook continues to censor Palestinian voices
The Arab Center for the Advancement of Social Media in cooperation with a group of local, regional and international civil society organisations, launched the "Meta, Let Palestine Speak" campaign. The purpose of the campaign is to call on Meta (Facebook & Instagram) to end its discriminatory policies and practices against Palestinian content across its platforms. The campaign comes as a direct response to the recently published independent Human Rights Due Diligence Report issued by the global non-profit Business for Social Responsibility (BSR), and the campaign includes coordinated efforts to send emails to Meta executives. On 22nd September 2022, BSR published its Human Rights Due Diligence Report examining Arabic and Hebrew content on Meta's platforms in the Israel/Palestine context during May 2021. The report provided evidence of Meta's bias against Palestinian content through the over-enforcement of Arabic content, and under-enforcement of content moderation policies on Hebrew language content. Furthermore, the report cites adverse human rights implications for Palestinians' right to freedom of expression, freedom of assembly, freedom of political participation, and non-discrimination. Their efforts entail a coordinated social media campaign and a detailed and interactive official campaign website.