Polarisation continues after presidential elections in Bolivia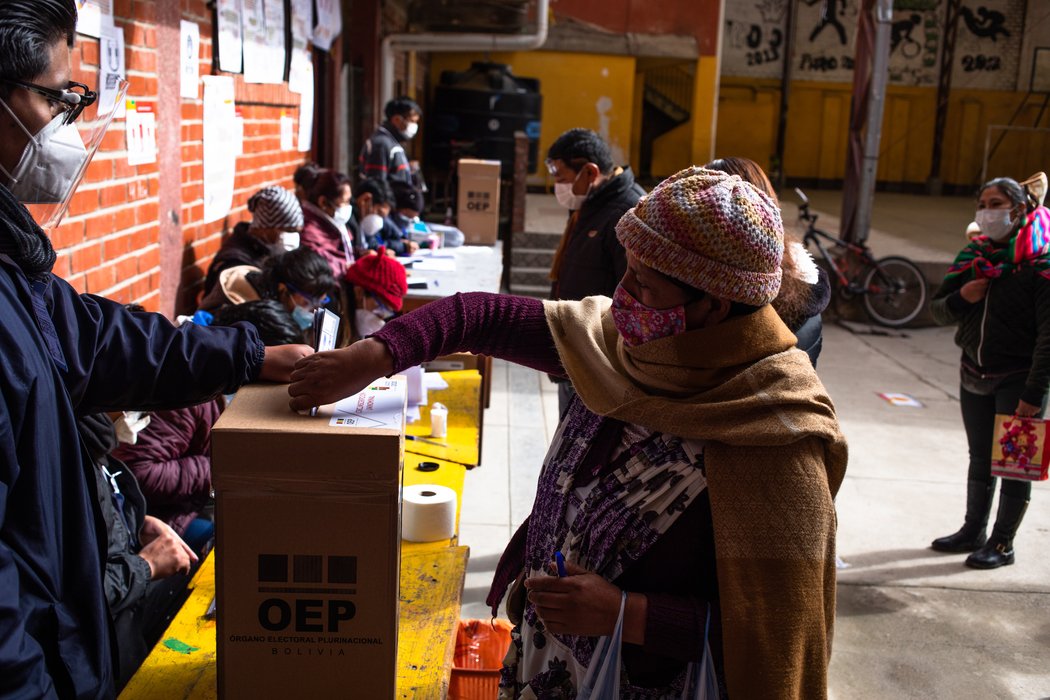 On 18th October 2020, Luis Arce of Movimiento Al Socialismo (MAS) was elected president of Bolivia. The vote, which had been twice postponed during the pandemic, was mostly peaceful despite the country's deep polarisation. Arce, who was finance minister under former president Evo Morales, took office on 8th November 2020.
Despite Bolivia's peaceful transition of power, human rights defenders and journalists continue to face intimidation and attacks in a climate of heightened intolerance and polarisation.
Association
Ya está disponible desde hoy el boletín "Alerta Común" de UNITAS. Se trata de un producto que reflejará el estado de situación de defensoras y defensores de derechos en Bolivia. Pueden verlo y suscribirse en el siguiente enlace 👉 https://t.co/Pe9929Q2se

— Red UNITAS (@redunitas) November 16, 2020
In November 2020, civil society organisation Unión Nacional de Instituciones para el Trabajo de Acción Social (UNITAS) released their first bulletin on the situation of human rights defenders in Bolivia. In this report, the organisation highlighted cases of intimidation and attacks against defenders in October and November 2020:
Hydrocarbon company YPFB Chaco sought to criminalise five environmental defenders of Aguaragüe Park. According to UNITAS' report, the company initiated legal proceedings against the defenders after they complained to local authorities that YPFB Chaco had failed to comply with requirements to consult with affected communities. A similar case has taken place with an Indigenous Leco community in Santa Rosa de Cadima, Guanay municipality, where organisations connected to mining interests have sought to criminalise Indigenous leaders. Two Leco defenders have been detained.
UNITAS also warned that lists naming human rights defenders and journalists perceived to be critical of MAS were widely shared online at the end of October 2020. A Facebook page that published one such list said it contained names of "right-wing people who must be judged and lynched by society". Press organisations such as Asociación Nacional de Periodistas de Bolivia and Asociación de Periodistas de La Paz condemned these "hate lists", saying they violate freedom of expression and access to information.
In a separate incident, after the presidential elections Waldo and Franco Albarracín denounced receiving several death threats from unidentified people through their mobile phones and social networks. As previously reported on the Monitor, Waldo Albarracín's house was looted and set on fire with his family inside during the height of the political crisis in November 2019. In the recent smear campaign, videos and messages published on social networks accused Waldo of participating in a coup against the Morales government and claimed that he had planned the fire in his house. On 30th October 2020, Amnesty International called on the government to provide protection measures for the Albarracín family.
Peaceful Assembly
4 activistas de @RiosDePie acabamos de ser agredidas por grupos afines al MÁS y reprimidas por la policía en la plaza Murillo

Estábamos haciendo una protesta pacífica y silenciosa en defensa de los 2/3 en cámaras de senadores y diputados

Video aquí https://t.co/4b4jBOpo8h

— Jhanisse Vaca Daza (@JhanisseVDaza) October 28, 2020
On 28th October 2020, social movement Ríos de Pie organised a sit-in protest in front of the Legislative Assembly in La Paz against a proposal which would eliminate the need for a two thirds majority in the Assembly to approve key legislation. Protesters said they were peacefully demonstrating when groups of MAS supporters started to confront them, and the police acted to disperse the protest.
On 16th November 2020, Minister of Justice Iván Lima announced that five human rights experts and Joel Hernández, president of the Inter-American Commission on Human Rights (IACHR), would travel to Bolivia to investigate the repression of protests in Sacaba and Senkata in 2019. Lima said the international community would be able to investigate, evaluate and issue a report about what happened during the post-electoral crisis in 2019, and also indicated the cases would be taken up by Bolivia's justice system. In a preliminary report, the IACHR said there were serious indications that extrajudicial killings took place in Sacaba, Cochabamba, and Senkata, La Paz.
Expression
ANP Diarios reporta: 15 periodistas sufrieron agresiones https://t.co/34zr7I5aAn @PVacaV @RELE_CIDH @VDSorg @AlianzaRegional @IFEXALC @FLIP_org @FUNDAMEDIOS @CPJAmericas @RSF_esp @grupoeldeber @eldiario_net @correodelsurcom @LaPatriaBo

— ANP Bolivia (@ANPBOLIVIA) November 17, 2020
On 16th November 2020, press association Asociación Nacional de Prensa de Bolivia (ANP-Bolivia) reported that 15 journalists in Cochabamba were threatened and insulted by demonstrators protesting against the results of the October 2020 general election. Most of the demonstrators were members of youth groups Resistencia Juvenil Cochala (RJC) and Resistencia Juvenil de Quillacollo (RJQ), which have previously been involved in harassment and violence against pro-MAS protesters. Some of the photojournalists said they were forced to delete photos and videos they had recorded at the protests. On 30th October 2020, a group of five journalists from Opinión, Red Uno and Los Tiempos said they were surrounded by a hostile group, who pushed and insulted them.
In November 2020, ANP-Bolivia also reported cases of journalists physically and verbally attacked by groups of protesters in Santa Cruz de la Sierra and Montero, both in Santa Cruz department. Women demonstrating in Santa Cruz de la Sierra reportedly threw pepper spray at a journalist with Noticias Primera Línea, Magdalena Guzmán Cuéllar, as she covered a local election.
On 25th November 2020, journalist Casimira Lema was harassed during a hearing with IACHR investigators, where she was giving a report on the intimidation she faced during the post-electoral conflict in 2019. Lema's house was burned, her family's car was damaged and she faced intimidation from attackers who said they wanted to burn her alive. "It is a lifelong work that was shattered in minutes. We, as a family, also have a very big wound. My children are young and to this day they are afraid, knowing that at some point the attackers could return to our house," she said in her testimony. Video recorded at the session shows several people in attendance yelling insults at the journalist while she tried to speak. The journalist decided to stop her report due to this harassment.