Indigenous communities in Colombia under attack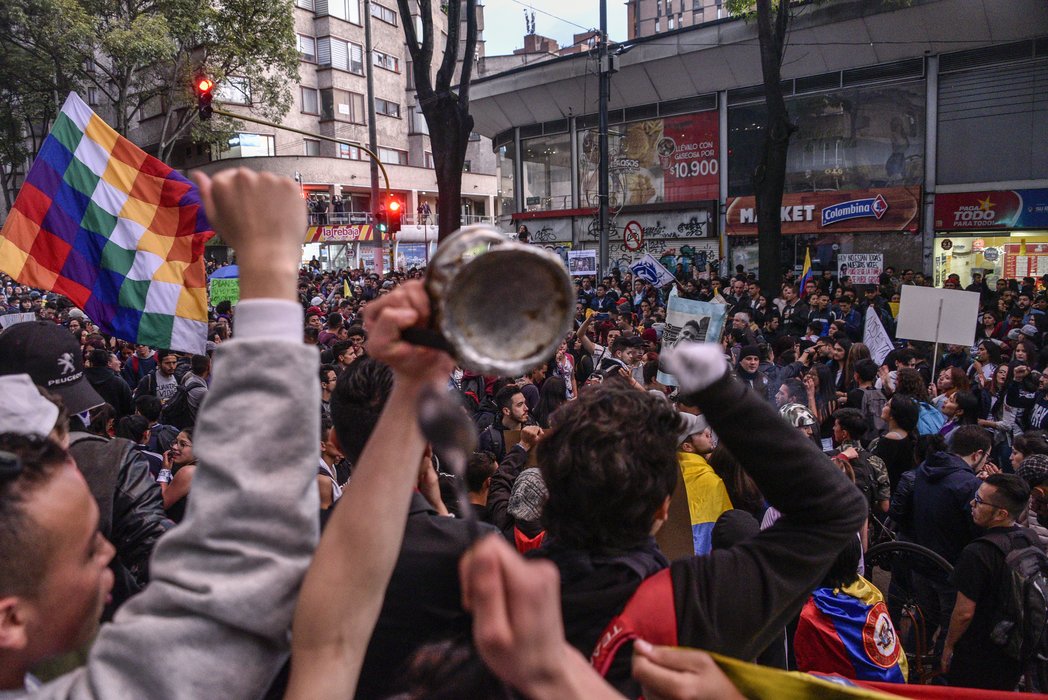 Association
Killing of Indigenous peoples
Si nos quedamos callados, nos matan, y si hablamos, también
Entonces hablamos !

-Cristina Bautista Taquinas pic.twitter.com/7GTtDyG23J

— Kiwe Nasa (@KiweNasa) November 2, 2019
On 28th October 2019, rural workers association Asociación Nacional de Zonas de Reserva Campesina (National Association of Peasant Reserve Zones - ANZORC) reported that 16-year-old social leader Flower Jair Trompeta Pavi had been tortured and murdered. He was a member of peasant association Astrazonacal. According to Fundación Paz y Reconciliación (Peace and Reconciliation Foundation - Pares), members of his community have denounced that the young defender was detained by the National Army shortly before his death.
On 29th October 2019, an illegal armed group in the Cauca region attacked members of the Nasa people, killing indigenous authority Ne'h Wesx Cristina Taquinas Bautista and four Indigenous Guards. Six other people were wounded. According to Consejo Regional Indígena del Cauca (Cauca Regional Indigenous Council - CRIC), the Guards were performing their scheduled rounds in the town of Luz when they tried to stop a car as part of a routine check. Armed members of a FARC dissident group demanded to be let through and started to shoot everyone in sight. Armed men also shot at an ambulance which later arrived to take the injured to hospital. On 1st November 2019, CRIC denounced that an armed group used explosive devices to damage the evidence of this massacre of members of the Nasa Tacueyó reserve.
According to the Organización Nacional Indígena de Colombia (National Indigenous Organisation of Colombia - ONIC), 115 Indigenous people have been assassinated so far in 2019. ONIC has also documented a total of 135 killings of indigenous people since President Ivan Duque took office in August 2018. With regard to the concerning situation of the Cauca, human rights organisation WOLA states that President Duque has refused to sit down with indigenous authorities in their territories and has sent 2,500 soldiers to militarise the area, which does not solve the fundamental issues causing security concerns in the region.
Peaceful Assembly
21N: Paro nacional en Colombia
En vivo desde Bogotá https://t.co/GCAd2jmvv5

— RT en Español (@ActualidadRT) November 21, 2019
On 21st November 2019, over 200,000 protesters took to the streets of Colombia for a 12-hour nationwide strike. Initially called by unions, the strike was joined by pensioners, students, indigenous groups and other social sectors. Demonstrators' issues ranged from opposition to labour, pension and tax reforms in discussion in the National Congress, fury with the killings of community organisers and indigenous leaders, and general dissatisfaction with the government's failure to fully implement the historic 2016 Peace Accord.
On the days before the strike, the national government published a decree with security measures that included closing the country's neighbouring borders for the day and allowing local authorities to determine whether to impose curfews. Areas of Bogotá were also militarised. The Vice-President published a video on Twitter stigmatising protesters, saying that there had been calls for violence. On 19th November 2019, Bogotá's Metropolitan Police published a message stating that it had conducted raids in 15 locations of the city, detaining two people and confiscating material that would allegedly be used for making explosive devices for use during the march. News outlets reported that the police also confiscated paint, t-shirts and posters referencing the strike.
Taking place in many cities across Colombia, the marches were mostly peaceful. Some incidents were reported in Bogotá, where clashes broke out near the airport, in historical square Plaza de Simón Bolívar and at the National University. According to the Washington Post, authorities claimed that demonstrators vandalised public buses and subway stations in Cali and attacked an ambulance. Police fired tear gas in Cali, Bogotá and Cartagena. In Cali a curfew was imposed from 7 pm to 6 am. Defence Minister Carlos Holmes Trujillo stated that, overall, 98 people were arrested nationwide while 122 civilians and 151 members of the security forces were injured. Three people were killed in Valle del Cauca,two of them reportedly during a looting attempt.
On 23rd November 2019, 18-year-old Dylan Muricio Cruz was killed during a protest for education in Bogotá. According to news reports, he was injured on the head by a projectile fired by the anti-riot police. The Colombian Public Ministry initiated an investigation into the attack and stated that the repression of peaceful assembly is unconstitutional. Dylan's death generated more protests and a cazerolazo in Bogotá.
Expression
Obstacles for journalists during elections
On the days before Colombian municipal and regional elections, the Ministry of Interior published two decrees establishing special rules for the "normal development of elections". According to press freedom organisation Fundación por la Libertad de Prensa (Press Freedom Foundation – FLIP), these decrees unjustly limited the exercise of freedom of expression and the press during the elections.
The first one, Decree 1924 published on 23rd October 2019, stipulated that only accredited press would be allowed to use mobile phones or photo and video cameras in voting centres on election day. FLIP published a statement rebuffing the restrictions imposed by the decree. As reported by the Knight Center, Colombia requires journalists to present their identification cards but it is not mandatory to carry a registered press credential. Two days later, Decree 1967 was published to correct the first one, clarifying that the ban on mobile phones and cameras would not apply to the media but lacking further information on accreditation.
On election day on 27th October 2019, FLIP registered nine cases where journalists faced undue restrictions. In some cases, officers demanded press credentials and, in others, reporters were told not to film or conduct interviews in areas where these are permitted by law. One reporter was threatened with a fine for disrespecting authority.
Arson attack against a journalist
Colombian authorities should immediately investigate an arson attack against a journalist in northern #Colombia and ensure his safety. https://t.co/dXK0c00hYZ

— CPJ Américas (@CPJAmericas) November 10, 2019
On 6th November 2019, unidentified attackers burnt a boat used by journalist David Torres. Torres is the founder of El Original, a news website with a monthly print edition in the Bolívar department, northern Colombia. The boat was used for reporting trips and to deliver copies of the paper from the town of Simití to communities along the Magdalena River, where roads are scarce. According to the Committee to Protect Journalists (CPJ), Torres had received warnings which had led him to hide his boat for several days, and he had only brought it back home after the elections. The journalist stated that this attack could be related to his reports on alleged political corruption in Simití and the nearby towns of San Pablo and Cantagallo. According to CPJ and local reports, Torres fears for his life and has temporarily fled the region for his own safety. Commenting on the case, CPJ Central and South America Program Coordinator Natalie Southwick stated:
"Burning a boat that allows a journalist to report on and bring vital news to remote communities is an alarmingly extreme form of censorship."
Two journalists had to leave the country
At the beginning of November 2019, journalists Eduardo Manzano and Alexander Cárdenas of Notícias Caracol decided to leave Colombia after being continuously intimidated and threatened for their reporting. Journalist Arlex Piedrahita, working with the same media outlet, has also been subject to intimidation and denounced the lack of response from the authorities. Since August 2019 there have been reports of journalists who received threats for investigating the drug trade in the Cauca region. According to FLIP, on 19th September 2019, two unidentified men sought the house of Cárdenas' sister to ask his whereabouts. On 27th October 2019, Manzano's car was followed by a motorcycle. On 28th October 2019, Piedrahita received a threatening message telling him to stop reporting and leave town.
El periodista @JmanzanoEduardo tuvo que exiliarse con su familia y suspender su ejercicio periodístico de investigación en Cauca. De nada sirvieron sus alertas. La libertad de prensa está siendo golpeada. Esta situación silencia a cientos de reporteros pic.twitter.com/qOS89wSPOJ

— Julián F. Martínez (@JulianFMartinez) November 10, 2019
In a video published on Twitter, Manzano said that he had stopped reporting and believed the attacks were over until this recent episode led him "to understand that there are no guarantees in Cali or in any other Colombian city". FLIP has publicly stated its concern for the safety of journalists and demanded the strengthening of security measures from the National Protection Unit. The Foundation also called on the Office of the Attorney General to promptly investigate these threats and find those responsible.