Indian authorities target activists, journalists as they suppress support for the farmers' protests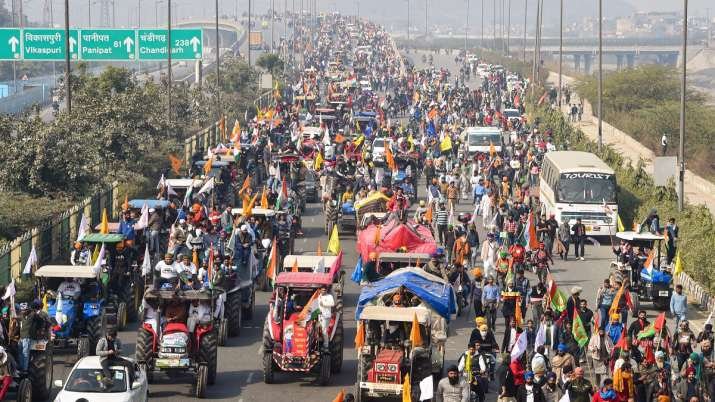 Civic space in India continues to be rated as 'repressed' in ratings released by the CIVICUS Monitor in December 2020. The government of Prime Minister Narendra Modi has continued its persecution of human rights defenders, student leaders, journalists and other critics. A variety of restrictive laws, including national security and counter-terrorism legislation such as the Unlawful Activities (Prevention) Act, have been used to detain activists. Many who are jailed have been placed at risk of contracting COVID-19 in overcrowded and unsanitary prisons. The Foreign Contribution Regulation Act has been used to target outspoken groups.
Since early January 2021, the authorities have continued to suppress and demonise the farmers protest movement using excessive force with over a hundred detained and charged, as well as blocking roads and protests spaces. Activists supporting them have been criminalised using draconian laws as well as journalists reporting and commenting on the protests. The government has also attempted to silence criticism online.
The UN Office of the High Commissioner on Human Rights called on 5th February 2021 for the Indian authorities and protesters to exercise "maximum restraint", adding that the rights to freedom of peaceful assembly and expression should be protected both offline and online.
Association
Young climate activist accused of sedition for protest toolkit
Arrest of climate activist Disha Ravi on Sunday triggered widespread outrage, with political leaders such as @Jairam_Ramesh, @PChidambaram_IN, @ShashiTharoor, @SitaramYechury and @ArvindKejriwal voicing their support for the activist.https://t.co/rV4nQHioJ5

— The Wire (@thewire_in) February 15, 2021
On 13th February 2021, Delhi police arrested 21-year-old climate activist Disha Ravi from her home in the southern Indian city of Bengaluru for allegedly editing a protest toolkit.
The online toolkit was shared by many on social media, including teenage climate activist Greta Thunberg, to aid those who wanted to help protesting farmers from afar by organising their own peaceful solidarity actions. Tens of thousands of farmers have demonstrated in recent months across India against proposed agricultural policy changes.
The Delhi police have charged her with sedition, a colonial relic in the Penal Code. This provision is excessively vague and broad, giving the authorities scope to characterise speech that is critical of government actions as sedition, including comments shared via social media.
The police alleged that the toolkit Ravi edited is linked to a larger criminal conspiracy to "wage economic, social, cultural and regional war against India." However, the "toolkit" is in fact a collection of articles, social media handles and information on the farmers' protest for anyone wanting to learn about the issue and spread the message.
Two other non-bailable warrants were also issued against Mumbai lawyer-activist Nikita Jacob and activist Shantanu Muluk in connection with the same case. They were granted pre-arrest bail by a court.
Sources close to Ravi have said that her arrest "is an intimidation tactic to term all dissenters as 'anti-national', observing also that her family had not been given any details when she was taken away — they were not even told whether she was being arrested or detained for questioning.
Ravi has been active in environmental circles for the past three years. According to reports she co-founded the India branch of the Fridays For Future network, a global climate protest movement, and began organising strikes across the country.
On 14th February, Ravi was produced before a Delhi court which sent her to five days' police custody. The public prosecutor in the case argued that she was part of a separatist 'Khalistani conspiracy', which the activist denied. Ravi clarified that she "was just supporting farmers" and that she hadn't authored the toolkit but simply made two edits to it.
The police also alleged that Ravi asked the Swedish environmental activist to delete her post, fearing action under the repressive Unlawful Activities (Prevention) Act (UAPA) as her name was mentioned in the document. They further claimed that Thunberg deleted her tweet following Disha's request and later shared an edited version of the document.
On 20th February, Ravi was denied bail by a Delhi court and was remanded for three days, then extended for a further day. A Sessions Court in Delhi granted her bail application on 23rd February.
Earlier, the Delhi Police had asked Google and Twitter to provide information about certain email addresses and social media accounts related to the creators of the "toolkit" shared by teen climate activist Greta Thunberg and others on Twitter in connection with the farmers' protest.
Arbitrary detention and ill-treatment of trade union activist
Imprisoned activist #NodeepKaur has claimed in her bail plea before the Punjab and Haryana High Court that she was severely beaten up at a police station at the time of her arrest last month in Sonipat.https://t.co/MJdWcfPCoR

— The Quint (@TheQuint) February 23, 2021
Even as Disha Ravi's arrest makes headlines across India, a Dalit trade union activist has been languishing in prison for more than a month following her arrest on 12th January 2020. She has been charged under sections that deal with attempt to murder, extortion, theft, rioting, unlawful assembly and criminal intimidation.
23-year-old Nodeep Kaur joined the protest against the new agri-marketing laws in early November 2020. At the Singhu border, Nodeep mobilised workers and farmers in the area.
As a member of the Mazdoor Adhikar Sangathan (MAS) - a union of the farmers - in Kundli, Haryana, Nodeep Kaur has been fighting the industry association at Kundli over unpaid dues, exploitation of women workers and harassment of workers by the quick response team (QRT), which has been used to intimidate workers so that they are unable to organise.
On 12th January, factory workers approached management over the issue of non-payment of dues once again, but they faced brutal attacks at the hands of the QRT. Even women workers faced harassment as their clothes were torn. Nodeep was reportedly dragged by the police in cuffs and taken to the Karnal police station. According to her sister, wounds on her body show that she been subjected to custodial torture. Nodeep's lawyer too claimed a medical examination indicated injuries that pointed to "sexual assault."
A press statement released by the Campaign Against State Repression (CASR), a body of student unions and progressive and democratic groups, soon after Nodeep's arrest noted: "The targeting of a young Dalit woman who dared to raise her voice for the rightful demands of the workers has been met with the most cruel, misogynistic barbarity of the men in uniform who have resorted to sexual violence".
So far Nodeep has been granted bail in two out of the three cases filed against her. She will remain in jail until she gets bail in the third case.
Peaceful Assembly
Protests against farm laws met with arrests and excessive force
Amnesty International demands that Government of India must stop crushing farmers' protests and demonizing dissenters. #StandWithFarmers https://t.co/Nyo6V3AC0C

— Govind Acharya (@gringostani) February 10, 2021
In November 2020, as previously documented, tens of thousands of farmers organised protests in the capital New Delhi against three farm laws which came into force in September 2020. The government says the laws will unshackle farmers from having to sell their produce only at regulated wholesale markets. However, farmers are demanding the government withdraw the laws that they fear will eventually dismantle regulated markets and stop the government buying rice and wheat at guaranteed prices. There were reports of excessive force by the police in November and December 2020.
On 26th January, farmers broke through police barricades around the capital and entered the grounds of Delhi's historic Red Fort during the country's Republic Day celebrations. Police hit protesters with batons and fired teargas to try to disperse the crowds. One protester was confirmed to have died in the clashes and dozens of police and protesters were injured. Mobile internet services were suspended in parts of Delhi and some metro stations closed.
On 1st February, internet access was blocked in several districts of a state bordering India's capital due to the farmers protest. Online access was suspended in at least 14 of 22 districts in Haryana state near New Delhi. The order was first imposed in three Haryana districts for 24 hours but was subsequently extended. A 48-hour internet shutdown was also imposed in three other areas around Delhi's borders, with India's Ministry of Home Affairs saying the move was "in the interest of maintaining public safety and averting public emergency."
Iron nails, rods, barbed wire, boulders and makeshift walls have been used to barricade Delhi's borders against thousands of protesting farmers. On 7th February 2021, it was reported that at least 125 protesters had been arrested in police stations across the capital and at least 21 protesting farmers have been missing in Delhi since 26th January.
Amnesty International has called for the immediate and unconditional release of those arrested solely for peacefully exercising their rights to freedom of expression and peaceful assembly. It said that "rather than investigating reports of violence against protesters and bringing suspected perpetrators to justice, the authorities have resorted to hindering access to protest sites, shutting down the Internet, censoring social media and using draconian laws against protesters who have been peacefully voicing their opposition to the new laws for several months now".
Expression
Authorities pressure Twitter to remove tweets on protests
The Indian government's war with Twitter https://t.co/dEBkfOow28

— BBC Asia (@BBCNewsAsia) February 12, 2021
Following the farmers' protests on 26th January 2021 the government had asked Twitter to remove tweets that used a provocative hashtag, as well as accounts allegedly used by Sikh separatists groups. Twitter had at first blocked some 250 accounts in response to a legal notice by the government, but six hours later restored the accounts citing "insufficient justification" for continuing the suspension. The government hit back at Twitter by threatening employees with legal action if the platform failed to block the accounts again.
On 10th February 2020, a top Indian official held a virtual meeting with global executives of Twitter. According to sources, the social media giant was told that it was "welcome to do business in India" but it had to follow the laws of the country "irrespective of Twitter's own rules and guidelines."
Twitter responded in a blog saying that it had suspended more than 500 accounts and taken action on hundreds of accounts that violated the rules on incitement and violence. But it also added that it would not block accounts belonging to media companies, journalists, activists and politicians because that would "violate their fundamental right to free expression under the Indian law."
Journalists targeted for reports and posts on farmers' protests
Indian journalists accused of sedition for farmer protest reports https://t.co/pimLgee0UT

— CPJ Asia (@CPJAsia) February 1, 2021
On 1st February 2021, it was reported that several senior Indian journalists had been charged with sedition and under other laws over their reporting and online posts about the farmers' protest, sparking criticism from media associations.
The cases against the journalists have been filed with police in at least five states. Filed by residents of the states, the cases allege that the journalists provoked violence during protests by farmers at New Delhi's Red Fort on 26th January for allegedly "misreporting" the facts around the death of the protester on Twitter.
The journalists accused include Rajdeep Sardesai, a prominent anchor on the India Today television channel. Sardesai was taken off air for two weeks and a month's salary was deducted. Also accused were the National Herald's senior consulting editor Mrinal Pande, Qaumi Awaz editor Zafar Agha, The Caravan magazine's editor and founder Paresh Nath, The Caravan editor Anant Nath and its executive editor Vinod K. Jose.
On 31st January, Uttar Pradesh police filed a case of promoting enmity between communities and making statements prejudicial to national integration against Siddharth Varadarajan, founding editor of The Wire, for tweeting a news report on the claims made by the dead protester's family.
Journalist Mandeep Punia, who writes for The Caravan, was also detained at Singhu, one of the main protest sites. He was charged with "obstructing public servants in discharge of public functions", "assault or criminal force to deter public servant from discharge of his duty" and "voluntarily causing hurt to deter public servant from his duty". Another journalist, Dharmender Singh, a Delhi-based journalist who works for Online News India was also detained.
The Editors Guild of India said the police cases were "an attempt to intimidate, harass, browbeat, and stifle the media." It demanded that the cases be immediately withdrawn and said that the media should "be allowed to report without fear and with freedom." The Press Club of India, Press Association, the Indian Women's Press Corps, the Delhi Union of Journalists, and the Indian Journalists Union also demanded the withdrawal of cases and pressed for the repeal of the colonial-era sedition law used to silence dissent.
Government raid on news portal
Classic smear strategy by Modi govt. While the raid on Newsclick and its editor is ongoing and he is not able to respond to queries, ED official hiding behind anonymity plants selective info aimed at suggesting @newsclickin has done something shady. https://t.co/80l4ZPIkhe

— Siddharth (@svaradarajan) February 12, 2021
On 9th February 2021, the Enforcement Directorate launched simultaneous raids at eight locations associated with the digital news portal NewsClick in relation to a money laundering investigation, and that authorities had discovered evidence that the outlet received funds from abroad. At the end of the raid on the Newsclick office, which lasted over 36 hours, the officials seized some equipment vital to the functioning of the platform.
Newsclick's Editor-in-Chief Prabir Purkayastha and his partner, author Githa Hariharan, aged 73 and 67 years old respectively, were detained in their house and held virtually incommunicado for over 110 hours. With Prabir and Githa unable to communicate with news reporters on the outside, various media outlets reported solely based on the misinformation provided by the senior officials of the Enforcement Directorate. Sources say the ED officials selectively leaked misleading facts in a malicious attempt to smear the image of NewsClick and discredit its journalism.
Since it began operations in 2009, NewsClick has been at the forefront in covering people's movements including the farmers protests. In 2017, the platform reported on the farmers' movement in Rajasthan, and in 2018 the 'Kisan Long March' from Nashik to Mumbai.
A number of unions, journalists, individuals and political parties have condemned the politically motivated attack on the news portal. The National Confederation of Human Rights Organisations (NCHRO) Delhi chapter said: "It has been a tactic of the government to allege that the democratic voices are funded by dubious sources, the same thing they have said today after conducting the raid at Newsclick".
"The raid on Newsclick and the occupation of its office and the home of Prabir Purkayastha are clearly designed to intimidate, and will have a chilling effect on critical news outlets," said Aliya Iftikhar, CPJ's senior Asia researcher.
More than 150 journalists have been arrested, detained and interrogated between 2010 and 2020, 67 of these being recorded in 2020 alone, says a study by the Free Speech Collective. There has been a sharp rise in criminal cases lodged against journalists in India for their work, with a majority of cases (40%) in states ruled by Prime Minister Narendra Modi's Hindu nationalist Bharatiya Janata Party (BJP), which has contributed to the deterioration in the climate for free speech in India.
Bail for human rights defender
On 22nd February, Varavara Rao, the 81-year-old poet-activist who has been in jail for over two years in the Bhima Koregaon case, was granted bail for six months by the Bombay High Court on medical grounds. He is currently undergoing treatment at Mumbai's Nanavati Hospital where he was admitted by the Maharashtra government following the high court's intervention.
Fourteen other prominent human rights defenders across the country, known for their human rights work on behalf of the most marginalised communities in India, have been detained in the Bhima Koregaon case under the draconian UAPA Act. Some of them have been detained since June 2018.
On 10th February it was reported that an American digital forensics consulting firm found that fabricated evidence was planted in the gadgets, including a laptop and pen drive of one of the activists, Rona Wilson. This raises serious questions on the evidence used against the others.