In Somalia and Somaliland, no reprieve is in sight for journalists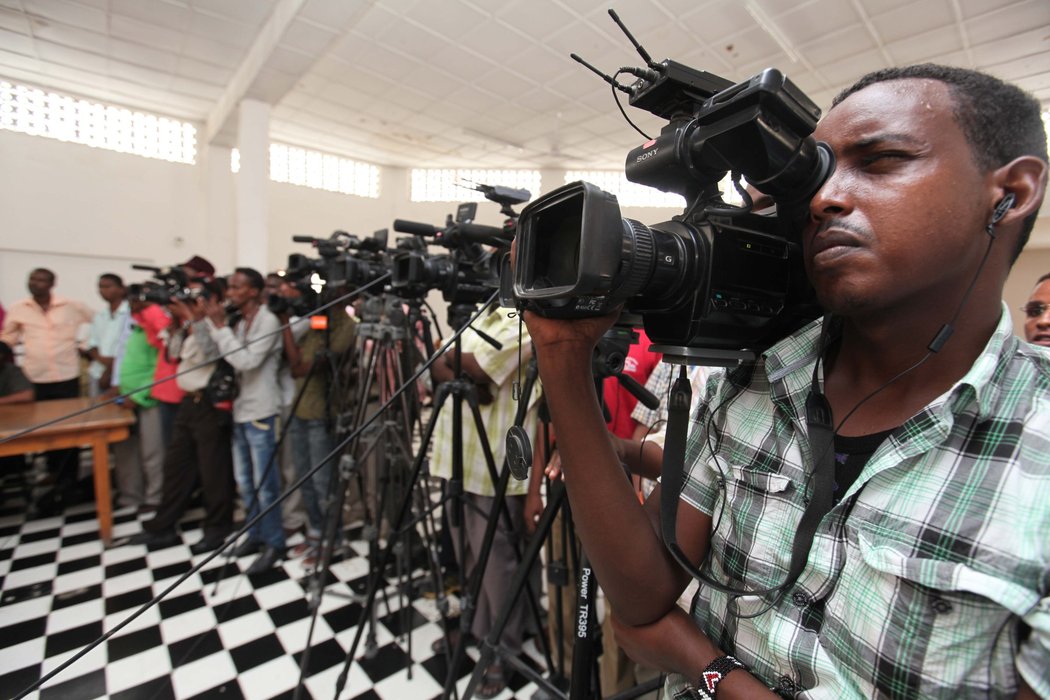 General situation
On 20th June 2023, Somalia's government announced that they had reached a consensus to implement a one-person, one vote system every five years from June 2024. This announcement followed President Hassan Sheikh Mohamud's pledge in March to end the complex clan-based indirect voting system in place in Somalia.
I. SOMALIA
Expression
As with most previous updates on the CIVICUS Monitor for Somalia, freedom of expression carried most violations during this period, with journalists bearing much of the brunt of the civic space restrictions. The incidents reported during this period include:
On 7th April 2023, Mahad Arab Dhiblawe, an officer from the national intelligence agency (NISA), threatened physical harm towards Abdalle Ahmed Mumin, the Secretary-General of the Somali Journalists Syndicate, as well as journalists working at the local media outlet Risaala Media Corporation, for unknown reasons. This incident occurred after the station aired an extensive interview with Abdalle Mumin.
On 8th April 2023, the deputy minister of information, Said Hassan Habane, issued a directive that prohibits conducting interviews and talk shows which contradict the principles of culture, ethical standards and religious beliefs. This raises concerns regarding potential threats to freedom of expression.
. @sjs_Somalia: Police in #Mogadishu detain 4 local journalists covering for Risaala Media Corporation & #5TV.

They are:
1. Mohamed Said Nur (Risaala TV)
2. Qasim Ibrahim Adan (Risaala TV)
3. Mohamud Sofeysane (5TV)
4. Isaq Rashid (5TV) pic.twitter.com/FGqmwcu2IN

— Kaab Somali TV (@KaabTV) April 16, 2023
On 16th April 2023, four local journalists from Risaala Media Corporation and 5TV were unlawfully detained by Mogadishu police while covering a bomb blast. The detained journalists include Mohamed Said Nur, Qasim Ibrahim Adan, Mohamud Abdirashid Sofeysane and Isaq Rashid. However, the police released the journalists and returned their equipment shortly thereafter.
On 23rd April 2023, Somaliland police detained Abdilatiif Said Asayr, a reporter from Bulsho TV, for covering a statement made by Erigabo mayor Ahmed Isdebar regarding the "mixing of men and women at tourist spots." On 24th April 2023, they released the journalist without any charges.
On 1st May 2023, guards under the instructions of Mohamed Suudi, sanitation director of the Banadir region, physically assaulted three journalists from Shabelle Media Network and Universal TV, who were reporting on the problem of wastewater accumulation following heavy rains in the area. According to the Shabelle Media Network, the same official had threatened their cameraman, Abdifatah Rooble, the day before.
On 10th May 2023, the Criminal Investigation police summoned Ahmed Said Ahmed, an online reporter for Radio Kulmiye, to inquire about his investigative stories regarding government officials who were accused of disappearing to foreign countries and misusing visas.
On 18th May 2023, Judge Salah Ali Mohamud from the Banadir Regional Court verbally attacked journalists who were reporting on corruption and injustices. He declared investigations by agencies against them would follow, accusing the journalists of inciting 'fitna,' or civil strife, which he deemed to be a criminal act.
On 20th May 2023, the office of Somalia's Attorney General summoned SYL TV journalist Hussein Abdulle Mohamed. Deputy Attorney General Mohamed Osman Mohamud interrogated him about his recent reporting, which exposed alleged corruption and abuse of power involving Attorney General Sulayman Mohamed Mohamud and implicated President Hassan Sheikh Mohamud's family members in another graft story. After an hour of questioning, Hussein was released with a cautionary notice of potential future police interrogations.
On 29th May 2023, Saleban Mohamed Mohamud, the Minister of Information for Jubbaland, issued a directive urging journalists to cease providing neutral coverage of the war against al-Shabaab. In addition, he instructed them to ''align with the government and actively promote government propaganda.''
On 4th June 2023, the Deputy Minister of Information, Abdirahman Yusuf Al-Adaala, announced that the Ministry of Information and Facebook had agreed to grant authorities the power to restrict al-Shabaab-related content on the platform. Prior to this announcement, journalists had reported the deletion and restriction of their news content on Facebook.
On 5th June 2023, freelance journalist Abdirahman Ahmed Aden, associated with The New Humanitarian, was assaulted by armed individuals. They reportedly issued death threats, detained him, and later released him without filing any charges. The individuals involved revealed their intention to target journalists affiliated with international media outlets.
On 8 June, Security forces loyal to Luuq District Commissioner in #Gedo detained Mohamed Kaafi Adan Bishaar, a correspondent for the Jubbaland State TV after he reported on local elders welcoming a new administration appointed by the Jubbaland authorities for the Gedo region. pic.twitter.com/XFhtN52gsR

— Somali Journalists Syndicate - SJS (@sjs_Somalia) June 19, 2023
On 8th June 2023, security forces detained Mohamed Kaafi Adan Bishaar, a correspondent for the Jubbaland State TV, after he reported on local elders welcoming a new administration appointed by the Jubbaland authorities for the Gedo region. 0n 9th June 2023, he was released without any charges filed against him. Prior to his arrest, armed individuals had also visited his residence.
On 9th June 2023, a local TV director and a prominent online journalist received warnings about the potential hacking or suspension of their Facebook pages. This came after they had covered a highly publicised incident in which police officers in Mogadishu physically assaulted a young man with a disability. Furthermore, journalists in central Somalia reported that their content was removed when they reported allegations of sexual violence against women and girls committed by armed militia members.
II. SOMALILAND
Expression
On 27th April 2023, the Somaliland ministry of information, following a series of meetings with representatives from the BBC Somali Service, announced that it had lifted the suspension of the BBC Somali Service broadcast which they initially imposed on 19th July 2022.
On 15th May 2023, Somaliland police arrested journalist Busharo Ali Mohamed and reportedly subjected her to torture. Prior to her arrest, Busharo had been actively covering Somaliland's declining democracy and had referred to the current leader as "an autocratic" figure. On 17th May 2023, a court in Hargeisa extended her remand in police custody for an additional seven days.
Abdalle Ahmed Mumin, the Secretary-General of the Somali Journalists Syndicate (SJS) said:
"We are witnessing ongoing attacks on journalists in Mogadishu, Gedo, and Somaliland, which are greatly impacting the operations of a free press in the country. We strongly urge the Somaliland authorities to release journalist Busharo Ali Mohamed and Eryal TV journalist Khalid Yusuf Hassan, who are currently held in police custody,".