Imprisoned journalists resort to hunger strikes, protesters sentenced conditionally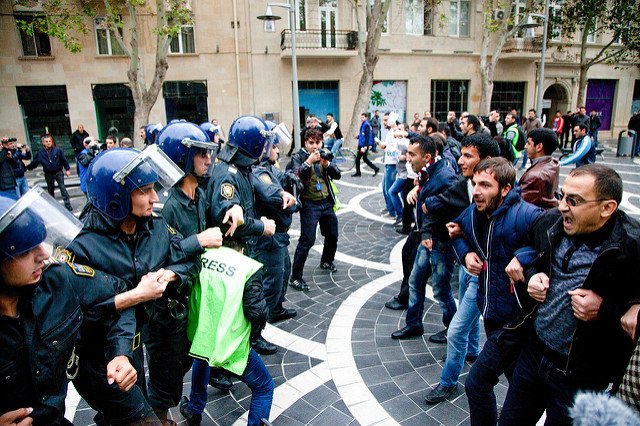 Polad Aslanov is under pressure and persecutions in the #colony, his wife told the "Caucasian Knot" correspondent.#PoladAslanov #Azerbaijan

More: https://t.co/fTpatjSUUS pic.twitter.com/qB3Q8fjpzS

— Caucasian Knot (@CaucasianKnotEn) April 1, 2021
Expression
Imprisoned journalists go on hunger strike
on 12th July 2021, Polad Aslanov, imprisoned chief editor of the independent news websites Xeberman and Press-az, declared a hunger strike to protest persecution and pressure against him in the prison, sanctioned by authorities.
Aslanov, who considers his case a politically motivated one, was detained by Azerbaijani authorities in June 2019 while crossing the border with his family to travel to a private event. He was accused of high treason and is serving a 16-year sentence, as previously documented. In February 2021, courts rejected his appeal.
Separately, in early July 2021, another imprisoned journalist, Afghan Sadygov, ended his hunger strike on the 240th day. Sadygov, who was convicted and sentenced for extortion, had been on a hunger strike since 3rd November 2020 when he was sentenced to seven years imprisonment. During the hunger strike, he lost 55 kilograms. In his case, the court reduced the sentence from seven years to four years of detention.
Twelve #Baku protesters sentenced to conditional terms.#court #Azerbaijan

More: https://t.co/L0tlXVefG7 pic.twitter.com/yy9vKVWdxG

— Caucasian Knot (@CaucasianKnotEn) June 15, 2021
Azerbaijani authorities feature in OCCRP report for using cyber-surveillance systems on journalists
On 18th July2021, the Organised Crime and Corruption Reporting Project (OCCRP) released a report on the Pegasus system - a spyware provided by the NSO Group from Israel, that can "record phone calls, read text messages, access photographs and passwords, track GPS data and secretly make audio and video cyber-surveillance." According to the report findings, several governments, including the Azerbaijani government, used this spyware to access data that would allow them to monitor journalists, activists or civil society representatives.
According to reports, over 50,000 telephone numbers had been monitored in Azerbaijan since 2016.
After the report was published, several journalists confirmed that their phones were indeed monitored by this application. Journalist Sevinc Vaqifqizi, an Azerbaijani journalist working for Meydan TV, an independent news organisation based in Berlin, was one of the confirmed cases as her phone has been monitored since 2019.
Following details of the report, several Azerbaijani journalists said they would sue the Israeli-based company that marketed the Pegasus application.
Peaceful Assembly
July 2020 protesters sentenced
In June 2021, the court convicted and sentenced 12 participants of the July 2020 protests to conditional detention. The protesters, who included supporters of the opposition Popular Front Party of Azerbaijan (PFPA), were found guilty of disobedience and physical violence against police officers, and disturbing public order.
The protests in the summer of 2020 were sparked by the escalating conflict between Azerbaijan and Armenia over the Nagorno-Karabakh region, and reportedly grew to include anti-government protesters who allegedly clashed with law enforcement, as previously documented.
Association
New public legal entity "Agency for State Support to NGOs" established
In April 2021, president Ilham Aliyev signed a decree establishing the "Agency for State Support to NGOs of the Republic of Azerbaijan" which would take over roles previously carried out by the Council of State Support to NGOs. The Agency's responsibilities include encouraging the development of collaboration mechanisms between the state, civil society and the private sector, among others.