Imprisoned HRD Abdulhadi Al-Khawaja awarded Martin Ennals Award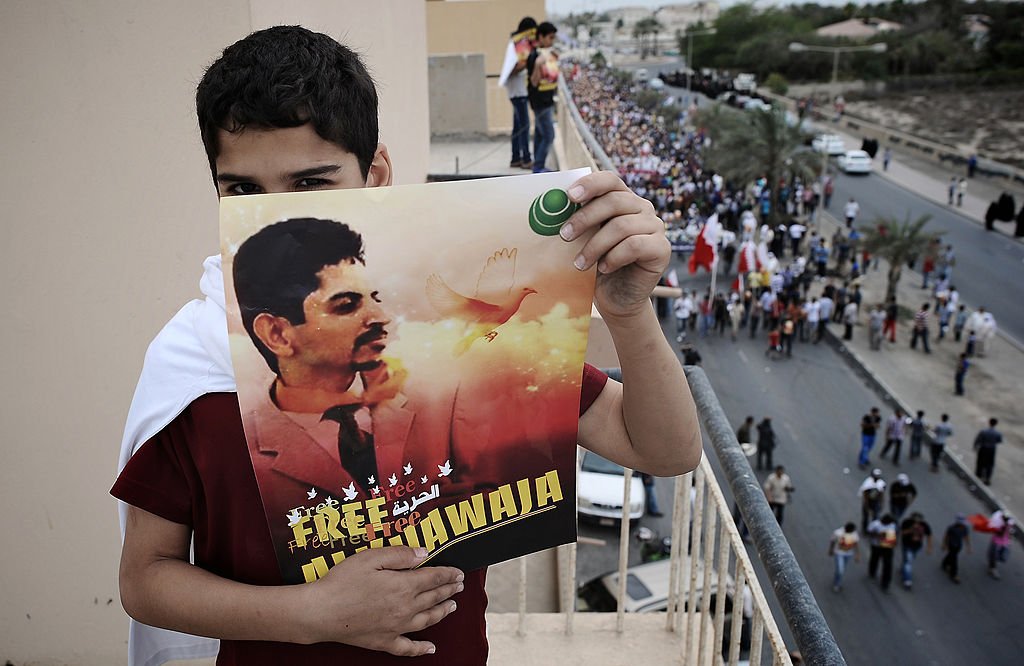 Expression
On 13th June 2022, Americans for Democracy and Human Rights in Bahrain (ADHRB) called for urgent action to save Bahraini prisoners following an uptick in cases of tuberculosis documented in Jau Prison. In June 2022, it was confirmed that a political prisoner at Jau prison, Hasan Abdullah Habib, had tuberculosis, while two additional inmates were exhibiting symptoms but have not yet been confirmed. Given the historical patterns of medical negligence in Bahraini prisons and the systematic nature of abuse aimed at prisoners of conscience, ADHRB are concerned that these early cases could lead to a tuberculosis outbreak.
On 9th June 2022, Amnesty International also highlighted that prison officials' inadequate response to tuberculosis cases in Jau prison puts prisoners' health at serious risk in a way that is inconsistent with their human rights obligations, especially the right to health.
On 2nd June 2022, the prominent Bahraini human rights defender, co-founder of the Gulf Centre for Human Rights (GCHR) and the Bahrain Centre for Human Rights (BCHR), Abdulhadi Al-Khawaja, received the Martin Ennals Award 2022 for human rights defenders at a moving ceremony in Geneva attended by his family and colleagues. Al-Khawaja was not at the ceremony because he is currently serving the 11th year of a life sentence in Jau Prison in retaliation for his peaceful and legitimate human rights work. The ceremony featured a recorded message from Al-Khawaja paying tribute to his wife Khadija Al-Mousawi. His family hopes he will not face further reprisals for sending a message to be played at the ceremony, as he has in the past. Al-Khawaja was brutally arrested at his home on 9th April 2011, tortured and sentenced to life in prison for his work alongside a group of human rights defenders collectively known as the Bahrain 13 during the peaceful democracy movement protests. He has undergone six hunger strikes in prison, where he has continued his activism for prisoners' rights, among other human rights issues in the region, despite facing reprisals.
On 17th May 2022, Human Rights Watch (HRW) sent a letter to the EU on its new partnership with the Gulf Countries. The letter raises concerns about the contradiction between the poor human rights situation among Gulf Cooperation Council members and the EU's commitment to link progress in bilateral relations to specific human rights benchmarks. Commenting specifically on Bahrain, HRW noted that "Abdulhadi Al-Khawaja, founder of the Bahrain Center for Human Rights, Hassan Mushaima and Abduljalil Al-Singace, leaders of opposition group Al Haq, and many others are serving lengthy prison sentences, often in filthy and life-threatening conditions, for their role in pro-democracy protests in 2011." The fact that 26 people are currently on death row in Bahrain and at imminent risk of execution was also cited as cause for concern.
Dr Abduljalil Al-Singace has been on hunger strike since 8th July 2021, and has not eaten solid food for almost a year, surviving only on liquids. He is protesting against persistent ill-treatment at the hands of Jau Prison authorities, the main prison in Bahrain, restrictions imposed during COVID-19 limiting prisoners' contact to only five numbers, and to demand that a confiscated book that he wrote in prison on Bahraini culture be immediately handed to his family. According to the Bahrain Institute for Rights and Democracy (BIRD), there is growing concern for the health and wellbeing of Al-Singace in light of reports that he continues to be denied medical treatment and timely access to medication and scans and is suffering from muscle tremors and a drop in blood sugars as a result of being deprived of access to sugar over the past two weeks. On 15th March 2022, ahead of the Formula 1 race in Bahrain, 27 rights groups led by the Bahrain Institute for Rights and Democracy (BIRD) criticised F1 for its "failure to engage with civil society and acknowledge rights abuse in Bahrain" and highlighted the case of Dr Al-Singace, who was arrested on 17th March 2011 and sentenced to life in prison. His hunger strike was raised with Lewis Hamilton in November 2021.
On 27th April 2022, GCHR and Deighton Pierce Glynn Solicitors (DPG), in co-operation with ADHRB, BCHR, Bahrain Institute for Rights and Democracy (BIRD), Redress and the Arab Organisation for Human Rights (AOHR), organised an event at the UK House of Commons in London entitled "Torture in Bahrain: Justice, Accountability and the UK Magnitsky Sanctions Regime". The in-person event was chaired by MP Andy Slaughter, Labour MP for Hammersmith and Shadow Solicitor General. At the event, GCHR's Executive Director Khalid Ibrahim said that GCHR "clearly noted the prevalence of the culture of impunity and lack of accountability in Bahrain and also in neighbouring countries," and mentioned the cases of GCHR's Co-Founder Abdulhadi Al-Khawaja, medic and human rights defender Ibrahim Al-Demistani, and journalist Naziha Saeed – all of whom were tortured in detention in Bahrain.
The event also marked the launch of new report entitled "Accountability for Torture in Bahrain: A Call for Magnitsky Sanctions" by the leading UK-based human rights and civil liberties law firm DPG, instructed by GCHR. The report forms part of a campaign for accountability by GCHR, International Federation for Human Rights (FIDH), ADHRB, BCHR and BIRD. Noting the non-binding nature of international soft-law mechanisms, such as UN Special Procedures, and the lack of independent and effective accountability mechanisms in Bahrain, the report examined the potential role that the UK could play in ending impunity in Bahrain. Potential avenues include the use of universal jurisdiction to prosecute alleged perpetrators of torture, the exclusion of perpetrators from entering the UK and imposing Magnitsky sanctions against perpetrators. Magnitsky sanctions are unilateral government directions which involve asset freezing or immigration action against those responsible for human rights violations or corruption. Unlike traditional sanctions targeted at individual countries, they can be flexibly applied to perpetrators from all over the world, regardless of their geographical location. The report concluded that the conditions have been met for a request to consider Magnitsky sanctions against the Bahraini Minister of the Interior who has overseen torture and ill-treatment for a prolonged period.