Hun Sen increases restrictions on media and online expression in Cambodia ahead of elections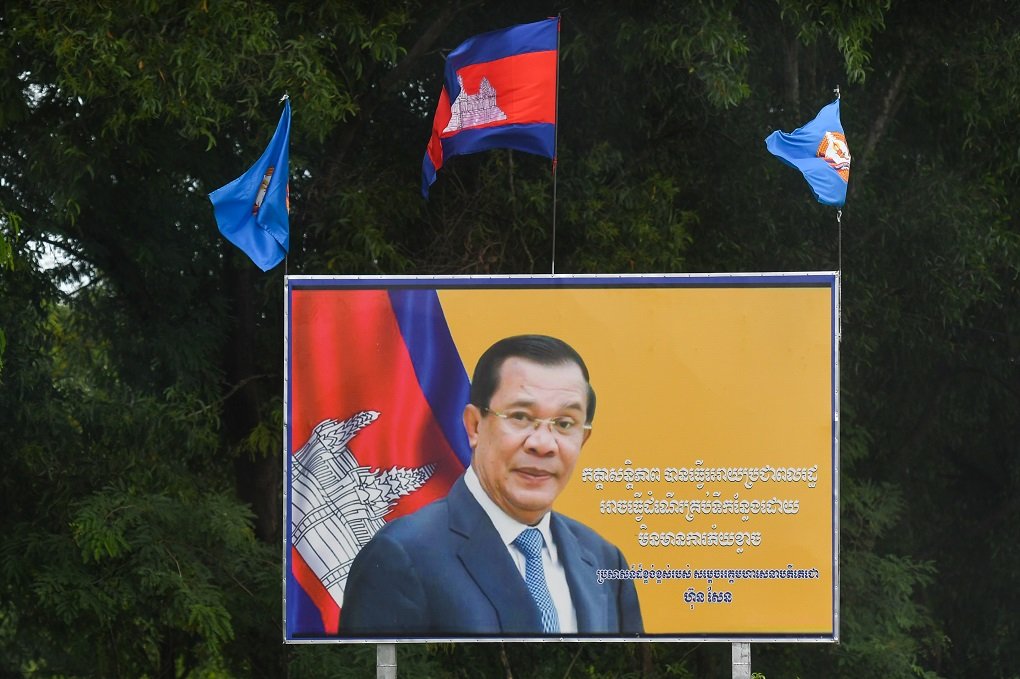 In the lead up to the 29th July elections, the Hun Sen government has increased restrictions on online expression and the media with a series of directives and guidelines. Concerns about the clampdown on press freedom were raised by three UN experts in June 2018. Restrictive laws such as the lese-majeste provisions continue to be used against individuals accused of insulting royalty and activists remain jailed. There is still a lack of full accountability around the killing of political analyst Kem Ley.
Expression
New directives to curb "fake news" and block websites and social media pages
Spreading so-called "false information" in #Cambodia could mean two years in jail according to this#FakeNews @EJNetwork @PCunliffeJones #FreedomOfSpeech https://t.co/X7E2sobCl6

— Eric Wishart (@EricWishart) July 7, 2018
A new directive announced by the Cambodian government in early July 2018 to curb "fake news" posted on websites and social media platforms, could see individuals jailed for up to two years and fined USD 1,000. Websites will also now be required to register with Cambodia's Information Ministry.
According to the authorities, the directive is aimed at "controlling all dissemination of information" that is deemed to "threaten the defense and security of the nation, relations with other countries, the economy, public order, and discriminates against the country's customs and traditions."
Independent journalist Nop Vy criticised the directive, and called it part of Prime Minister Hun Sen's attempt to restrict press freedom ahead of Cambodia's 29th July general election. The election is widely expected by observers to be neither free nor fair without the participation of the main opposition Cambodia National Rescue Party (CNRP) following its dissolution by the Supreme Court in November 2017.
Earlier on 28th May 2018, the Ministry of Interior, Ministry of Information and Ministry of Posts and Telecommunications issued an inter-ministerial order on website and social media control. It orders the Ministry of Posts and Telecommunications to "block or close" websites and social media pages containing content "considered as incitement, breaking solidarity, discrimination and willfully creating turmoil leading to undermining national security, public interest and social order". The ministries were also ordered to form a special unit to effectively "police" social media.
At least 117 civil society organisation issued a joint statement expressing 'grave concern regarding the latest government decision to heighten state surveillance, censorship and criminalisation of online expression in Cambodia, in contravention of constitutional and international human rights guarantees' and called for its immediate revocation. They said:
"This ministerial order threatens the privacy rights and freedom of expression of every single internet and social media user in Cambodia and further diminishes the limited space left for public debate following months of attacks on media freedoms."
Controversial press guidelines issued ahead of polls
Cambodia : Controversial Press Guidelines For Covering 2018 Election Draw Concern #Cambodia #Politics #Media #FreedomOfThePress #PressFreedom #Authoritarianism #ElectionsKH #Democracy #ElectionsKH #Voting https://t.co/9KwTAnDUW3

— John Brown (@JohnBrownPJ) June 4, 2018
In early June 2018, the government issued a controversial code of conduct for journalists covering Cambodia's upcoming elections. The code of conduct forbids reporters from conducting unauthorised interviews at polling booths or broadcast news that leads to 'confusion and loss of confidence' in the election. The code of conduct also forbids journalists from expressing 'personal opinion or prejudice' or publishing news that 'affects political and social stability.'
Those who violated these provisions would be fined under the election law. Article 142 of the election law imposes fines of USD 1,250 - 7,400 for such infractions.
Phil Roberston, deputy Asia director at Human Rights Watch, said the guidelines indicated that the Cambodian government was deeply concerned that the election will be ridiculed internationally as "pre-determined." He said:
"What's astonishing, is these guidelines and these accompanying missives by the authorities show a game plan by Cambodia to try and control the narrative now even two months before the election…what they don't want to have is media reporting that this is a bogus election, that this is a farce election, this is an election that's a joke because the registered opposition, the really only viable opposition in the country was dissolved well before the election."
As previously documented by the CIVICUS Monitor, there has been an assault on press freedom by the Hun Sen government. In May 2018, the non-transparent sale of the Phnom Penh news outlet occurred, and the new owner's interference in the paper's editorial independence led to the resignation of 13 senior staff and reporters and the sacking of the paper's editor-in-chief.
Critical Khmer-language media outlets have been severely restricted, with the closure of 32 radio stations from Radio Free Asia (RFA), Voice of America (VOA) and Voice of Democracy (VOD). Dozens of other reporters and free media advocates have left the country out of fear of persecution. This year, Cambodia dropped ten places in the Reporters Without Borders, World Press Freedom Index, ranking at 142 out of 180 countries.
UN special rapporteurs express concerns about media freedoms 
UN experts call on #Cambodia to respect & ensure the right to freedom of opinion & expression, citing concerns about a clampdown on the media ahead of 29 July general election: https://t.co/TsVJZBhZ8X pic.twitter.com/G1PGwQZ0Fi

— UN Human Rights (@UNHumanRights) June 18, 2018
On 14th June, three UN experts, called on Cambodian authorities to 'respect and ensure the right to freedom of opinion and expression, citing concerns about a clampdown on the media ahead of a general election on 29th July.' The statement was issued by Professor Rhona Smith, Special Rapporteur on the situation of human rights in Cambodia; Mr. David Kaye, Special Rapporteur on the promotion and protection of the right to freedom of opinion and expression and Mr. Clément Nyaletsossi Voulé, Special Rapporteur on the rights to freedom of peaceful assembly and of association.
They said that:
"The prohibitions on the media in the code [of conduct] raise serious concerns relating to media freedoms…these prohibitions use broad and imprecise terminology that could lead to sweeping restrictions on the media that would be incompatible with international standards…journalists have a responsibility to report on many issues in the run-up to an election, in particular controversial issues. Such reporting is an integral part of transparent and responsible media reporting during an election. It helps voters to make informed choices…the prohibitions also have a negative impact on the rights to freedom of association and peaceful assembly, necessary conditions for public participation in electoral contexts"
They also encouraged the Cambodian authorities to 'ensure that all people are freely able to express their political views and opinions – including on the option of abstaining from voting'. Previously, in April 2018,  Rhona Smith had 'urged the government to release immediately opposition leaders in detention and lift a ban on the main opposition Cambodia National Rescue Party taking part in the 29th July general election in order to ensure a genuine multi-party democracy in Cambodia.'
Judicial harassment of former RFA reporters continues
On 31st May 2018, former Radio Free Asia (RFA) journalists Yeang Sothearin and Uon Chhin were interviewed by a judge at Phnom Penh Municipal Court on charges brought under the Law on Suppression of Human Trafficking and Sexual Exploitation.
As previously documented, Sothearin and Chhin were arrested on 14th November 2017 and charged under Article 445 of the Criminal Code which pertains to providing information to foreign states or agents that could "undermine national defence."  On 18th May, the investigating judge extended their pre-trial detention period by a further six months. No evidence to support the charges has been made public. In March 2018, the pair were also hit with new unfounded charges under the Law on Suppression of Human Trafficking and Sexual Exploitation.
The two men worked for Radio Free Asia (RFA) until the media outlet shut its Phnom Penh Bureau in September 2017, citing government repression and the forced closure of its FM radio broadcasts as part of an ongoing crackdown on critical media.
Authorities continued to wield lese-majeste law 
Surprise, surprise. Cambodia's recently birthed lese majeste law is being used against opposition politicians. Who could have ever seen that coming (hint: everyone) https://t.co/zrAH9Y4E2S

— Jerome Taylor (@JeromeTaylor) June 20, 2018
On 20th June, the authorities issued a warrant summoning Sam Rainsy, the exiled former leader of the banned Cambodia National Rescue Party (CNRP), to appear in court in July to answer questions over a case, related to insulting the king of Cambodia on a Facebook page. He is under investigation after calling into question the authenticity of a public letter from King Norodom Sihamoni, the symbolic head of state, urging people to vote. On 6th June, Rainsy wrote a post on his widely followed page, calling Sihamoni's letter a "forgery" and "worthless" and speculating that it could even have been produced under duress. He is not expected to appear in court as he lives in self-exile in France.
On 19th July 2018, a man was charged and jailed for "insulting the King" and "threatening to murder" him in violation of Article 437 and Article 233 of Criminal Code. The man, identified as "Eang Chulsa" had allegedly posted the message on Facebook on 13th June and was arrested on 15th June in Phnom Penh's Chamkamorn district, according to senior officials of the national police.
The CIVICUS Monitor has previously documented two other cases of individuals charged with lese-majeste in May 2018, a 50-year-old teacher and a 70-year-old barber. Rights groups have expressed concerns over the law, citing complaints from Thailand that a similar law there has been abused. Those found guilty would face between one and five years in prison and a fine of between 500 and 2,500 USD
Peaceful Assembly
Agreement reached after series of protests by Koh Kong villagers
On 4th June 2018, around 300 villagers from Koh Kong province who were travelling to the capital, Phnom Penh, to demand compensation for a decade-old land grab were blocked by police. As documented previously, the communities from Chi Khor Leu, Chi Khor Krom, Dang Peng and Kandoul communes have petitioned the ministry and provincial authorities for over a decade for compensation for land they lost to two Economic Land Concessions linked to the Thai sugar company KSL and ruling party Senator Ly Yong Phat.
The police, led by a District Deputy Governor, stopped the communities' buses in Sre Ambel district. Therefore, the community decided to set out on foot, determined to make the 150-km trip to the capital. Along the way, they encountered security forces who continued to pressure them to return to their province.
When they arrived in the capital the following day, they rallied outside the Ministry of Land Management, Urban Planning and Construction.They were met by Koh Kong deputy governor Orn Pheareak who asked them to return to their province to discuss a solution. Community representatives also met land ministry officials
The villagers organized another protest on 27th June and were again blocked by police and military police led by the Koh Kong deputy governor on the way to Phnom Penh. Despite this, they managed to arrive at the capital. As they marched through Phnom Penh, they were blocked by security forces on Sihanouk Boulevard. 
On 2nd July, an agreement was finally reached with the authorities. Each family reportedly agreed to accept two hectares of land and USD 3,000 to end the dispute. Some had mixed feelings about the outcome as the location of the land was about 40 to 50 kilometres away from their village.
Association
Impunity prevails two years after killing of activist Kem Ley
Questions continue to be raised by civil society groups and his family about the killing of Cambodian political analyst and pro-democracy activist Kem Ley, two years after he was gunned down in broad daylight, at a gas station convenience store. His murder had also created a chilling effect within Cambodian civil society.
Kem Ley was a frequent critic of Hun Sen and in the weeks before his killing had given several media interviews about a groundbreaking report by Global Witness outlining the vast wealth of Hun Sen's family. A deeply flawed investigation saw merely the identification of one suspect, Oeuth Ang, also known as "Chuob Samlab" ("Meet to Kill"). In March 2017, Oeuth Ang was tried and sentenced to life imprisonment in proceedings that ignored improbabilities and inconsistencies in his confession and shortcomings in the investigation.
His open criticism, the strange circumstances surrounding his death, and the lack of a credible investigation has led many to believe that the assassination may have been a state-sponsored hit.
In advance of the second anniversary of the killing on 7th July 2018, the International Commission of Jurist (ICJ) reiterated its call for 'the creation of an independent and impartial Commission of Inquiry to investigate his killing' Kingsley Abbott, Senior Legal Adviser at the ICJ said:
"The trial of Oeuth Ang left many unanswered questions about the investigation and the killing itself which Cambodia has an duty to resolve as part of the family and public's right to know the truth…the fact that the killing occurred against the backdrop of escalating attacks against human rights defenders and the political opposition and in the context of a history of well-documented apparent extra-judicial killings makes the establishment of an independent and impartial Commission of Inquiry all the more pressing."
Labour rights activist released
Court Dismisses Charges Against Unionist Over Alleged Funeral Fund Embezzlement https://t.co/iFgXCzxVCK @voakhmer

— Jim Stevenson (@VOAStevenson) July 15, 2018
On 12 July, a Phnom Penh court dropped all charges against Moeun Tola, a prominent union and civil society leader, who was accused of embezzling money from the fund for the funeral of slain political commentator Kem Ley in 2016. The investigating judge concluded that there was no evidence to support this claim.
Tola, the executive director of the Center for Alliance of Labor and Human Rights (Central), appeared in court in June 2018 for questioning after Pich Sros, president of the Cambodian Youth Party, claimed he had stolen USD 300,000 of donations collected for the Ley's funeral.
Ambet Yuson, general secretary of the Building and Wood Workers' International (BWI) said:
"Tola Moeun is an important voice for workers and human rights in Cambodia and it is a great relief that the charges were dropped. We believe these charges were politically motivated, as part of the broader tendency of the government to restrict democratic freedoms in Cambodia."
Supreme Court upholds guilty verdict against environmentalists
On 17 July, Cambodia's Supreme Court upheld a low court's decision to sentence three environmental activists over their involvement in a 2015 anti-sand dredging campaign in Koh Kong province.
San Mala, Try Sovikear, and Sim Samnang were sentenced to 18 months in jail after they organised a protest in April 2015 against Direct Access, the company accused of sand dredging. They were arrested in August of the same year and accused of causing damage and threatening company staff, charges they have consistently denied. The trio were released in July 2017, having already served 10 months in pre-trial detention.
San Mala, an activist with the banned NGO Mother Nature, which the jailed activists worked for, said:
"We saw with our own eyes that the company, which used to do sand dredging business, did not prove transparent and we found corrupt acts with their business, but it was never held accountable before the law."