Human rights lawyer imprisoned for tweet, Nabeel Rajab conditionally released from prison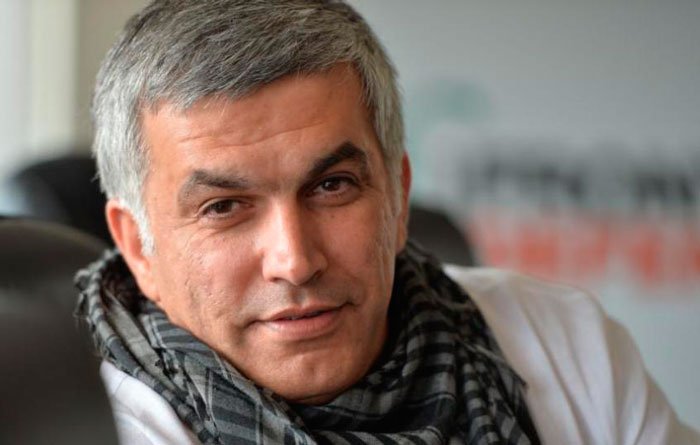 Prominent #Bahrain-i lawyer Abdullah Al-Shamlawi was granted bail after being slapped with a six-month prison term over a tweet about #Ashura. pic.twitter.com/olXn6siFd2

— LuaLuaTV (@LuaLuaEnglish) June 30, 2020
Expression
On 30th June 2020, the Bahrain Court of Appeal sentenced human rights defender and lawyer Abdullah Al-Shamlawi to eight months in prison on charges of inciting hatred of a religious sect and misusing a telecommunications appliance in relation to two tweets. The sentence has been suspended upon payment of 200 BD (USD 530) bail. There is a long history of persecution and judicial harassment against lawyers in Bahrain, and 15 lawyers offered to defend Al-Shamlawi.
Al-Shamlawi, a lawyer with more than 40 years' experience defending prisoners of conscience, received a six-month suspended sentence for expressing his personal views on religious practices and Islamic history in a tweet. He was sentenced to an additional two months in relation to a tweet from 2018 featuring a screenshot of an article published by a Bahraini state news agency, Al-Ayam, which had misidentified individuals featured in the article. Sources close to the Monitor believe that the two-year delay in bringing charges in relation to the 2018 tweet suggests that Al-Shamlawi's recent conviction is politically motivated. Al-Shamlawi has posted bail, allowing him to remain outside custody until his appeal against his sentence is heard. The first hearing of his appeal was scheduled to take place on 28th July 2020 but was postponed to 25th August 2020 to allow the defence more time to prepare their argument. In addition, the Bahraini Minister for Justice, Khalid bin Ali Al Khalifa, filed a disciplinary suit against Al-Shamlawi on 28th July 2020, resulting in the Disciplinary Board of Lawyers banning him from practising for one month.
Nabeel Rajab: Bahrain releases leading human rights activist and government critichttps://t.co/MTiamwAxPH

— Mahmoud Sroor (@MahmoudSroor12) August 10, 2020
In positive developments, on 9th June 2020, prominent human rights defender Nabeel Rajab, Founding Director of the Gulf Centre for Human Rights and Co-Founder and former President of the Bahrain Centre for Human Rights, was conditionally released from prison to carry out the remaining three years of his sentence non-custodially, at home through community service. As previously reported on the Monitor, Rajab had been detained since 2016 and sentenced in July 2017 for his tweets alleging torture in Bahrain's Jaw Prison and criticising the Saudi and United Arab Emirates-led military campaign in Yemen. On 31st December 2018, the Court of Cassation upheld Rajab's five-year sentence and subsequently rejected motions filed by his lawyers in 2019 requesting that he serve a non-custodial sentence. Rajab was held in Jaw Prison where his detention conditions failed to comply with the United Nations Standard Minimum Rules for the Treatment of Prisoners.
In a statement released from inside Jaw Prison, where he continues to be detained, human rights defender Abdulhadi Al-Khawaja, Co-Founder of GCHR and of BCHR, commented on the terms for the release of prisoners of conscience under the Alternative Penalties Law, under which Rajab was also released. Al-Khawaja stated that a 'real movement for justice and fairness' would 'revolve around reparations for the political detainees.' Al-Khawaja further stated that 'alternative penalties' are a mere 'continuation of the unjust penalties against political prisoners' as they 'contain continued confirmation of the conviction of opinion-holders and determination to criminalise them.'
Similarly, Amnesty International stated that Rajab's release must be accompanied by the quashing of his conviction and sentence and the dropping of any outstanding charges for exercising his right to freedom of expression.