HRDs and journalists remain under threat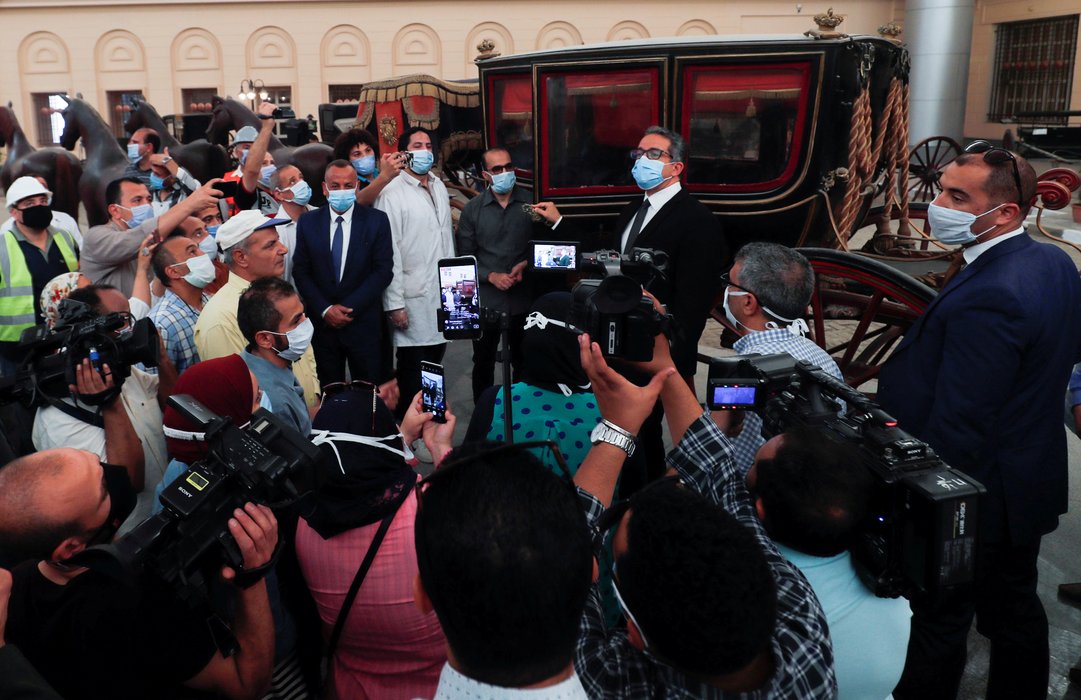 Association
Prior to the UN online panel discussion organised on 4th May 2021 by the Permanent Mission of Egypt to the United Nations in Geneva addressing the Law 149/2019 regulating the work of civil society in Egypt, civil society organisations issued a joint statement highlighting the systematic attempts to silence independent civil society work in the country. Civil society documents the lack of compliance of the NGO law with Egypt's constitution and international human rights obligations. In their statement CSOs restate:
"The reality is that almost all organisations and individuals who attempt to expose or ensure accountability for human rights violations in Egypt are imprisoned, tortured or otherwise subjected to a wide range of threats and attacks."
Civil society in Egypt continues to highlight the decline of civic space in the country. One of the latest campaigns by CSOs is an initiative by the Egyptian Initiative for Personal Rights, the Association for Freedom of Thought and Expression, the El-Nadeem Center against Violence and Torture, the Arabic Network for Human Rights Information and the Egyptian Commission for Rights and Freedoms. The 7 Steps campaign highlights actions that the Egyptian government can take to demonstrate its commitment to human rights. The campaign has been supported by international human rights organisations as well.
تدعم اللجنة الدولية للحقوقيين #اول_سبع_خطوات كإجراءات ضرورية لوضع حد لسياسات الدولة في قمع الحريات وتقويض اي شكل من اشكال سيادة القانون. على السلطات المصرية الالتزام الفوري بهذه الخطوات كشرط أدنى للقطع مع إرث الانتهاكات والقمع #مصر
@eipr @afteegypt @ECRF_ORG @anhri @elnadeem https://t.co/YfQXaCP5yO

— الدولية للحقوقيين | ICJ MENA (@ICJ_MENA) May 7, 2021
تعلن منظمة القلم الدولية @pen_int عن دعمها لمبادرة #اول_سبع_خطوات التي أطلقتها المنظمات المصرية بشأن تدهور أوضاع حقوق الإنسان في #مصر. وتدعوا السلطات المصرية للاستجابة لتلك المبادرة وسرعة الإفراج عن معتقلي الرأى وانهاء القيود المفروضة على حرية التعبير. pic.twitter.com/cSKn1DbJmj

— PEN MENA (@Pen_mena) May 7, 2021
On 30th March 2021, the Cairo Court of appeal ruled to drop charges against 20 NGOs who were facing charges as part of the 2011 foreign funding case. As reported by English Al Ahram, the new ruling consequently lifts asset freezes and travel bans on 20 news NGOs, which are included in case No.173. As the report documents, this ruling includes the cases of the Association for the Advancement of Education; Catholic Relief Services Egypt; Ansar Al-Sunnah Al-Mohamadeya; Transparency International; Caritas Egypt; the Salam Institute for Peace and Justice; Ro'yah for Social Studies; Bokra for Media Productions, Media Studies and Human Rights; and the Right to Democracy and Human Rights Centre.
Similarly, the judicial ruling issued by the State Council instructing the Social Solidarity Ministry to approve funding of the Sadat Association for Social Development & Welfare by the embassies of Norway, Switzerland and Germany in Cairo to develop the capacity of civil society and governmental workers. While the ruling is a positive move, it will not result in the CSO receiving funds requested in 2018. As Mada Masr states, the decision will have no effect in practice as the donors had already withdrawn the funds because of the delays. There have been other similar cases prior to this, including a ruling issued nearly three years ago regarding a fund granted to the Egyptian Organisation for Human Rights, obliging the Social Solidarity Ministry to approve funding from an American donor. But as Nasser Amin, the director of the Arab Center for the Independence of the Judiciary and the Legal Profession states:
"These delays [restricting access to resources for civil society] are an "indirect mechanism to disrupt civil society's work, because filing a lawsuit against the rejection of grants takes years, a time in which the funds are frozen, which leads donors to transfer the funds to support other institutions in order to quickly achieve their goals."
With regard to the legislative changes, the new draft of the personal status law was denounced by civil society in the country. On 13th March 2021 a campaign was launched by Women and Memory using #guardianship and #myright. The Egyptian Center for Women's Rights (ECWR) issued a statement on the draft of the Personal Status Law rejecting it in form and substance. The statement said that the draft effectively retracts women's legal standing and reduces them to "machine[s] for birthing children."
يرفض المركز المصري لحقوق المرأة مسودة قانون الأحوال الشخصية شكلا وموضوعا، ففي قراءة أولية لمسودة قانون الأحوال الشخصية التي نشرت بالأمس ٢٣ فبراير، وأشارت إلى أنها صادرة عن مجلس الوزراء نجد أنها صادمة ولا تتناسب مع مقتضيات العصر حيث تستند على أفكار فقهية منغلقة ومتشددة

— ECWR (@ECWREgypt) February 24, 2021
Expression
During the reporting period the following violations pertaining to freedom of expression took place:
On 13th April 2021, woman human rights defender and journalist Solafa Magdy and her husband Hossam Saiad were released from prison under precautionary measures. Solafa Magdy had been held in preventive detention since 26th November 2019. The State Public Prosecution accused her of 'joining an illegal organisation', 'misuse of social media' and 'spreading false news'.
Journalists Solafa Magdy and Hossam al-Sayyad were released from prison on Wednesday morning after nearly a year and a half in remand detention. Read our January profile for more on the couple and their case: https://t.co/yLA0kzZh0K pic.twitter.com/eeS8VJFxlo

— Mada Masr مدى مصر (@MadaMasr) April 14, 2021
On 17th March 2021, the Criminal Court of Cairo sentenced film editor Sanaa Seif to 18 months' imprisonment on charges of 'spreading false rumours about the spread of COVID-19 in the Egyptian prisons' and 'the misuse of social media'. Amnesty International's Deputy Director for the Middle East and North Africa, Amna Guellali said:
"Today's verdict is yet another crushing blow for the right to freedom of expression in Egypt. The Egyptian authorities have yet again demonstrated their unrelenting intent to punish any criticism of their dismal human rights record."
"Instead of ordering investigations into the assault against Sanaa Seif and her family on 22 June 2020 in full view of security forces, Egyptian authorities arbitrarily arrested her and have now imprisoned her on bogus charges stemming purely from her peaceful criticism, including expressing concerns for the lives and health of detainees crammed into Egypt's notoriously overcrowded and dirty prisons amid the spread of COVID-19.The Egyptian authorities must immediately release Sanaa Seif and urgently open an investigation into the violent assault on her and her family, including the complicity of security forces in the attack."
#Egypt: A Cairo court sentenced Activist Sanaa Seif, who is also journalist @alaa Abdelfattah's sister, to 18 months in prison after convicting her of spreading false news and insulting a police officer. She is detained since June 2020. https://t.co/kgc4UsO1O6

— CPJ MENA (@CPJMENA) March 18, 2021
On 7th March 2021, three journalists, Mostafa Sakr, Islam el Kalhy and Hassan Qabbani were granted a conditional release after spending two to three years in remand detention without trial.
3 journalists were ordered conditionally released today, hours after Diaa Rashwan, pro state candidate seeking reelection as head of press syndicate promised "good news". Mostafa Sakr, Islam el Kalhy and Hassan Qabbani had spent 2-3 years in remand detention without trial #Egypt

— hossam bahgat (@hossambahgat) March 7, 2021
Yet despite those released, violations of freedom of expression and access to information continue, especially against journalists. As documented by Mada Masr, journalist Hassan al-Banna has forcibly disappeared after being detained by the National Security Agency upon his arrival at Cairo airport on 18th April 2021, following his deportation to the country by Jordanian authorities.
According to a report by SMEX, the situation in Egypt has become more critical amid the COVID-19 pandemic, as arrests by authorities have targeted journalists, doctors and social media users who are falsely accused of disseminating misinformation about the pandemic.
However, joint efforts by human rights groups continue, despite the arbitrary arrests being made against human rights defenders. On 14th April 2021, 74 human rights groups issued a joint statement calling for the immediate release of 29-year-old student and researcher Ahmed Samir Santawy. Santawy has been arbitrarily detained since 1st February 2021 on bogus terrorism-related charges. The groups also called on the authorities to ensure prompt, independent, impartial, transparent and effective investigations into allegations of Santawy's being subjected to enforced disappearance and ill-treatment by security forces following his arrest.
Amnesty joins 73 other organizations to call on @AlsisiOfficial to release @CEU Masters student Ahmed Samir Santawy. He is detained solely because of his academic work on women's rights including the history of reproductive rights in Egypt #FreeAhmedSamir https://t.co/mff55A30fQ pic.twitter.com/TMVzQKHWQa

— Amnesty MENA (@AmnestyMENA) April 14, 2021