Honduras: attacks on Garífuna human rights defenders continue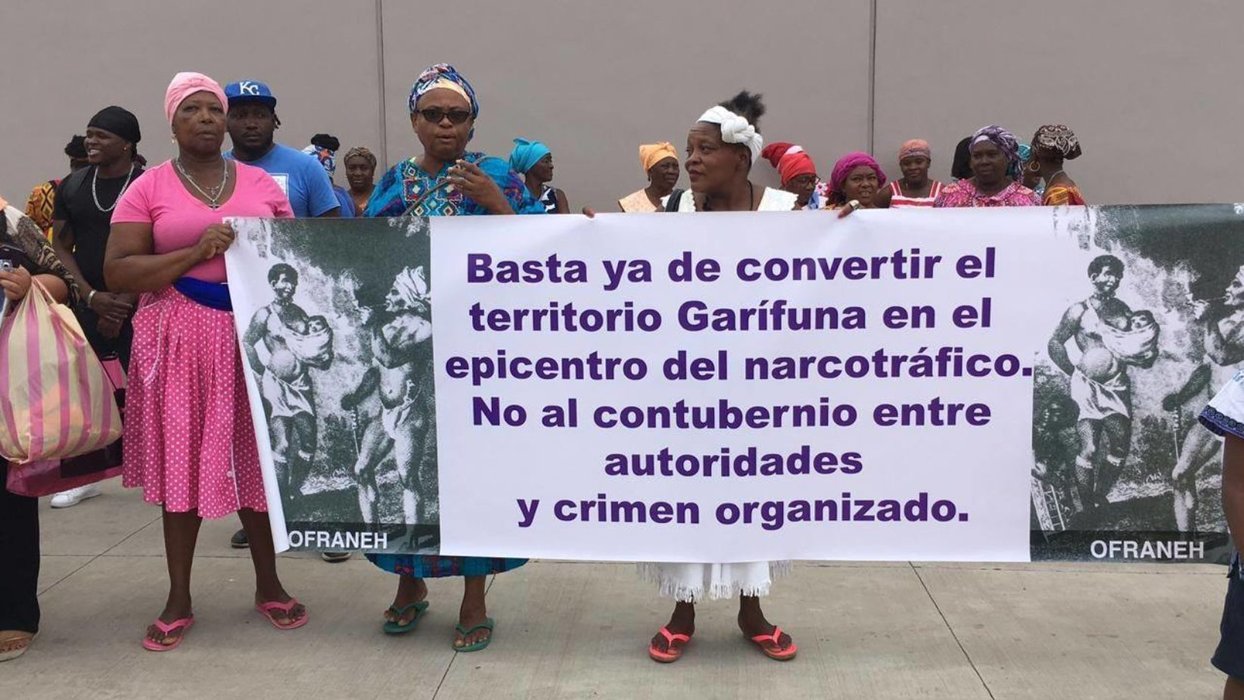 Association
Comunicado del Comité de Defensa de Tierras de la Comunidad de Punta Gorda, exige inmediata liberación de #MelisaMartines y demás miembrxs de su comunidad
🧵 pic.twitter.com/N8CxGx9glJ

— ofraneh (@ofraneh) November 8, 2022
Alfredo López Álvarez, a Garífuna human rights defender and member of the Triunfo de la Cruz Land Defence Committee, was threatened during the Central America Donors Forum 2022 in October 2022. López Álvarez disclosed to Criterio.hn that he was told he had "24 hours to leave" his community. The threat is reportedly related to a land dispute between the Triunfo de la Cruz Garífuna community and residents of the private condominium Playa Escondida. The defender won a case against the State of Honduras before the Inter-American Court of Human Rights in February 2006 for violations of his rights following an arbitrary detention which resulted in the deprivation of his liberty in a detention centre for 6 years and 4 months.
On 7th November 2022, Honduran police and armed forces violently evicted people in Punta Gorda from their ancestral lands in Roatan, the Bay Islands. Punta Gorda was the country's first Garífuna community, founded in 1797. During the eviction, police burned the community's structures and reportedly beat several people, leaving 15 with serious injuries. Six people were arrested, including Melisa Martinez, the local representative of the Black Fraternal Organization of Honduras (OFRANEH). The six detainees were charged with aggravated usurpation and conditionally released pending an initial hearing.
Expression
Condenamos enérgicamente el asesinato del joven periodista Edwin Josué Andino y exigimos que su muerte no quede en impunidad.@MP_Honduras @PoliciaHonduras @ACNURhonduras @LTV_Honduras @RoqueNatalie @sip_oficial pic.twitter.com/nJKXVikTYp

— CPH Honduras (@ColegioPeriodi1) October 10, 2022
On 10th October 2022, unidentified individuals dressed in police uniforms kidnapped journalist Edwin Josué Andino from his home in Tegucigalpa and later shot and killed him. As reported by the Committee to Protect Journalists (CPJ), Andino's body was found on the street near his home, with his mouth taped shut and gunshot wounds to his face. His father was also abducted; he was found shot and killed in a different neighbourhood of the city. Andino, who was 23-years-old, had graduated from journalism school in 2021 and worked as a producer for afternoon shows on the national La Tribuna TV (LTV) station.
According to news reports, the Honduran National Police said the circumstances indicated that the murders were perpetrated by organised crime. Preliminary reports concluded that there is a pattern of execution where assailants enter a house and take the victims without alerting their neighbours. Later in October, police arrested several people with alleged ties to the Barrio 18 gang who are connected to the killing of Andino and his father.
New government body sparks concern
📌Pronunciamiento| El #CONADEH pide estar alerta ante posibles restricciones a la libertad de expresión. pic.twitter.com/HcrDWIQ73e

— CONADEH-La Defensoría Del Pueblo (@CONADEH) October 14, 2022
On 19th September 2022, the government issued executive decree PCM 023-2022 creating a General Directorate of Information and Press under the Strategic Planning Secretariat. The decree states that the body's attributions include, among other things, "conducting permanent monitoring and diagnosis of all conventional and alternative media operating in the country" and "daily monitoring and analysis of the different news items related to the actions of the Government of the Republic."
The Committee for Free Expression (C-Libre) expressed concern about the decree, saying it was issued without transparency and coordination with civil society, media groups and other relevant organisations. The organisation called on the government to repeal the decree, and said such a body would have a direct impact on the right to receive timely, reliable and politically unbiased information. C-Libre outlined concerns about the body's stated functions, arguing that attributions such as "monitoring" are vaguely defined in the decree and may promote government control of information and a climate of censorship. Similarly, the National Commissioner for Human Rights (CONADEH) called for vigilance against possible restrictions on freedom of expression resulting from the decree.
Report on FOE
On 30th August 2022, C-Libre published its annual report on freedom of expression in Honduras. The organisation registered 96 complaints of violations and restrictions on freedom of expression in 2021, a reduction of 32.4% compared to the previous year. Attacks on journalists, media workers and human rights defenders was the top violation documented in 2021, accounting for almost 60% of complaints. Restrictions on access to public information were also frequent which, according to C-Libre, contributed to a climate of misinformation and government control over the information available to the population.