Honduras among the most dangerous countries in the world for environmental defenders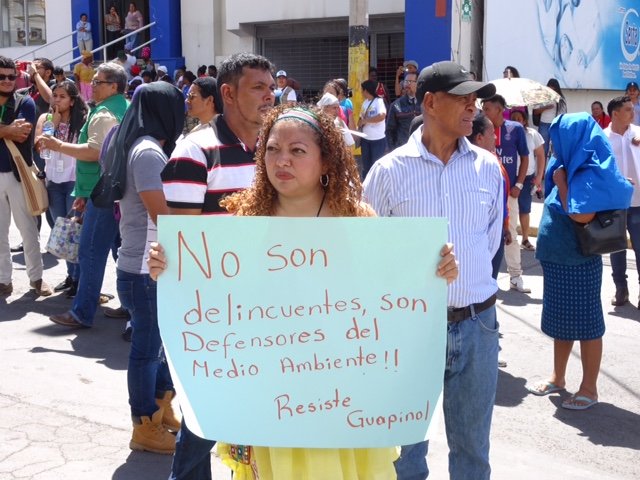 Association
Developments on Guapinol case
🛑🛑#ALERTA #GUAPINOL
Sala de lo Penal de la CSJ amplia prisión preventiva arbitraria de los defensores de Guapinol y Sector San Pedro.

🔺Nos avisan horas antes de la audiencia de proposición de pruebas para su próximo juicio.

🔺Mas detalles pronto#GuapinolResiste pic.twitter.com/YdzI7kQzh6

— Guapinol Inocente ¡exigimos #Libertad! (@guapinolre) August 26, 2021
1st September 2021 marked exactly two years since eight members of the Comité Municipal de Defensa de los Bienes Comunes y Públicos (Committee for the Defence of Common and Public Assets - CMDBCP) were detained for defending protected water sources and natural resources in danger of mining-related contamination. At the end of August 2021, the Criminal Chamber Supreme Court extended the eight defenders' pre-trial detention for another six months. The extension was requested by the Attorney General because the legal duration of the preventive measure against the defenders was two years, and their trial has not yet been scheduled.
The court ruling was condemned by the Committee and by CONADEH, Honduras' National Human Rights Commission. The Commission called on authorities to respect the calls of the United Nations Working Group against Arbitrary Detention for the defenders' immediate release, noting that the Group's analysis of their case found their detention to be arbitrary.
In September 2021, feminist network IM-Defensoras also warned that human rights defender Juana Ramona Zuñiga with the CMDBCP had been subjected to intimidation and surveillance from the National Police. According to the civil society group, on 11th September 2021 police officers conducted three patrol missions in the Guapinol community and, during those missions, twice went by Zuñiga's house to ask after her. They claimed to be under orders from the country's protection mechanism to visit the defender's house as a security measure. However, when contacted, the protection mechanism denied having sent anyone. IM-Defensoras said this was irregular activity by police officers, as neither the defender nor her organisation had requested protective measures.
Land and environmental defenders under threat
On 13th September 2021, Global Witness published "Last line of defence", a report on attacks against land and environmental defenders. The organisation said Honduras was one of the five countries in the world where they recorded the highest number of killings of these defenders in 2020. At least 17 land and environment defenders were killed in Honduras, making it the Central American country with the highest number of killings. Almost three out of four attacks recorded by the organisation took place in the Americas. In terms of killings per capita, Honduras came behind only Nicaragua compared to all other countries worldwide. Over a third of the attacks were reportedly linked to resource exploration, including logging, mining, large-scale agribusiness as well as hydroelectric dams and other infrastructure.
Peaceful Assembly
Así estuvo la protesta en el bicentenario de Honduras - https://t.co/e5SuJz6LQz pic.twitter.com/nTNcsFNybf

— Criterio.hn (@criteriohn) September 16, 2021
On 15th September 2021, on the day of the bicentennial of Honduras' and other Central American countries' independence from Spain, hundreds of people protested against the government. They argued that "there's nothing to celebrate", highlighting mismanagement of the pandemic, cases of corruption and extractive projects conducted without the approval of communities. Several people held banners demanding that the government revoke a law which created special economic zones known as ZEDEs (Zonas de Empleo y Desarrollo Económico). In Tegucigalpa, a military parade organised by the government to celebrate the bicentennial took place in parallel with the protest.
Expression
#Honduras Diferentes radios comunitarias adscritas a La Asociación de Medios Comunitarios de Honduras (AMCH),se presentaron frente a la Comisión Nacional de Telecomunicaciones de Honduras (CONATEL) por actos de persecusión.https://t.co/gm2hut0Gw4

— Voces Diario Digital (@vocesdiarioSV) August 30, 2021
On 30th August 2021, community radio stations affiliated with Asociación de Medios Comunitarias de Honduras (AMCH) said that the National Telecommunications Commission (CONATEL) had been monitoring and harassing them with the intention of shutting down their operations. In a statement, AMCH said the regulating body had denied licensing to community radios run by Indigenous peoples, claiming that the radio spectrum was saturated. However, the same body has provided licences to other media outlets. AMCH also highlighted the case of Radio Azacualpa, run by Lenca women, which has reportedly faced harassment and threats of closure.