Harassment of activists, critics persist in Malaysia as new Prime Minister comes to power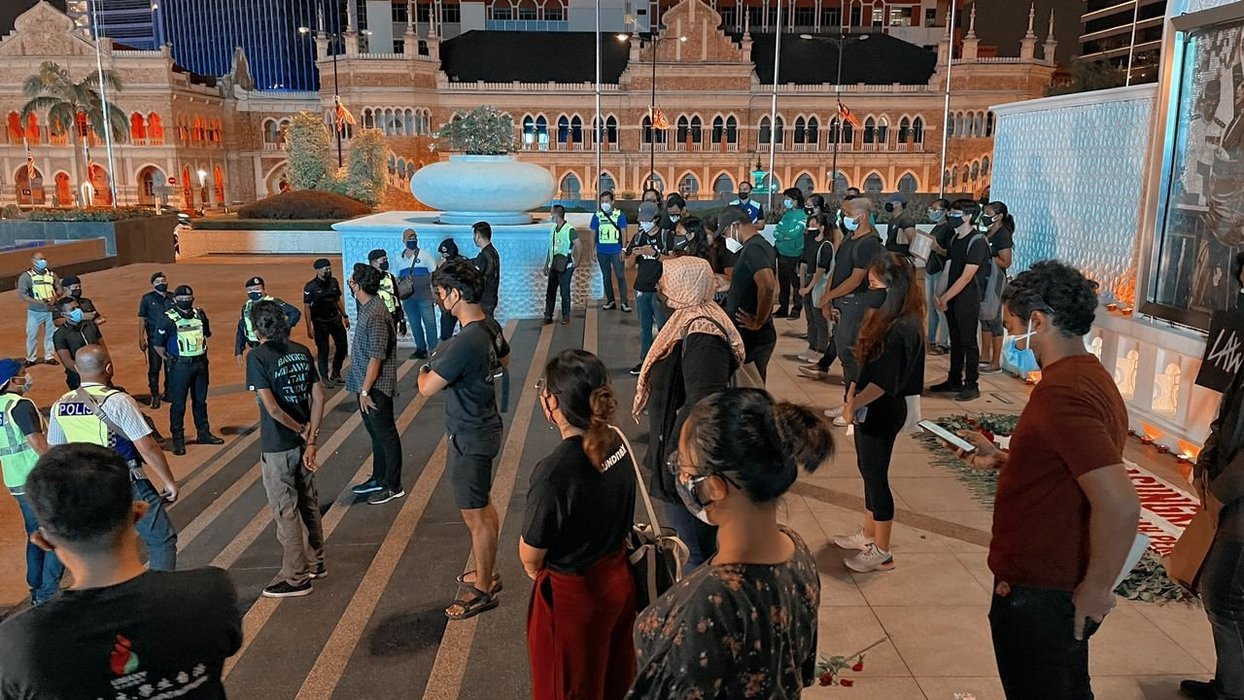 Facing increasing political pressure, Prime Minister Muhyiddin Yassin and his cabinet resigned on 16th August 2021, ending his 17 tumultuous months in office. Muhyiddin's government has been characterised by the continuous harassment of rights defenders and civil society.
Ismail Sabri of the United Malays National Organisation (UMNO) was named the new Prime Minister. UMNO was the main political party of the Barisan Nasional coalition, which dominated politics until 2018. Ismail Sabri also served as the Deputy Prime Minister under the Muhyiddin administration.
Civil society has highlighted that despite the change in leadership, Sabri's appointment only represents a continuation of the previous government, particularly its crackdown on fundamental freedoms.
In September 2021, international human rights organisations - ARTICLE 19 and CIVICUS - called on the new government of Malaysia to implement a comprehensive programme of reform to strengthen human rights in Malaysia, especially the rights to freedom of expression, association and peaceful assembly, as a prospective member of the UN Human Rights Council.
Civil society groups have raised concerns about a bill to establish an Independent Police Conduct Commission (IPCC). The bill contains flaws that would undermine the functions of the proposed oversight body and render it completely irrelevant and a waste of public funds.
In recent months, the government has continued to use repressive laws against peaceful protesters and activists. These include the ongoing use of the Penal Code, Sedition Act and Section 233 of the Communications and Multimedia Act 1998 (CMA). #Lawan activists have continued to face judicial harassment while peaceful protesters involved in a candlelight vigil were dragged to police cars and restricted access to lawyers. Some were also threatened. Opposition parliamentarians were blocked by police from marching to parliament, activist Fahmi Reza was arrested for his artwork critical of the Prime Minister, while the CMA has also been used against those criticising politicians and royalty.
Peaceful assembly
Judicial harassment of peaceful protesters and #Lawan activists and monitors
#Lawan activist nabbed under Sedition Act, as three others questioned by cops https://t.co/t3WYTwjIj2

— Malay Mail (@malaymail) July 29, 2021
The organisers and participants of #Lawan ('fight' in Malay) have continued to face judicial harassment and intimidation. As previously documented, activists from the coalition Sekretariat Solidariti Rakyat (SSR) were investigated and fined for a 17th July protest. From July to September 2021, activists were repeatedly called in for questioning for their peaceful protests.
On 29th July 2021, Muhammad Alshatri, Tharma Pillai and Afiq Adib from the SSR coalition were investigated under Section 505(b) of the Penal Code and Section 233(1) of the CMA. Section 505(b) of the Penal Code criminalises 'making statements conducive to public mischief', while Section 233(1) refers to the sharing of offensive content. The investigation was related to a protest planned for 31st July, and social media posts reiterated their calls for the resignation of the Prime Minister, the opening of Parliament and ending the state of emergency.
On the same day, Sarah Irdina Mohamad Ariff from MISI: Solidariti youth collective was arrested under Section 4(1) of the Sedition Act 1948 over social media posts by the collective on the #Lawan movement. Her phone was confiscated and a search warrant was issued to raid her house. She was released after being questioned for ten hours over allegations of sedition and violations of the CMA.
Youth call for PM's resignation at #Lawan protest https://t.co/fpY0KRD7Hs pic.twitter.com/6afhnPkIKR

— TheMalaysianInsight (@msianinsight) July 31, 2021
An estimated 400 people attended the 31st July 2021 protest in the capital, Kuala Lumpur. During the protest, the Centre of Independent Journalism (CIJ) observed police blocking protesters, photographing them and setting up barricades. A low flying helicopter and drone were also seen, raising fears of surveillance. The protest remained peaceful, and CIJ stated that protesters followed standard operating protocols (SOPs).
A joint civil society monitoring report on the 31st July protest highlighted police intimidation, the lack of compliance by the media with SOPs, and harassment before and after the protest. The report noted that the participants were unable to head to the planned site at Dataran Merdeka after police blocked it with barricades and police cars.
On 1st August 2021, police said they had identified 29 participants in the protest and that they would face investigation for violating Act 243 and Regulation 17(1) of the Infectious Diseases Prevention and Control Regulations, Measures in Local Areas of Infection (National Rehabilitation Plan) 2021 and other related legislation. On 2nd August 2021, eleven participants from the SSR in the protest were questioned around the protest. The following day, ten others including Malaysian United Democratic Alliance (Muda) activists were questioned by police. All in the group were questioned for more than two hours at the Dang Wangi district police headquarters.
#Malaysian cops visit homes of several #Lawan participants, questioned their family members, despite activists cooperating in police probe. #Lawan organisers decried the police visits, calling it a form of "unethical intimidation." https://t.co/kSZsVHgfLC

— Amy Chew (@1AmyChew) August 4, 2021
On 4th August 2021, in a blatant attempt to intimidate peaceful protesters, police visited the home or office of at least 15 individuals – both protest organisers and activists - who participated in the #Lawan rally in Kuala Lumpur. Among those visited by police are SUARAM Executive Director Sevan Doraisamy, SUARAM Coordinators Muhammad Alshatri and Azura Nasron, Undi18 co-founder Qyira Yusri, and the Malaysia United Democratic Alliance co-founders Amir Abdul Hadi, Dr Thanussha Francis Xavier, and Dr Mathen Nair.
Police also harassed bodies that were monitoring the protest including the Bar Council and the national human rights commission, SUHAKAM. Two SUHAKAM commissioners were called in on 5th August for police questioning under Section 21A of the Prevention and Control of Infectious Diseases Act 1988 and the Peaceful Assembly Act.
On 13th August 2021, seven activists affiliated with the Sekretariat Solidariti Rakyat (SSR), which organised the previous #Lawan protest, were questioned under the Sedition Act and Section 233 of the CMA, for planning a second #Lawan protest scheduled for 21st August 2021. These activists were Mohammad Asraf Sharafi, Mohamad Abdullah Alshatry, Qyira Yusri, Tharmalinggam Pillai, Dobby Chew, Sarah Irdina, and Amir Abdul Hadi. The planned protest was subsequently cancelled following the resignation of the Prime Minister.
Seven activists probed for sedition over planned second #Lawan protest https://t.co/APhmp7Wrmt

— malaysiakini.com (@malaysiakini) August 13, 2021
Despite the cancellation of the 21st August protest, the police closed off traffic at 88 intersections in the capital. The police also obtained a court order preventing the participation of 34 individuals, who had all been questioned following their participation in the 31st July protest. The court order included the personal information of the individuals, including identification numbers, raising criticism of privacy violations.
The police continued to investigate the seven activists questioned on 13th August. On 4th September, the activists were questioned under the Sedition Act. Mohamad Abdullah Alshatry shared that police had questioned them for an hour and seized their mobile phones.
Vigil participants arrested
We are now being asked to moved and Nalina and Yee Shan are being dragged away by force. #LAWAN pic.twitter.com/TsMaeGmWZU

— Sarah 🏴 (@sunflwrsarah) August 19, 2021
On 19th August 2021, police arrested 31 participants who took part in a candlelight vigil for COVID-19 victims at Dataran Merdeka, Kuala Lumpur. Less than an hour into the event, police obstructed the vigil. Participants said police refused to give grounds for their arrest. Police were captured in photos and video dragging participants into police trucks. A participant, Chong Yee Shan, claimed that she was injured when five police officers dragged her to a police vehicle.
The police also seized mobile phones and restricted access to lawyers by those detained. The participants were later fined RM 2,000 each (479 USD).
Two SSR activists, Nalina Nair Rama Krishnan and Sujatra Jayaraj, were among the 31 participants taken. Both were subsequently charged for 'rioting' and 'disorderly conduct' on 26th August and have claimed trial. Nalina, in her tweets, decried the accusations as intimidation.
Following the arrests, the Human Rights Commission of Malaysia (SUHAKAM) released a statement, citing concerns on the excessive response of the police to protesters, and calling on them to respect the people's right to peaceful assembly. SUHAKAM stated that the arrests of the youths in the candlelight vigil and the closing of roads in response to the second cancelled #Lawan protest were not in line with the role of the state as the duty-holder.
Parliamentarians blocked by police
KL police chief: Cops not there to stop MPs entering Parliament, only to stop 'illegal rally' https://t.co/x9kaQtJbHd

— malaysiakini.com (@malaysiakini) August 2, 2021
On 2nd August 2021, an estimated 100 opposition Members of Parliament (MPs) attempted to march to the parliament building. The opposition politicians had gathered in Merdeka Square to protest the closure of the parliament ahead of a crucial session and amid rising political tension over the government's handling of the COVID-19 pandemic.
However, they were blocked by police in riot gear, with shields and batons. A line of Federal Reserve Unit (FRU) officers formed a human barrier in front of the road leading to Parliament and a police officer standing on top of a FRU truck announced to the crowd of MPs and press members that no one would be allowed to pass.  The Parliament session on the day had earlier been cancelled after 11 politicians and staff tested positive for COVID-19.
Expression
Parliament restricts media access
Azhar Harun, the Dewan Rakyat Speaker, announced on 8th September 2021 that only 16 media agencies would be allowed to cover the 13th September 2021 proceedings from inside the parliament. The Speaker did not give any reasons for the move. Those excluded from the list included New Straits Times, Malay Mail, The Vibes, The Malaysian Insight and Free Malaysia Today. The New Straits Times claimed that it was the first time in their 176-year history that they were denied entry to the parliament for a Dewan Rakyat sitting.
Following this announcement, media advocacy groups released a statement calling for 'fair and equal media access'. In a joint statement, the Centre for Independent Journalism (CIJ), Gerakan Media Merdeka (GERAMM) and the National Union of Journalists of Malaysia (NUJM) said that efforts to restrict media from the sitting, particularly at a time when matters of reforms and governance were being discussed, would be detrimental to press freedom. The statement further raised the 'undue restrictions' that it said authorities continued to impose on the media and emphasised the importance of its role in a healthy democracy.
Activist arrested for satirical poster
Fahmi Reza freed after police questioning over satirical Keluarga Malaysia artwork https://t.co/9UyiVWmpU7

— TheMalaysianInsight (@msianinsight) October 4, 2021
On 4th October 2021, activist and graphic artist Fahmi Reza was arrested over a satirical poster he made on "Keluarga Malaysia", the tagline of Prime Minister Ismail Sabri Yaakob's government. Fahmi had posted the satirical poster on Twitter. He was questioned by police and later released on police bail. Police also seized his phone.
Fahmi is being investigated under Section 233 of the CMA for the improper use of network facilities, which carries a fine of up to RM 50,000 (USD 11,986) or imprisonment of up to a year or both. Fahmi is also being investigated under Section 504 of the Penal Code for 'intentional insult with intent to provoke a breach of the peace' which carries a punishment of up to two years or a fine or both.
The third law is under Section 14 of the Minor Offences Act 1955. The provision states "any person who uses any indecent, threatening, abusive or insulting words, or behaves in a threatening or insulting manner, or posts up or affixes or exhibits any indecent, threatening, abusive or insulting written paper or drawing with intent to provoke a breach of the peace, or whereby a breach of the peace is likely to be occasioned, shall be liable to a fine not exceeding RM100".
Fahmi has faced systematic harassment from the police for his activism and artwork. In April 2021 he was arrested for allegedly insulting the country's queen by uploading a Spotify playlist that seemingly mocked comments on the queen's Instagram account. In March 2021 he was also investigated by the police over two caricatures of the health minister. In 2018, he was sentenced to a month's jail and a fine for his caricature of former Prime Minister Najib Razak.
Individuals arrested for criticising politicians and royalty
Four individuals were arrested in August 2021 and investigated for criticising Kedah chief minister Muhammad Sanusi Md Nor, over his comments telling reporters to "sign up to get into containers for the COVID-19 dead" when the reporters asked about the situation around the pandemic. The four are being investigated under Section 504 of the Penal Code, Section 233 of CMA 1998 and Section 14 of the 1955 Minor Offences Act.
Sanusi was responding to questions during a press conference about the status of shipping containers for dead bodies due to COVID-19, following space shortage in the morgue in the Sungai Petani Hospital. He replied, stating that there were enough containers and those who would like to enter can provide their names.
On 17th August 2021, four individuals were charged under Section 233 of CMA for the improper use of network facilities after they retweeted a photo and text that allegedly insulted Melaka state governor Mohd Ali Rustam. The four had shared a tweet showing a picture of the governor visiting what was said to be a village gymnasium where Filipino athlete Hidilyn Diaz had trained. The prosecution argued that the tweets had been shared with the intent to annoy or harass another person.
A housewife in Kuala Lumpur was fined RM 10,000 (2,397 USD) on 24th August for making seditious and insulting remarks against the King, ministers and royalty. The woman, who posted on Twitter, was charged under the Sedition Act and CMA. On 13th September, a man was charged under Section 233(1)(a) of the CMA in the Ayer Keroh Sessions Court for 'making and posting disparaging remarks against the royal rulers and Islamic religion' on Facebook.
Refugee activist Heidy Quah seeks court order against CMA provisions
Refuge for Refugees founder and activist Heidy Quah Gaik Li is suing the government over parts of Section 233 of the Communications and Multimedia Act. Quah filed a civil lawsuit at the Shah Alam High Court on 16th September seeking a court order to invalidate the words "offensive" and "annoy" in Section 233 of the law. This section criminalises online content that is considered "obscene, indecent, false, menacing or offensive" with "intent to annoy, abuse, threaten or harass another person".
Heidy Quah is currently facing charges in terms of the same law. On 27th July 2021, she was charged under the CMA for comments posted on Facebook on June 2020, alleging ill-treatment of refugees and poor conditions at immigration detention centres. Prosecutors argued that she had posted the comments with the intent to insult others. She pleaded not guilty and was granted bail of RM 2,000 (479 USD). If found guilty, she faces a fine of up to RM 50,000 (11,986 USD) and up to a year in jail, or both.
Since it was adopted in 1998, the CMA has emerged as one of the greatest threats to freedom of expression in Malaysia. The CMA contains many provisions that are incompatible with international human rights law. Along with the Sedition Act, the CMA was one of the primary laws used by previous governments to target human rights defenders and political opponents.
Association
Environmental activist receives threat
The UM student union has condemned the alleged threats intended to stop environmental activist Shakila Zen from speaking up.

Shakila reportedly received an anonymous package containing a letter threatening an acid attack & a replica of a severed hand.https://t.co/8pElLzX1VA

— malaysiakini.com (@malaysiakini) September 2, 2021
On 30th August 2021, environmental activist Shakila Zen received a package containing a letter containing threats of an acid attack and a replica of a severed hand with fake blood. The next day she received a sexually explicit message over WhatsApp containing an indecent poster of her and her personal information.
She attributed the harassment to a video of her discussing the 31st July #Lawan rally. The video went viral on the Tiktok app.
Sekretariat Solidariti Rakyat (SSR) and the Youth Cluster of the CSO Platform for Reform released statements condemning the harassment against Shakila Zen and other youth activists speaking out against the government.
Report raises online challenges for the LGBTIQ community
A joint report by OutRight Action International, the Citizen Lab and the Open Observatory for Network Interference (OONI) titled ' NO ACCESS LGBTIQ Website Censorship in Six Countries' looked at six countries where challenges in digital environments remained prevalent for the LGBTIQ community.
In its chapter on Malaysia, the report looked at how the country's practice of Islam has led to the denial of rights of the LGBTIQ community. Religious fundamentalists have also targeted LGBTIQ social users, resulting in a climate of self-censorship among the LGBTIQ community. Vague provisions in Section 233 of the CMA have been used against LGBTIQ sites. In-country experts suggest that the more visibility LGBTIQ content receives, the more likely the authorities are to censor it. LGBTIQ sites appear to have been blocked in Malaysia starting from 2018.
The countries identified in the report, aside from Malaysia, were Indonesia, Iran, Russia, Saudi Arabia and the United Arab Emirates (UAE). In these countries, governments have imposed methods of censorship and LGBTIQ individuals have faced online threats and reprisals.