Haitian journalists faced with spiralling violence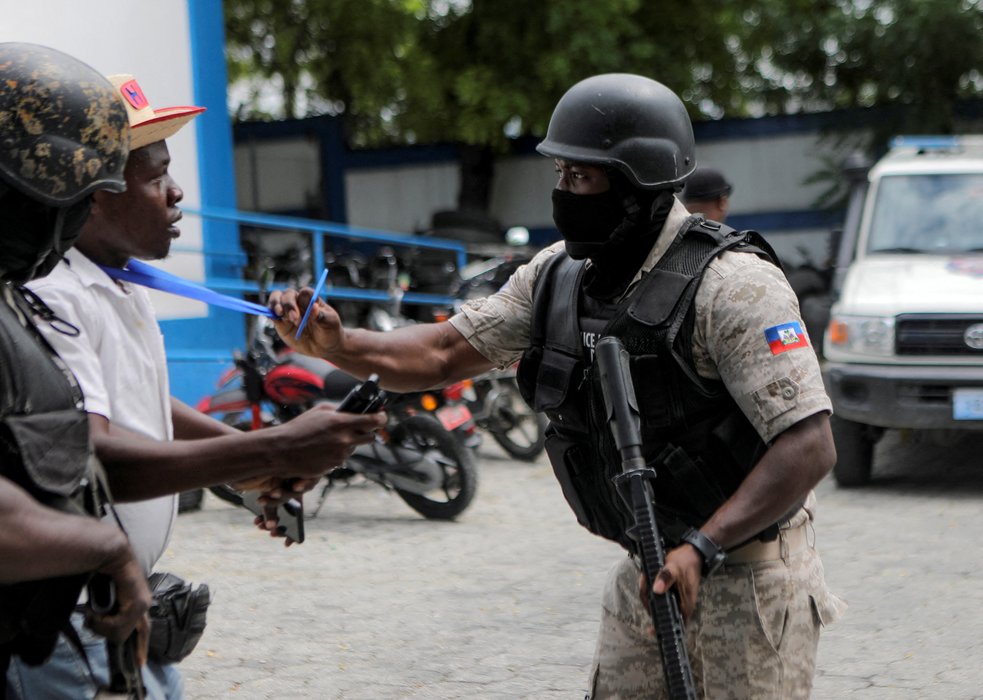 Expression
Insecurity and violence continued to affect the daily lives of press workers in Haiti, some of whom reported facing attacks not only from criminal gangs but also from Haitian security forces. The situation led international organisations such as Reporters Without Borders (RSF) to call for urgent measures to ensure that media personnel are able to work safely without being targeted. In December, the Inter American Press Association (IAPA) stated that nine Haitian journalists were murdered in 2022, making Haiti the second country hardest hit in the Americas by violence against the press.
Violent October for Haitian journalists
#Haiti🇭🇹: Very sad news - Journalist Romelson Vilcin was killed by police while demanding a colleague's freedom. He is the 6th journalist to be killed in 2022 in the country. Crimes against journos must not go unpunished #EndImpunity @FIP_AL https://t.co/7U6lBHwuRD

— IFJ (@IFJGlobal) November 2, 2022
On 24th October 2022, authorities in Les Cayes confirmed that they had found the body of radio commentator Garry Tess, who had been missing since 18th October 2022. He was a lawyer who also worked as a political analyst and hosted the radio programme "Gran Lakou" on Radio Lébon FM in Les Cayes.
On 25th October 2022, investigative journalist Roberson Alphonse survived a shooting attack on his car in Port-au-Prince. He was wounded in both arms during the attack, which left more than ten bullet holes in his car. Alphonse works as news editor for newspaper Le Nouvelliste and information director at radio broadcaster Magik9.
On 30th October 2022, journalist Romelson Vilcin was killed while protesting the arrest of another journalist. About a dozen journalists had gathered outside a police substation in Port-au-Prince to call for the release of Robest Dimanche of Radio Tele Zenith, who had been detained while covering another protest on the same day.
According to the Association des journalistes haïtiens (Association of Haitian Journalists - AJH), members of the Haitian National Police fired tear gas and used live ammunition against the protesting journalists, also beating some of them with sticks. Vilcin was reportedly hit in the head with a tear gas cannister and died some hours later from the injuries he had sustained. Several other journalists were injured and had their equipment confiscated. Dimanche said he was released after being held for ten hours by police officers, and planned to file a complaint against the officers who detained and assaulted him.
Vilcin was a correspondent for Génération 80, a radio station based in the northwestern city of Port-de-Paix and worked with independent online outlets Jim Studio and Zenyez TV. The AJH condemned the violence against the press and called on authorities to identify those responsible for the brutal repression and for Vilcin's killing.
Radio journalist killed in armed attack
Haitian radio journalist Francklin Tamar shot, killed in Port-au-Prince, Haitihttps://t.co/ifSGgCohMX

— Committee to Protect Journalists (@pressfreedom) December 24, 2022
On 18th December 2022, radio journalist Francklin Tamar was shot multiple times by two assailants on a motorcycle, on a street near his home in Port-au-Prince. Tamar was struck twice and died on his way to the hospital. He was a well-known radio journalist who had covered music and culture for over two decades. Since 2015, he worked at broadcaster Radio Solidarité, where he hosted the daily cultural programme "Konpa Konpa" and "Samedi Culture," a weekly show promoting Haitian musical artists.
Peaceful Assembly
People run as police fire tear gas during a protest demanding the resignation of Haiti's Prime Minister Ariel Henry after weeks of shortages, in Port-au-Prince https://t.co/Cn5lV9AYcP 📷 Ralph Tedy Erol pic.twitter.com/jrfbyCR3pR

— Reuters Pictures (@reuterspictures) October 11, 2022
On 4th October 2022, thousands of people marched in the Haitian capital Port-au-Prince to protest against the government's handling of fuel shortages and soaring prices. The demonstrations were scheduled on the day schools were meant to re-open after a one-month postponement of the resumption of classes following the summer break. According to news reports, Haitian police fired tear gas and shot into the air to disperse the crowds.
On 10th October 2022, thousands took to the streets again to protest against the government after Prime Minister Ariel Henry asked for foreign military assistance. In Port-au-Prince, protesters erected burning barricades out of tyres and threw stones at police, who in turn fired tear gas. According to the BBC, some protesters proceeded to loot a hotel. One woman was shot and killed, reportedly by police, as they clashed with demonstrators. As reported by Le Monde and AFP, several people were injured by gunshots.
A similar protest in Les Cayes on 17th October 2022 was repressed by law enforcement. According to Le Nouvelliste, police used tear gas and firearms against protesters, leaving at least three people injured with gunshot wounds. Anti-government protests continued to take place throughout the year.
Association
In the last months of 2022, humanitarian organisations continued to face extreme challenges to maintain their operations in Haiti. Between September and October 2022, humanitarian organisation Caritas said four of their offices were vandalised and ransacked, leaving considerable material damage. On 6th October 2022, a warehouse belonging to the United Nations children's agency UNICEF in Les Cayes was ransacked. The international agency said medical and nutritional supplies, water supply repair equipment and school materials were looted.
Civil society pushes back against calls for foreign intervention
"Anyone who knows what happened in Guantanamo Bay to Haitians in the 1980s and 1990s knows we cannot allow that to repeat itself…the administration can and should welcome Haitians, just like they have welcomed Ukrainians."https://t.co/ka3NDJ6Cvf @POTUS @JakeSullivan46 @AmbRice46

— HaitianBridge (@HaitianBridge) November 7, 2022
In a letter published on 31st October 2022, more than 90 civil society organisations urged U.S. President Joe Biden to reject appeals for international military intervention in Haiti. They argued that such an intervention would "perpetuate and strengthen [Prime Minister Ariel] Henry's grasp on power, while doing little to ameliorate the root causes of today's crisis." The groups encouraged the Biden administration to instead support Haitian-led political dialogue. They also said the U.S. should enforce their laws on illicit arms trafficking, money laundering and tax evasion, with a particular focus on those actors that are contributing to the violence.  In addition, they urged the Biden administration to halt all deportations and expulsions of migrants to Haiti and to redesignate Haiti for Temporary Protected Status.
The civil society mobilisation followed the government's formal requests for foreign assistance, the UN Secretary-General Antonio Guterres' calls for immediate deployment of a special international armed force in Haiti, as well as reports that the U.S. and Canada were holding talks to discuss such a deployment. In their letter, the organisations said:
"The United States should support the Haitian people's desire for democracy, peace, and economic stability by listening to Haitian civil society and championing Haitian-led solutions, through support to peacebuilding and equitable development."
Expert expresses concern about HRDs
I am extremely concerned for the security of human rights defenders in the #Haiti. A climate of complete insecurity is pervading the country and reports I have received indicate risks for local human rights defenders have increased. @Haiti_UNOG
More info👇https://t.co/2vpCMHa0Bg

— Mary Lawlor UN Special Rapporteur HRDs (@MaryLawlorhrds) December 19, 2022
On 19th December 2022, UN Special Rapporteur on Human Rights Defenders Mary Lawlor said in a statement that she is "extremely concerned for the security of human rights defenders in Haiti." The expert reported that risks for local human rights defenders (HRDs) have increased amid a climate of complete insecurity. The current levels of violence hamper HRDs from pursuing their work, and some expressed fear that threats received in the past may be acted upon now, with no rule of law to prevent impunity or deter potential attackers. In this context, the Special Rapporteur urged Haitian authorities and the international community to do all they can to support local HRDs. In the long-term, she stated, "it is they who will be key to ending the inequality and injustice that has become the norm in the country."