Haiti: President Moïse assassinated, launching country into further uncertainty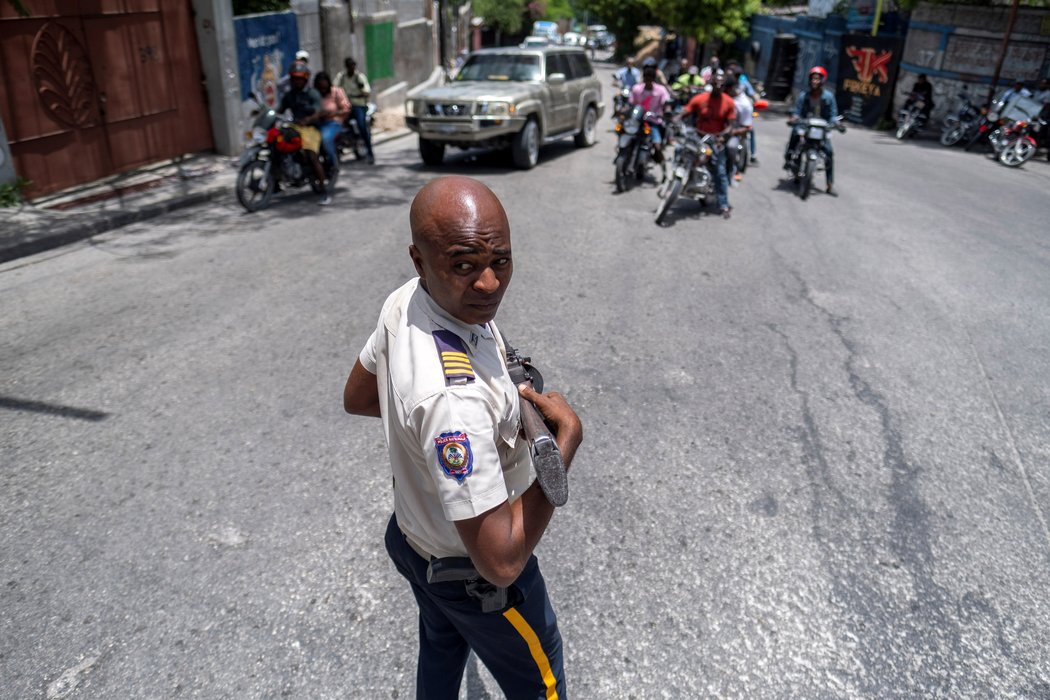 Overnight on 7th July 2021, a group of armed assassins gunned down President Jovenel Moïse after breaking into his residence in Port-au-Prince. His wife was also severely injured during the attack and had to undergo surgery. Haitian police and authorities accused a group of mercenaries which included several former military from Colombia and at least two Haitian-Americans. At least 17 people were arrested in connection with the crime.
In addition, in the days following the killing, police authorities said a US-based Haitian pastor, a private security firm, a former senator, a fired government official and a drug-dealer were among the suspects in the assassination. However, those arrested have reportedly made contradictory claims of what they were hired to do, and news outlets, Haitian leaders and analysts have raised doubts on the sprawling investigation's credibility.
As previously reported on the Monitor, Moïse's government was engulfed in an enduring political crisis and the president had been ruling by decree since early 2020. Protesters had often taken to the streets questioning the government's legitimacy, claiming that Moïse's term was meant to expire in February 2021. Legislative elections were indefinitely postponed amid disputes on the electoral process and Moïse had arbitrarily removed three Supreme Court justices recently, accusing them of conspiracy. Moïse had also been promoting a controversial constitutional referendum, which favoured concentration of presidential powers and whose vote had been postponed twice.
Against this background, the line of succession was unclear at the time of President Moïse's killing. While acting Prime Minister Claude Joseph became interim leader immediately following the assassination, just a few days earlier the president had nominated a new prime minister, who had not yet been sworn in. News outlets reported a power struggle between Joseph, nominated prime minister Ariel Henry and Senate President Joseph Lambert, until Joseph announced on 19th July 2021 that he would step down and hand power to Henry following negotiations.
While political parties in Haiti and foreign powers began publicly discussing the possibility of still holding legislative and presidential elections in 2021, some civil society groups have argued it would be difficult to hold a free and fair electoral process in this timeframe given the collapse of the country's institutions. Among the challenges are the lack of a credible voter registration process, lack of security guarantees and the lack of an independent electoral body to guarantee the transparency and fairness of results. In a statement, local and international civil society groups called for building consensus toward a transitional government.
Peaceful Assembly
En #Haiti 🇭🇹, la police a sévèrement réprimé mercredi une #manifestation appelant au départ de #JovenelMoise, qu'ils accusent de prolonger illégalement son mandat présidentiel pic.twitter.com/CiWkMEhNBW

— FRANCE 24 Français (@France24_fr) February 11, 2021
Before July 2021, thousands of anti-government protesters continued to take to the streets to demand President Moïse's resignation. As previously reported on the Monitor, the profound political crisis in Haiti had brought about frequent protests against the government since 2019. During a wave of demonstrations in February 2021, police repressed protesters using tear gas and rubber bullets. On 14th February 2021, a presumed bystander was shot during a protest and his body set on fire; witnesses claimed the attackers were members of a pro-government armed group. A protester sustained a gunshot wound during clashes between demonstrators and the police.
The secretary-general of the Association des Journalistes Haïtiens (Haitian Journalists' Association - AJH) highlighted that journalists were often among those injured in protests, saying "the frequency of attacks against journalists leaves us to think that it isn't collateral damage; we are convinced that the press is being targeted." On 8th February 2021, for example, journalists Alvarez Destiné and Méus Jeanril were shot as they covered a mass protest in Port-au-Prince. The shootings occurred as members of the Haitian National Police and the Armed Forces fired live ammunition to disperse demonstrators, according to reports.
On 3rd April 2021, hundreds of women joined a march against the proposed constitutional referendum. The demonstration also marked National Women's Day, with feminist leaders calling for the respect of women's rights as well as justice for women killed in femicides and impacted by violence.
A surge of insecurity in the country also led people to mobilise to demand action from authorities. On 15th April 2021, religious institutions, schools and businesses organised a strike to demand the release of ten people, including members of the Catholic clergy, who had been kidnapped days before.
Expression
Le 29 juin, des hommes non identifiés circulant à moto ont abattu Charles à l'entrée de son domicile. Les agresseurs ont également abattu la militante Marie Antoinette Duclair, qui se trouvait dans une voiture après avoir raccompagné Charles chez lui. https://t.co/HnzSDx6Xzo

— CPJ Américas (@CPJAmericas) July 6, 2021
On 29th June 2021, attackers on a motorcycle shot and killed political activist and journalist Marie Antoinette Duclair and journalist Diego Charles. Charles was walking to the entrance of his house and Duclair was inside her car after driving the journalist home following a meeting that both attended. Duclair, a women's rights defender and member of the opposition party Matrice Libération, co-founded news website Larepiblik Magazine. Charles worked as a reporter for the privately owned radio and television outlet Radio Vision 2000, the news website Gazette Haïti, and had also co-founded Larepiblik Magazine.
On the same night, other violent incidents left over 17 people dead. The police soon claimed Charles and Duclair's deaths were connected to these incidents and part of a wave of revenge killings by criminal gangs. However, the information was questioned by the Réseau National de Défense des Droits Humains (National Human Rights Defence Network - RNDDH), who called the assertion "hasty" and said more investigation was required to clarify these murders as well as the killings of other journalists.
Association
Haïti: MSF ferme son centre de Martissant situé en zone d'affrontement entre gangs https://t.co/mdLCpV9uVD pic.twitter.com/nM6DSBK4E6

— RFI (@RFI) June 28, 2021
On 28th June 2021, civil society organisation Doctors Without Borders (Médecins Sans Frontières – MSF) temporarily closed an emergency care centre in Port-au-Prince after an armed attack. While no one was injured during the attack, MSF evacuated its staff and patients from the emergency centre, which is located in an area where there is territorial conflict between rival gangs. In a statement a few weeks before, MSF had said the spike in violence in Haiti's capital was putting medical activities in jeopardy, warning that medical care cannot be sustained while armed clashes and robberies affect health facilities, vehicles, patients and staff. A similar incident had taken place at a different facility in February 2021.
In a separate development, land rights defender and coordinator of Action pour la Reforestation et la Défense de l'Environnement (Action for Reforestation and the Defence of the Environment - AREDE), Milostène Castin, received a death threat. According to Amnesty International, Castin was told by an affiliate of the ruling party that government officials "want him dead" because of his defence of subsistance farmers in a community facing expropriation. The land defender has faced repeated attacks and intimidation. In late 2020, armed men fired gunshots and smashed the windows of his home. Attackers also reportedly attempted to kidnap his children in 2020.
In a report published in April 2021, the Observatoire Haïtien des Crimes contre l'humanité (Haitian Observatory of Crimes Against Humanity - OHCCH) and Harvard Law School's International Human Rights Clinic alleged Haiti's government was complicit in three massacres targeting impoverished neighbourhoods between 2018 and 2020. The report points to evidence that the criminal gangs' attacks were supported by state actors, including officials in the Moïse administration.