Haiti: journalist released after 20 days in captivity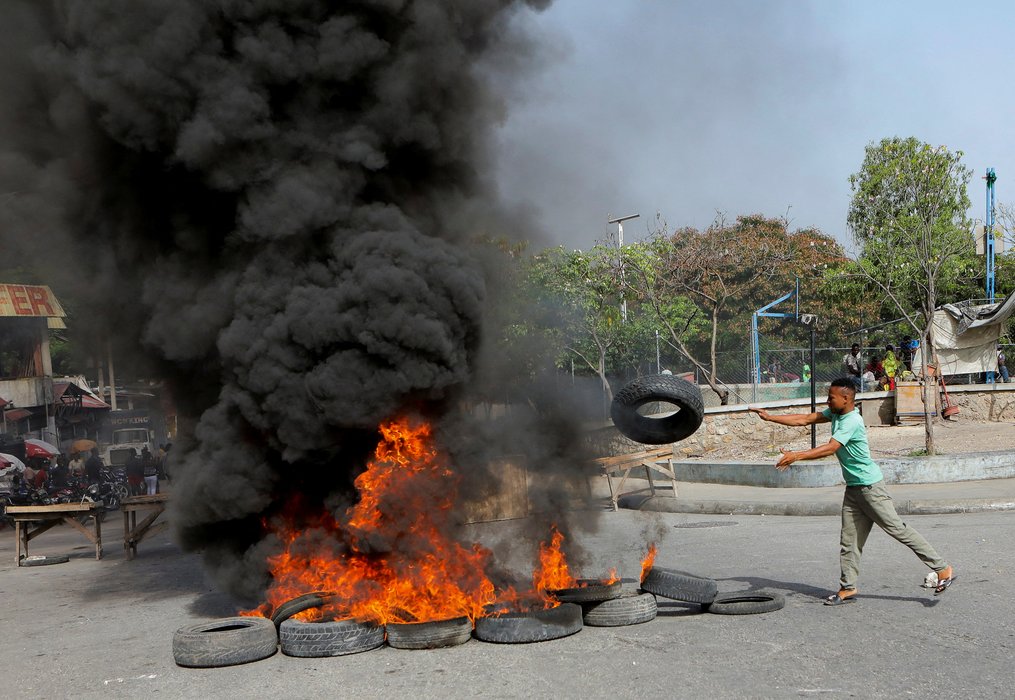 On 16th July 2022, the UN human rights office warned of worsening violence in and around the Haitian capital Port-au-Prince and an increase in abuse against vulnerable local communities at the hands of heavily armed gangs. In one incident, a criminal gang stormed the Palace of Justice in June, forcing judicial officials out, and raided the building, burning court files and evidence. The courthouse remained under the gang's control over several weeks.
A surge in fighting between rival gangs in the Cité Soleil neighbourhood left over 471 people killed, injured or unaccounted for between 8th and 17th July 2022, according to data reported by the UN Office for the Coordination of Humanitarian Affairs (OCHA) in Haiti. Hundreds of children were evacuated from the neighbourhood with the help of religious groups.
Human Rights Watch (HRW) said the recent wave of gang violence has further deepened the humanitarian, political, and human rights crisis in the country. The organisation said concerned governments should stop expelling migrants of Haitian origin and repatriating them. HRW called on the international community to urgently support efforts by local civil society groups and UN agencies to ensure that Haitians have protection and access to justice.
Expression
#Haiti🇭🇹: Good news today with the release of #journalist Edner Décime after 20 days in captivity. We call on the authorities to commit to guaranteeing the safety and integrity of all media professionals in the country. @FIP_AL https://t.co/SY1mJNqAr6

— IFJ (@IFJGlobal) August 9, 2022
On 17th July 2022, journalist Edner Fils Décime of AlterPresse was kidnapped by a heavily armed group in the Delmas neighbourhood of Port-au-Prince. According to the International Federation of Journalists, armed assailants in three vehicles intercepted the vehicle in which Décime was travelling, apprehending the journalist and at least four other people. AlterPress denounced the lack of action and silence from the authorities on the abductions, and several press associations urged authorities to act to secure his release. The journalist's family expressed concern about his health, warning that Décime suffers from hypertension and requires daily medication. On 5th August 2022, after 20 days in captivity, the journalist was released. In a statement, Décime thanked those who mobilised in solidarity. Of his kidnapping, he said:
"The neighbourhoods where I carried my microphone became my place of confinement for 20 days. My pain is deep. However, I do not regret having done my work there and having always been attentive to the problems and aspirations of the residents of these districts. […] I still believe in Haiti! I will always believe in Haiti!"
On a related note, Haiti was referred to as the "most unsafe, dangerous and fragile for the exercise of press freedom" in the Americas in a report at the mid-year meeting of the Inter American Press Association (IAPA) on 19th April 2022. The report recalled the deaths of three journalists, as well as attacks, abductions, and cases of intimidation that have occurred in 2022 and part of 2021. According to IAPA, the press in Haiti is under constant threat and official investigations into the recent killings of journalists have stalled and remain without anyone being held accountable.
Association
J'ai récemment écrit à #Haïti pour exprimer ma préoccupation concernant la planification de l'assassinat du défenseur des droits de l'homme M. Pierre Espérance. Cliquez sur le lien pour lire la communication complète.@RnddhAyiti @SandraDVOAhttps://t.co/MaWPKUB3l0

— Mary Lawlor UN Special Rapporteur HRDs (@MaryLawlorhrds) July 29, 2022
On 29th July 2022, UN human rights experts published a letter expressing concerns over the safety of human rights defender Pierre Espérance, executive director of Réseau National de Défense des Droits de l'Homme (National Network for the Defence of Human Rights - RNDDH). In March 2022, the civil society group received credible information about alleged plans to assassinate the HRD, allegedly arranged by members of a political party in coordination with criminal gangs. Despite a request for an investigation into these threats, police have not yet responded.
UN experts urged the government to provide information on whether an investigation is underway and to take measures to protect Espérance. The HRD and RNDDH have faced previous attacks related to their work denouncing human rights violations in Haiti; for instance, the organisation's offices were attacked with firearms on two separate occasions, in 2018 and 2020.
Peaceful Assembly
On 7th July 2022, demonstrators marched in Port-au-Prince to mark one year since the assassination of President Jovenel Moïse. The protest was organised by supporters and sympathisers of Moïse, who demanded justice for his murder. They denounced Haiti's worsening political and economic crises since Moïse's killing and the lack of progress in the investigation into the assassination.
On 13th July 2022, demonstrators blocked roads in Port-au-Prince to protest recurrent fuel shortages. Gas stations across the country have been forced to halt their operations because of gang violence. During the protest, motorcycle drivers blocked road intersections and some demonstrators set fire to tyes. According to Reuters, shots were heard during the protest but it was not immediately clear who was firing or why.
Demonstrators erect barricades on the main roads of Port-au-Prince on Wednesday July 13th to protest against fuel shortages and high inflation.
(Richard Pierrin/ @AFPphoto ) #Haiti #AFP pic.twitter.com/z5PxGdZZL7

— Richard Pierrin (@PierrinRichard) July 13, 2022