Haiti: Escalating protests over multiple crises, with people calling for Prime Minister's resignation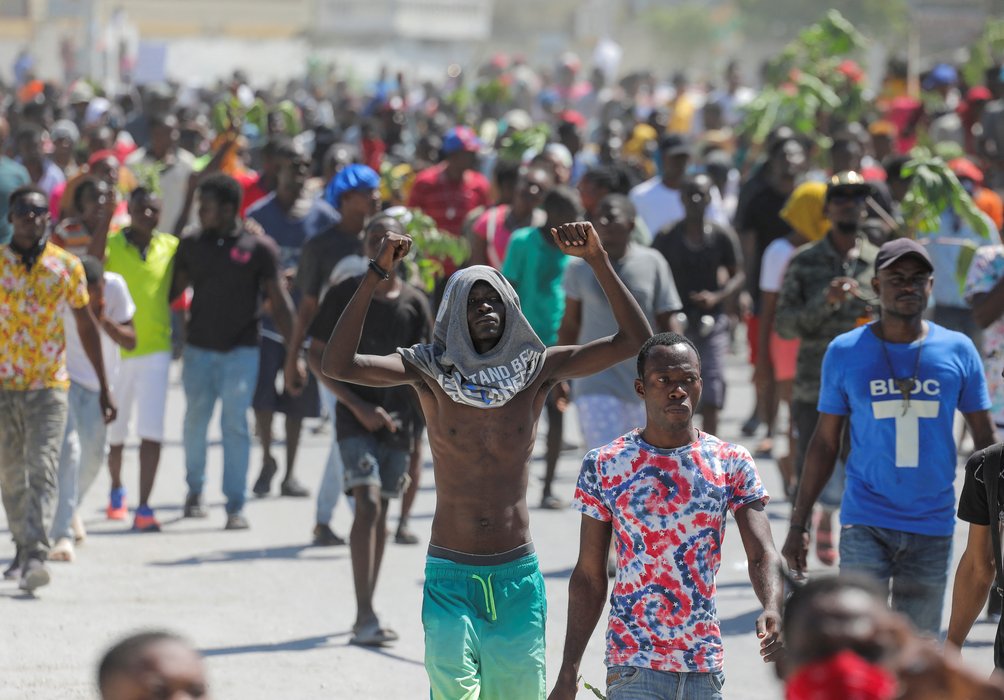 Peaceful Assembly
In August and September 2022, towns across Haiti saw recurrent protests over rising fuel prices amid shortages, inflation, poverty, food insecurity, gang violence and other pressing issues. Many of the protesters demanded the resignation of Prime Minister Ariel Henry, who they said has done little to address the country's crises. The mobilisations took multiple forms, including mass marches and road barricades. Police often disrupted demonstrations – in some cases using excessive force, including with firearms. Particularly in September, protests were marked by violence, with several incidents of looting and vandalism.
At least one protester was killed amid protests in Port-au-Prince on 22nd August 2022. According to RFI, the demonstrator was shot with a firearm while the police violently dispersed protesters in the Delmas neighbourhood. On 29th August 2022, a protest in the coastal town Petit-Goâve ended with one protester dead and about a dozen wounded. As reported by Le Nouvelliste, the protester allegedly died after experiencing breathing difficulties when police threw tear gas cannisters to repress the demonstration. Two of the people injured were reportedly wounded by firearms.
On 7th September 2022, thousands of people protested in Haiti's capital and other major cities. According to the Associated Press, "the occasional crack of gunfire mixed with the shouting and clapping of protesters as they marched through streets blocked by rocks, trucks and burning tires." Many shouted anti-government slogans and demanded the Prime Minister's resignation. Protests reportedly paralysed some coastal cities, and demonstrators were often met with police firing tear gas to disperse the crowd.
A series of violent incidents was reported around the middle of September, as angry demonstrators took to the streets after the government announced an increase in fuel prices. This included several reports of pillaging, vandalism and attacks on private and public buildings. In separate incidents on 13th September and 15th September 2022, news outlets were attacked by protesters, resulting in considerable damages.
On 13th September 2022, AlterPresse reported that one protester was shot dead in Delmas, north-east of Port-au-Prince. Three others were injured in the Pétionville neighbourhood, where the premises of several institutions were attacked.
Civil society groups and international organisations were also affected; in Gonaïves, protesters looted the warehouses of Caritas and the World Food Programme (WFP) on 16th September 2022. The WFP issued a statement confirming that their warehouse, which contained food for schools and vulnerable communities, was looted and burned after protests grew violent. "The looted food was meant to feed nearly 100,000 school children until the end of the year and provide emergency assistance to the most vulnerable families in Haiti," said Jean-Martin Bauer, the WFP's Country Director. On the same day, a departmental supply centre storing medication and vaccines was ransacked.
Mass protests were recorded in cities such as Gonaïves, Cap Haïtien and Port-au-Prince on 26th September 2022. There were reports of police using tear gas and firearms to disperse protests in some areas.
Expression
RSF est choquée et extrêmement préoccupée par l'intensification des violences contre la presse en #Haïti, après l'assassinat des journalistes Tayson Latigue et Frantzsen Charles à Port-au-Prince. 4 journalistes ont déjà été assassinés dans le pays en 2022. https://t.co/7YdWMcGjtT

— RSF (@RSF_inter) September 15, 2022
On 11th September 2022, two reporters were shot and killed while reporting on rising gang violence in the Cité Soleil neighbourhood of Port-au-Prince. Frantzsen Charles and Tayson Lartigue were in a group of seven journalists who went to the area to interview the family of a 17-year-old resident killed the day before. They were reportedly ambushed by a criminal group when leaving the neighbourhood. Charles was a reporter for online news outlet FS News Haiti and Lartigue was the founder of Tijén Jounalis, which covered local and breaking news on social media platforms.
On 13th September 2022, Radio Model FM was attacked by protesters. A station technician was wounded when a group threw stones at the outlet's windows, breaking them. The attack also resulted in considerable material damage.
On 15th September 2022, demonstrators attacked the state-owned Radio Television Nationale d'Haiti headquarters in Delmas, Port-au-Prince. The incident took place amid protests against an increase in the price of fuel. According to news outlets, angered protesters set fire to vehicles, threw stones, and stole equipment from the station. The police used tear gas to disperse the protest and prevented the complete looting of the facilities. The station reportedly suspended its programming for some time after the attack.