Government embarks on brutal wave of retaliatory tactics against pro-democracy activists amid political impasse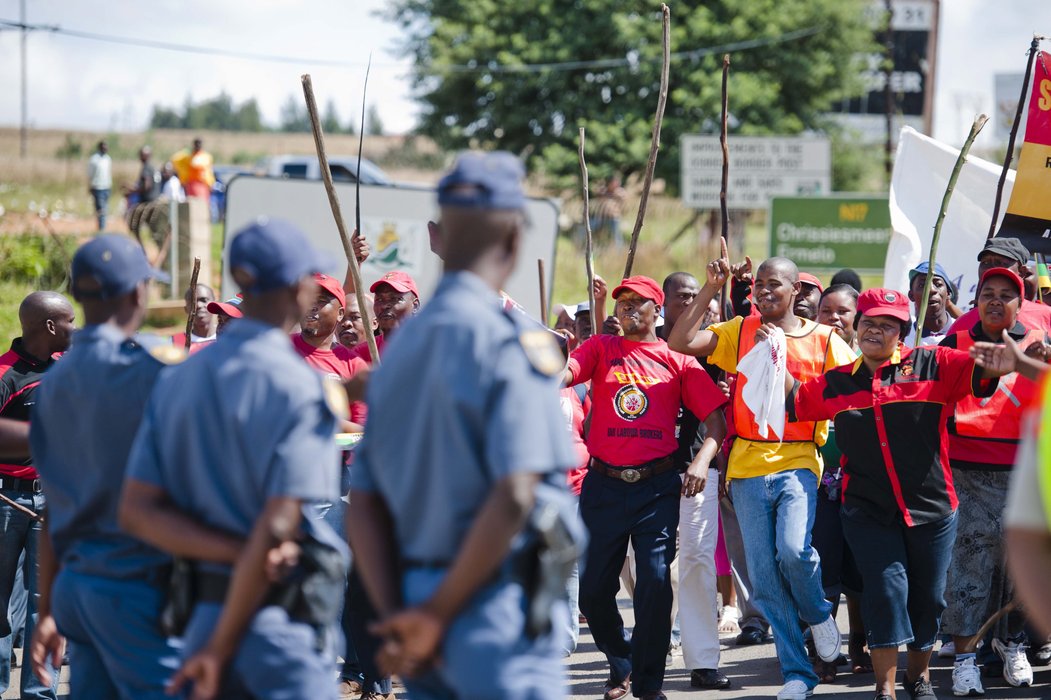 General update
During the discussion of the outcome of the Universal Periodic Review of Eswatini on 23rd March 2022, the International Commission of Jurists (ICJ) brought attention to the fact that Eswatini did not accept the recommendations by Ireland to develop legislation that would protect the rights to freedom of expression, association, and peaceful assembly, including by allowing political parties to register and contest elections.
In separate developments, the Southern African Development Community's (SADC) security organ Troika was scheduled to convene and meet 4th April 2022 with President Cyril Ramaphosa as chair to address the growing crisis in Eswatini and discuss a proposed national dialogue on the ongoing political crisis in the country. This meeting had been scheduled after King Mswati III's agreement with President Cyril Ramaphosa in November 2021 to accept the involvement of the regional SADC in setting the terms of the political dialogue.A day before the meeting, however, on 3rd April 2022, King Mswati III removed his country from the meeting's agenda, and indicated that Eswatini would prefer to deal with its domestic issues outside of the regional spotlight.
Association
Discrimination against LGBTIQ+ community raises concern with CSOs
Further to the ICJ's observations (above in the introduction section), during Eswatini's Universal Periodic Review, the organisation further noted that it is unfortunate that Eswatini refused to accept the recommendations to prohibit discrimination based on sexual orientation and gender identity and to decriminalise same-sex sexual conduct between consenting adults. It noted that LGBTQI+ persons in Eswatini are subjected to widespread discrimination without state protection.
According to the Swaziland National Association of Teachers (SNAT), more teachers in Eswatini are resigning or seeking for transfers due to the stigma attached with their sexual orientation. In an article published in late June 2022, SNAT Deputy Secretary General Simanga Khumalo confirmed that at least nine teachers from the LGBTQI+ community in the country have resigned as a result, and some of them had their employment transfers blocked because of their sexuality.
In a separate incident affecting the LGBTIQ+ community, on 29th April 2022, a decision by the Eswatini High Court held that LGBTIQ+ people have a constitutional right to equality but this right is subject to the laws of Eswatini. The decision was in relation to a case filed against the registrar of companies after it declined to register the Eswatini Sexual and Gender Minorities as a legal entity,on the basis that 'its objectives are unlawful as same-sex intimacy is proscribed in the Kingdom'. The court ruled that the refusal to register the legal entity was lawful and constitutional asserting that:
"So that it is safe to say that LGBTs have the rights conferred by section 14 of the Constitution. They have a right to life, liberty, privacy, or dignity. They have a right not to be discriminated against or be subjected to inhumane and degrading treatment. They have a right to associate. They have a right to form a company. They have a right to freedom of expression. These rights are inherent in them not by reason of their sexual preferences as LGBTs but as human beings… these rights are however subject to the laws as prevailing in the Kingdom, and which have not been challenged anywhere".
It must be noted that the judgment only refers to the refusal to recognise, not the law itself.
In a statement, the Eswatini Human Rights Commission noted that the decision of the High Court is in "stark contrast with recent regional developments where courts in Botswana, Zambia, Zimbabwe and Kenya have recognised the rights of LGBTQI+ organisations to organise and express themselves". The Commission further went on to say that: "We are encouraged by the court's recognition that there are restrictive laws such as the Sodomy Act which need to be challenged to enable the full realisation of the rights of LGBTI persons in the country".
In other worrying developments, over the past few months, authorities have embarked on brutal, state-supported retaliatory attacks and arrests targeting activists who have mobilised and participated in the now year-long wave of protests and campaigns by citizens calling for democratic reforms in the country. The sections below detail these incidents.
Youth Congress Leaders Arrested
On 22nd June 2022, seven leaders of the Swaziland Youth Congress (SWAYOCO) were arrested in the Lubombo region, and charged with contravening the Public Order Act and disturbing traffic. Three of the seven leaders, Tshepo Gamedze, de Sive Sifundza, and Ayanda Matimba, were released, and those who remain behind bars are Tanele Mashwama, Siyabonga Msibi, Thandolwethu Nyoni and Mancoba Nyoni.
According to a statement released by SWAYOCO, the three were tortured and assaulted, before being released with no charge. Another member of SWAYOCO, Mbuso Mkhontfo, went into hiding after law enforcement officers broke into his home.
In the past several months, youth activists who are at the forefront of mobilising and demanding democracy reforms in Eswatini have been increasingly targeted by state security agents through different tactics, including abductions, torture, arrests and intimidation.
Pro-democracy activists targeted with arson
In April 2022, members of the People's United Democratic Movement Members (PUDEMO), Wandile Dludlu and Ngomyayona Gamedze, who have also been at the forefront in calling for democratic reforms in the country, were targeted with arson attacks. Both of their cars were petrol bombed in the incidents, which occurred late at night and on separate occasions. Swaziland News reported that the police expressed no intention to investigate the matter, according to state crime intelligence documents allegedly in their possession.
Since June 2021, when mass protests by citizens actively calling for democratic reforms began, and as previously documented, there has been a wave of arson attacks on public and private property, especially on properties owned by King Mswati. Although it is still not clear who the suspects are, pro-democracy activists in the country argue that the increase in these arson attacks, which now also target progressive citizens, is a clear sign that no one is exempt from the worsening conditions in the country. 
UNIVERSITY PROTEST: Students President Colani Maseko who was abducted by Mswati's soldiers earlier on Tuesday morning was dragged to a river near Engabezweni Palace and heavily assaulted.
He was then dumped at Sigodvweni Police Station and denied access to medical treatment pic.twitter.com/aD5497SNvq

— Swazi News (@SwaziNews) May 17, 2022
Students activists abducted and tortured
In the past several months, there has been a pattern of abductions and torture of student activists in Eswatini. In February 2022, Sakhile Nxumalo, the recently elected president of the Swaziland Youth Congress, was abducted by the police and tortured by electrocution at the Riverstone Police Post, where he sustained injuries. According to various reports, Sakhile was allegedly abducted by more than ten police officers who were under instructions from King Mswati and his regime to undertake retaliatory attacks against student leaders.
Colani Maseko, the president of the Swaziland National Union of Students, was also abducted on different occasions. In late January 2022, Colani was abducted and assaulted by the police, then subsequently arrested and charged with sedition for allegedly burning King Mswati's pictures. In late May 2022, he was again abducted and tortured by Eswatini Umbutfo Defence Force. In this latest case, Colani went missing for several hours, where he was later found lying on the ground, with a wound to his head. In a video that was circulating on social media, uniformed members of the Umbutfo Eswatini Defence Force are seen torturing Colani, rolling and kicking him on a gravel road while his hands are cuffed. A few days prior to the abduction, Colani had led a student protest to mark the first anniversary of the killing of Thabani Nkomonye.
Pro-democracy activists' homes raided
On 24th June 2022, members of the Royal Swaziland Police raided the home of Wandile Dludlu, secretary general of the People's United Democratic Movement (PUDEMO), in search of firearms but no weapons were found.
According to Swaziland News, the police then proceeded, with a search warrant, to invade the home of Swaziland Massacre Victims Association (SWAVISA) chairperson, Madzabudzabu Kunene.
Pro-democracy activists denied bail after almost a year in prison
On 12th May 2022, pro-democracy activists Bacede Mabuza and Mthandeni Dube were denied bail by the Supreme Court, after almost a year behind bars. As previously documented, the two who are also Members of Parliament were arrested in July 2021 during one of the pro-democracy protests that have swept the country since June 2021. They are charged under the Suppression of Terrorism Act as well as other trumped-up charges, including murder. 
About 2000 protestors participated in EFF border blockades in demand for democracy in eSwatini.https://t.co/FyUxnUFPhs pic.twitter.com/6d0GgIHTw2

— Swazi News (@SwaziNews) April 19, 2022
Peaceful Assembly
South Africa's EFF holds protest at border in solidarity with Eswatini activists
On 19th April 2022, the Economic Freedom Fighters (EFF), South Africa's third-largest political party, organised peaceful protests along the country's border in the KwaZulu-Natal and Mpumalanga provinces (Golela and Old Oshoek border posts) with neighbouring Eswatini. According to the EFF, the protests were in solidarity with the people of eSwatini in their calls for democratisation in the country. The protests were also joined by the People's United Democratic Movement, which is the largest opposition party in Eswatini.
The EFF announced that they will continue to demand political reforms in Eswatini. "This was only the beginning, we will be going forward with other actions that have a major impact on the pockets of the king", said Sinawo Tambo, EFF spokesperson. "We also continue to draw support from the international community on behalf of our people and encourage sanctions to end this dictatorship".
Police attack peaceful protestors at Thabani Nkomonye anniversary march
On 13th May 2022, about 2000 young people of Eswatini peacefully marched through the commercial hub of Manzini to mark the first anniversary, and demand accountability for, the brutal murder of Thabani Nkomonye, a student activist who was killed a year ago, allegedly at the hands of police officers. The march was met with force by the police who fired rubber bullets and teargas to disperse them.
The protest was organised by the Swaziland National Union of Students, and was also endorsed by other political parties and entities, including the Swaziland Youth Congress and the People's United Democratic Movement. According to the inquest report, the police deny that Thabani was brutally murdered by a police officer and concluded that he died in a car accident.