Government agencies used to silence dissent in India as its rights record is scrutinised at the UN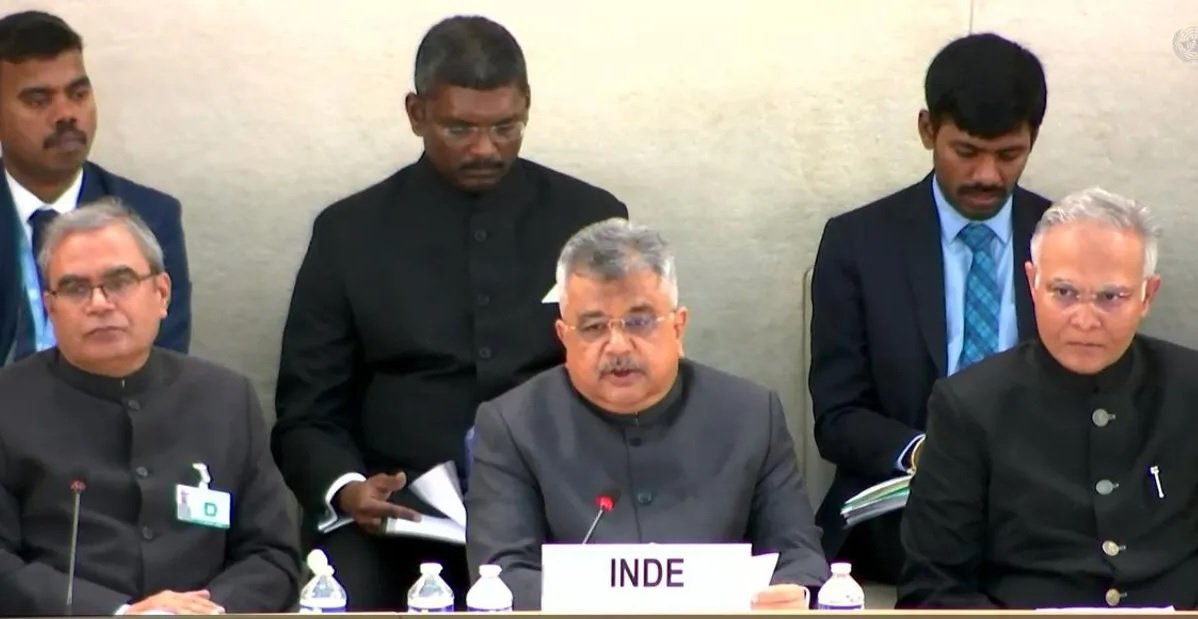 Indian authorities have escalated their crackdown on civil society, targeting human rights defenders, journalists, students, academics, members of religious minorities and independent organisations that have been critical of the government's right-wing agenda.
During its third Universal Periodic Review in 2017, India spoke of "a rights oriented constitutional framework, a secular polity, an independent judiciary, a range of national and state level commissions that monitor compliance with human rights, a free press and a vibrant and vocal civil society." India is instead witnessing a serious regression in human rights and constitutional protections under the Bharatiya Janata Party (BJP) - led by Prime Minister Narendra Modi.
Under the Modi government sedition cases have increased by 28 percent with Indian authorities filing more than 500 sedition cases involving more than 7,000 people. According to reports, as of July 2022, 149 people have faced sedition charges simply for making remarks about Modi that were considered critical and derogatory. While the courts ultimately dismiss most sedition cases, the process itself becomes the punishment.
This trend extends to the Unlawful Activities (Prevention) Act. A report titled 'UAPA : Criminalising Dissent and State Terror' by People's Union of Civil Liberties (PUCL) sheds light on the fact that between 2015 and 2020, less than three percent of arrests under UAPA led to conviction — out of 8,371 people arrested under the stringent law, only 235 were convicted in the five-year period. The report observes that the high rate of acquittal (97.2 percent) showed that prosecution under UAPA lacked merit in a huge majority of the cases. The report also noted that once arrested under UAPA, it usually takes a long time for a person to get bail, citing data from the Modi Government that only 1,080 out of 4,690 persons arrested under UAPA between 2018 and 2020 got bail.
During the latest Universal Periodic Review on 10th November 2022 at the Human Rights Council, states called on the Indian government to adopt a comprehensive law on the protection of human rights defenders; release all detained human rights defenders; review all restrictive laws including the Unlawful Activities (Prevention) Amendment Act; repeal or amend the Foreign Contribution Act 2020 to ensure the right to freedom of association and strengthen media freedom. CIVICUS and Human Rights Defenders Alert – India submitted a report ahead of the review.
In recent months we have continued to see raids and investigation of NGOs, detention of human rights defenders, journalists and protesters, restrictions on journalists and disruption of protests.
Association
Authorities raid NGOs and media body
Income tax raids on organisations that are independent of #BJP #RSS. But the govt claims it's not a raid it's a "survey". A survey where staff are locked up in their office for over 12 hours! #India #Oxfam #CPR https://t.co/flo7ee5WVf

— Salil Shetty (@SalilShetty) September 8, 2022
On 7th September 2022, the Income Tax Department of India raided the offices of the Centre for Policy Research, a think tank in Delhi, non-governmental organisation Oxfam India and the Independent and Public Spirited Media Foundation, a media funding body, in Bengaluru as part of a probe related to alleged violations of the Foreign Contribution Regulation Act related to funds received by them.
Oxfam India said that income tax officials had barred their team members from leaving the premises during the raids and that the internet was shut down and their mobile phones were confiscated.
Human rights groups have called the raids a "violation of the rights to association and to privacy protected under international human rights law" and a deliberate attempt by the government to silence independent media voices in the country. Over 600 citizens, including human rights activists, have called the raids "alarming and unfounded". The Income Tax Department has previously raided several media houses critical of the government, including Newsclick, Newslaundry, The Quint, Dainik Bhaskar and Bharat Samachar.
Human rights defender released on bail
On 2th September 2022, India's Supreme Court ordered the release on interim bail of a prominent activist and critic of Prime Minister Narendra Modi, more than two months after she was arrested on suspicion of faking documents about religious riots in 2002. The UN believe she is being persecuted for her activism.
As previously documented, on 25th June 2022, human rights defender, author, and award-winning journalist Teesta Setalvad was arrested by the anti-terrorism wing of the Gujarat police at her house in Mumbai She faces charges of criminal conspiracy, forgery, and fabricating evidence in a case related to the 2002 Gujarat riots. Setalvad and her organisation - Citizens for Justice and Peace (CJP) - have played a prominent role in campaigning for justice on behalf of the victims of the 2002 massacre of close to 2,000 Muslims in the state of Gujarat, when now President Narendra Modi served as chief minister in the state.
Muslim group banned by government
On 28th September 2022, the Government of India declared the political Muslim group, the Popular Front of India (PFI) and its associated outfits, unlawful under the Unlawful Activities (Prevention) Act (UAPA), banning them for five years for their alleged role in terror funding and links to global terror groups. PFI, which has over 500,000 members across India, says it works for the rights of Muslims and other marginalised communities in India.
Since the announcement of the ban, the central intelligence agencies have conducted a series of crackdowns on PFI functionaries across different states. Over 250 members including students and protest leaders from Shaheen Bagh, New Delhi, have been arrested under the stringent UAPA by the police.
Shaheen Kausar, a face of the Shaheen Bagh protest against the Modi government's discriminatory citizenship law, was among several dozen activists detained in the second round of nationwide raids on the Popular Front of India. She was linked to the PFI's political arm, the Social Democratic Party of India (SDPI).
SDPI accused the Indian government of "misusing the investigation agencies and laws to silence the opposition and to scare the people from expressing the voice of dissent."
Student leader Shoaib Ahmad was among those taken from their homes in Shaheen Bagh without any notice or warrant. His father Waqar Ahmad said, "My son is innocent. There was no complaint against him." His family has reported that Shoaib's books, laptop and phone were seized by the police during the raid.
Acquittal of human rights defender reversed by Supreme Court
#India: Professor GN Saibaba should be free based on an acquittal by the Bombay High Court. Instead, the Supreme Court suspended the decision, and Professor Saibaba remains in prison. #FreeSaibaba
Learn how to help imprisoned scholars in #Free2Think2022: https://t.co/9IjvSmMTnA pic.twitter.com/sPf5tG0mtj

— Scholars At Risk (@ScholarsAtRisk) November 11, 2022
The Bombay High Court order for the acquittal of academic and human rights defender GN Saibaba was reversed the following day by the Supreme Court of India.
On 14th October 2022, former Delhi professor GN Saibaba was acquitted by the Bombay High Court in a case that alleged that he had links with banned Maoist organisations. The academic, who is wheelchair bound and 90 percent disabled, was arrested in May 2014, convicted under the draconian Unlawful Activities (Prevention) Act or UAPA and sentenced to life in prison in 2017, after the police alleged that he was "likely to indulge in anti-national activities".
In June 2022, seven human rights organisations expressed concerns about his deteriorating health - concerns that were amplified following the death of Father Stan Swamy, who was also detained under the UAPA. In the order, the court observed that the sanction order issued to prosecute GN Saibaba under UAPA was "bad in law and invalid' adding that while the state must fight terror with "unwavering resolve", a civil democratic society cannot sacrifice the due process of law due to the perceived danger to national security.
Student activist denied bail
On 19th October 2022, the Delhi High Court denied former Jawaharlal Nehru University (JNU) student leader Umar Khalid's bail plea under the stringent UAPA saying that Khalid's name had recurring mention in the events that led to the riots in northeast Delhi. Khalid has been in prison for over two years in a case relating to the alleged conspiracy behind the riots in February 2020.
Khalid was arrested on 13th September 2020. He was charged with allegedly damaging public property, committing unlawful activities, raising funds for terrorist acts and conspiring to defame the Indian government. In 2021, he was granted bail in other criminal cases but remained imprisoned due to charges under UAPA which is characterised by slow investigative processes and stringent bail provisions.
Amnesty International has previously said that "the repeated denial of bail to Umar Khalid is a huge blow to everyone exercising their rights to freedom of expression and peaceful assembly in the country. Khalid's continued detention under UAPA runs absolutely counter to the international human rights law and standards."
Environmental activist killed for work against illegal mining
On 10th September 2022, when environmental rights activist Jeganathan was returning home on his motorcycle, he was knocked down and killed by a truck belonging to the owner of an illegal stone quarry in Karur district in the state of Tamil Nadu. The incident occurred a day after the quarry was closed by the Department of Geology and Mining based on complaints by Jeganathan that it was being operated illegally.
Jeganathan's family has said that he was brutally murdered for exposing illegal mining operations and refused to accept his body until all the accused were arrested. The police arrested three persons in connection with the case. Activists say that Jeganathan had narrowly escaped a similar attack in 2019. Human Rights Defenders Alert-India has demanded police protection for Jeganathan's family members and witnesses in the case.
In India there has been an increasing urgency to protect such defenders as the climate and biodiversity crisis worsens. In September 2022, Global Witness, an organisations that investigates and exposes environmental and human rights abuses by corporations, published a report that highlighted the rise in lethal attacks in India, taking the total number of land and environmental activists killed in 2021 to 14.
Kashmiri human rights defender detained for a year
🇮🇳India: CIVICUS & other NGOs call for immediate & unconditional release of #KhurramParvez, arbitrarily detained a year ago for reporting on violations in Jammu & Kashmir. The gov't must stop judicial harassment against him & other #humanrights defenders https://t.co/xse3xCnPtW pic.twitter.com/4dbA8C23Ac

— CIVICUS (@CIVICUSalliance) November 21, 2022
Kashmiri human rights defender Khurram Parvez has been detained for a year on politically motivated terrorism and other charges. Parvez, the Coordinator of the Jammu Kashmir Coalition of Civil Society (JKCCS) and Chairperson of the Asian Federation Against Involuntary Disappearances (AFAD), has been a champion of human rights advocacy, documentation and investigations, including in the Jammu and Kashmir region, for over 20 years.
Parvez was detained on 22nd November 2021 by India's counterterrorism body, the National Investigation Agency (NIA), and charged under the Indian Penal Code and the Unlawful Activities Prevention Act (UAPA). Indian authorities have repeatedly targeted Khurram Parvez for his human rights work in an attempt to silence him and intimidate others.
In May 2022, after 173 days of detention, the NIA filed a preliminary charge sheet before the NIA Special Court in New Delhi against Parvez and accused Parvez of "running a network of over ground workers of the [Pakistan-based armed militant organisation] Lashkar-e-Taiba (LeT), for furthering activities of LeT and to commit terrorist attacks in India", according to the press release published by the NIA on 13th May 2022. His detention has since then been extended at least five times by the NIA Special Court in New Delhi.
Expression
Award winning journalist blocked from travelling abroad
#India: Authorities blocked Pulitzer Prize winning Kashmiri photojournalist Sanna Irshad Matoo (@mattoosanna) from traveling abroad on July 2. IPI condemns the Indian government's travel bans and continued harassment of journalists in Kashmir. https://t.co/PglE4in6fM

— IPI - The Global Network for Independent Media (@globalfreemedia) July 5, 2022
In 2019, India revoked the constitutional autonomy of Jammu and Kashmir and split the state into two federally governed territories. Since then, the authorities have intensified their crackdown on media and civil society groups, including through frequent use of UAPA and other counterterrorism and public safety laws.
More recently, on 19th October, 28-year-old Pulitzer-winning Kashmiri photojournalist Sanna Irshad Matoo was stopped from traveling to the US by immigration authorities at the Delhi airport "despite having a valid visa and ticket." The 28-year-old photojournalist, who was awarded the Pulitzer for the coverage of the COVID-19 pandemic for Reuters, was scheduled to fly to New York on 17th October.
This the second time she was stopped from travelling abroad in the past four months. In July 2022, she was stopped by immigration officials from taking a flight to Paris, where she was to take part in a book launch and photography exhibition displaying her photos from Kashmir.
At least four more Kashmiri journalists have been stopped from travelling abroad in the past two years in what is believed to be part of a larger crackdown on journalists from the region. Press freedom bodies have condemned the action and raised serious concern over this growing trend. "This decision is arbitrary and excessive. Indian authorities must immediately cease all forms of harassment and intimidation against journalists covering the situation in Kashmir, said Beh Lih Yi, CPJ's Asia programme coordinator.
Journalist still detained despite bail
The Press Club of India welcomes the Supreme Court order allowing bail to journalist Siddique Kappan who was arrested on October 5, 2020, while on his way to Mathura to cover the rape and murder of a Dalit girl in Hathras. pic.twitter.com/KIJnwpLEbJ

— Press Club of India (@PCITweets) September 9, 2022
Journalist Siddique Kappan, who was arrested under the UAPA on baseless charges of terrorism, sedition and promoting enmity between groups, among others, in October 2020 while on his way to Hathras in Uttar Pradesh to report on the rape and killing of a Dalit woman, continues to remain in prison even after the Supreme Court in India granted him bail in September 2022.
He remains in prison in connection with a money laundering case that has been registered against him by the Directorate of Enforcement (ED). In a charge sheet filed against Kappan and four office bearers of the PFI in the case in February 2021, the ED said that that KA Rauf Sherif, the national general secretary of the Campus Front of India (CFI), raised funds through PFI members in the Gulf and channelled the money into India through fraudulent transactions. The CFI is an affiliated organisation of the PFI.
Raids on office and residences of editors
On 31st October 2022, officials with the Delhi police crime branch searched the New Delhi office of The Wire and the residences of editors Siddharth Vardarajan, M.K. Venu, Siddharth Bhatia and Jahanavi Sen, and seized their electronic devices, according to the Committee to Protect Journalists (CPJ).
The searches were in relation to a police investigation into The Wire based on a complaint from Amit Malviya, an official with the ruling Bharatiya Janata party, said Vardarajan. Malviya has accused Vardarajan, Venu, Bhatia and Sen of cheating, forgery and defamation in relation to a series of articles in which The Wire had claimed that Malviya had special privilege to remove any posts from Instagram, according to The Hindu.
Both Malviya and Meta, which owns Instagram, denied the accusation and The Wire later retracted the articles, claiming that it was misled by one of its reporters, and began a review of the incident, according to Scroll.in.
Beh Lih Yi, CPJ's Asia programme coordinator, said: "The raids on the homes of The Wire editors is an excessive reaction by the Indian authorities. The Wire has voluntarily withdrawn its reportage on Meta and Amit Malviya, apologised to its readers, and initiated an internal review. We call on authorities and politicians to cease the harassment."
Peaceful assembly
Four activists face charges for protest around government inaction
Four activists are facing charges for protests against police inaction around a killing in the state of Jharkhand.
On 18th August 2022, the residents of Meral in the state of Jharkhand, discovered the body of Nathan Chaudhury, a 70-year-old, who had gone missing the previous day. They informed the Meral police of the incident and demanded the arrest of four persons in connection to the case. The police called the four persons for questioning, however, they let them leave in the evening.
This caused unrest in the village and on 20th August, family members and other residents from Chaudhury's village staged a peaceful protest outside the Meral police station demanding a fair probe into the murder case and the arrest of the accused. Local activists including Deepmala Kumari, Kareeb Ansari, Rampratap Sau and Rampravesh Chandravanshi also rushed to the police station to join the 500 protesters who had gathered.
Police officials from all the neighbouring villages were called to provide backup. By the afternoon, the police announced that they were willing to meet with a delegation of four to five protesters to listen to their demands. However, as soon the delegation entered the station, the officers present there locked the gate behind them and began hitting them with batons. This angered the protesters, who broke into the station. The human rights defenders urged the protesters to refrain from violence but when some of the protesters began pelting stones at the police they left the area.
Over the next four hours, teams of armed police charged the protesters on roads approaching the police station, forcibly dragging them and hitting protesters and onlookers without any provocation. Police also fired several rounds of tear gas and attacked the villagers with sickles and rods. Many suffered serious injuries in the assault, including four local shopkeepers who were left with fractures to their arms. Some police were also injured in the stone pelting by the protesters. Journalist Mostaque Ansari recorded the incident on his phone. All the protesters dispersed by the evening.
The same day, an officer of the Meral submitted a written complaint regarding the incident. He claimed that the villagers were armed and had assaulted the police officials. He also claimed that the four human rights defenders present there and the journalist Ansari incited the mob. Based on the complaint, the police filed a case against 19 villagers and the human rights defenders were named as prime accused in the case.
Activists detained ahead of march
Activist Sandeep Pandey Detained Ahead of March in Solidarity With Bilkis Bano

The Godhra Police detained activist Sandeep Pandey and three others ahead of a march planned on 26 September to express solidarity with Bilkis Bano. pic.twitter.com/gEjGD1ZSff

— Logical Indian (@RadarModi) September 26, 2022
On 26th September 2022, police detained social activist Sandeep Pandey and three others in Godhra, Gujarat, ahead of a march to express solidarity with Bilkis Bano, who was gang-raped while five months pregnant and seven of her family members murdered during the 2002 Gujarat riots.
The convicts were serving life sentences in the Godhra jail for gang-rape and murder when their premature release plea was approved by the government, leading to the release of all the 11 convicts on 15th August.
Pandey and other activists were scheduled to participate in the march, titled 'Apologising to Bilkis Bano', from Bilkis Bano's native village Randhikpur in neighbouring Dahod district. They were released after a day in detention.